We are breakfast people. My whole family loves breakfast foods – pancakes, eggs, hashbrowns, muffins – all of it. Give us a lazy morning, and you can bet that a big breakfast will be on the agenda for that morning. Unfortunately, like most families, there is just not enough time in the mornings to go all out every morning. But when I know we are going to have a busy morning, but I want to either have something special or something hearty to start the day off, I know that overnight breakfast casseroles are the way to go.

A couple of weeks ago, I shared with you a new favorite recipe for a baked French toast casserole. And now, I'm sharing with you this savory casserole that will leave you satisfied. It is full of sausage, mushrooms and green chiles to give it a little bit of kick and a ton of flavor. (Maybe it has something to do with growing up in New Mexico, but I could put green chiles in practically anything and love it!) I loved this casserole so much that I've already made it a second time, and it hasn't even been 2 weeks yet!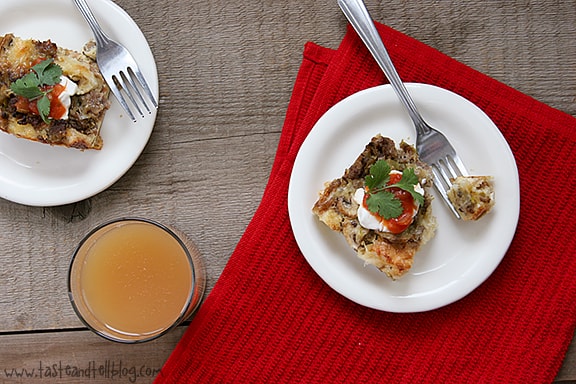 Eggs are a staple for us when it comes to breakfast, and if you don't want to scrimp on quality, Land O Lakes is the way to go! Land O Lakes eggs are all natural and come from hens fed a premium, all vegetable, whole-grain diet, rich in corn and soy protein.  Quality counts, and Land O Lakes is definitely quality!!  If you want to see more delicious egg dishes made by some of my blogging friends, check them out here.  There are some great ideas and recipes, for breakfast and beyond!  To learn more about Land O Lakes, click over to their website, follow them on Twitter, or become a fan on Facebook!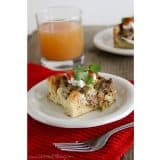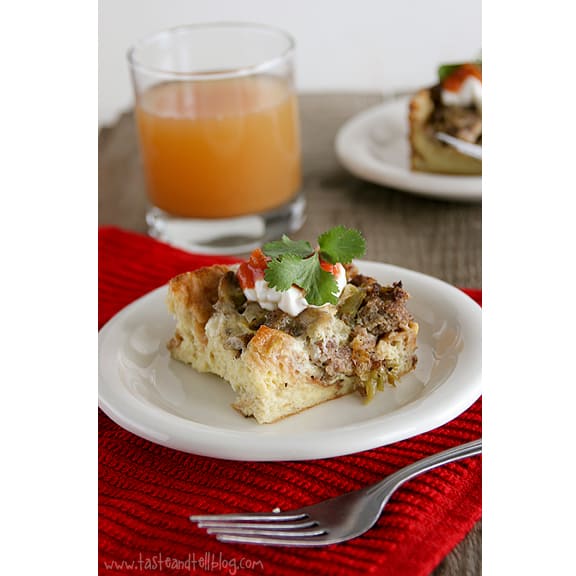 Sausage, Mushroom and Green Chile Breakfast Casserole
---
Prep Time: 15 minutes
Cook Time: 1 hour
Total Time: 1 hour 15 minutes
Yield: 12-18 servings 1x
Description
This savory take on a French toast casserole is filled with sausage, mushrooms and green chilies. And all the work is done the night before, which makes breakfast a snap!
---
Scale
Ingredients
10 cups French bread cut into 1-inch cubes
16 oz breakfast sausage
8 oz mushrooms, sliced
1 can (8 oz) chopped green chiles, drained
8 LAND O LAKES® All-Natural White or Brown Eggs
2 cups milk
1/2 cup half and half
salt and pepper
2 cups shredded Monterey jack cheese
Sour cream, salsa and cilantro, for serving
---
Instructions
Spray a 9×13-inch baking dish with non-stick cooking spray. Put the cubes of French bread in the pan. Set aside.
In a large skillet over medium heat, brown the sausage, breaking it apart as it is cooking. Cook until it is cooked through. Remove to a bowl, keeping the grease in the pan.
Add the mushrooms to the pan and cook until browned and softened. Add the mushrooms to the bowl with the sausage. Add in the green chiles and stir all to combine. Pour the sausage mixture over the bread in the baking dish, distributing as evenly as possible. Sprinkle the cheese evenly over the top.
In another bowl, whisk together the eggs, milk and half and half. Season with salt and pepper. Pour the egg mixture on top of the sausage and bread, making sure the bread all gets saturated by the egg mixture. (Use your hands to press the bread down into the liquid to make sure it is all saturated, if desired.)
Cover the dish with foil and refrigerate for 8 hours or overnight.
When ready to bake, preheat the oven to 350F. Bake the casserole, uncovered, for 50-60 minutes, or until a knife inserted in the middle comes out clean. Serve with sour cream, salsa and cilantro, if desired.
**This is a sponsored post from Land O'Lakes and Betty Crocker , but all opinions are my own.**