Breakfast meets dinner with this Egg Pizza with Creamed Spinach which tops pizza dough with creamed spinach and a perfectly cooked egg.
Love eggs on your pizza? You also need to check out this Breakfast Pizza.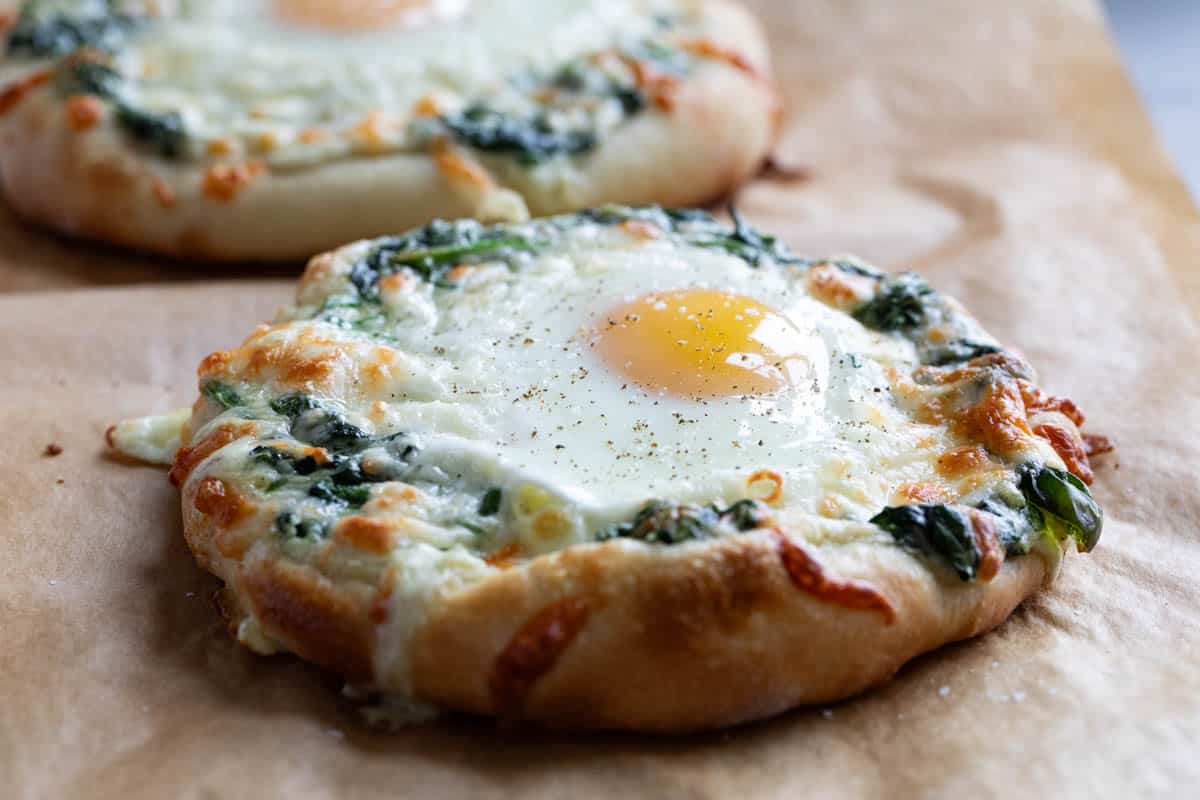 In my world, an egg is all that is needed to turn something from good to amazing.
One of my death bed meals would be a sunny side up or an over easy egg. I really do love them that much.
This recipe was actually inspired by one of my favorite breakfasts, Baked Eggs with Creamed Spinach. There is nothing better than a perfectly cooked egg on top of a bed of creamy spinach. It's seriously drool-worthy. And then the idea popped into my head – why not turn it into a pizza?
It was pretty genius, if you ask me.
And it goes to show that eggs aren't just for breakfast. This is also definitely a great way to get in a meatless meal for the week.
And now I think we need to start a movement where we put an egg on everything. I'm totally down with that!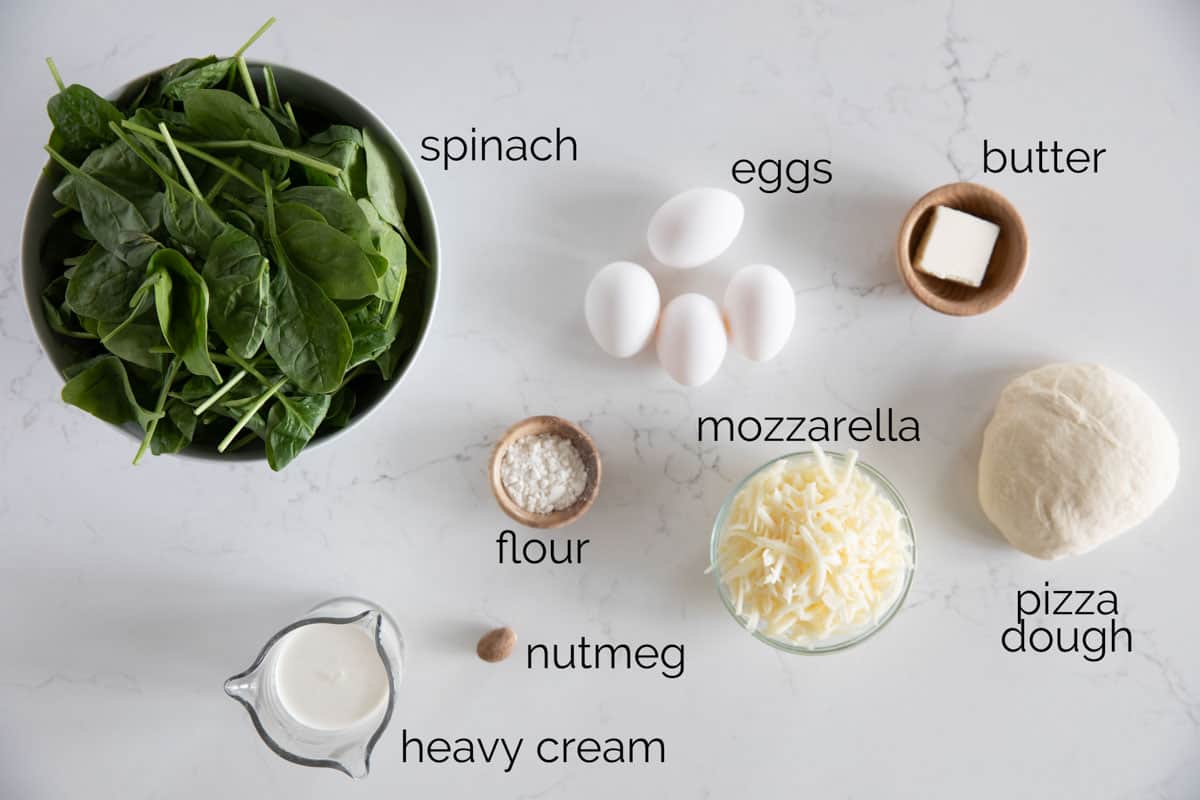 Ingredients
Butter: I like to use unsalted butter and then season to taste with salt.
Flour: This will thicken your sauce. I use all-purpose flour.
Cream: For a thick, creamy creamed spinach, you'll want to use heavy whipping cream. You could use half and half, but you may need to cook it down longer and it won't be quite as creamy.
Nutmeg: I love adding a bit of nutmeg to any white sauce. It does not give it a strong nutmeg flavor, but just adds something in the background to make it interesting. And freshly grated nutmeg is by far superior here. If you are using powdered nutmeg, just use a very small pinch.
Salt and Pepper: Season to taste with salt and pepper. I like a lot of both.
Spinach: You can use regular spinach or baby spinach. I would recommend removing any large stems if you use regular spinach (which I forgot to do here) because they don't cook down quite as well.
Pizza Dough: I always use my homemade pizza dough. It's my tried and true!
Cheese: I like to use mozzarella, but I think smoked gouda would be so good.
Eggs: Large eggs are the perfect size for these pizzas.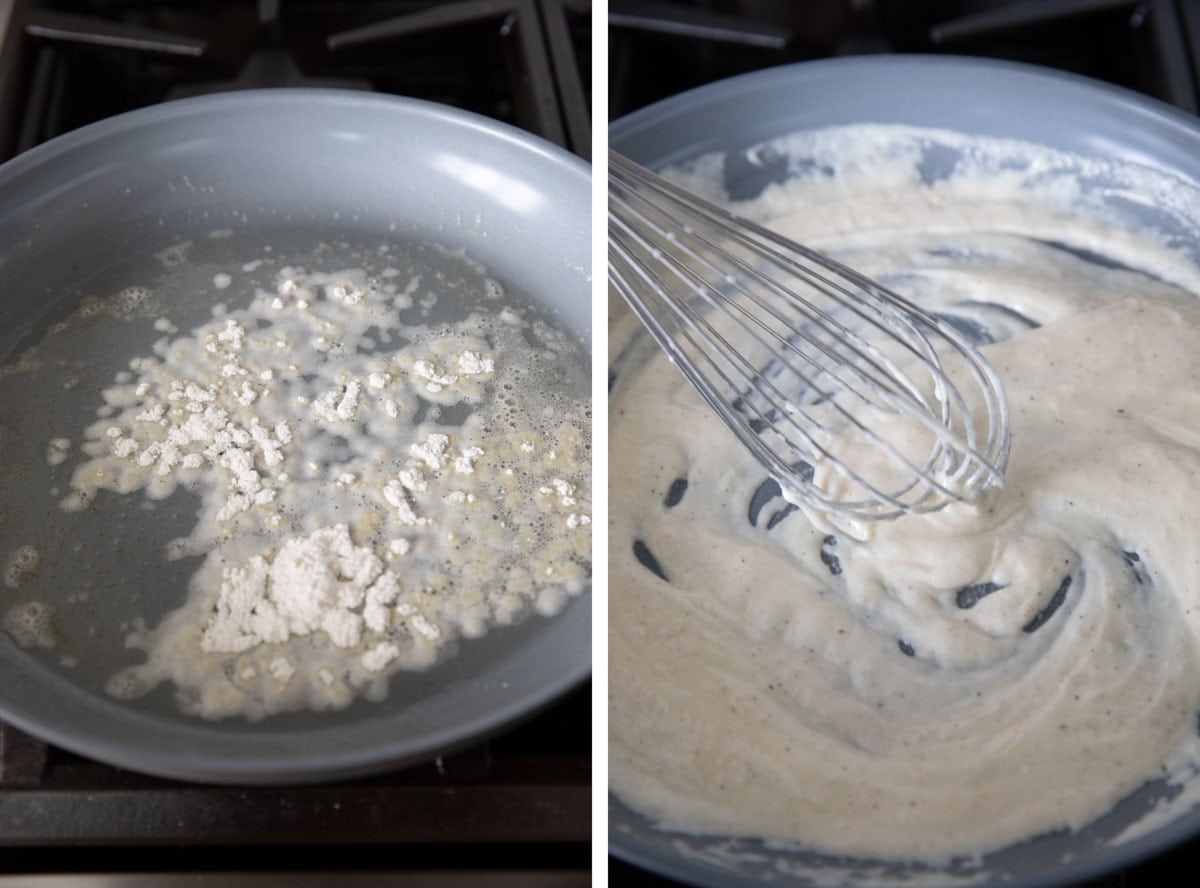 How to Make Egg Pizza with Creamed Spinach
1: Melt the butter in a large skillet, then sprinkle in the flour. Whisk this together for a minute or two.
2: Whisk in the cream, then season with the nutmeg, salt, and pepper. Cook this until ti thickens up.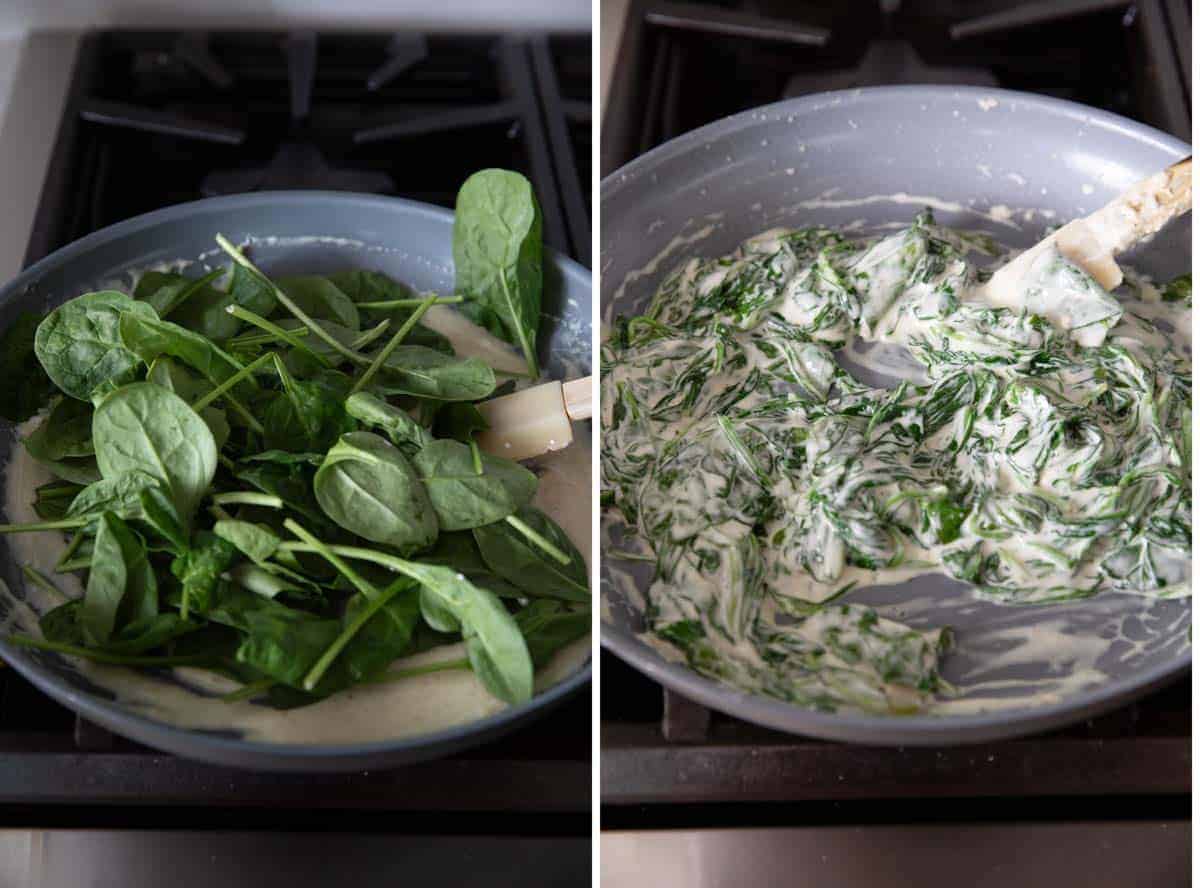 3: Start adding in the spinach, one handful at a time, then stir until it starts to wilt.
4: Continue to add the spinach until it has all wilted into the cream.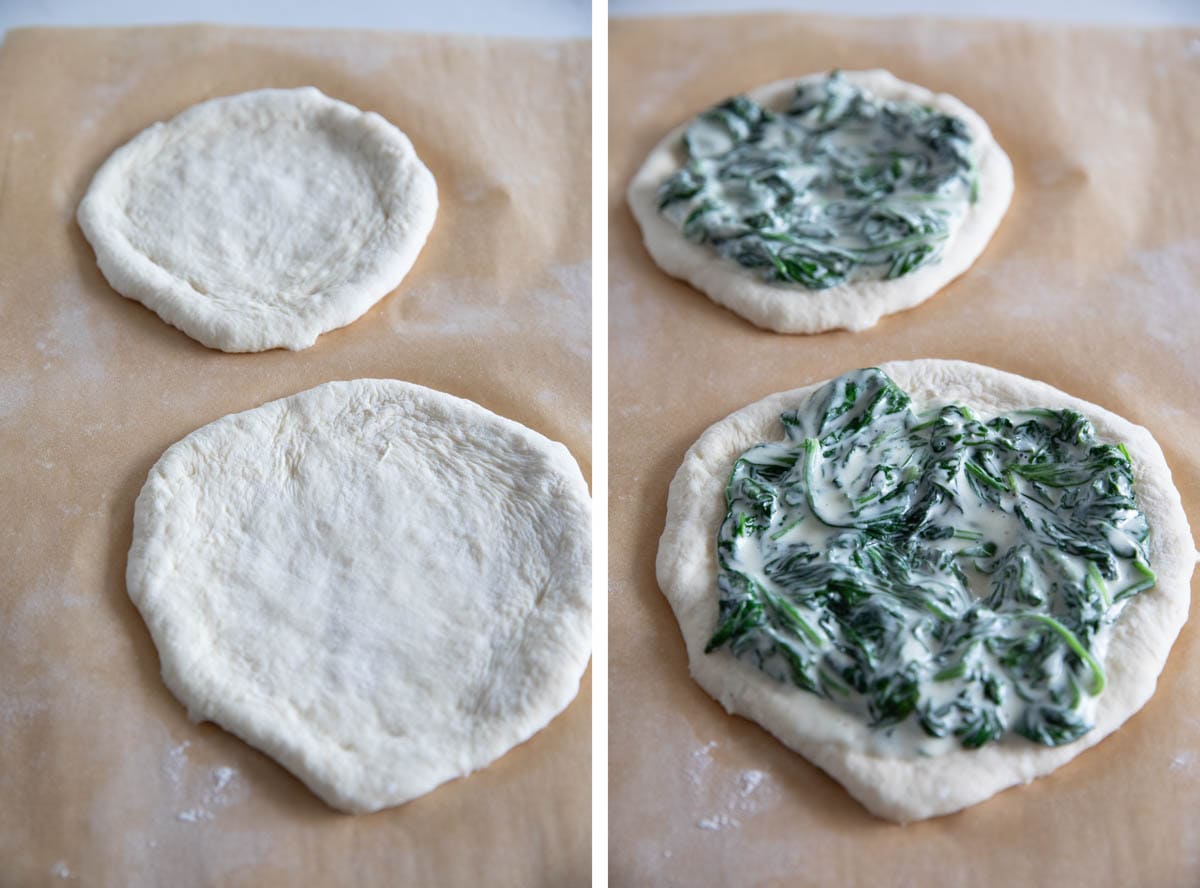 5: Divide the pizza dough into 4 equal portions and shape each into an individual sized pizza. I use parchment paper, and fit 2 pizzas on each piece of parchment.
6: Top each pizza with the creamed spinach, up to about 1/4 to 1/2 inch of the edges.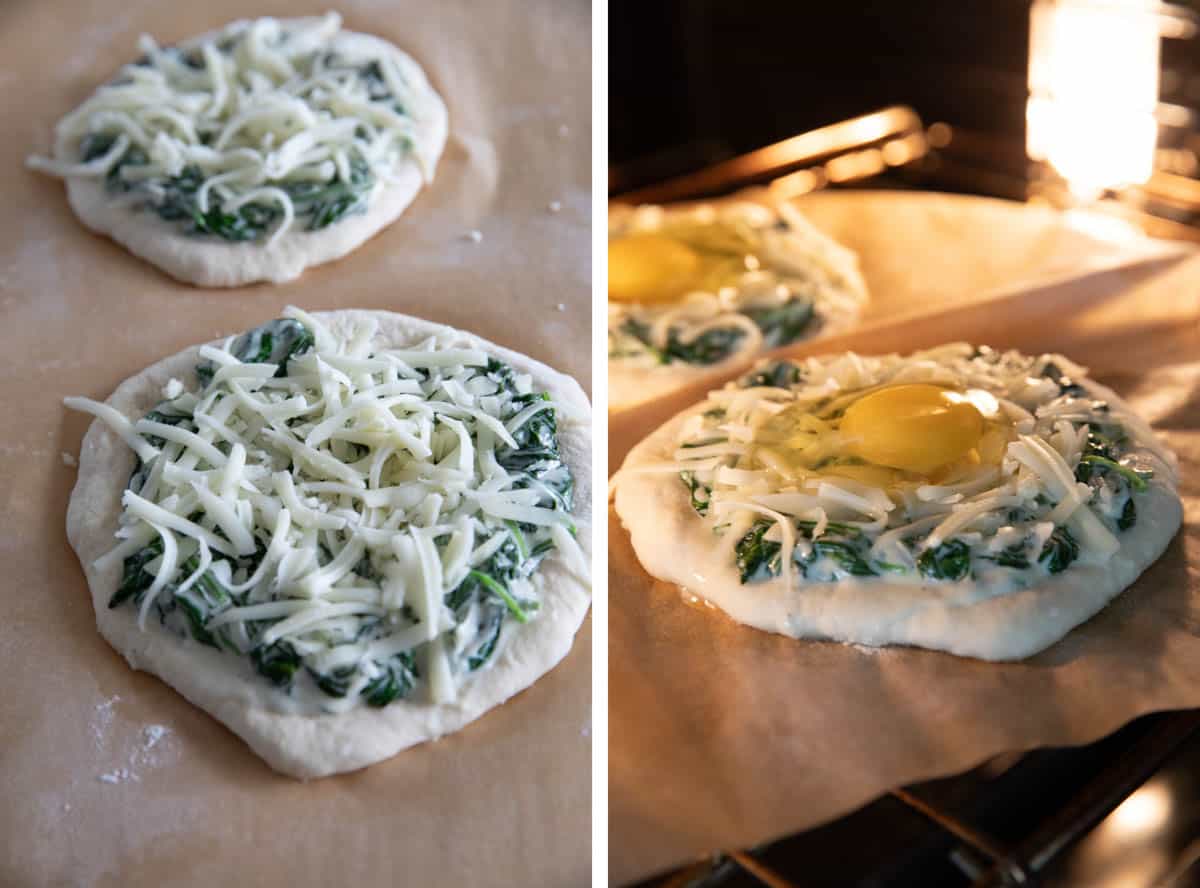 7: Add cheese to the top of each pizza. Then I like to make a little nest in the center where the egg will go by pressing the cheese down a little bit.
8: Transfer the pizzas to the oven, then add the egg on top. (This is much easier to do than trying to keep the egg on top while transferring the pizza!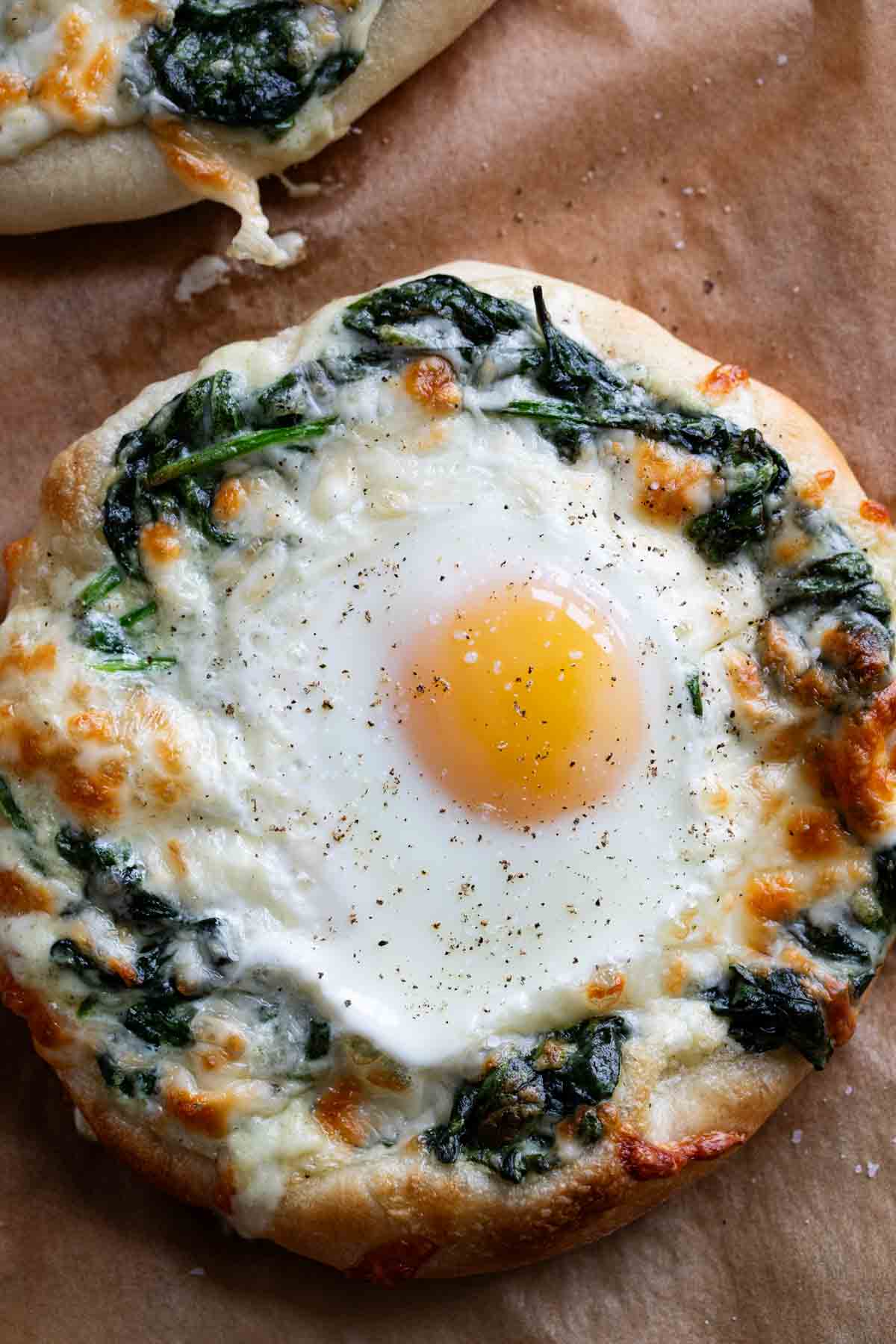 9: Bake until the pizzas are golden brown and the cheese is melted. The egg should be somewhat set, as well. You'll want to take the pizzas out of the oven before the egg looks completely done. The radiant heat will continue to cook the egg, so you'll want to account for that if you want a runny egg.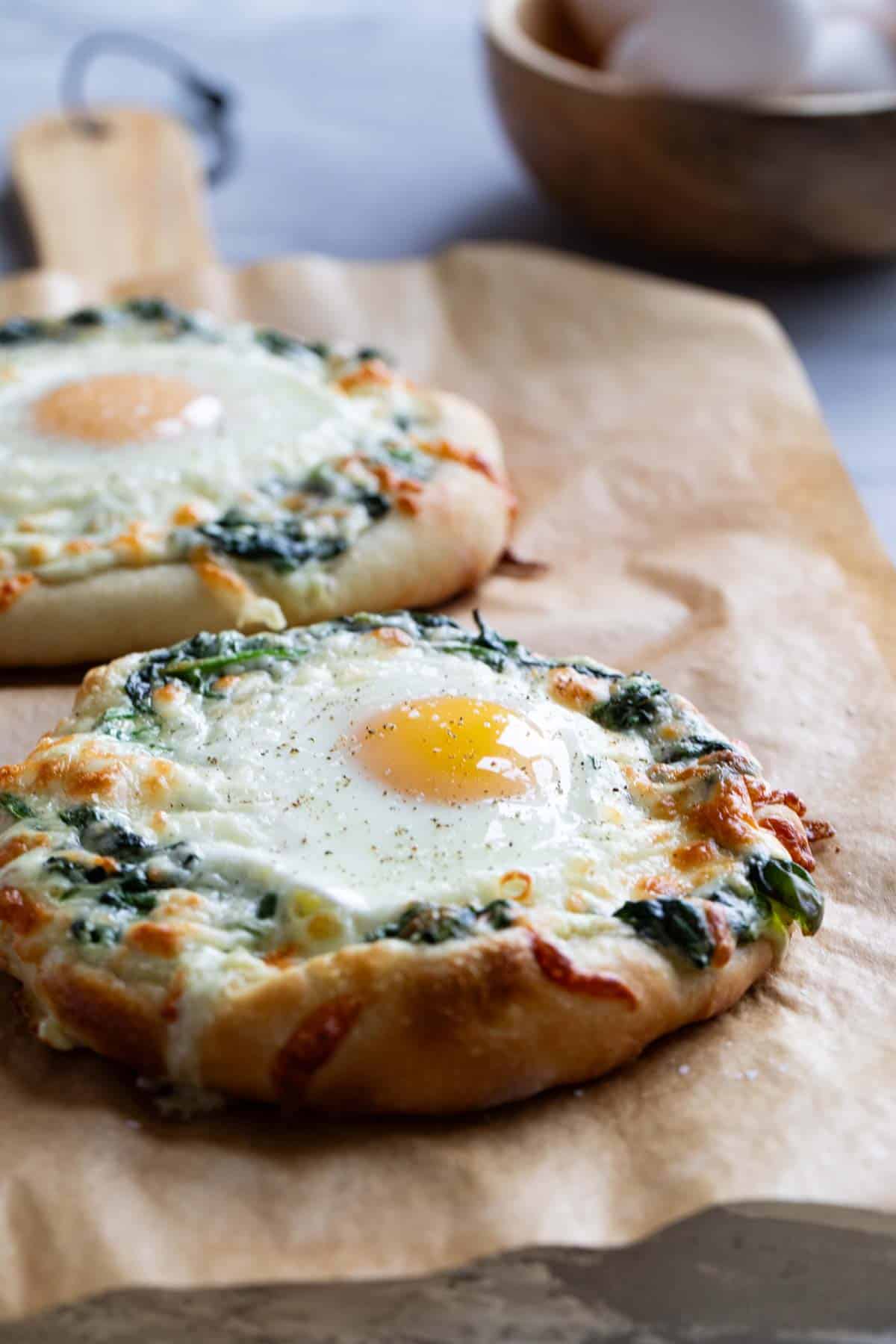 Tips and Tricks
I swear by using a pizza stone for the best pizza. They are fairly inexpensive and last forever.
For all of my pizza baking tips, check out my homemade pizza dough post.
If your cream mixture gets too thick, or if the spinach isn't mixing in well, feel free to add an additional splash or two of cream.
I like to crack the eggs into individual small bowls, then use that bowl to pour the egg onto the pizza. It's much easier than trying to break the egg right onto the pizza.
Add a bit of kosher salt and freshly cracked pepper right before serving, if desired.
These pizzas are best served fresh. You can still have them as leftovers, but the egg will easily overcook when reheating.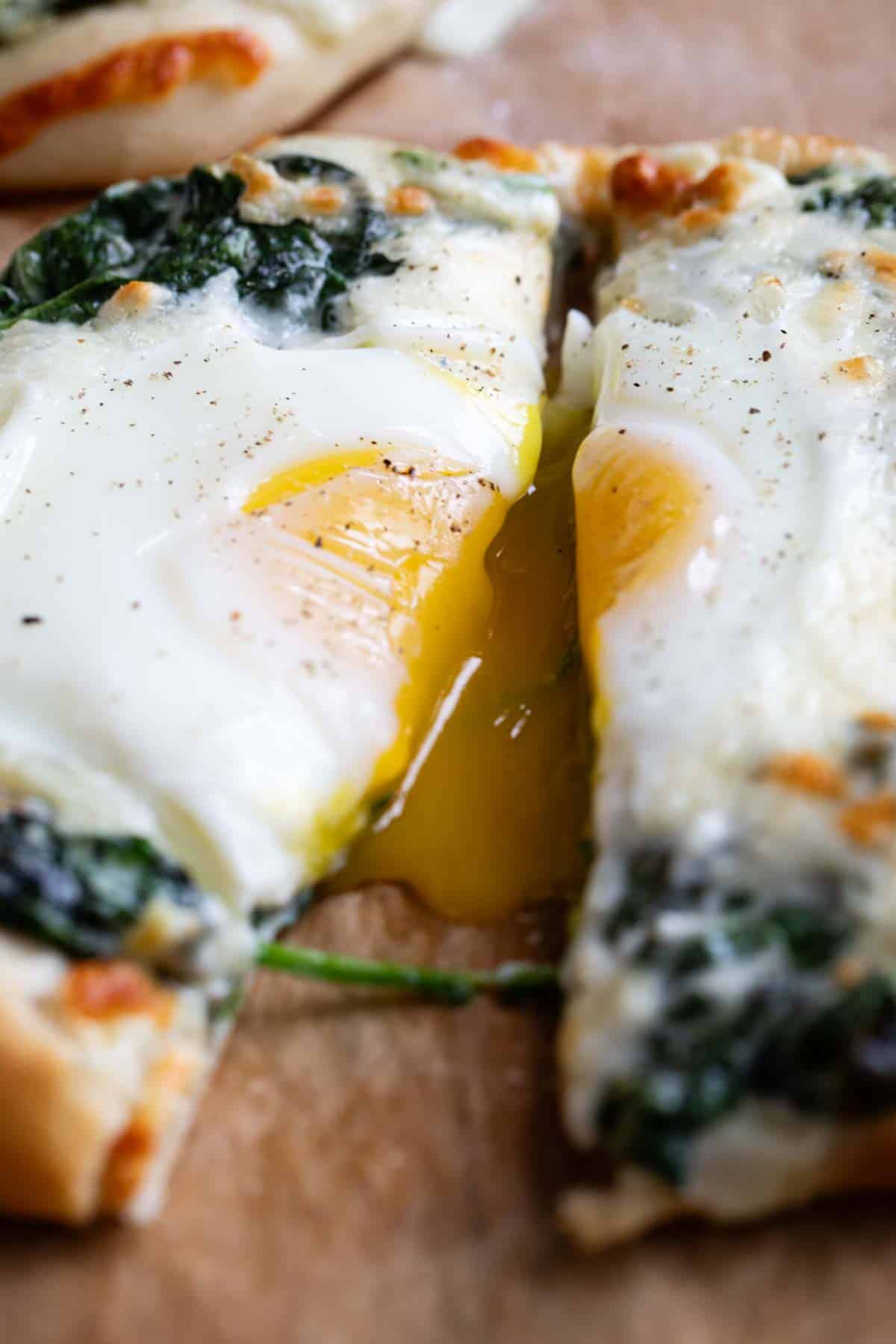 More Pizza Recipes
White Pizza
Margherita Pizza
BBQ Chicken Pizza
Taco Pizza
Blue Cheese and Bacon Pizza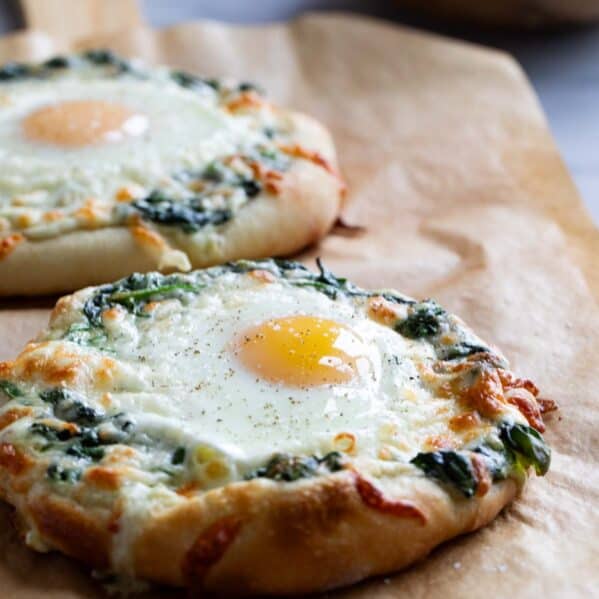 Egg Pizza with Creamed Spinach
---
Author:
Prep Time: 20 minutes
Cook Time: 12 minutes
Total Time: 42 minutes
Yield: 4 servings 1x
Category: Main Dish
Method: Baked
Cuisine: Italian
Description
Breakfast meets dinner with this Egg Pizza with Creamed Spinach which tops pizza dough with creamed spinach and a perfectly cooked egg.
---
Scale
Ingredients
1 tablespoon butter
1 tablespoon flour
2/3 cup heavy whipping cream
Freshly grated nutmeg
Salt and pepper
1 pound fresh spinach
1 pound pizza dough
4 ounces shredded Mozzarella cheese
4 large eggs
---
Instructions
If using a pizza stone, place it in the oven. Preheat the oven to 475ºF. (If you are using a pizza stone, you want to make sure the oven preheats for at least 30 minutes.)
IN a large skillet, melt the butter. Add the flour and whisk for 1 minute. Slowly add in the cream and whisk until it is slightly thickened. Season with a bit of freshly grated nutmeg, and salt and pepper to taste. Add the spinach, one handful at a time, stirring until the spinach is wilted.
Divide the pizza dough into 4 equal portions. Stretch or roll the dough into 4 individual sized pizzas. (Mine were about 6 inches in diameter.) Divide the creamed spinach between the 4 pizzas, spreading it to about 1/4-inch of the edges. Sprinkle each pizza with the mozzarella. Press the middles down just a little bit, making a small indentation.
Transfer the pizzas to the oven. (I baked mine 2 at a time, as that is what would fit on my pizza stone.) Crack an egg and gently pour into the indentation on top of each pizza, repeating with all 4 eggs and 4 pizzas.
Cook until the crust is browned, the cheese is melted, and the egg is set but the yolk still runny, 10-12 minutes.
Recipe Notes:
You may need to bake 2 pizzas at a time, depending on the size of your pizza stone.
If you do not have a baking stone, you can cook the pizzas on a baking sheet. You will not need to preheat the oven as long.
I like to crack the eggs into small individual bowls, then use the bowls the pour the egg onto the pizza. It's much easier than having to carefully break an egg directly over the pizza.
Nutrition information provided as an estimate only. Various brands and products can change the counts. Any nutritional information should be used as a general guide.
Nutrition
Serving Size: 1 pizza
Calories: 643
Sugar: 8 g
Sodium: 805 mg
Fat: 34 g
Saturated Fat: 17 g
Unsaturated Fat: 17 g
Trans Fat: 0 g
Carbohydrates: 58 g
Fiber: 6 g
Protein: 25 g
Cholesterol: 267 mg
Keywords: Egg pizza, creamed spinach, pizza recipe