Breakfast meets dinner in this pizza that is topped with creamed spinach and a perfectly cooked baked egg.
You know, one of those people that Jimmy Fallon makes fun of.
#gettingmycookieon
Yep. That's me.
Ok, so to give myself the benefit of the doubt, I don't actually speak that way. I actually speak in full sentences, and I definitely don't use my hands that much. 😉
But being fully immersed in social media, the hashtag has stuck. Sometimes they are funny. Sometimes I use them to connect. But usually, it seems like a hashtag just speaks more volume than just the words.
#truth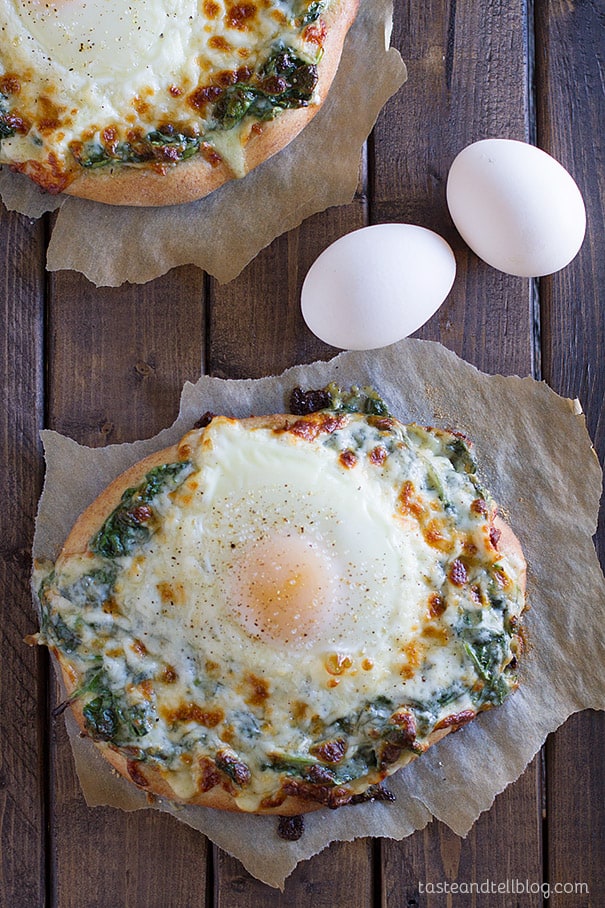 And really, I'm a woman of few words in most instances. And sometimes, something short and to the point is all that is needed.
Like with these pizzas.
I posted a picture of them on Instagram the other day after I had made them. I could have gone on and on about how good they are, about how amazing a soft egg is on top of creamy, dreamy creamed spinach. About how this is the perfect meal morning, noon or night.
But really, all that was needed was:
#putaneggonit
Because in my world, an egg is all that is needed to turn something from good to amazing. And I'm not kidding you – this pizza is amazing.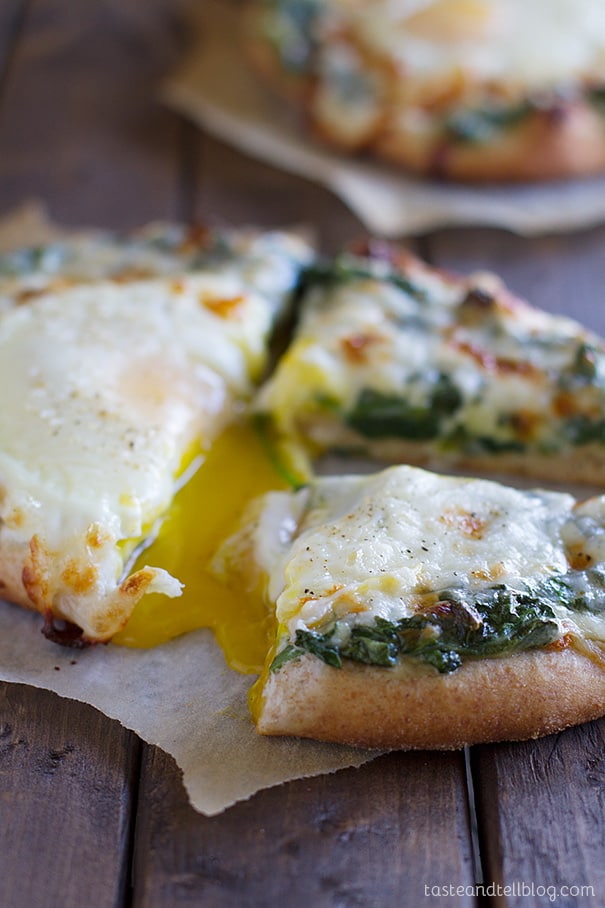 I was actually inspired by one of my favorite breakfasts, Baked Eggs with Creamed Spinach. There is nothing better than a perfectly cooked egg on top of a bed of creamy spinach. It's seriously drool-worthy. And then the idea popped into my head – why not turn it into a pizza?
It was pretty genius, if you ask me.
And it goes to show that eggs aren't just for breakfast. Not only do eggs provide 6 grams of protein each, but they are so affordable, making this a meal that won't break the budget. This is also definitely a great way to get in a meatless meal for the week. Or should I say – #MeatlessMonday 😉
And now I think we need to start a movement where we actually do put an egg on everything. I'm totally down with that!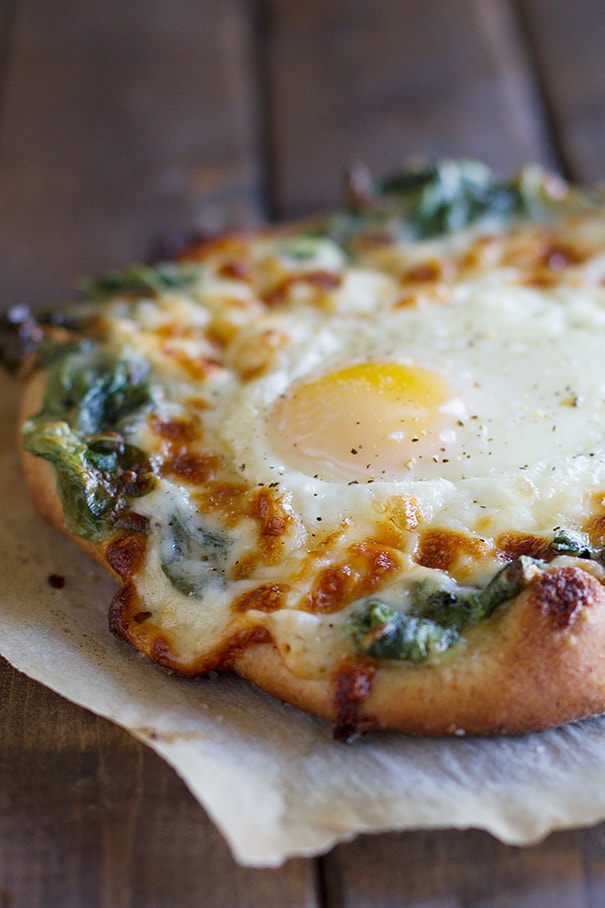 Like what you see here? Make sure you are following Taste and Tell for more great recipes and ideas!!

Facebook ** Pinterest ** Twitter ** Instagram ** Google+
or you can subscribe to my newsletter or Feedly or Bloglovin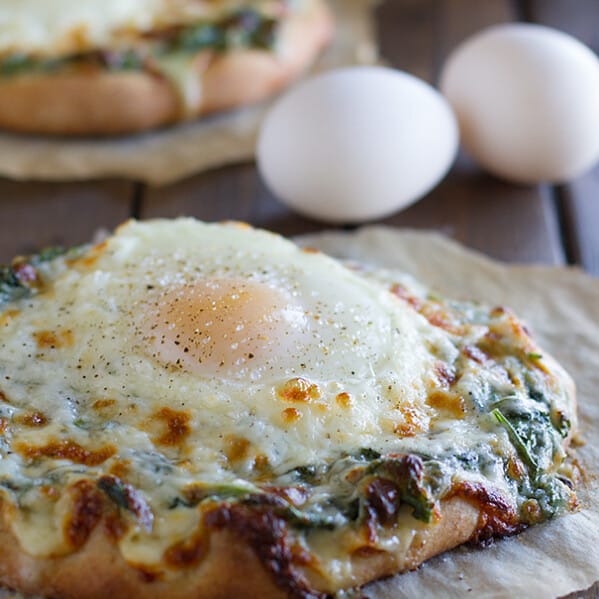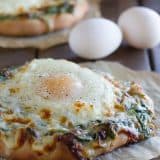 Creamed Spinach and Egg Pizza
---
Prep Time: 20 minutes
Cook Time: 12 minutes
Total Time: 32 minutes
Yield: 4 servings 1x
Description
Breakfast meets dinner in this pizza that is topped with creamed spinach and a perfectly cooked baked egg.
---
Scale
Ingredients
1 tablespoon butter
1 tablespoon flour
2/3 cup cream
8 oz fresh spinach
salt and pepper
freshly ground nutmeg
1 lb pizza dough
4 oz grated Mozzarella cheese
4 eggs
---
Instructions
Preheat the oven to 475°F. Place a pizza stone in the oven to preheat with the oven. Let it heat for at least 30 minutes.
In a skillet, melt the butter. Add the flour and whisk in for 1 minute. Slowly add the cream and whisk until slightly thickened. Add the spinach and stir until it is wilted. Season to taste with salt, pepper, and a little bit of freshly grated nutmeg.
Roll the pizza dough into 4 individual sized pizzas. Divide the creamed spinach between the 4 crusts. Spread to 1/4-inch of the edges. Sprinkle each pizza with some of the Mozzarella. With a pizza peel, transfer the pizzas to the oven. Crack an egg and gently place on top of a pizza, repeating with all 4 eggs and pizzas.
Cook until the crust is browned, the cheese is melted, and the egg is set but the yolk is still runny, 10-12 minutes.
Recipe Notes:
**note – you may need to bake 2 pizzas at a time, depending on the size of your pizza stone.
I am in a working relationship with the American Egg Board, and this post has been sponsored. I'm so glad to be able to work with companies and organizations that I truly believe in. Thank you for supporting them, too.