Bring a taste of Belgium into your kitchen with these Liege Waffles. A wonderful special breakfast or afternoon treat, these yeasted sugar waffles are irresistible, especially topped with a dollop of Reddi-wip!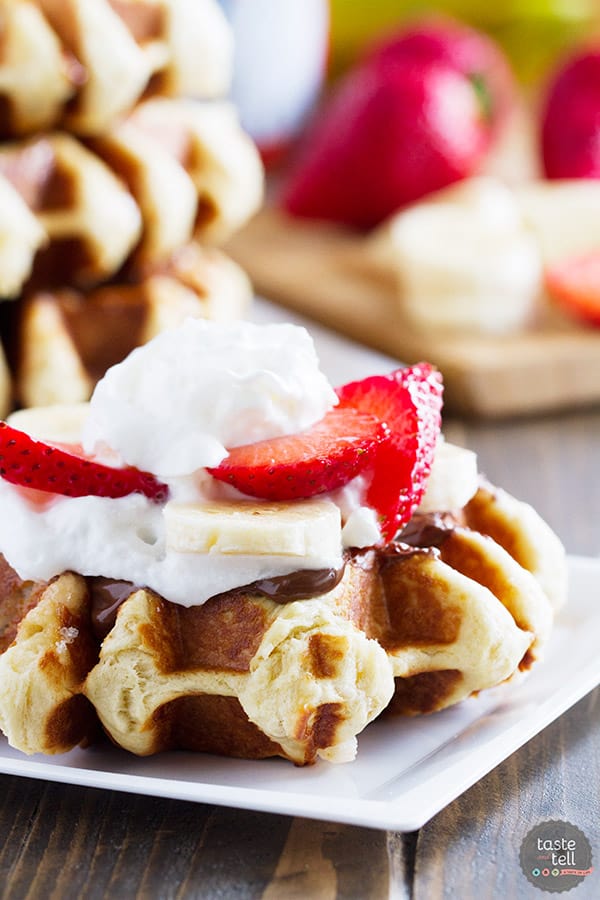 Living in Utah, the winter months can get pretty dreary. I feel like I haven't even seen the sun for days. And when it does come out, it's so fleeting and is gone almost as fast as it came. You can only start start counting down the days until spring.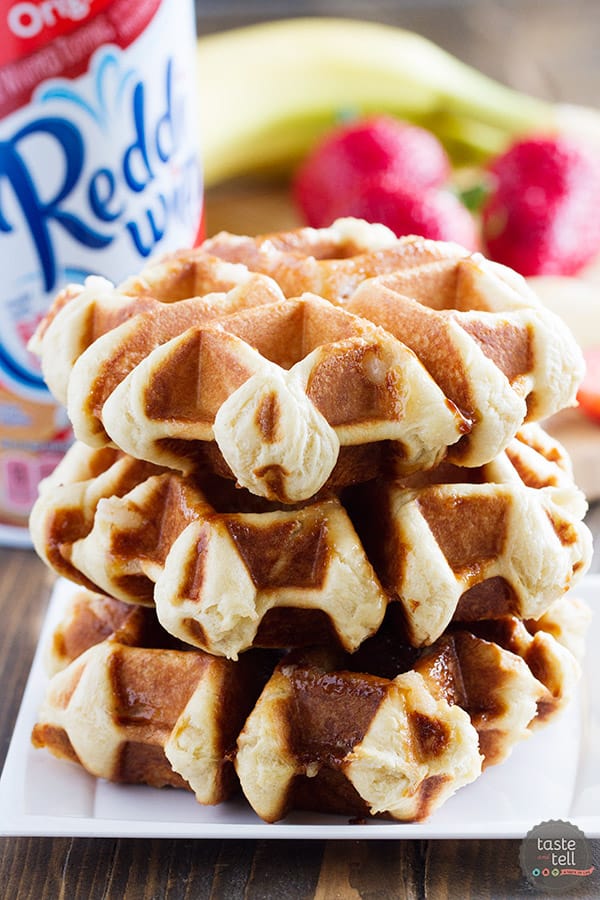 So what's a girl to do when the grays of winter start to strike? You find a way to share joy with those around you – bringing a little bit of happiness back!!
I know that for me, if I just seek out ways to make myself happy, or to bring joy into my own life, it's not always a permanent solution. But I have found that by sharing joy, it brings more joy into my life as well. Because really – what is better than being able to bring a smile to someone else's face?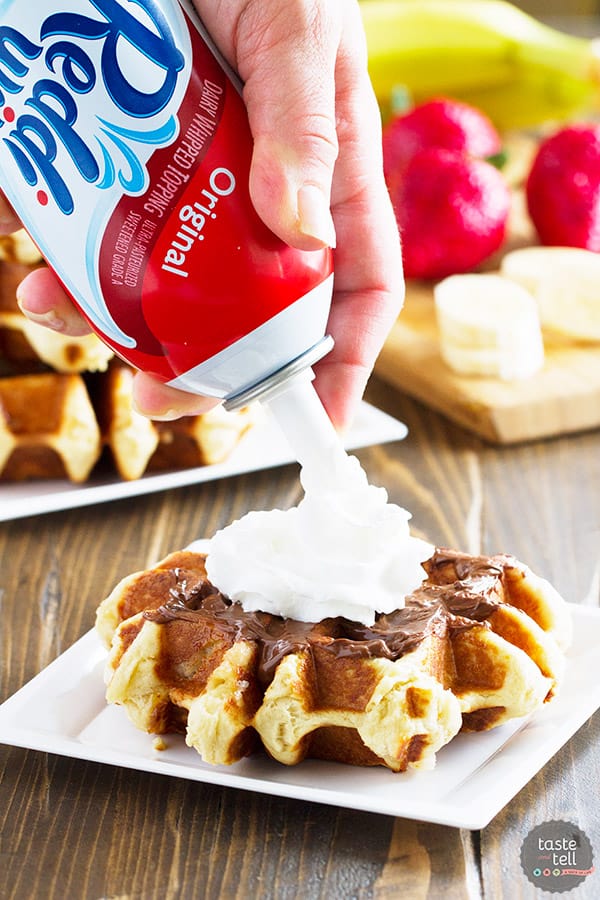 So I decided to get my kids involved, and show them a little bit about sharing joy with those around us. We decided to bake up a special treat – because we know that joy definitely comes from the kitchen for us – and to share that treat with our neighbors, hoping to bring some joy to their day.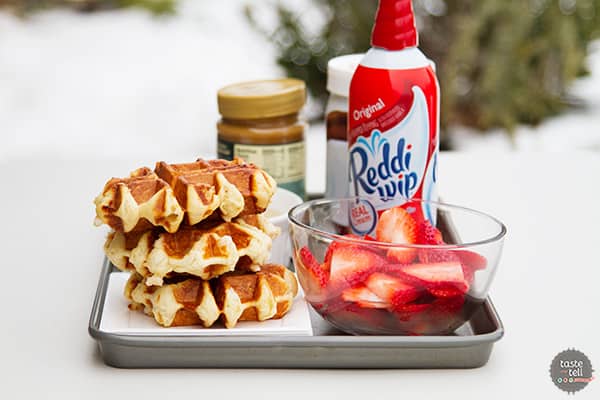 I got to work and baked up some Liege Waffles (more on those waffles below!), and we decided to set up a little table outside and invite any neighbors over that wanted a little afternoon pick me up. Even though it was freezing cold outside and there was snow on the ground – that didn't stop us! In fact, I'm pretty sure that fresh air boosted my kids' spirits since we have been stuck inside for so long. We set up a little station with the waffles and a few toppings. And of course some Reddi-wip, because you have to have whipped topping on top of your waffle, and it doesn't get easier than Reddi-wip. Not only is it made from real cream, but there are no hydrogenated oils. Plus, there are only 15 calories per serving, which totally negates the calories from the waffle, right? 😉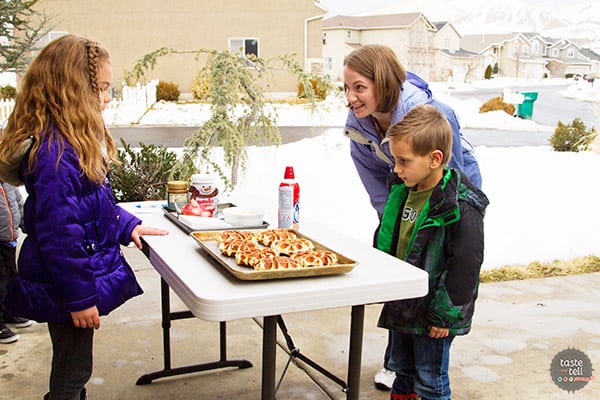 I always know that I am happy when I can share food with those around me, but it was fun to see those people come over and the smiles on their face as they walked off with a waffle. I mean, you can't help but feel joy when get a fun treat like this, right? I love having a chance to share the joy with others, and I loved being able to have my kids there to help and to be able to see that sharing joy is not always difficult, but can be found in simple things.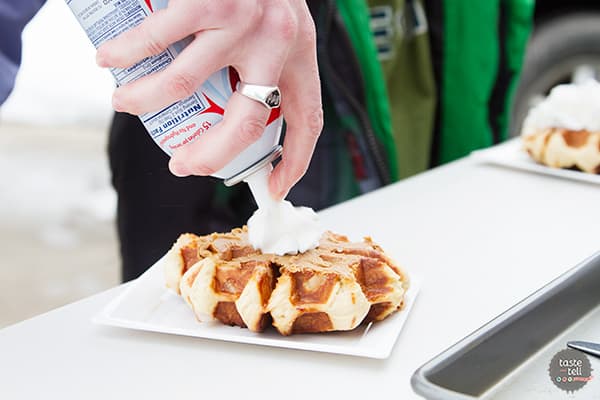 And these waffles? I have had a love affair with liege waffles for some time now. They have always been a special treat, so I figured that I might as well make some at home so I could share them with others, right? I have seen many recipes where you can bake the waffles the same day they are made, and many that require an overnight proof. I decided to go with the overnight proof for a few reasons. First, if I want them for breakfast, there is no way I'm getting up at 3am to start waffles. 🙂 It's so much easier for me to do all the work the night before, then just have to bake them up in the morning. Plus, I'm a firm believer that a lot more flavor is developed when the dough has that time to sit. I just don't think it's the same when you take the short way.
These waffles require a specific ingredient that you can't skip out on – Belgian Pearl Sugar. You can't skip it. It is a little bit on the pricey side, which makes these a special occasion treat, but they are so worth it. I have heard of people crushing sugar cubes to substitute, which is much cheaper, but I haven't tested that. But the sugar is what totally makes these waffles. The sugar melts in the waffle, creating these little pockets of deliciousness.
I did add some notes to the bottom of the recipe card about baking these waffles, and how today's waffle makers make it a little bit difficult. But once you figure it all out, they are actually pretty simple to make, and when you take your first bite, it will all be worth it. They are definitely best when they are served warm – so be prepared to serve them right after they are made. Serve them up with your favorite toppings (I always go for the cookie butter!), then a big dollop of Reddi-wip is necessary. These Liege Waffles will make you never want to go back to regular waffles again!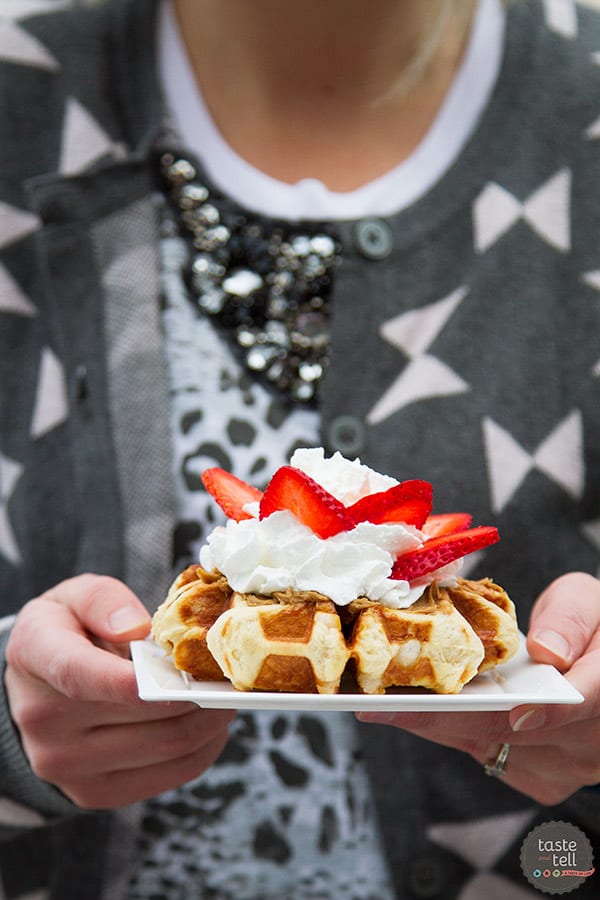 Like what you see here? Make sure you are following Taste and Tell for more recipes and ideas!
Facebook | Pinterest | Instagram | Twitter | Google+ | Weekly Newsletter | Feedly | Bloglovin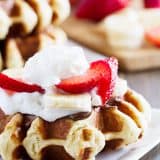 Liege Waffles
---
Author:
Prep Time: 30 mins
Cook Time: 28 mins
Total Time: 58 mins
Yield: 12 1x
Description
Bring a taste of Belgium into your kitchen with these Liege Waffles! A wonderful special breakfast or afternoon treat, these yeasted sugar waffles are irresistible.
---
Scale
Ingredients
1 package active dry yeast (2 1/4 teaspoons)
1 tablespoon sugar
3/4 cup lukewarm milk
3 eggs
1 cup melted butter, slightly cooled
3 tablespoons brown sugar
1 tablespoon vanilla extract
1/2 teaspoon salt
3 to 3 1/2 cups bread flour
8 oz Belgian pearl sugar (about 1 1/2 cups)
toppings of your choice (chocolate hazelnut spread, cookie butter, fresh fruit, etc)
Reddi-wip
---
Instructions
In the bowl of a stand mixer, combine the yeast, sugar and milk. Allow to stand for 5-10 minutes, until the yeast has bloomed.
Whisk the eggs and butter into the yeast mixture. Add in the brown sugar, vanilla and salt and mix until smooth and combined. Start adding in the flour, 1/2 cup at a time, until you have added 3 cups of the flour. Continue to mix until the dough is smooth. The dough will still be sticky, but should be pulling away from the sides of the bowl. If the dough is still not pulling away from the sides after mixing for 2-3 minutes, add up to an additional 1/2 cup of flour.
Transfer the dough to a large, greased bowl. Cover with a towel or a piece of plastic wrap that has been sprayed with nonstick baking spray. Let it rise until it has doubled in size, 30 minutes to an hour. Punch down the dough, recover, and refrigerate overnight.
Remove the dough from the refrigerator and pour out onto a very lightly floured work surface. With your hands, knead the pearl sugar into the dough. (Be careful, as the sugar is a bit sharp and it may hurt your hands if you are too rough.) Divide the dough into 12 equal portions and roll into a ball.
Preheat a waffle maker. (You'll want a Belgian waffle maker, or a waffle maker that makes deeper waffles. They won't be the same in a traditional waffle maker.) Slightly flatten a ball of dough and place it in the center of the waffle maker. Close and cook according to the waffle maker instructions*.
Carefully remove from the waffle maker (the sugar is HOT!) and let rest for a minute or two before topping and serving.
Waffles are best served and eaten warm.
Recipe Notes:
TOTAL TIME DOES NOT INCLUDE RISING TIME OR TIME REFRIGERATED.
*Most home waffle makers cook way too hot and the outsides of the dough will be cooked before the sugar has a chance to melt in the waffle. If you have a waffle maker that allows you to control the temperature, turn it down to around 360º and cook until they are golden brown. If your waffle maker is like mine, and only has one heat setting (HOT!), I found that the only way I could get them to cook a little longer without overcooking or drying out was to turn the waffle maker off after I had added the dough. It was a bit of a pain, but totally worth it in the end! With the waffle maker on the whole time, I was only cooking them about 2 minutes, but with turning it off, I could stretch that to 4 1/2 minutes, and the sugar was able to melt nicely. My waffle maker does have 2 sides, so I could bake 2 at a time, so that helped as well. You'll have to experiment with your waffle maker to see what works best.
Don't miss a thing! Follow me on Pinterest to see what I'm pinning!
Visit Taste and Tell's profile on Pinterest.



This is sponsored content written by me on behalf of Reddi-wip. The opinions are all mine.