One of these days…
One of these days, I will feel like I have a handle on everything. Taking care of a one-year old, keeping up with the house, trying to start a photography business, plus 3 other blogs – I'm beginning to feel a little overwhelmed with life. Which is why I haven't been around other blogs a whole lot lately. There are just not enough hours in the day!! But I have been forced into getting on top of some things since I will be away from my computer for the next few days. I'll be heading to my sister's house to take on the task of watching her 5 kids plus my one. The good thing is that since I won't have my own computer, I'm hoping for some time to go around a catch up on some of my blog reading. But then again, who knows how much free time I'll have with 6 kids on my hands…
One thing I will always take time for is a "breakfast for dinner" meal. And this one was phenomenal. In fact, my husband said that this was probably the best biscuits and gravy that he had ever had. Now that's a compliment!! You can bet that both of these recipes will be making a showing on our table again soon!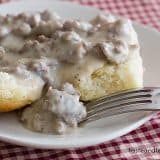 Biscuits and Sausage Gravy
---
Prep Time: 10 minutes
Cook Time: 20 minutes
Total Time: 30 minutes
Yield: 4-6 servings 1x
Description
The ultimate biscuits and sausage gravy recipe!
---
Scale
Ingredients
Biscuits
2 C flour
1 Tbsp baking powder
1 Tbsp sugar
1 tsp salt
1/2 tsp baking soda
4 Tbsp unsalted butter
1 1/2 C buttermilk
Additional flour
2 Tbsp melted butter
Sausage Gravy
2 teaspoons vegetable oil
1 16 oz. tube of pork sausage
Additional fat if needed: bacon grease or butter
4 Tbsp flour
3 C milk
A little bit of dried herbs (optional)
Salt and pepper to taste
---
Instructions
To make the biscuits:
Preheat the oven to 500F. Spray a 9-inch cake pan with nonstick cooking spray.
In a bowl, combine the flour, baking powder, sugar, salt and baking soda. Using a pastry cutter or fork, cut in the butter until you have coarse crumbs. Fold in the buttermilk. Stir just until blended – the mixture will still be lumpy.
Line a small plate or bowl with flour. Use a 1/4 cup measuring cup or an ice cream scoop to scoop out the dough and put on the plate of flour. Roll the dough in the flour to coat. (Note – the "dough" will be very sticky and wet – not like a typical biscuit dough. It is best to use a scoop so that the mixture won't stick to your hands.) Place the dough balls in the prepared pan – 9 balls around the outside and 3 balls in the center. Brush the tops of the balls with the melted butter.
Bake in the preheated oven for 5 minutes then lower the temperature to 450 and bake another 15 minutes, or until golden brown.
To make the sausage gravy:
Heat the 2 teaspoons of vegetable oil in a heavy duty skillet or cast iron skillet . Add the sausage and cook until cooked through, breaking up the sausage as it cooks.
Remove the sausage and drain, reserving the fat. Return 3 to 4 tablespoons of the fat to the pan. (If you don't have enough grease, add more bacon grease or butter to make up for the difference.) Add the flour and whisk, allowing the flour to brown and form a dark roux. Keep whisking and pour in the milk. Whisk out the lumps. Return the sausage to the skillet and add in any herbs you'd like. Simmer the gravy until it thickens.
Serve the gravy over split biscuits.
————–
Biscuit recipe from Cooks Illustrated via Nook and Pantry
Sausage gravy recipe from Nook and Pantry