The ultimate biscuits and sausage gravy recipe – tender and fluffy biscuits are topped with a traditional, rich sausage gravy. This meal is perfect for breakfast, but also hearty enough for dinner.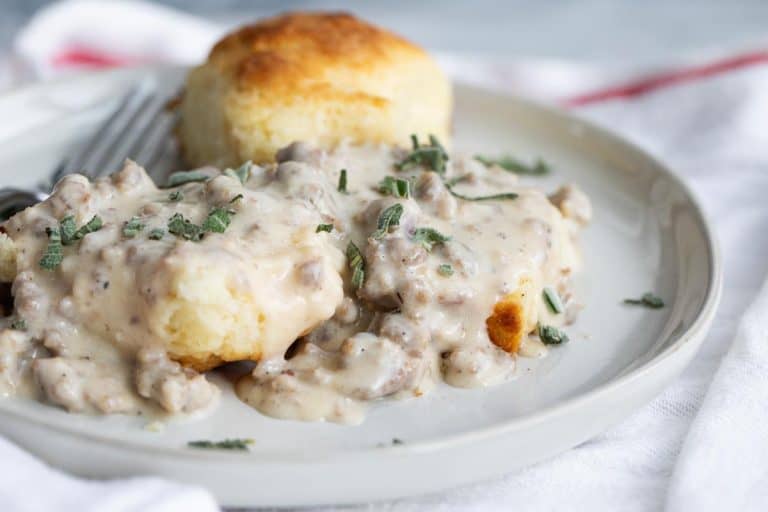 Biscuits and Sausage Gravy
Biscuits with sausage gravy is one of my favorite meals to make for breakfast. I don't know if it's because I prefer savory meals like this one when I first wake up, or because I'm just a sucker for comfort food.
As easy as it is to buy biscuits out of a can, there is something special about a homemade biscuit that adds to the essence of biscuits and gravy. And while this biscuit recipe isn't your traditional biscuit or method, you won't regret making them from scratch. I'll walk you through some of my tips and tricks to getting the perfect biscuit and mastering the consistency of this sausage gravy.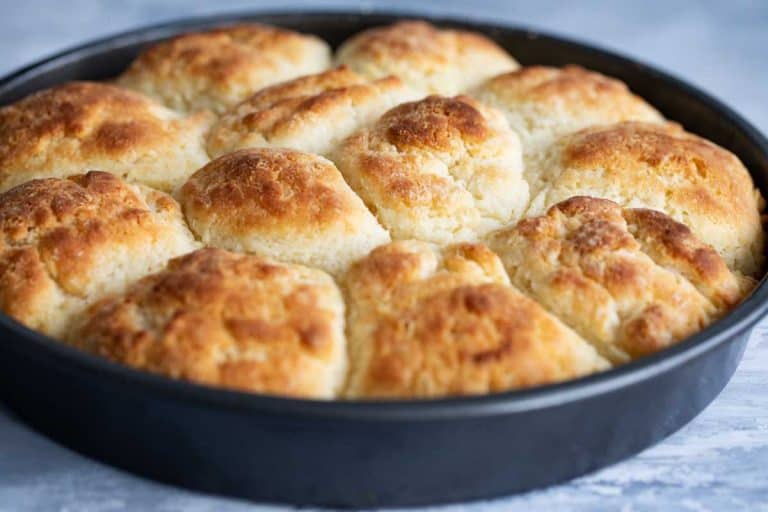 Tips for the Perfect Biscuits
If you have made biscuits before, don't go into this recipe thinking that they will be the same. The dough for these biscuits is very wet. But the biscuits you get are so light and fluffy and different that you'll find yourself wanting to make these biscuits all the time. Here are a few tips and tricks to remember as you go into making these.
You are making 12 biscuits, and they will all fit in a 9-inch cake pan. Make sure your pan is greased before starting.
Turn the oven on to 500ºF. I know it's hot, but they won't bake at that high of a temperature the whole time. That initial high heat will help the baking soda to release carbon dioxide, which creates little pockets of air, which makes a light and fluffy biscuit.
You can cut your butter into the mixture with a fork or a pastry cutter. I think a pastry cutter is faster, but either will work.
Stir the buttermilk in just until it is combined. The mixture will be very wet and sticky. If you put your hands in, it would stick all over. This is how it should be.
To form the biscuits, I think it's easiest to use a spring-release scoop. Scoop the dough and then drop it into your bowl of flour. I will then sprinkle some flour on top and roll it around a bit, until it is coated in the flour. Then I will gently scoop up the ball with one hand and let the excess flour fall off through my fingers, bouncing it up and down slightly to shake off the excess flour. You should be able to transfer it to the baking dish easily at this point.
Yes, it will be a little messy – but it's worth it!
When baking the biscuits, keep an eye on them. Since you are starting off at 500ºF then turning the oven down to 450ºF, there may be some discrepancies in cook time since different ovens will adjust to the new temperture faster than others. They will be done when they are golden brown on top.
Let them cool slightly before removing from the pan.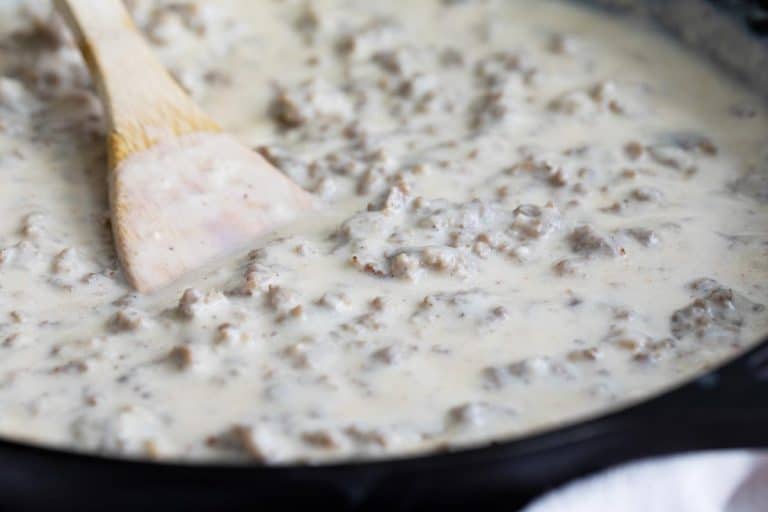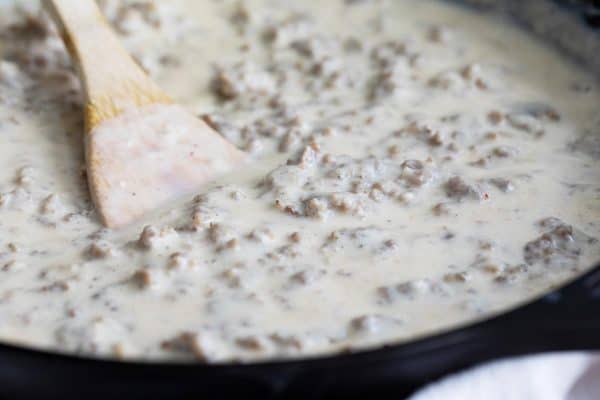 Tips for the Perfect Sausage Gravy
I used to be scared of making homemade gravy, until I learned how easy it is! Here are my tips for the perfect sausage gravy.
For the sausage, I use the kind that comes in a tube. It breaks apart better than sausage links, and I like the flavor of breakfast sausage over Italian sausage.
Some sausage is fattier than others, and you'll need some of that leftover grease to make the gravy. After you remove the sausage, if you don't have 3-4 tablespoons of fat left in the pan, you can add butter to make up for the difference. If I have bacon fat on hand I'll use that sometimes, as well. Don't skip this – you have to have the fat or your gravy won't work.
Whisk the flour into the grease well, and then as you add the milk, whisk vigorously the whole time to avoid lumps.
Let it cook until it thickens up before you add the sausage back in. This should only take a minute or two.
You can add any additional herbs, but if I have a sausage that is heavily seasoned, I won't. But some dried or fresh sage is usually a good choice!
If the gravy thickens up too much, whisk in a bit more milk.
Make sure you season with salt and pepper to taste. I like a lot of pepper!
Biscuits and Sausage Gravy for Dinner
While I love having biscuits and sausage gravy for breakfast, this is actually one of my favorite breakfast meals to have for dinner! That sausage gravy is savory enough to hit the spot and the homemade biscuits don't leave anyone hungry. I have to say I was pretty proud of myself when we had this for dinner and my husband told me it was the best biscuits and gravy he had ever had, I would call that a win.
This is a great meal that is perfect any time of day!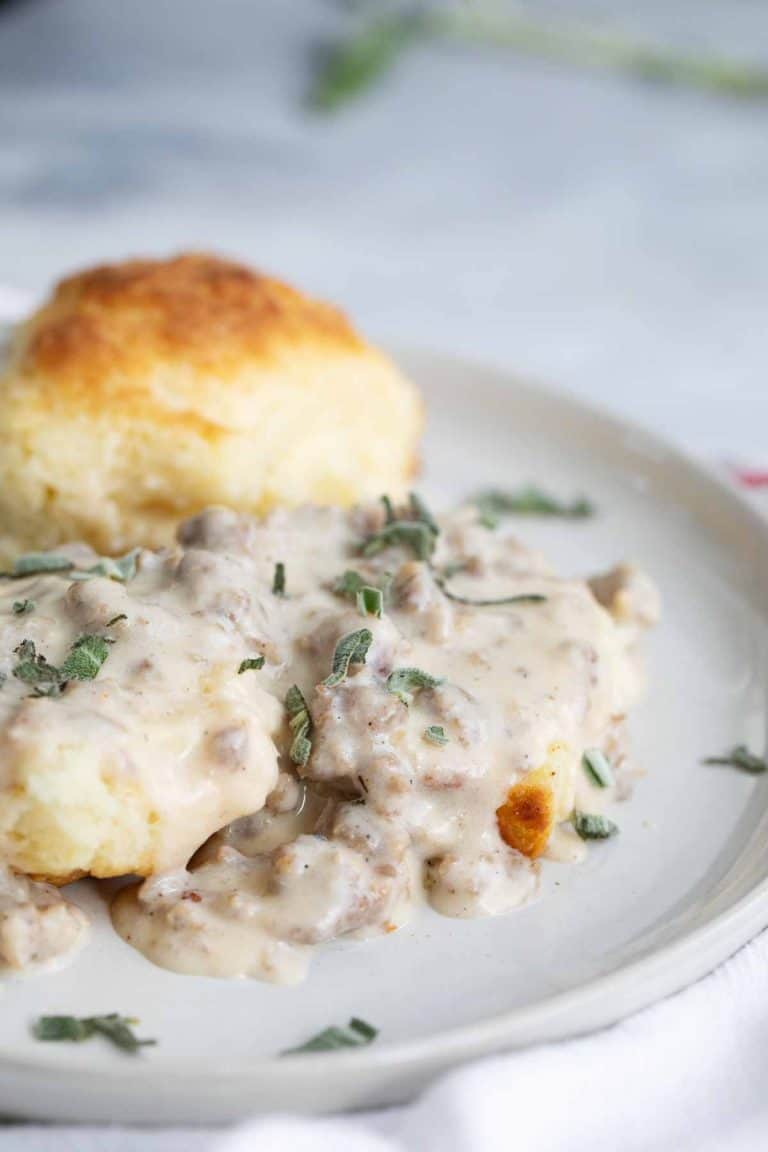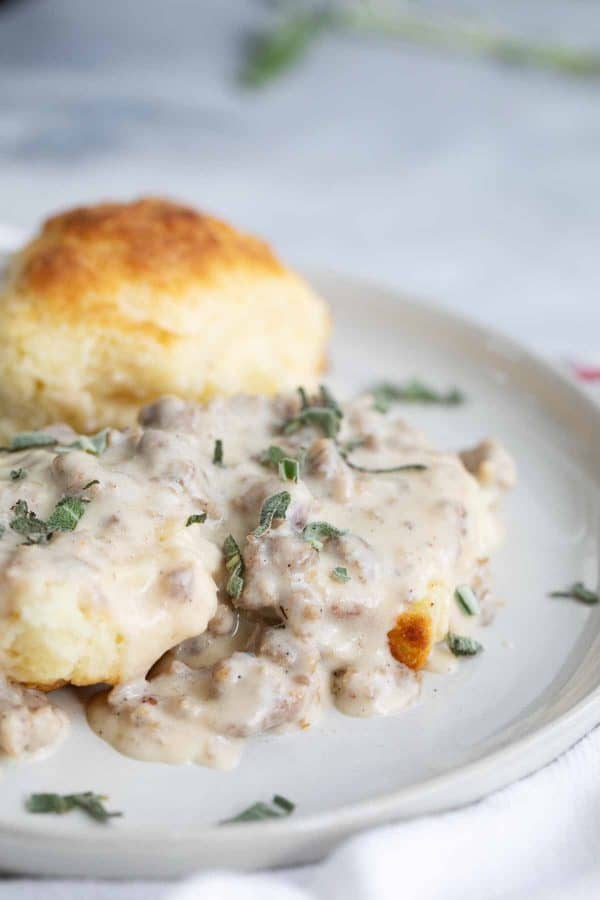 More Savory Breakfast Ideas:
Camping Breakfast Burritos
Meat and Potatoes Breakfast Skillet
Ham and Cheese Breakfast Casserole Recipe
Bacon and Eggs Benedict Sandwich with Chipotle Hollandaise
Breakfast Tortilla Stack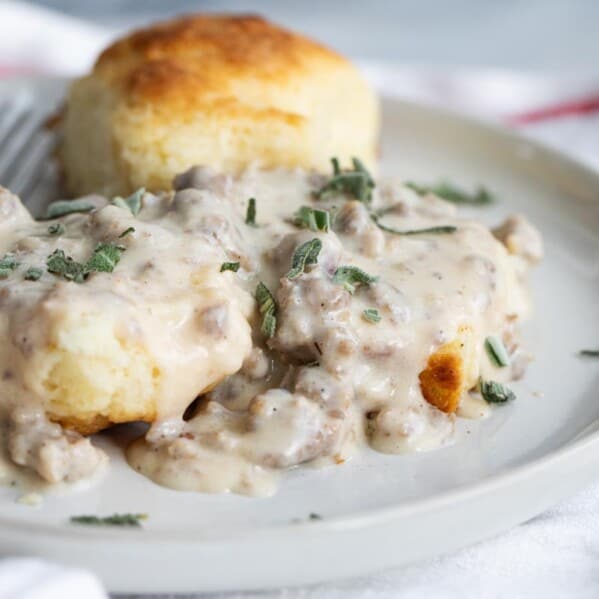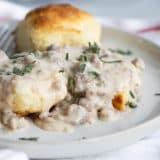 Biscuits and Sausage Gravy
---
Author:
Prep Time: 15 minutes
Cook Time: 30 minutes
Total Time: 45 minutes
Yield: 8 servings 1x
Category: Breakfast
Method: Baked
Cuisine: American
Description
The ultimate biscuits and sausage gravy recipe – tender and fluffy biscuits are topped with a traditional, rich sausage gravy. This meal is perfect for breakfast, but also hearty enough for dinner.
---
Scale
Ingredients
Biscuits:
2 1/2 cups all-purpose flour, divided
1 tablespoon baking powder
1 tablespoon sugar
1 teaspoon salt
1/2 teaspoon baking soda
4 tablespoons unsalted butter
1 1/2 cups buttermilk
2 tablespoons melted butter
Sausage Gravy:
2 teaspoons vegetable oil or extra virgin olive oil
1 (16 oz) tube pork breakfast sausage
4 tablespoons all-purpose flour
3 cups milk
Dried herbs (optional)
Salt and pepper to taste
---
Instructions
To make the biscuits:
Preheat the oven to 500ºF. Spray a 9-inch cake pan with nonstick cooking spray.
In a bowl, combine 2 cups of the flour, baking powder, sugar, salt and baking soda.
Using a pastry cutter or fork, cut the butter into the flour until you have coarse crumbs. Fold in the buttermilk. Stir just until blended – the mixture will still be lumpy.
Place the remaining 1/2 cup flour in a bowl. Using a 1/4-cup trigger-scoop ice cream scoop, scoop out a ball of the dough and place in the flour. The dough will be very sticky – not like a typical biscuit dough at all. (It is best to use a scoop so that the mixture doesn't stick to your hands.) Toss the dough gently to coat it in the flour, then place the dough balls in the prepared pan – 9 balls around the outside and 3 balls in the center.
Brush the tops of the balls with the melted butter.
Bake in the preheated oven for 5 minutes, then lower the temperature to 450ºF and bake another 15 minute, or until golden brown.
To make the sausage gravy:
Heat the 2 teaspoons of oil in a heavy duty skillet or cast iron skillet. Add the sausage and cook until cooked through, breaking up the sausage as it cooks.
Remove the sausage, reserving any fat. If you don't have 3-4 tablespoons of grease left, add enough bacon grease or butter to make up the difference.
Add the flour to the grease, and whisk, allowing the flour to brown and form a dark roux. Keep whisking as you pour in the milk. Whisk to remove any lumps. Cook until the mixture starts to thicken slightly, then stir in the cooked sausage and any additional herbs.
Simmer until it is thickened to your liking.
Serve the gravy over split biscuits.
Recipe Notes:
Biscuit recipe from Cooks Illustrated
Sausage Gravy recipe from Nook and Pantry
Nutrition information provided as an estimate only. Various brands and products can change the counts. Any nutritional information should only be used as a general guideline.
Nutrition
Serving Size: 1/8 of recipe
Calories: 544
Sugar: 8 g
Sodium: 1037 mg
Fat: 35 g
Saturated Fat: 15 g
Unsaturated Fat: 4 g
Trans Fat: 0 g
Carbohydrates: 41 g
Fiber: 1 g
Protein: 18 g
Cholesterol: 71 mg
Keywords: biscuits and sausage gravy, biscuits and gravy, sausage gravy, sausage gravy and biscuits