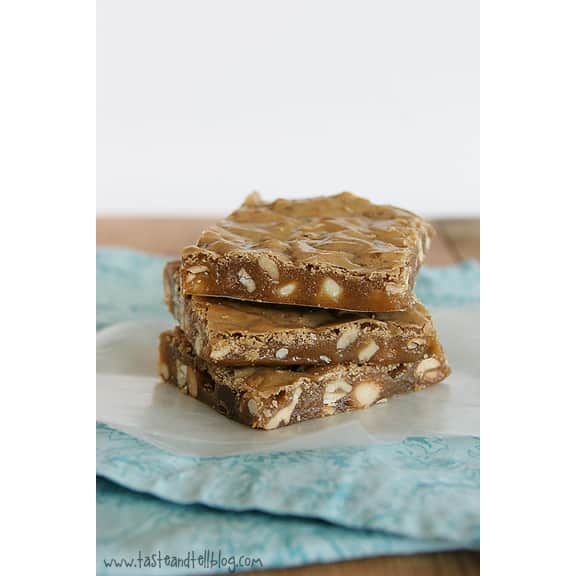 I love cookies.
But let's be honest here.  The older I get – or maybe it's the more children I have – the more I look for the easy way out.  Brownies.  Blondies.  Cookie bars.  Mix, dump, bake.  Then eat.  No shaping cookies.  No rolling.  No chilling.  No baking multiple batches.  Call me lazy, but I love the ease of bars.
I think that is what first drew me to this recipe.  Then it was the mixture of chocolate chips, white chocolate chips and cashews that kept me interested.  This recipe was developed by one of the authors of this cookbook, Cara, when she needed a way to apologize to a family member.  I'm always a fan of food as a peace offering, and these blondies are definitely the way to go.  I was afraid that I underbaked these too much, but I do tend to like my brownies/bars/blondies really soft, so I'm notorious for taking them out a minute or two early.  But I loved them just the way they were.  Loved them so much, in fact, that I had to package them up and give them away so that I would stop snacking on them!!
Recipe Rating:  9 out of 10
Lotus Blondies
---
Prep Time: 10 minutes
Cook Time: 30 minutes
Total Time: 1 hour
Yield: 24 bars 1x
Description
White and semi-sweet chocolate chips are combined with cashews in these super easy, stir and dump blondies.
---
Scale
Ingredients
2 1/2 cups packed light brown sugar
8 tablespoons unsalted butter
2 large eggs
1 teaspoon vanilla extract
1 cup all-purpose flour
1/2 teaspoon salt
1 cup roasted, unsalted cashews, salted
1 cup white chocolate chips
1/4 cup semi-sweet chocolate chips
---
Instructions
Preheat the oven to 325F. Grease a 9×13-inch baking dish and then line it with parchment paper.
In a small saucepan over medium heat, combine the brown sugar and the butter. Cook, stirring, until it is just beginning to bubble around the edges. Transfer to a mixing bowl and let cool to room temperature.
When the mixture has cooled, beat in the eggs and the vanilla. Add the flour, salt, nuts and chips and fold everything together. Pour into the prepared baking dish and bake in the preheated oven for 25 to 30 minutes. The top will get slightly crusty and puffy. Let cool in the pan, then remove and cut into bars.
from In the Small Kitchen
—————–
Check out these other blondie recipes:
White Chocolate Peanut Butter Blondies from Heather's Dish
Peanut Butter Cup Blondies from Gingerbread Bagel
Samoa Blondies RecipeGirl
Pumpkin Banana Cranberry Chocolate Chip Blondies from Evil Shenanigans
Nutella and Cream Cheese Swirled Blondies from Cookin' Canuck