Super soft blondies are filled with lots of warm spices and chocolate and caramel candies in these Caramel Spice Cake Blondies. Plus a review of Dessert Mash-Ups by Dorothy Kern.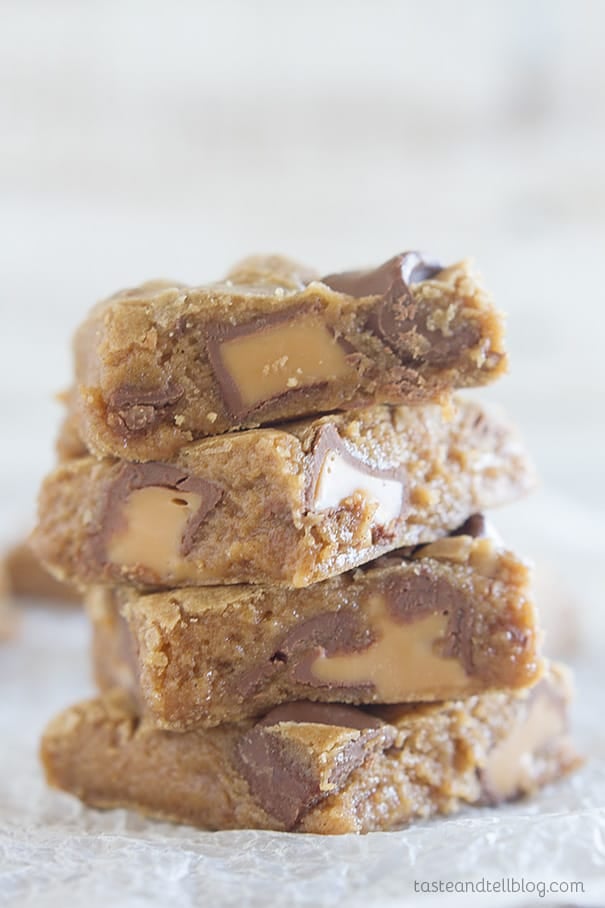 I'm sure it's no surprise by now that I love cookbooks. (Hello – I just posted a review of another cookbook yesterday!) Even though we live in a digital world, to me, there is nothing like holding a physical cookbook in my hands.
And right now, it feels like Christmas. So. Many. Great. Cookbooks. It is the season of cookbook releases, and it makes me excited.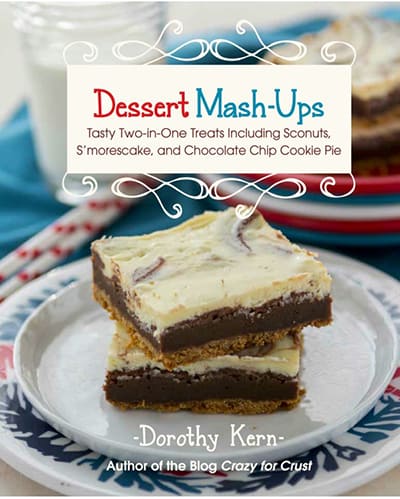 One of these cookbooks that I have been eagerly awaiting is Dorothy Kern's first cookbook – Dessert Mash-Ups. You probably already know Dorothy from her creative blog, Crazy for Crust. I was so excited when I heard that she was doing a cookbook, and I'm so happy to have a copy of it in my hands.
This cookbook is full of so many creative dessert mash-ups. Everything from Sugar Cookie Dough Cups to a Peanut Butter Cookie Cake to Carrot Cake Cheesecake Cupcakes. The book accidentally got shipped to my sister's house, so one day when my mom was going to be in my neighborhood, she picked it up for me and brought it to me. I'm pretty sure she didn't want to leave it with me. 🙂 She said that she had looked through it and said that she would love to bake from this book. (I'm thinking Christmas present!!)
But I feel the same. This cookbook is so fun, and I want to make everything!!
Here are my thoughts:
Number of Photos: Many
There is a full-page photo of every recipe. You won't have to guess what the finished recipe is supposed to look like!!
Difficulty Level of Recipes: Easy to Medium
If you are a beginner baker, there are a few recipes that might seem a little intimidating, like the pie crust or the cake roll. But there are more than enough super easy recipes to make up for it, like the Payday Candy Corn Rice Krispies Treats or the Cake Batter Blondie Bars.
Availability of Ingredients: Easy
These are all regular grocery store ingredients!
Other Recipes I Want to Try:
Almond Joy Dip
Milky Way Brownie Pie
Lemon Meringue Pie Fudge
Peanut Butter Cookie Cake
S'morescake
Buy it on Amazon.
More information here.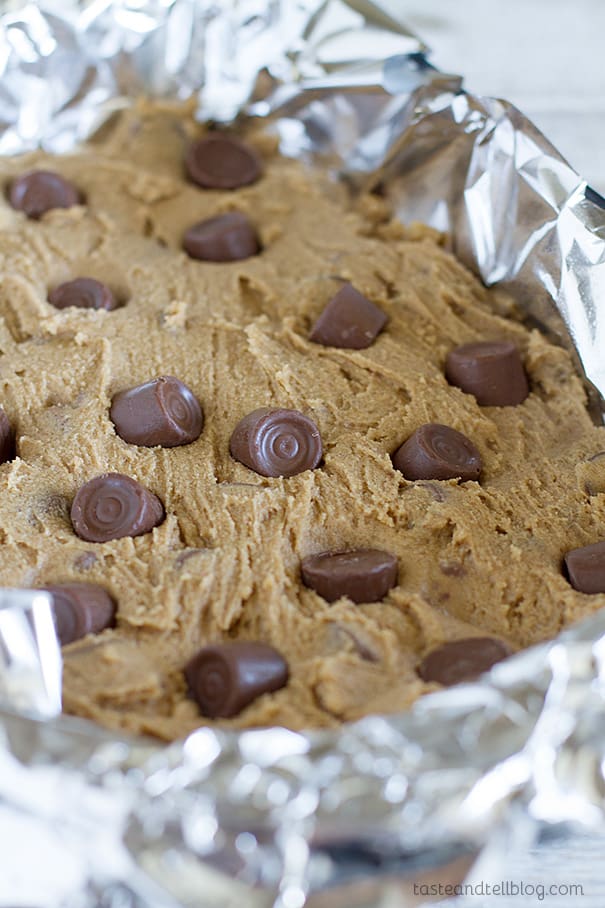 I cannot even tell you how many times I changed my mind trying to decide what to make from this cookbook. First it was the Lemon Meringue Pie Fudge, then it was the Milky Way Brownie Pie. I just kept changing my mind, so I did what I used to do when I couldn't decide what to make from a cookbook. I played a little game I call cookbook roulette.
It's pretty easy. You pretty much just start flipping through the pages, and the recipe you stop on is the one you have to make. I knew I couldn't go wrong in this cookbook, and I was pretty darn excited when I landed on these Caramel Spice Cake Blondies.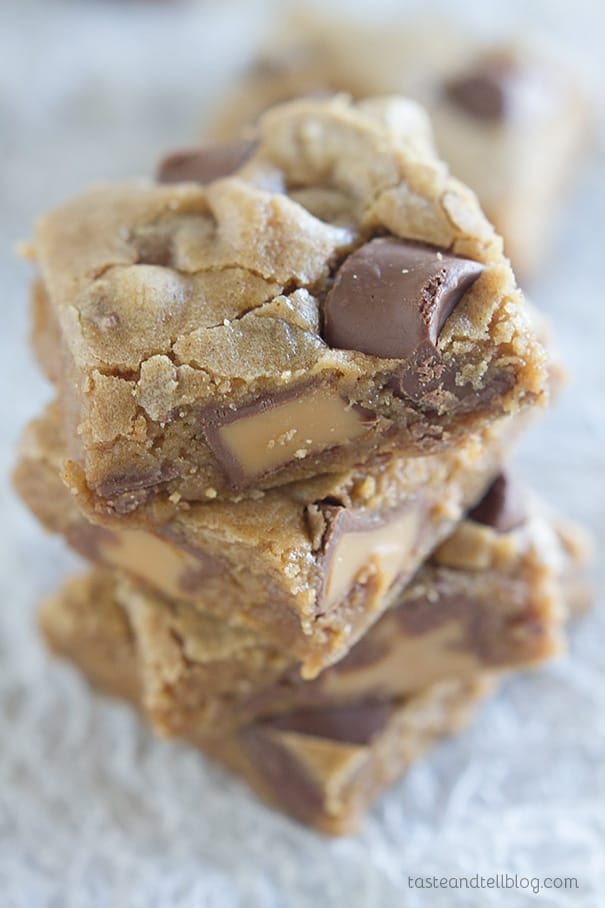 I am a Rolo fan, (one of my favorite candy bars), and I could tell that the spice cake blondies were going to be good. And Dorothy is a girl after my own heart, saying that these blondies are best when they are just a little bit undercooked. Yes. Yes. and Yes.
You start with a simple blondie recipe, complete with the warm spices and flavors of a spice cake. Then it gets better when you put a whole bunch of Rolos in the dough, and then top the whole thing with even more Rolos. I'd like to call these Caramel Spice Cake Blondie heaven.
My kids were not very happy with me when I was making these, because they wanted to steal the Rolos, but once I gave them one of the finished blondies, I was completely forgiven. My youngest kept asking for one days after we made them. I'd consider that a success!
These Caramel Spice Cake Blondies are quite sweet, so a little goes a long way, but don't say I didn't warn you that you'll find yourself going back to the pan for "just a little piece". I had to hide these from myself so that I would stop eating them!! And they are super soft and stay soft for days!
I can't wait to bake more from this cookbook!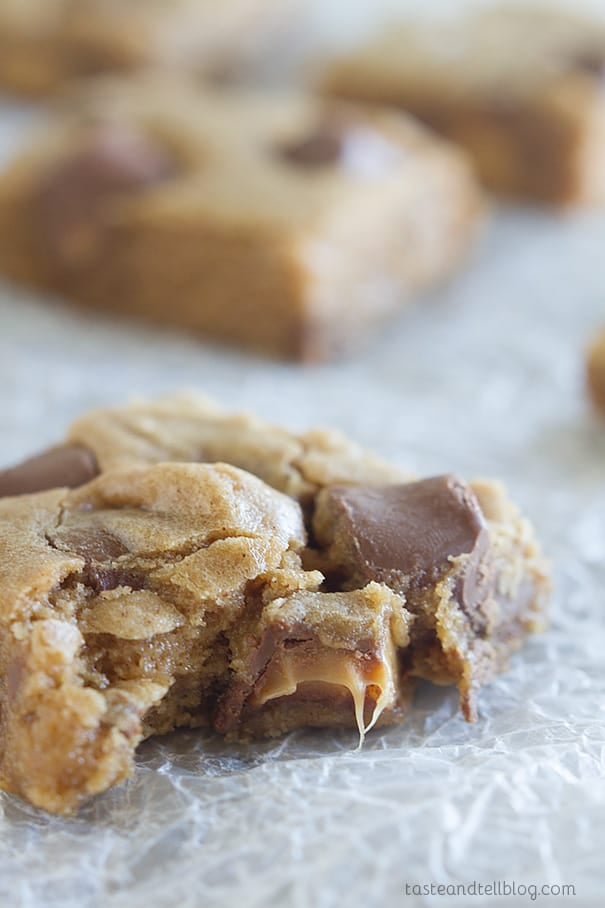 Like what you see here? Make sure you are following Taste and Tell for more great recipes and ideas!!

Facebook ** Pinterest ** Twitter ** Instagram ** Google+
or you can subscribe to my newsletter or Feedly or Bloglovin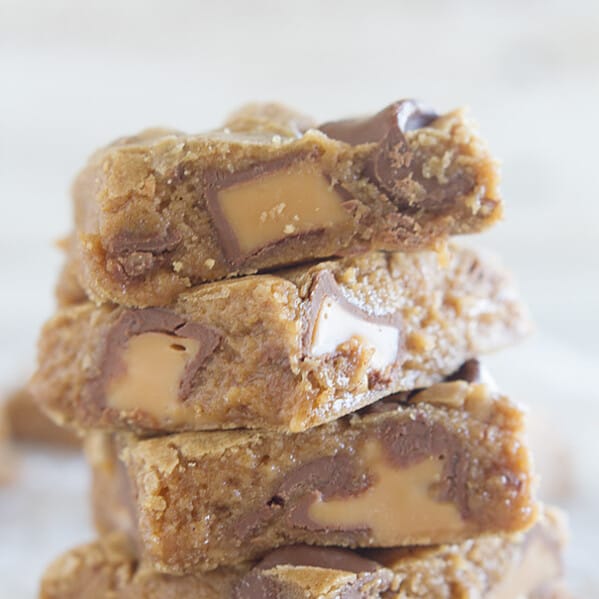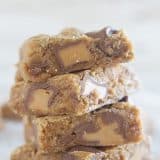 Caramel Spice Cake Blondies
---
Prep Time: 15 minutes
Cook Time: 25 minutes
Total Time: 40 minutes
Yield: 24 servings 1x
Description
Super soft blondies are filled with lots of warm spices and chocolate and caramel candies in these Caramel Spice Cake Blondies.
---
Scale
Ingredients
2 cups all-purpose flour
2 teaspoons ground cinnamon
1 teaspoon baking powder
1/2 teaspoon ginger
1/4 teaspoon salt
1/4 teaspoon allspice
1/4 teaspoon nutmeg
1/4 teaspoon cloves
2 cups packed light brown sugar
1/2 cup (1 stick) unsalted butter
2 large eggs
1 tablespoon vanilla extract
About 50 Rolos (11 oz bag), divided
---
Instructions
Preheat the oven to 350ºF. Spray a 9×13-inch baking dish with nonstick cooking spray, or for easy cleanup, line with foil and spray with cooking spray.
In a bowl, whisk together the flour, cinnamon, baking powder, ginger, salt, allspice, nutmeg and cloves.
In another bowl, cream the brown sugar and butter. Add the eggs and vanilla and beat to combine. Add in the dry ingredients and mix until smooth. Stir 30 of the Rolos into the batter.
Press the dough into the prepared pan. (The dough is sticky, so if needed, spray your hands with cooking spray so that you can spread it out.) Place the remaining 20 Rolos over the top of the batter, pressing them in lightly.
Bake in the preheated oven for 22 to 25 minutes, or until set around the edges but still slightly soft in the center. (The bars will continue to cook after you take them out of the oven.)
Cool completely before slicing into squares.