Coconut Swirl Brownies – homemade brownies are swirled with a sweet, gooey coconut swirl for a perfect chocolate dessert.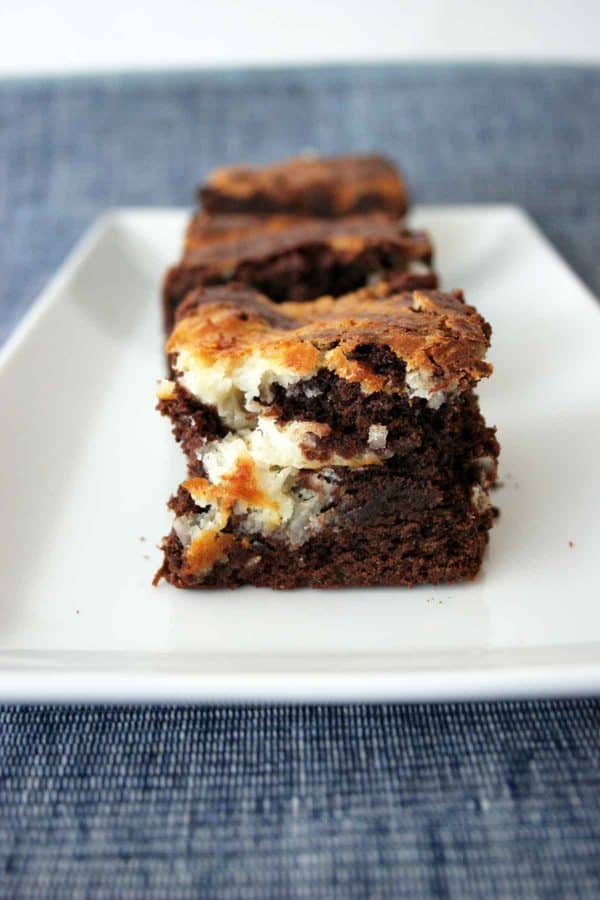 I am not known for having a good memory. In fact, my husband makes fun of me all of the time, because he can tell me something, and 20 minutes later, I will have completely forgotten. We were watching House the other night on tv, and I realized that it's a very good thing that I didn't go into the medical profession, because I would never be able to remember enough to diagnose someone properly!!
So on days that I post on my blog, I usually chose the photos I want to post at home, and then email them to myself and actually write the post when I have downtime at work. If the recipe has come from a cookbook, I can always remember what cookbook it came from. But if the recipe comes from the web, I usually have to go through my stack of printed recipes to find the one I used. Well, I sent myself some pictures of a cupcake I made, but I couldn't find the recipe at home. I figured I'd be able to remember where I found the recipe online. No such luck. I searched and searched, but nothing looked familiar. So hopefully I will either find the print out, or my memory will come back to me and I will remember where I found the recipe!!
So to make sure I knew where the recipe was, I chose a recipe from one of my cookbooks to post about today. I usually prefer my brownies dense and fudgy, so I was surprised when I really enjoyed these almost cake-like brownies. I'm a coconut fan, so that could have something to do with it!!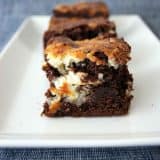 Coconut Swirl Brownies
---
Author:
Yield: 9 large brownies 1x
Category: Dessert
Method: Baked
Description
Coconut Swirl Brownies – homemade brownies are swirled with a sweet, gooey coconut swirl for a perfect chocolate dessert.
---
Scale
Ingredients
1/2 cup unsalted butter, cut into small pieces
3/4 cup plus 1 tablespoon sugar
1/3 cup sweetened condensed milk
2/3 cup unsweetened shredded coconut
1 large egg white
2 1/4 teaspoons vanilla
2 ounces unsweetened chocolate, coarsely chopped
4 ounces semisweet chocolate, coarsely chopped
2/3 cup all-purpose flour
1/2 teaspoon baking powder
1/4 teaspoon coarse salt
3 large eggs
---
Instructions
Preheat oven to 350ºF. Line a buttered 8-inch square baking pan with parchment, allowing a 2-inch overhang. Butter lining (not overhang).
Stir together 1 tablespoon of sugar, the condensed milk, coconut, egg white, and 1/4 teaspoon of the vanilla in a bowl.
Put butter and both chocolates in a heatproof bowl set over a pan of simmering water; stir until melted. Let cool slightly.
Whisk together flour, baking powder, and salt in a bowl.
Whisk remaining 3/4 cup sugar into chocolate mixture.
Add eggs; whisk until mixture is smooth.
Stir in remaining 2 teaspoons vanilla.
Add flour mixture; stir until well combined.
Pour one-third of the chocolate batter into the prepared pan. Spread evenly with an offset spatula.
Drop dollops of the coconut mixture (about 1 tablespoon each) on top of batter, spacing about 1 inch apart.
Drizzle remaining batter on top, and gently spread to fill pan.
Drop dollops of remaining coconut mixture on top.
Gently swirl coconut mixture into batter with a butter knife, running the knife lengthwise and crosswise through layers.
Bake until a cake tester inserted into the middle of the brownies comes out with a few crumbs, but is not wet, 35 to 40 minutes.
Let cool slightly in pan, about 15 minutes.
Lift out; let cool completely on a wire rack before cutting into squares.
Recipe Notes: