These Gooey Slow Cooker Caramel Blondies are soft, rich blondies that are slow cooked, creating a gooey caramel sauce for a killer dessert with minimal effort.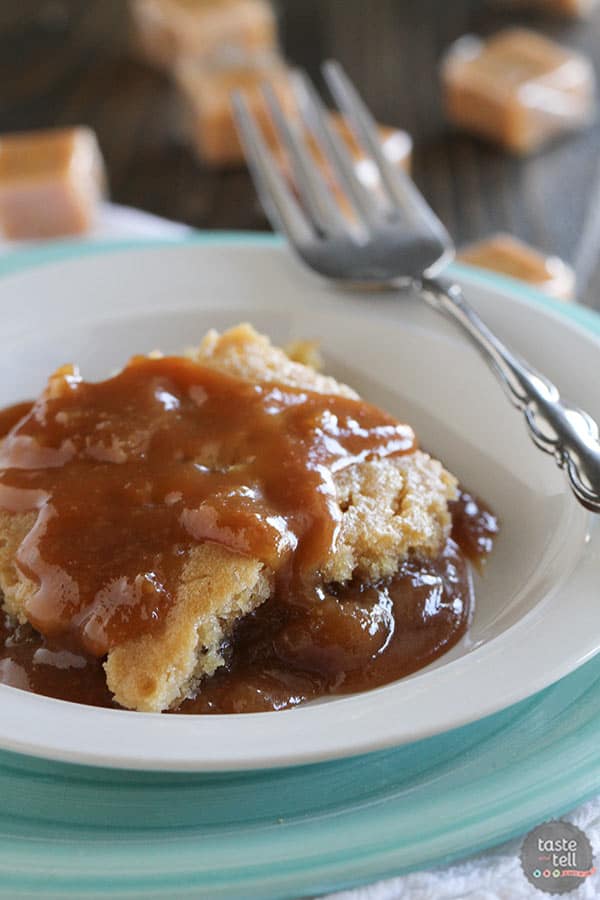 Well, one thing is for certain – you all love slow cooker recipes. I was slow to convert to a slow cooker lover, but sometime in the last few years, I have really learned to love and utilize my slow cooker on a regular basis. I pull it out several times a month (it often becomes my go-to on Sundays when I feel like it's hard to find the time to make dinner).
So it's only natural that I'd want to snatch up every slow cooker cookbook that I come across. I'm always needing new inspiration, and I'm sure to get it from a cookbook dedicated to those slow cooked meals!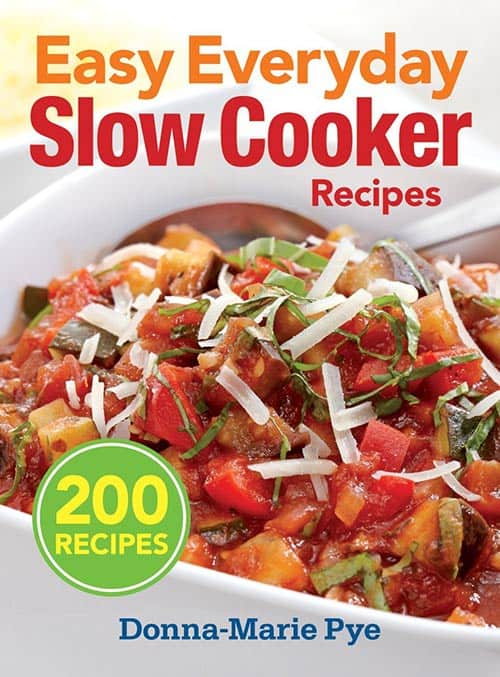 Today's cookbook review – Easy Everyday Slow Cooker Recipes by Donna-Marie Pye – is filled with 200 slow cooker recipes. I have looked through and own my fair share of cookbooks, but what I really love about this book is its versatility. You get the regular suspects – soups, stews, chilis, plus plenty of main dish recipes using chicken, beef, pork, lamb and veal. But on top of that, there are also chapters on big-batch dinners for a crowd, cooking for two, plus double-duty dinners. There are slow cooker recipes for every occasion in this book!! And don't forget about the desserts. I'll talk more about that below, but I love that there is a good sized dessert chapter.
Here are the details:
Number of Photos: many. There isn't a photo of every dish, but with 200 recipes in the book, there are over 80 photographs. I think they give a good representation of the recipes as well.
Difficulty Level of Recipes: easy. The word "easy" is in the title of the book, and luckily, the recipes deliver. There is a good mix of recipes that are dump and cook and recipes that require a little bit more prep.
Availability of Ingredients: easy. Most of the ingredients should be readily available at any grocery store. Things like veal and lamb aren't always easy for me to find, but for the most part, you should be able to find all of the ingredients easily.
Other recipes I want to make:
Creamy Tomato Tortellini Soup
Greek Chicken Chili
Chicken and Pepperoni Bake
Turkey, Bacon and Avocado Wraps
Philly Cheese and Beef Casserole
Snickerdoodle Cheesecake
Buy Easy Everyday Slow Cooker Recipes on Amazon.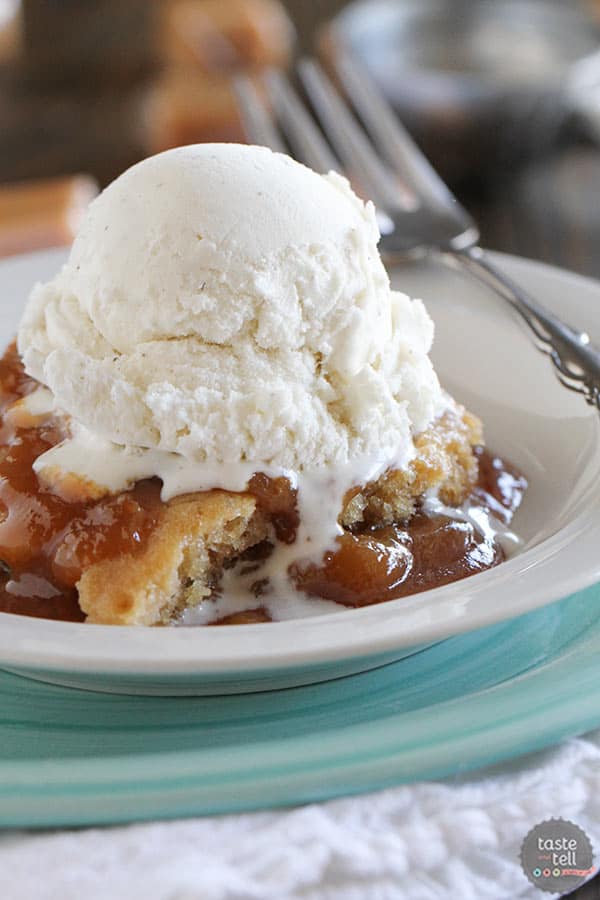 My first thought was to do a main dish from this cookbook, but I am seriously lacking in the slow cooker dessert selection. Plus, the recipe for these caramel blondies kept jumping out at me.
I almost hesitated to call these blondies, because the texture didn't really make me say blondie. Because they are "baked" in the slow cooker, they have more of a steamed texture than a typical blondie texture. But they do have that brown sugar, caramel flavor of blondies, so even though they have more of a pudding cake texture, I let the blondie title stick. 🙂
This recipe calls for a 4 to 5 quart slow cooker, and I have a smaller slow cooker and a larger slow cooker. So I ended up doing 1 1/2 times the recipe and used my larger cooker. It all worked out perfectly.
These caramel blondies cook up with a sweet caramel "sauce" that forms in the bottom of the slow cooker – and you don't want to leave that behind when you serve the dessert. I drizzled some of the caramel over the top of the blondies, and that sauce was probably my favorite part of the dessert. And the ice cream on top is optional, but I highly recommend serving this dessert warm with a scoop of vanilla ice cream. I actually liked this way more than I even expected, so it was a total win for me!! It is one of those humble desserts that may not look like anything special, but I think you'll be hooked after one bite!!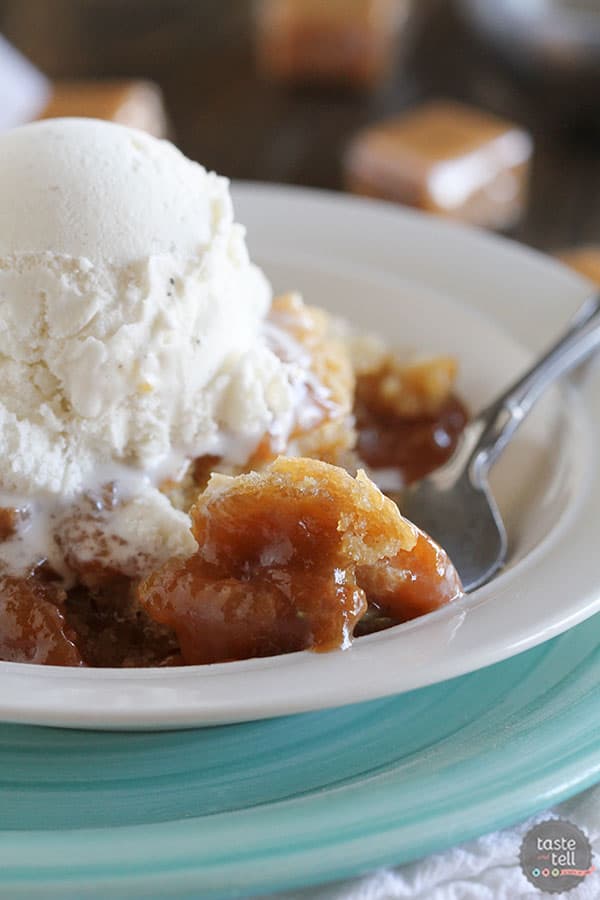 Like what you see here? Make sure you are following Taste and Tell for more great recipes and ideas!!

Facebook ** Pinterest ** Twitter ** Instagram ** Google+
or you can subscribe to my newsletter or Feedly or Bloglovin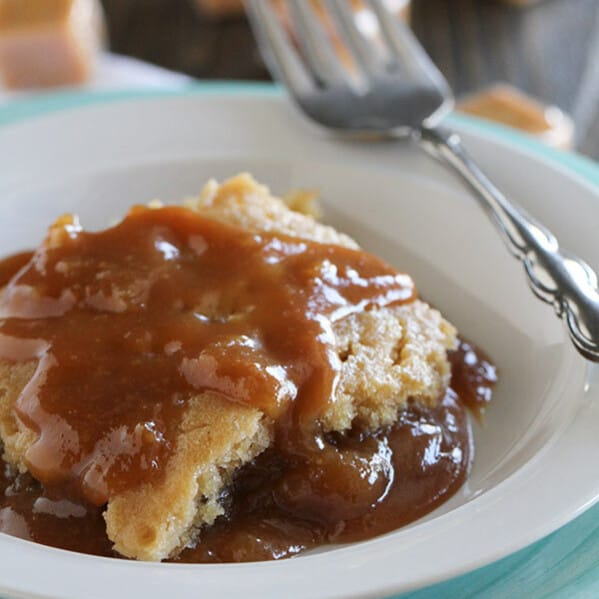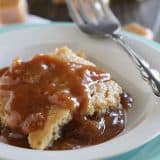 Gooey Slow Cooker Caramel Blondies
---
Author:
Prep Time: 15 mins
Cook Time: 2 hours 30 mins
Total Time: 2 hours 45 mins
Yield: 4-6 servings 1x
Description
These Gooey Slow Cooker Caramel Blondies are soft, rich blondies that are slow cooked, creating a gooey caramel sauce for a killer dessert with minimal effort.
---
Scale
Ingredients
1 cup all-purpose flour
1 teaspoon baking powder
1/2 teaspoon salt
1 cup packed brown sugar, divided
1/4 cup butter, softened
1 teaspoon vanilla extract
1/2 cup milk
12 soft square caramels (about 3.5 oz), wrappers removed and cut into fourths
1 cup boiling water
---
Instructions
In a medium bowl, combine the flour, baking powder and salt.
In another bowl, or the bowl of a stand mixer, cream together 1/2 cup of the brown sugar and the butter until creamy. Stir in vanilla. Stir in 1/3 of the flour mixture, followed by 1/3 of the milk. Continue adding the flour and milk, making another 2 additions of each and beating well after each addition. Stir in the caramels. Spread the batter evenly into the bottom of a 4- to 5-quart slow cooker.
Combine the remaining 1/2 cup of brown sugar and the boiling water and stir until the sugar is dissolved. Pour evenly over the batter.
Cover and cook on high for 2 1/2 to 3 hours, or until a toothpick inserted in the blondie comes out clean. Serve topped with ice cream, if desired.
Don't miss a thing! Follow me on Pinterest to see what I'm pinning!
Visit Taste and Tell's profile on Pinterest.




I received this book from the publisher for this review, but all opinions are my own. This post contains affiliate links. If you purchase an item from Amazon from the link Taste and Tell receives a small commission. Thank you for supporting Taste and Tell through your purchases!