Do you attend cookie exchanges this time of year?    I've only ever attended a couple of them in my life, but every year, I tell myself that I'm either going to attend one or host one.  Of course, this usually doesn't happen.  But I'm so excited because this year, I actually am attending one, and I couldn't be more excited.  My mind has been filled with cookie ideas, and I've been scouring cookbooks, trying to decide what I want to take.   There are about a million cookies I'd like to try, but guess what?  Whenever I just get a cookie craving, I crave the simple.  The ordinary.  The go-tos like chocolate chip and oatmeal.  And I know there are probably about a million recipes out there for different chocolate chip cookies, but this is one that you are going to want to try!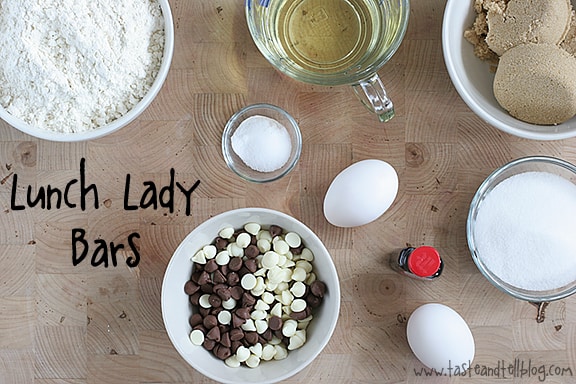 This is yet another Pinterest find.  I came across this recipe quite awhile ago, and have been so excited to try it.  They are named after the bars that the blogger had in the school cafeteria.  These cookies – made in bar form – are a little bit different because they are made using oil instead of butter.  What you end up with are cookie bars that are so soft and moist – just how I love my cookies!  I honestly don't know if these would even work in cookie form, or if they would spread too much, but really, the bar approach is really much easier.  I made these one day, not really planning on making anything but deciding that I needed to satisfy a cookie craving.  I, for some reason, didn't have enough chocolate chips on hand, so I did a combination of chocolate and white chocolate.  I think these would be great bars to just throw anything from the cabinet into!
Be forewarned, though – these babies are addictive.  You won't be able to stop at just one!  These bars would make a great addition to any cookie plate, and would be a hit at any cookie exchange!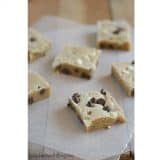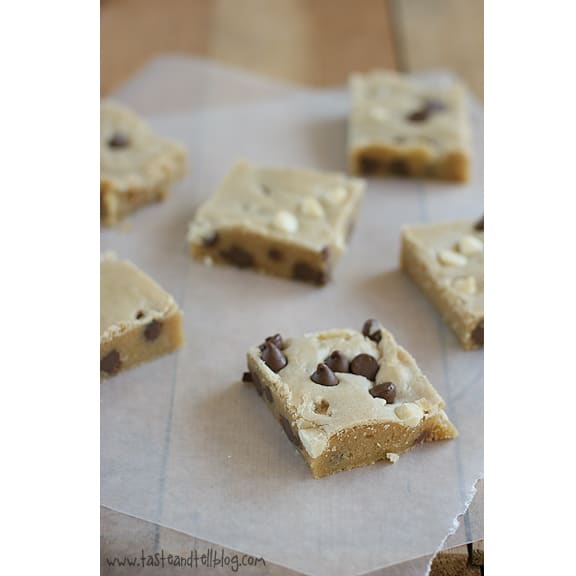 Lunch Lady Bars
---
Prep Time: 10 minutes
Cook Time: 22 minutes
Total Time: 32 minutes
Yield: 16 bars 1x
Description
Named after cookie bars served in a high school cafeteria, these chocolate chip bars are soft, moist, and addictive!
---
Scale
Ingredients
2 1/2 cups all-purpose flour
1 teaspoon baking soda
3/4 teaspoon salt
1 cup vegetable oil
1 cup brown sugar
1/2 cup granulated sugar
2 eggs
1 teaspoon vanilla
1 cup chocolate chips, white chocolate chips, or a mix of both
---
Instructions
Preheat the oven to 350F.
In a medium bowl, combine the flour, baking soda and salt. Set aside.
In another bowl, combine the oil, brown sugar and granulated sugar. Mix together well. Add the eggs one at a time, mixing well inbetween additions. Stir in the vanilla. Gradually add the dry ingredients and mix until combined. Stir in 3/4 cup of the chocolate chips. Spread the mixture into a 9×13-inch pan. Sprinkle the remaining chocolate chips on top.
Bake in the preheated oven for 18-22 minutes, or until light golden brown.
——————————
Slightly adapted from yum

——————————
Here are some more tempting cookie bars:
Sugar Cookie Bars from Love & Olive Oil
Cherry Chocolate Cookie Bars from A Bloggable Life
Marshmallow Peanut Butter Double Chocolate Pillowtop Bars from Love Veggies & Yoga
Sweet Potato Casserole Cookie Bars from Pink Parsley
Peanut Butter Chocolate Chip Cookie Bars from Brown Eyed Baker
Cheesecake Chocolate Chip Cookie Bars from Heat Oven to 350