These Fudgy Biscoff Swirled Brownies are rich chocolate brownies topped with a ribbon of Biscoff making a decadent and irresistible brownie. Plus a review of The Biscoff Cookie & Spread Cookbook by Katrina Bahl.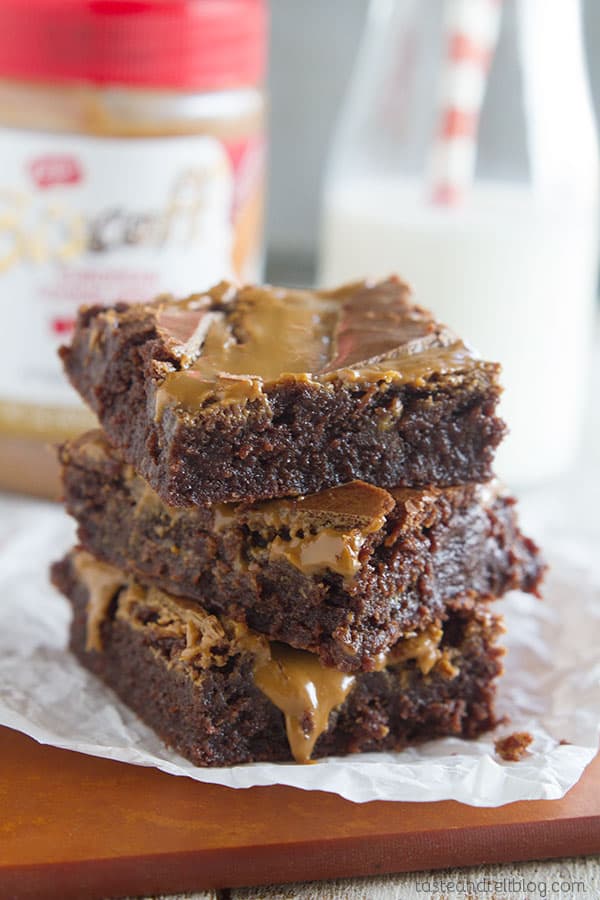 Do you have that one thing that you hide in the pantry – that one thing you can go to whenever you have a craving for something sweet? Maybe a handful of chocolate chips, a hidden package of Oreos, or a package of M&Ms.
Me? It's Biscoff Spread.
If you know what Biscoff Spread is, you know what it is. If you don't – you need to scoot yourself right to the grocery store and pick up a jar. And a spoon. Because up until recently, I thought that was the best way to eat it.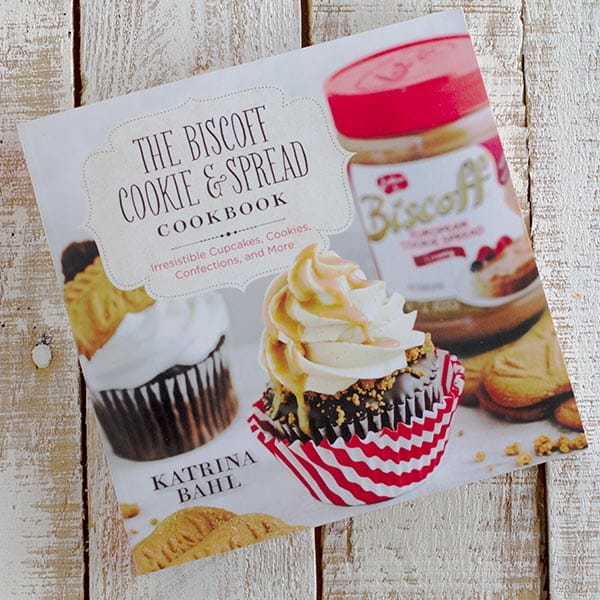 Enter The Biscoff Cookie and Spread Cookbook, written by the lovely and talented Katrina Bahl from In Katrina's Kitchen.
You guys – this cookbook. 70 recipes – all with Biscoff Cookies and Biscoff Spread as the stars. This is what my dreams are made of.
The cookbook is gorgeous, with beautiful photos throughout. And it's so creative – you won't be able to decide where to start first. I seriously poured over this book for days, trying to decide what recipe I wanted to make first. I ended up going to the grocery store and stocking up on the spread and the cookies so I didn't have to make just one recipe. 🙂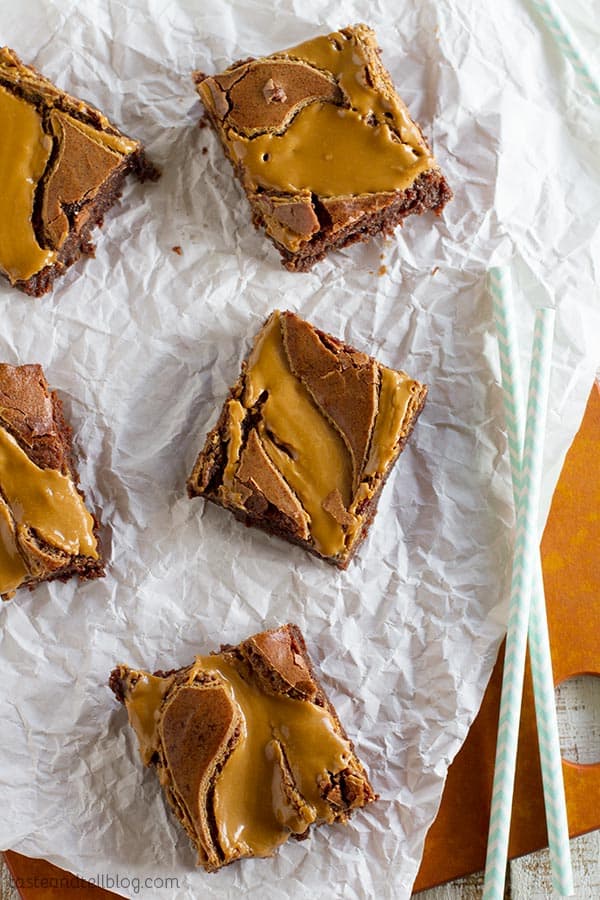 Here are the details:
Number of Photos: Many! There is a photo of every recipe. Big, beautiful photos that will make you want to lick the pages.
Difficulty Level of Recipes: Easy to Medium. I was going to go with easy, but since it is a baking book, and not everyone is super comfortable with baking, there are some recipes that might be a little more advanced if you are not comfortable. BUT – the instructions are so clear that anyone should be able to bake fairly easily from this book.
Availability of Ingredients: Easy. A few years ago, Biscoff was hard to find. But today, you should be able to find it in any major grocery store. (It's usually by the peanut butter.) Even the Biscoff cookies are pretty easy to find.
Other Recipes I Want to Try:
Biscoff Truffle Mousse Cheesecake
Biscoff Cheesecake-Stuffed French Toast
Biscoff Chocolate Chip Cookies
Biscoff Cookies-and-Cream Cupcakes
Sweet Biscoff Loaf
Buy it on Amazon.
Read more about it here.
Overall Thoughts:
Put this book on your list of books to buy. Or on your Christmas list. Because you want it.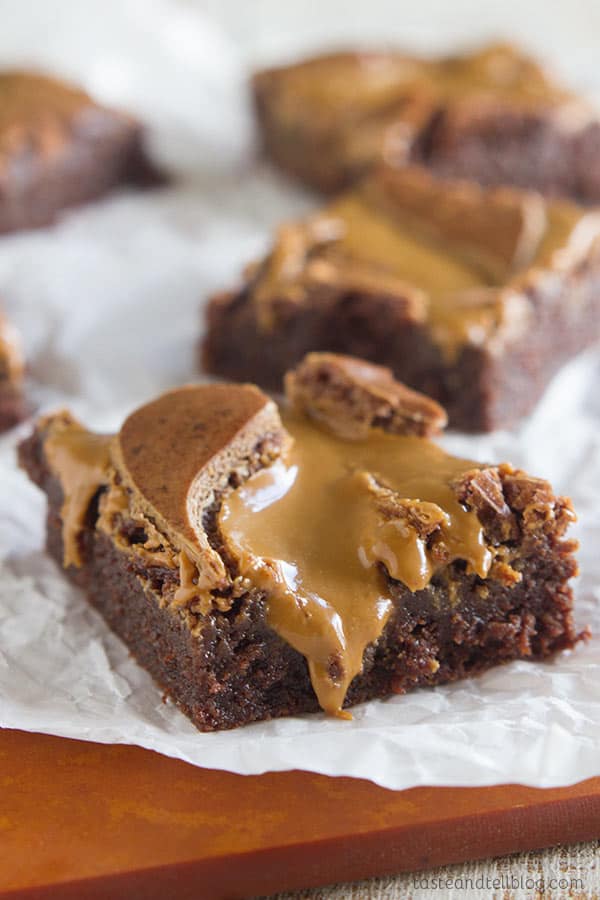 Enough cookbook talk, right? Let's talk brownies!! I will be the first to admit that I'm a pretty tough critic when it comes to brownies. And cupcakes, but that's for a whole different post. But brownies can either be really, really good, or really, really not.
And these definitely fall into the really, really good category.
Not even kidding, these are probably the best brownies that have ever come out of my kitchen. I wish I could say that I was the one who came up with this recipe, because they are insanely good. They are thick and rich and fudgy and moist and everything that a brownie should be. And the Biscoff swirl on top just takes them to a whole new level!! I literally had to wrap these brownies up and hide them away for my husband to take to work the next day. Because they were so good that I just wanted to eat the whole pan. All by myself.
I can't wait to bake more from this cookbook. I sense lots and lots of amazing Biscoff treats in my future!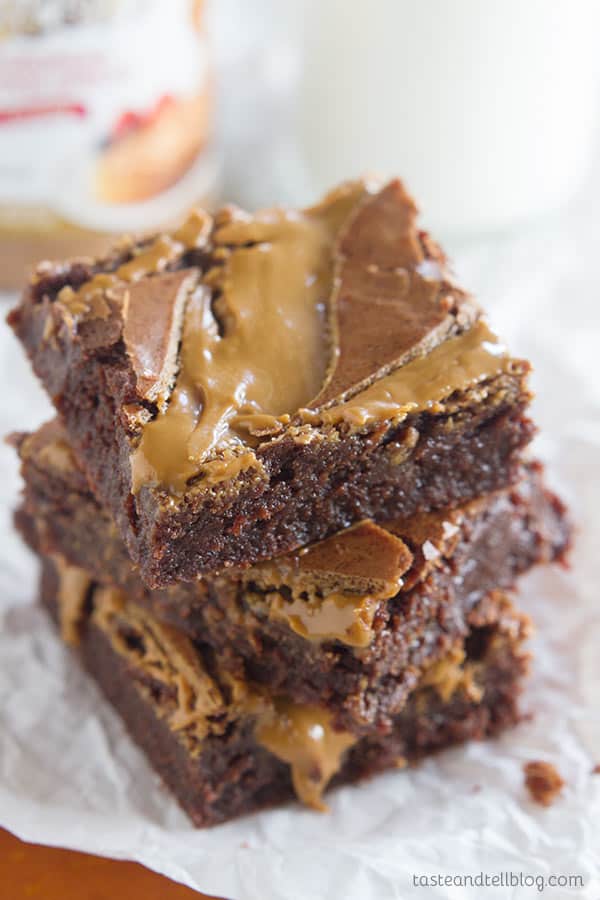 Like what you see here? Make sure you are following Taste and Tell for more great recipes and ideas!!

Facebook ** Pinterest ** Twitter ** Instagram ** Google+
or you can subscribe to my newsletter or Feedly or Bloglovin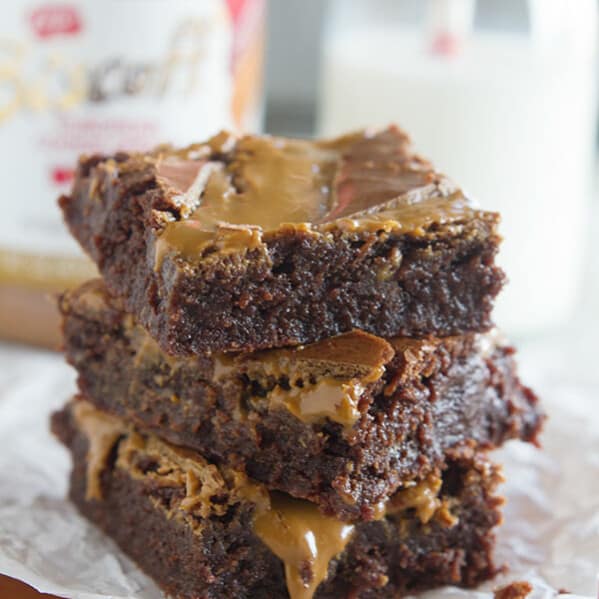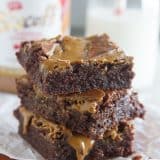 Fudgy Biscoff Swirl Brownies
---
Prep Time: 15 mins
Cook Time: 40 mins
Total Time: 55 mins
Yield: 24 brownies 1x
Description
These Fudgy Biscoff Swirled Brownies are rich chocolate brownies topped with a ribbon of Biscoff making a decadent and irresistible brownie.
---
Scale
Ingredients
1 cup brown sugar
1/2 cup granulated sugar
2 cups chocolate chips (I used semi-sweet)
1/2 cup butter
4 eggs
2 teaspoons vanilla extract
1/2 teaspoon salt
1 cup all-purpose flour
1/2 to 1 cup Creamy Biscoff Spread
---
Instructions
Preheat the oven to 325ºF. Line a 9×13" baking dish with foil or parchment paper, leaving a 1-inch overhang. Spray with nonstick cooking spray.
Place both sugars in the bowl of a mixer. Set aside.
In a medium saucepan, melt the chocolate chips and the butter together. Once melted and combined, pour the melted chocolate mixture in with the sugars. Mix on low to combine, then add the eggs, vanilla and salt and mix.
Add 1/2 cup of the flour, then mix to combine. Add the remaining cup of flour and mix just until combined. Pour the batter into the prepared pan.
Melt the Biscoff spread in a microwave safe bowl for 15-30 seconds. Pour the spread over the brownie batter in 3 long strips lenthwise. Use a butter knife to swirl the spread, dragging it the opposite direction.
Bake the brownies for 35-40 minutes, or until a toothpick inserted in the center comes out clean.
Recipe Notes:
**I received this book for review purposes, but all opinions are my own. This post contains affiliate links. If you purchase an item from Amazon from the link Taste and Tell receives a small commission. Thank you for supporting Taste and Tell through your purchases!**