Perfect for any celebration, these sprinkle filled blondies are not only tasty, but only take minutes to throw together!
(Giveaway is closed!)

5 years.
I can't believe it. 5 years ago today, I pushed publish on my very first blog post on this blog. I definitely wasn't the first food blogger back then, but wow – I can't believe how much food blogging has grown since then. If you would have told me 5 years ago where this blog would take me, I probably would have laughed. It's been a wild ride, but boy – has it been fun!!
I've been thinking about this day a lot lately. What to write. What to say. About how much this little corner of the internet that I call my own has changed me, and how much it means to me. Today, I am feeling so grateful that I get to do this every day. That this is my job.
And how grateful I am for all of you. I do this because I love to share. And I love that you are all here to listen. Your emails, your comments, you visits, your pins – they all mean so much to me. Thank you, thank you, thank you. I really do wish I could give each and every one of you a hug. Because you really do mean the world to me.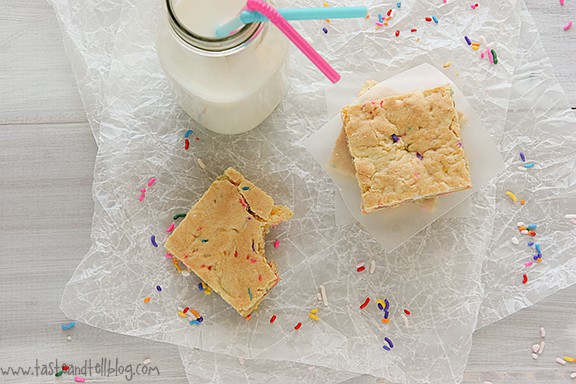 Today is a day to celebrate. And of course, since this is a food blog and all, we are celebrating with food! (And foodie giveaways – make sure you check the bottom of the post!) Since I am on a major streak of horrible cakes, I decided to do the exact opposite and go completely simple. It's my blog birthday, afterall, and I'd rather be celebrating with you all than spending hours in the kitchen. And it doesn't get much more simple than this recipe. Or addictive. Make sure you have someone to celebrate with when you make these – otherwise, you may find yourself snagging "just one more piece" every time you walk by the kitchen!!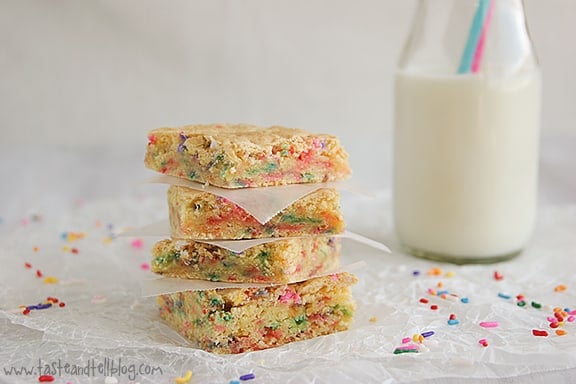 Cake Batter Blondies
Perfect for any celebration, these sprinkle filled blondies are not only tasty, but only take minutes to throw together!
Ingredients
1 box yellow cake mix
¼ cup vegetable oil
1 egg, beaten
¼ cup milk
¼ cup rainbow sprinkles
½ cup white chocolate chips (optional)
Instructions
Preheat the oven to 350F. Spray an 8x8 inch baking dish with cooking spray.
In a large bowl, mix together the cake mix, oil, egg and milk. Mix in the sprinkles and the chocolate chips. (The batter will be pretty stiff.)
Place the batter into the prepared dish. (Press down with your hands if needed to even out.) Bake in the preheated oven for 25-30 minutes.
Let cool for 20 minutes, then slice and serve.
----------------------------
slightly adapted from Girl Meets Life
I am here because of you all. And because of that, I want to give back. Today, I'm really wishing that I was Oprah and I could send you each a truck-full of all of my favorite things, but since I'm not, I thought I'd do the next best thing. Give someone a great new collection of cookbooks!!
I'm going to tell you right now – I'm already jealous of whoever wins. These are some recent releases of cookbooks from other bloggers – and I want every. single. one. (What's up with this? It's my blog birthday, and I'm giving you all what I want? :)) There are so many great blogger cookbooks out there right now, and so many that are coming out soon. I love bloggers, so I'm sharing the blogger love!!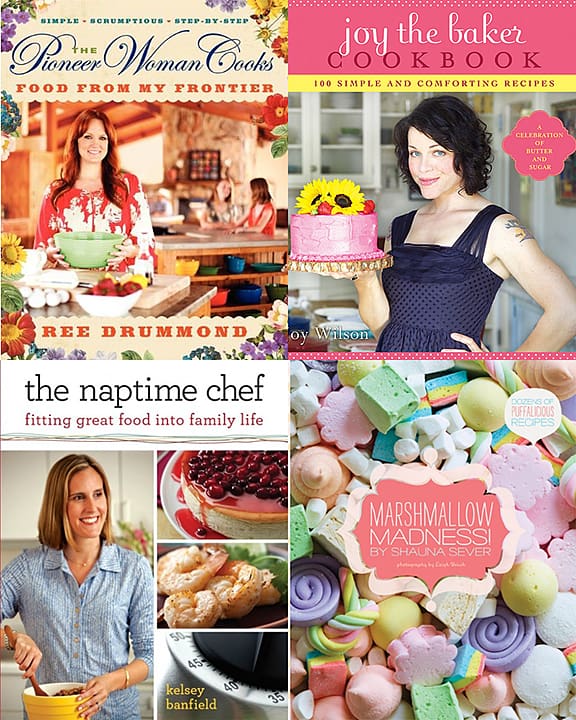 So, the lucky winner will receive:
The Pioneer Woman Cooks: Food From My Frontier
The Joy the Baker Cookbook
The Naptime Chef:  Fitting Great Food Into Family Life
Marshmallow Madness:  Dozens of Puffalicious Recipes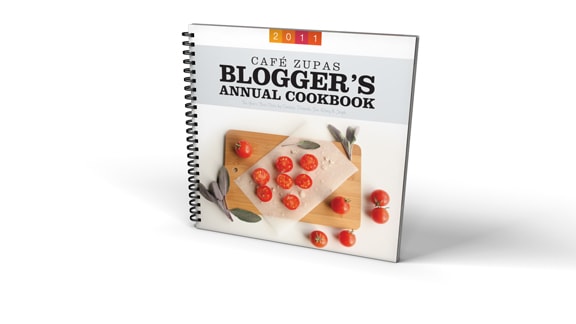 And because I still have a few copies left in my closet, 5 other people will each receive a copy of the Cafe Zupas Blogger's Annual Cookbook.  It's a beautiful cookbook that I am so happy to have been a part of!
 
GIVEAWAY CLOSED!

To enter to win one of these great prizes, leave a comment on this post.  You can tell me your favorite cookbook, if you've tried any recipes I've posted here, or you can even tell me what the weather is like where you are!!

Want extra chances to win?  (Make sure you leave a separate comment for each step that you complete.)
Follow Taste and Tell via Reader or Email
Follow Taste and Tell on Facebook
Follow Taste and Tell on Twitter
Follow Taste and Tell on Pinterest
And as always, if you are already doing any of these, just leave a comment to let me know!
Good luck – and thank you for the last 5 years!!
The fine print:  Giveaway is open to US residents, 18 years of age or older.  The giveaway will go until Wednesday, April 4th at midnight MT.  The winner(s) will be chosen randomly and emailed.  Please make sure a valid email is included.   This giveaway is provided by me – my way of saying thank you!