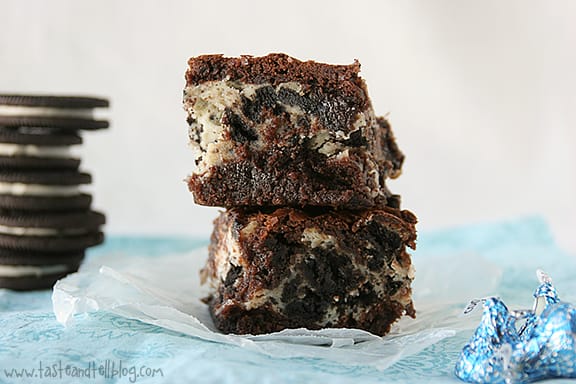 I'm so sorry.  If you are anything like me, Mondays are usually for repenting.  Repenting of that extra helping of dessert you ate over the weekend, or the day you took off from the gym and ate ice cream instead.  Mondays are the "I'm starting over today" day.  The "I'm going to do better this week" day.
And here I am – bringing you brownies.  And not just brownies.  Brownies that are filled with a cookies and kisses stuffed cheesecake.
I'm not taking all the blame for these, though.  A few weeks ago at our monthly family dinner, my sister brought along a bag of the Hershey's Cookies and Cream kisses.  She said she had too many treats at her house, and that surely I could make something with them.  Challenge accepted!!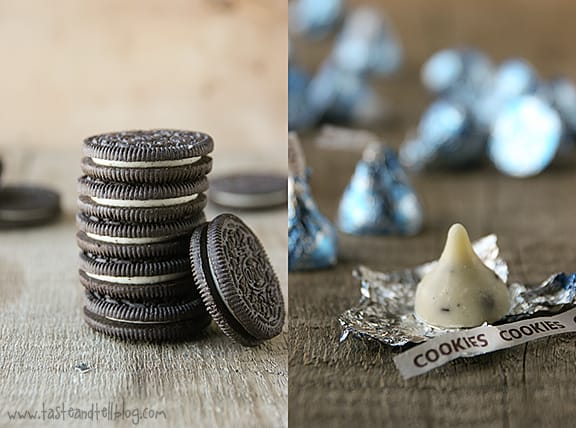 And wow – are these good.  They are definitely a step above your normal cheesecake brownies.  You get little pockets of the kisses, and you'll want to leave the cookies in big enough pieces that you still get a little bit of crunch from them.  Sneaking a little piece of these from the refrigerator was one of my guilty pleasures this last week.  (I loved them when they were nice and chilled! :))  And I like chocolate, but it's not my normal go-to.  But these?  They are worth that extra 30 minutes on the treadmill!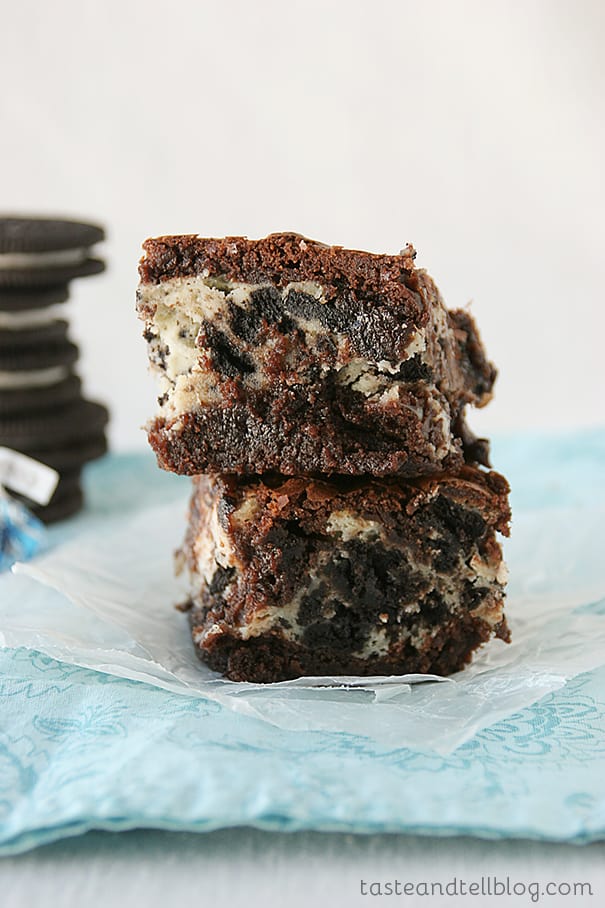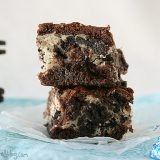 Cookies and Cream Cheese Brownies
---
Prep Time: 15 minutes
Cook Time: 50 minutes
Total Time: 2 hours
Yield: 12 bars 1x
Description
The ultimate indulgence! Brownies are combined with cookie and white chocolate filled cheesecake for a rich and decadent treat.
---
Scale
Ingredients
1 (18.3-oz) box brownie mix, plus ingredients called for on the box
8 ounces cream cheese, softened
1/3 cup granulated sugar
1 egg
9 chocolate sandwich cookies, roughly chopped
12 Cookies and Cream Hershey's Kisses, roughly chopped
---
Instructions
Preheat the oven to 350F. Spray a 9×9-inch baking dish with cooking spray. Set aside.
Prepare the brownie mix according to the box instructions. Set aside.
In a small bowl, beat together the cream cheese, sugar and egg. Stir in the cookie pieces and chopped kisses.
Pour 2/3 of the brownie mixture into the prepared pan. Drop the cream cheese mixture by spoonfuls on top of the brownie mix, smoothing as best as you can. Spoon on the remaining brownie mix.
Bake in the preheated oven until a tester inserted in the middle comes out clean, 45-50 minutes. Cool completely.
Store in the refrigerator.