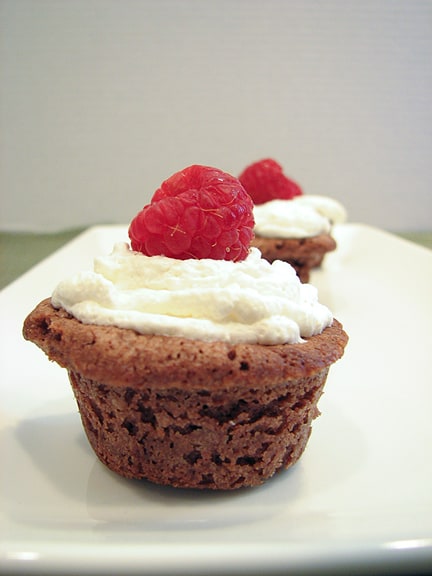 I am so far behind on posting…. I was thinking to myself that I don't really have to post everything I make, but then I realized that the main reason I started this blog was to have an online cookbook for myself. I have been noting on my recipes when I made them and when I blogged about them – this way, if months or years down the road I want to make a recipe, I can go back to my blog and remember the dish by my comments and photos. So I will be spending some time updating – I apologize for all of the posts in one day!!!
This is really the brownie that I wanted to enter last month for the browniebabe of the month contest at Once Upon a Tart. My sisters, mom and I have catered a few wedding receptions, and this is one of my favorite appetizers that we do. It's been awhile since I have made them, and I can't remember what brownie recipe we used last for these. I have a silicone mini muffin pan, and I remembered having a hard time getting the brownies out of it last time. (This time was not an exception!!) I went to the library this past weekend, and was ecstatic to find 2 Donna Hay cookbooks there to check out. (But now I want to buy both cookbooks!) I found a recipe in Off the Shelf – Cooking From the Pantry that looked easy and chocolaty. I had all of the ingredients as well -which is always a plus. We were going to the in-laws for dinner on Sunday night, so I thought this would be the perfect dessert to bring along.
I got to work, putting together the brownie recipe. Oh wow, I could already tell these brownies were going to taste fabulous. I filled up my muffin tin, and put them in the oven. A wonderful chocolate smell started to fill the house. When they were finished, I took them out of the oven. They had fallen a bit in the middle of each brownie, but I figured that wouldn't be too big of a deal since I would be putting the cream on top. Once they had cooled, I went to remove them from the tray – DISASTER!! I think I only had about 4 survive. They just did not want to come out of the mold. I was a bit disappointed, but knew that I needed to recover them somehow to have for dessert that night. I still had half of the brownie batter left, so I threw together another batch, combined the two and baked the batter in a 9 X13 pan. (The original recipe calls to bake it in an 8×8 dish.) I did taste some of the scraps from the destroyed brownies, and I will say that this recipe is amazing!
My photo shows a few of the mini brownies that survived, but with the remaining brownies, I cut into squares. I topped them all with the cream mixture and put raspberries on top of half and a crushed toffee candy bar on top of the other half. The raspberry brownies were the favorite of the night, but they were all well received!!
I may need to come up with a new recipe for the topping for this in the future, as the White Chocolate Pudding mix is becoming harder to find – all I could find was fat free, and although it still tasted good, it wasn't as good as the original. And while this brownie recipe is amazing – it wasn't the best for this because it wasn't as pretty to cut as I would have liked. It had a small crust on the top that didn't cut very easily. So if you are looking to do these where presentation is important, I would look for a different recipe, but if it's all about taste – this is the way to go!!!
Basic and Speedy Brownie
from Off the Shelf by Donna Hay
Melt 8 oz butter and process with 1 1/3 cups sifted all purpose flour, 2 1/4 cups sugar, 3/4 cup sifted cocoa powder, 4 eggs, and 1/4 teaspoon baking powder in a mixer until smooth. Pour into a lined 8 inch baking dish and bake at 330F for 50 minutes.
Brownie Topping
1 box instant White Chocolate Jello Pudding
1 8 oz. tub Cool Whip
Mix cool whip and pudding mix. Pipe mixture on top of brownies and top with a raspberry or crushed toffee candy bar.