It doesn't get more fudgy and chocolatey than these Pressure Cooker Fudgy Brownies! These brownies are moist, dense and rich.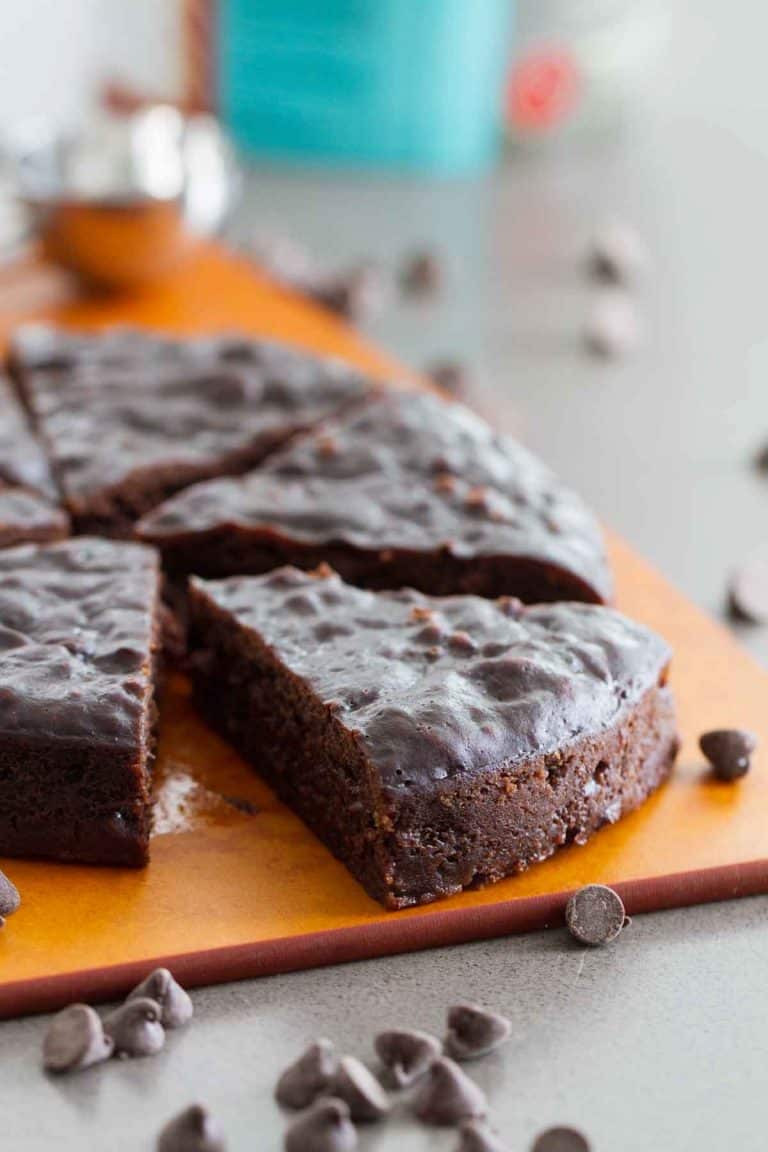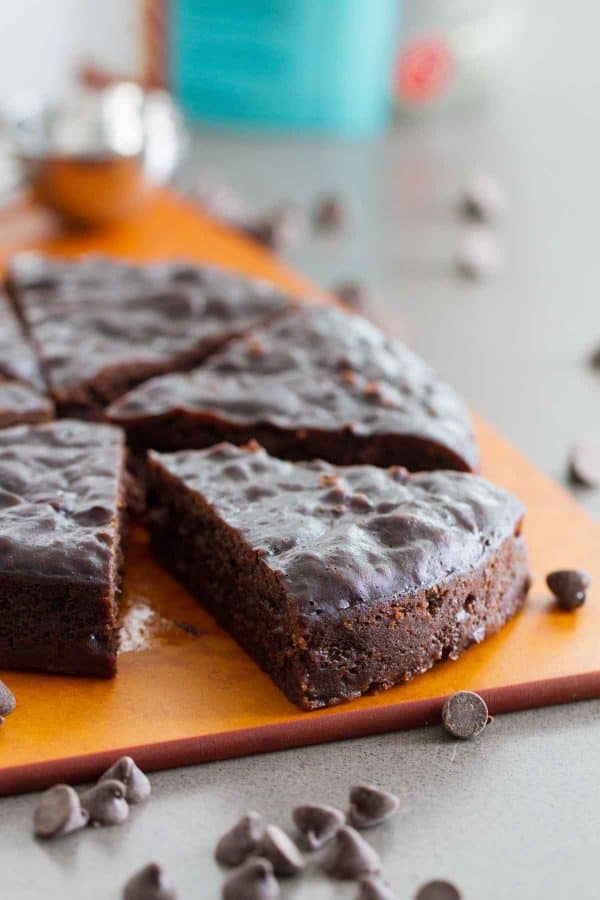 It's official – I'm a pressure cooker convert! I've been using my Instant Pot for quite awhile now, but I'm seriously loving it right now. If you read my last post with the Pressure Cooker Cashew Chicken recipe, I talked about a new cookbook that is out – The Electric Pressure Cooker Cookbook. I mentioned that I didn't want to decide between a main dish and a dessert, so I'm sharing both! The Cashew Chicken was amazing, but today, I'm turning to dessert.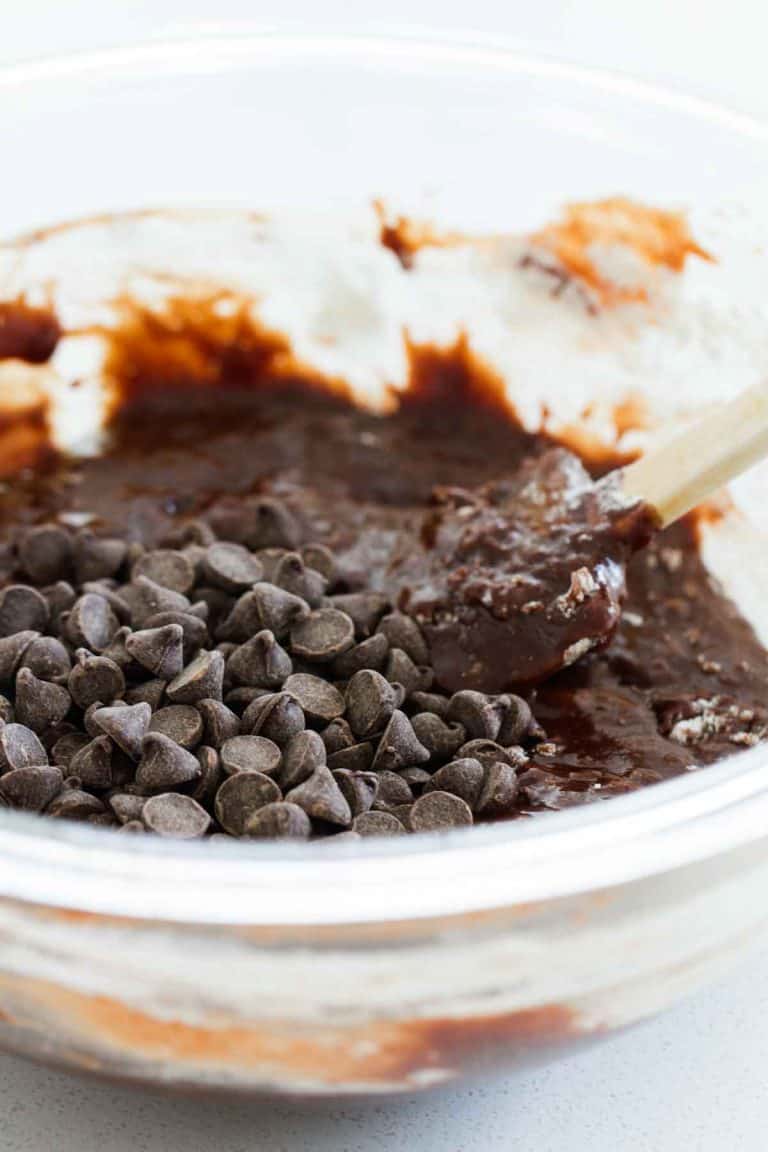 How to make Pressure Cooker Fudgy Brownies
I've made plenty of main dishes in my pressure cooker. But these Fudgy Brownies were the first dessert that I've ever tried in the pressure cooker.
This book has 15 dessert recipes, and honestly – I wanted to try every single one of them. I went into it thinking that I really wanted to make a cheesecake, but when I started reading through the recipes, I couldn't move away from these brownies. And I was excited to see what they were all about.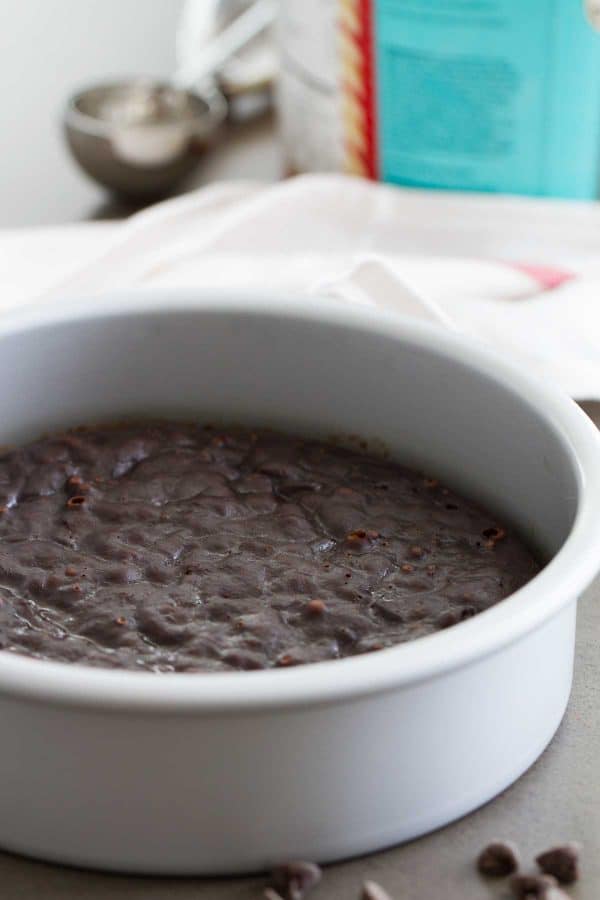 So – "baking" in the pressure cooker will require some additional pans, as you need pans that will fit in the pressure cooker. After deciding to make these Fudgy Brownies, I realized that I would need a 7-inch cake pan. Luckily, it was super easy to find. I just ordered mine off of Amazon and only had to wait 2 days for it. (The cheesecake recipes also call for a 7″ pan, so I know this pan will get used!)
I honestly didn't really know what to expect with these. I went expecting the end product to be like the brownies I get when I make them in the oven. But what you get here is a whole different dessert. You don't get the crackly top, but you do get the most moist, dense, rich brownies that you will probably ever have. These are a choco-holics dream come true. The texture you get is so different – I don't even feel like I can adequately describe it.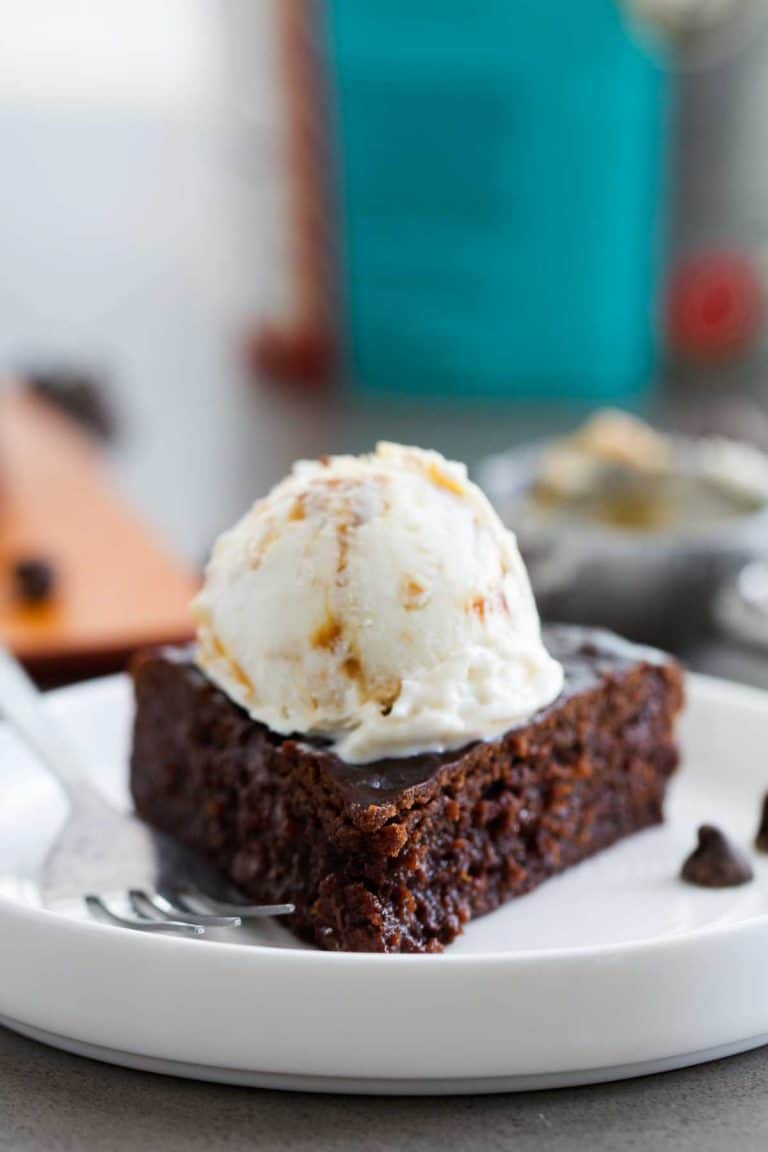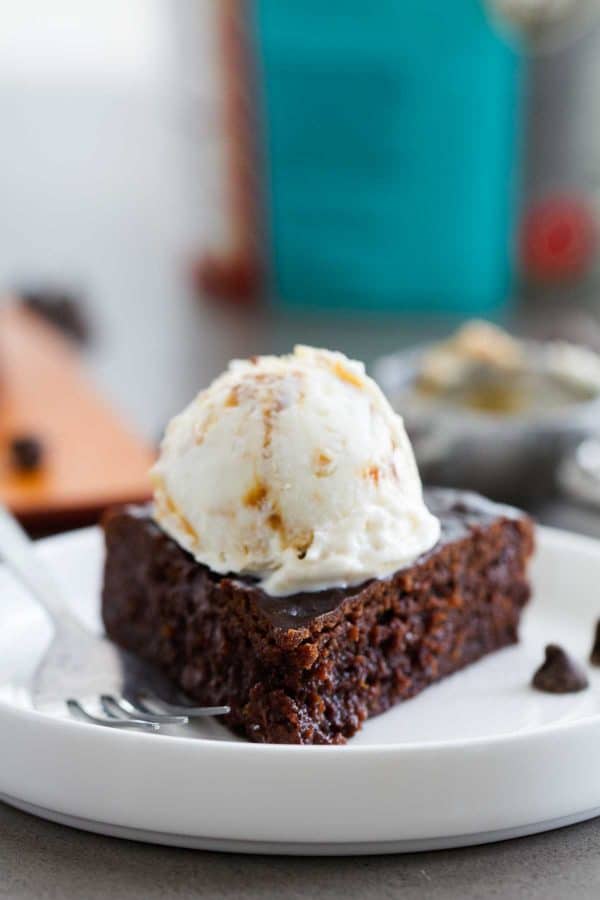 I think that we often go into pressure cooker recipes thinking that they are going to save us time. That is definitely not the reason for using a pressure cooker for these fudgy brownies. Because really, you could make a dish of traditional brownies in about the same time. Instead, you are using the pressure cooker for the texture that you get from these brownies. They really are different than anything the oven will give you!
You can bet that I'll be making more recipes in the pressure cooker now. I am officially a convert!
(PS – if you didn't read my previous post with a review of this book, you really need to, but overall – you should just grab yourself a copy of The Electric Pressure Cooker Cookbook!)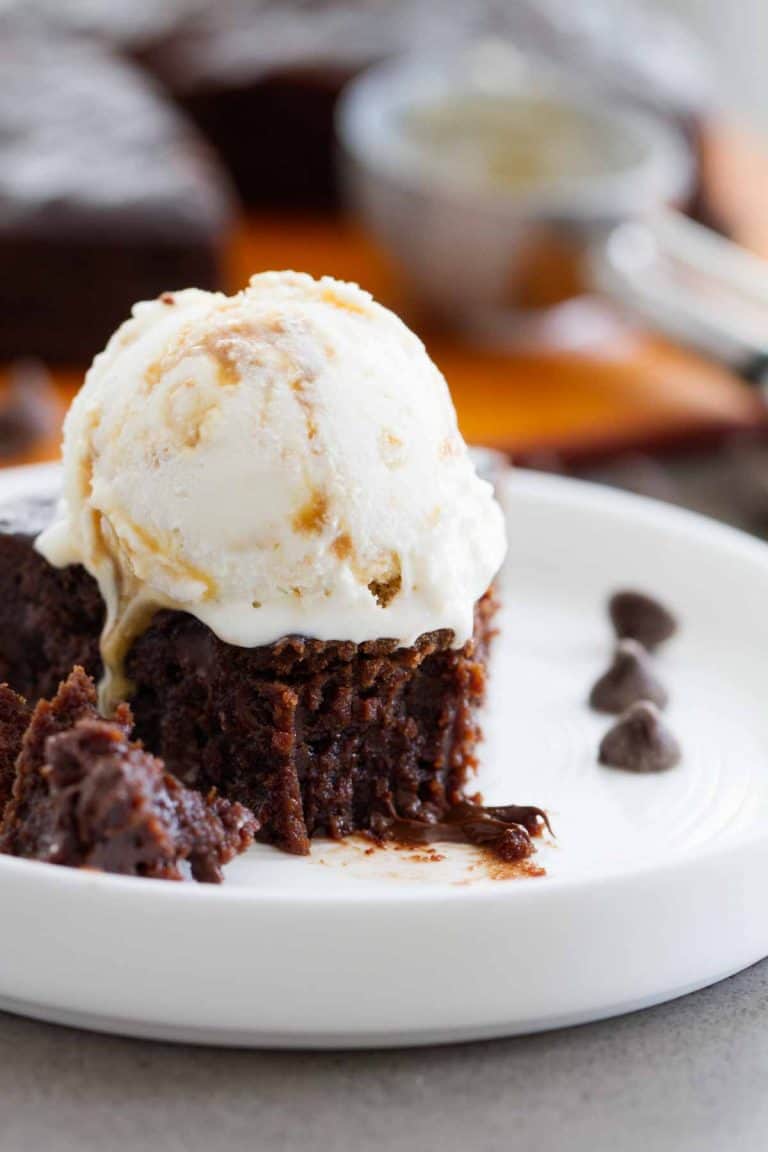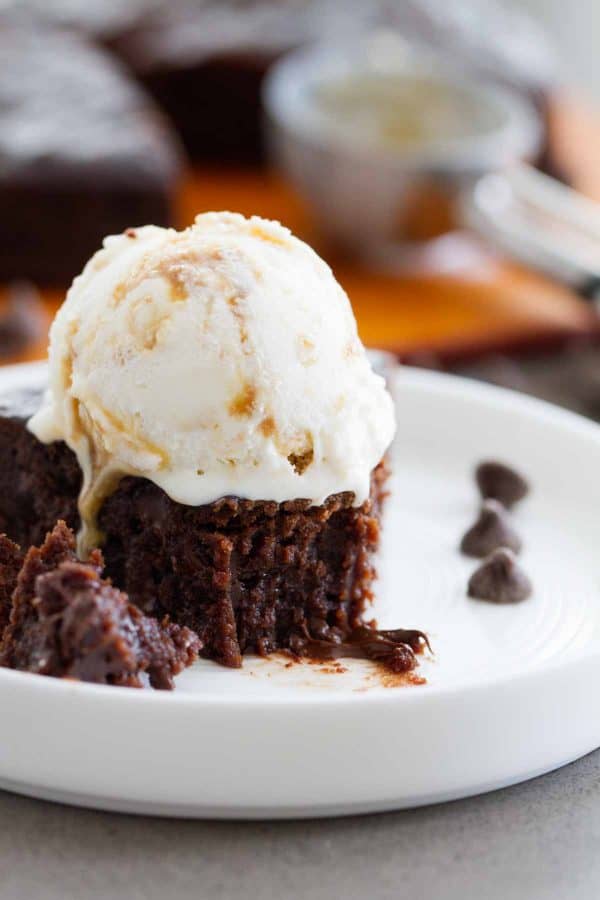 Like what you see here? Make sure you are following Taste and Tell for more great recipes and ideas!!

Facebook ** Pinterest ** Twitter ** Instagram ** Google+
or you can subscribe to my newsletter or Feedly or Bloglovin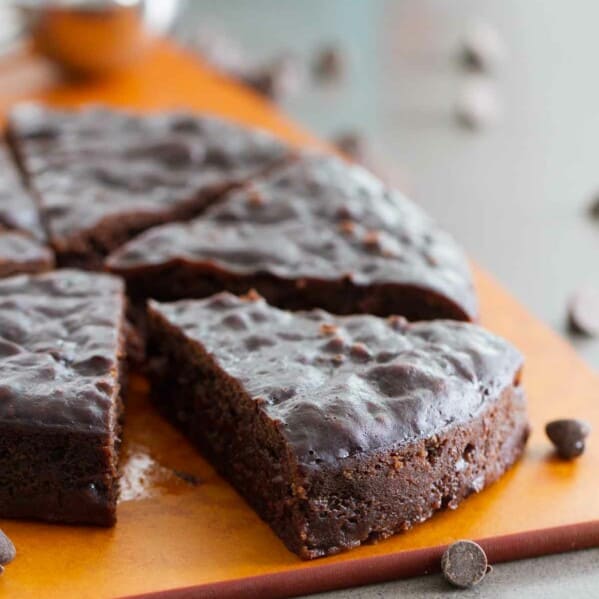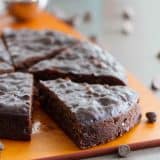 Pressure Cooker Fudgy Brownies
---
Author:
Prep Time: 10 mins
Cook Time: 20 mins
Total Time: 50 mins
Yield: 8 servings 1x
Category: Dessert
Description
It doesn't get more fudgy and chocolatey than these Pressure Cooker Fudgy Brownies! These brownies are moist, dense and rich.
---
Scale
Ingredients
6 tablespoons unsalted butter
1 cup sugar
1/3 cup unsweetened cocoa powder
2 tablespoons water
1 teaspoon vanilla extract
2 large eggs
1 cup all-purpose flour
1/2 teaspoon baking powder
1/4 teaspoon salt
1/2 cup semisweet chocolate chips
ice cream or powdered sugar, for serving
---
Instructions
Spray a 7 x3-inch round cake pan with nonstick cooking spray. Line the bottom with parchment paper.
In a large microwave-safe bowl, microwave the butter for about 1 minute until melted. Stir in the sugar and microwave for 1 minute more. Whisk in the cocoa powder, water, and vanilla until smooth. Whisk in the eggs. Add the flour, baking powder, and salt. Stir just until smooth. Mix in the chocolate chips.
Spread the batter into the prepared pan. Pour 1 cup of water into the pressure cooker and place a trivet in the bottom. Use a sling to carefully lower the pan onto the trivet. Lock the lid in place. Select High Pressure and 20 minutes cook time.
When the cook time ends, turn off the pressure cooker. Let the pressure release naturally for 10 minutes and finish with a quick pressure release. When the valve drops, carefully remove the lid.
Transfer the pan to a wire rack to cool for 10 minutes. Invert the brownies onto a serving plate and carefully peel off the parchment paper. Cool to room temperature and serve topped with ice cream or a sprinkle of powdered sugar, if desired.
Nutrition
Calories: 319
Sugar: 31 g
Sodium: 1264 mg
Fat: 15 g
Saturated Fat: 9 g
Unsaturated Fat: 4 g
Trans Fat: 0 g
Carbohydrates: 47 g
Fiber: 3 g
Protein: 4 g
Cholesterol: 69 mg
SHOP THIS POST:
Don't miss a thing! Follow me on Pinterest to see what I'm pinning!