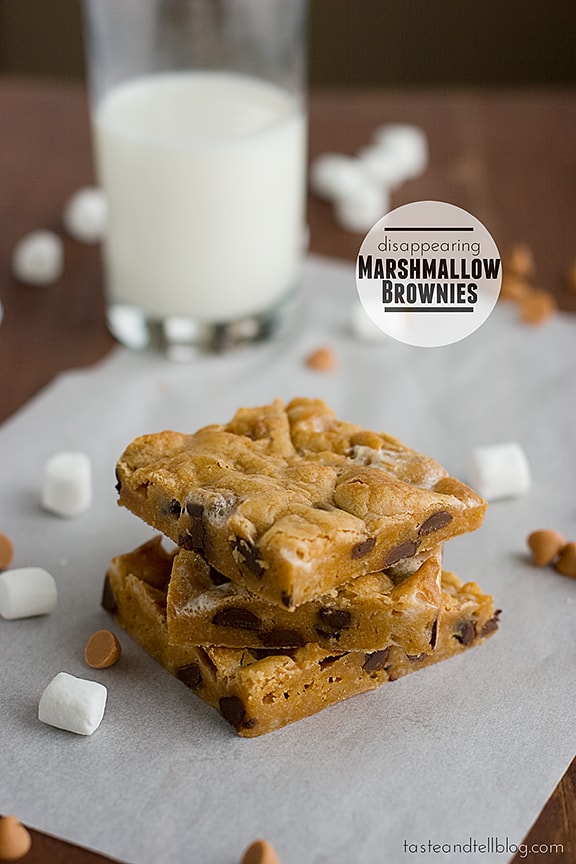 Photo Updated February 2013
 
I have been looking for the perfect brownie recipe to enter into the browniebabe-of-the-month over at Once Upon a Tart. I didn't want to do just plain, fudge brownies, but I wanted to explore something different. I came across this recipe for Disappearing Marshmallow Brownies on allrecipes and although it's not a true "brownie" (it's a blondie!) I thought I would give it a try. I don't know if this will be my entry, but we will see. I wasn't sure if this was called "disappearing" because the marshmallows disappeared in the brownies, or if they brownies disappeared after you make them because they are so good – I decided that it is a little bit of both! I like my brownies on the chewy side, not cakey, so this was a perfect recipe for me. I also like to under-bake them a little bit, so these made an ooey, gooey, wonderful brownie. The smell while they were cooking was so amazing – I could hardly wait for them to come out. Beware – these are super rich – you might need a glass of milk to go along with them! I would also like to try to swap out the butterscotch chips with chocolate chips, or caramel – yum!
UPDATE: (6/9/2007)
I made these brownies again substituting peanut butter chips for the butterscotch chips. I think they would have been really good if I would have cut the baking time down. They were a little dry – I'm assuming the peanut butter makes them dryer. Also, the marshmallows really disappeared, so I would add extra marshmallow.
 

Disappearing Marshmallow Brownies
A butterscotch blondie with chocolate chips and lots of mini marshmallows that disappear into the bars.
Ingredients
½ cup butter
1 cup butterscotch chips
⅔ cup packed brown sugar
2 eggs
1 teaspoon vanilla extract
1½ cups all-purpose flour
2 teaspoons baking powder
½ teaspoon salt
2 cups miniature marshmallows
1 cup semisweet chocolate chips
Instructions
Preheat oven to 350F. Spray a 9×13 inch pan with nonstick cooking spray.
Using a microwave-safe bowl, melt the butterscotch chips and butter together in the microwave, stirring occasionally until smooth. Set aside to cool.
In a large bowl, stir together the brown sugar, eggs, and vanilla. Mix in the melted butterscotch chips, then the flour, baking powder, and salt until smooth. Stir in the marshmallows and chocolate chips last. Spread the batter evenly into the prepared baking pan.
Bake for 15 to 20 minutes in preheated oven. Cool, and cut into squares.
------------------
from allrecipes.com