Recipe for chocolate cupcakes topped with ganache and then a vanilla buttercream.
I can't hardly believe that 2 years ago today, I started this little blog of mine. And back then, I would have never guessed what an impact it would have on my life.
Just over 2 years ago, I was looking for a hobby. I really had nothing that I was really passionate about. I had things that I liked to do, but nothing that I would wake up in the morning thinking about. So I set out to find something.
I had always enjoyed scrapbooking, and taking pictures is an integral part of that. I always wanted to get into photography, but never thought I had the creativity or "eye" for it. I even took a course in college many years ago, but got frustrated with myself because I never felt good enough. But since photography was always something I wanted to learn, I decided to go with it. I bought myself a new point and shoot camera, and I was off.
My first discovery was flickr. I can't tell you how many hours I spent on there, going through the photos and being inspired. I started a photo-a-day project that was really a lot of fun for me. But eventually, I decided that I needed a niche. I came across some food photos on flickr, and I was led to Meeta's blog – What's For Lunch Honey. There, I was introduced to a whole world that I never knew existed – food blogs. I couldn't resist – I wanted one!!
I originally started, thinking that it would be a good place for me to practice my photography and also record the food that I had made. I had been a long time member of allrecipes – and I loved it because I could tell others what I thought of recipes, and I could also get other opinions on recipes. But with food blogs, I get the same thing, but you get the writing, the stories, the photos and all that comes with a blog post.
I soon discovered that the food blogging world is not only vast, but it is a very friendly place. I've spent countless hours reading blogs, and writing and photographing for this one. I can't imagine my life without it now. I had finally found that "hobby" that I am passionate about. Thank you all for sharing your lives and your food with me, and for letting me share mine!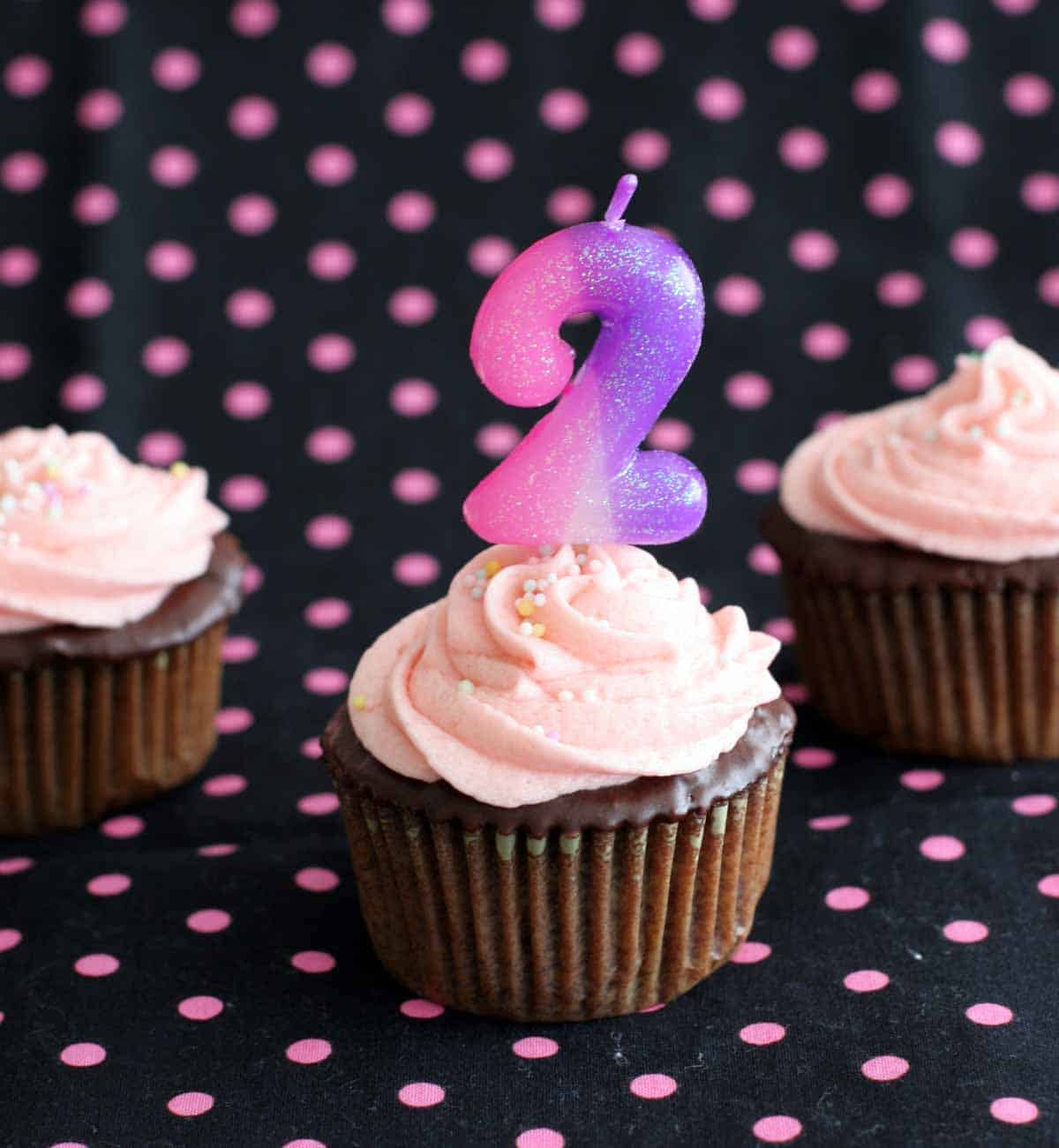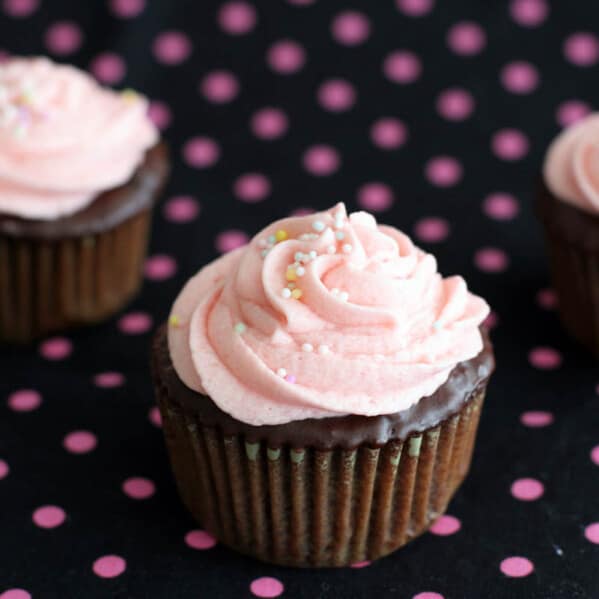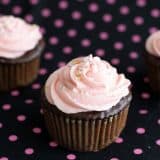 Chocolate Ganache Cupcakes with Buttercream Frosting
---
Author:
Yield: 12 cupcakes 1x
Category: Dessert
Method: Baked
Description
Recipe for chocolate cupcakes topped with ganache and then a vanilla buttercream.
---
Scale
Ingredients
Cupcakes:
1/4 pound unsalted butter, at room temperature
1 cup sugar
4 large eggs, at room temperature
1 (16-ounce) can Hershey's chocolate syrup
1 tablespoon vanilla extract
1 cup flour
1 teaspoon instant coffee granules
Chocolate Ganache:
1/4 cup heavy cream
4 ounces good semisweet chocolate chips
1/4 teaspoon instant coffee granules
Vanilla Buttercream
1 cup unsalted butter, at room temperature
6 to 8 cups confectioners' sugar
1/2 cup milk
2 teaspoons vanilla extract
---
Instructions
Preheat the oven to 325 degrees F. Line a muffin pan with paper liners.
Cream the butter and sugar in the bowl of an electric mixer fitted with the paddle attachment until light and fluffy. Add the eggs, 1 at a time. Mix in the chocolate syrup and vanilla. Add the flour and coffee granules and mix until just combined. Don't overbeat, or the cupcakes will be tough.
Scoop the batter into the muffin cups and bake for 30 minutes, or until just set in the middle. Don't overbake! Let cool thoroughly in the muffin pan.
For the ganache, cook the heavy cream, chocolate chips, and instant coffee in the top of a double boiler over simmering water until smooth and warm, stirring occasionally.
Dip the tops of the cupcakes into the ganache. Do not refrigerate.
Place the butter in a large mixing bowl. Add 4 cups of the sugar and then the milk and vanilla. On the medium speed of an electric mixer, beat until smooth and creamy, about 3-5 minutes. Gradually add the remaining sugar, 1 cup at a time, beating well after each addition (about 2 minutes), until the icing is thick enough to be of good spreading consistency. You may not need to add all of the sugar. If desired, add a few drops of food coloring and mix thoroughly. (Use and store the icing at room temperature because icing will set if chilled.) Icing can be stored in an airtight container for up to 3 days.
Pipe the buttercream on top of the ganache covered cupcakes.
Recipe Notes:
cupcake and ganache recipes from Ina Garten