You can't go wrong with a classic like these Devil's Food Cupcakes with Fluffy Frosting! The cupcakes are deep chocolate, contrasted by the light and fluffy marshmallow frosting.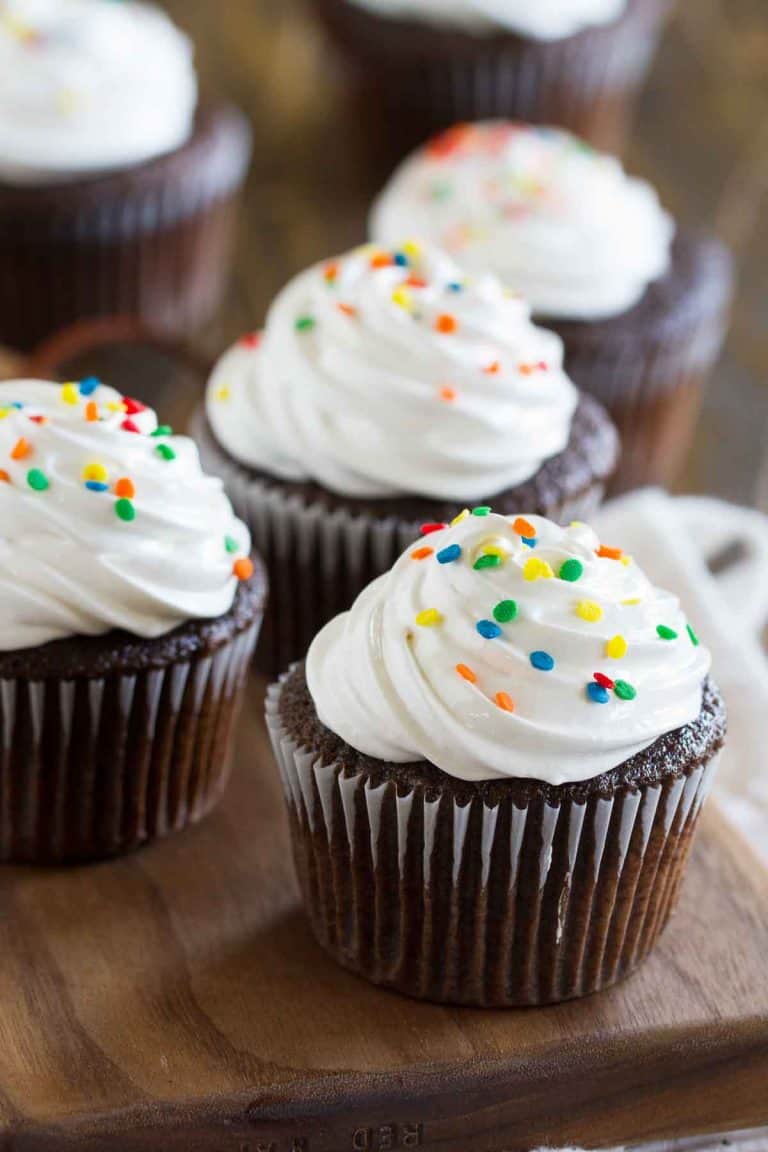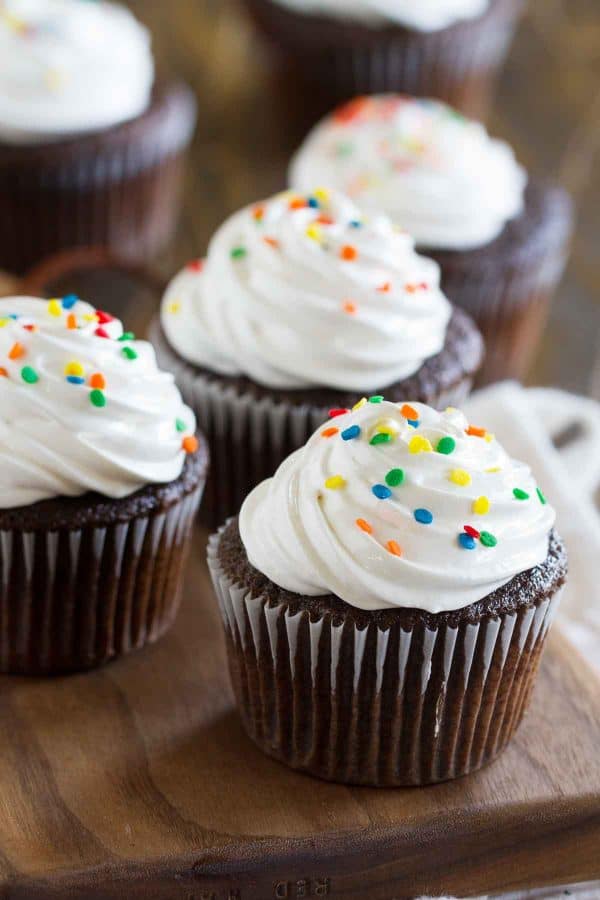 Photos Updated August 2016
Originally posted September 2, 2008 – Well, we made it through the first week of 2017! And I think that deserves a cupcake. Or two. If you are looking for a good, solid Devil's Food Cupcake with the best frosting ever, these Devil's Food Cupcakes with Fluffy Frosting need to be made asap. It's Friday – which I say means it's time for a cupcake!!
The post from 2008 follows:
I've talked about my mom on my blog before. I think she is where I get my love of food from. She made breakfast 6 mornings a week. (On Saturdays, we were allowed to get up early and eat cold cereal while watching cartoons. I think the only reason we were allowed cereal this one day was so that she could have one morning to sleep in!) She cooked every meal. In fact, I don't ever remember eating out except for when we would go on vacation. It was never – "I'm too tired to cook, so let's eat out tonight".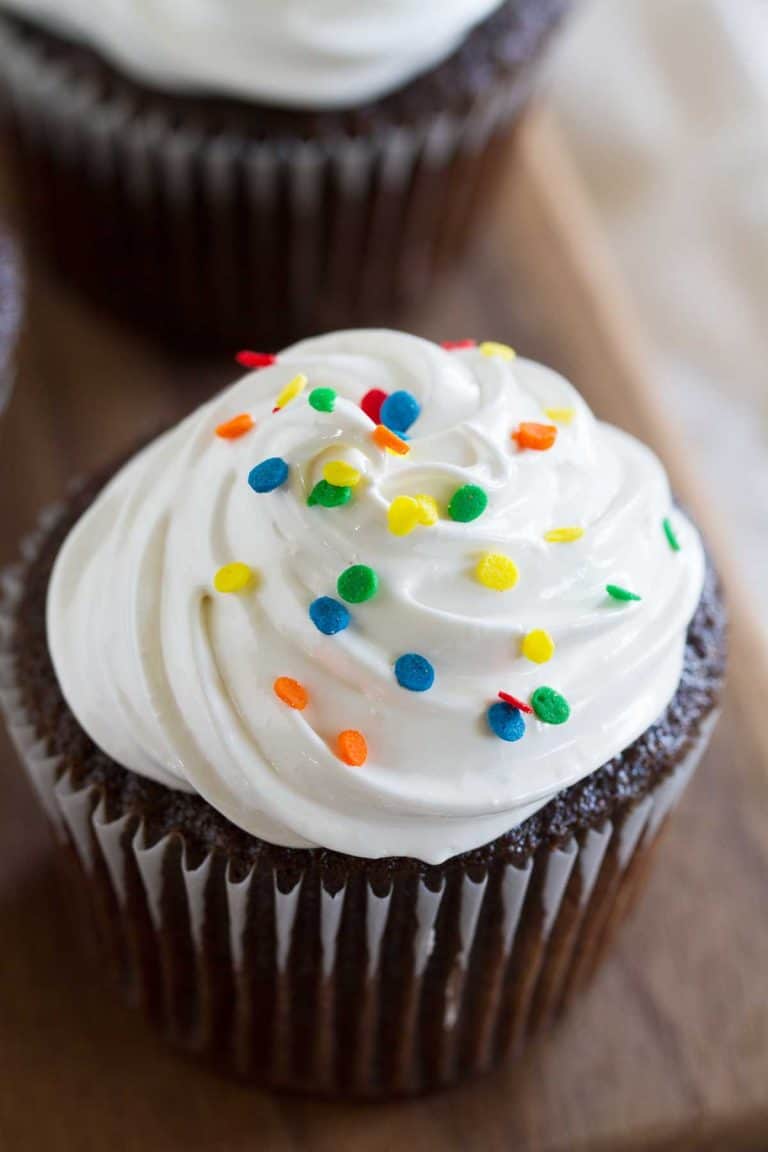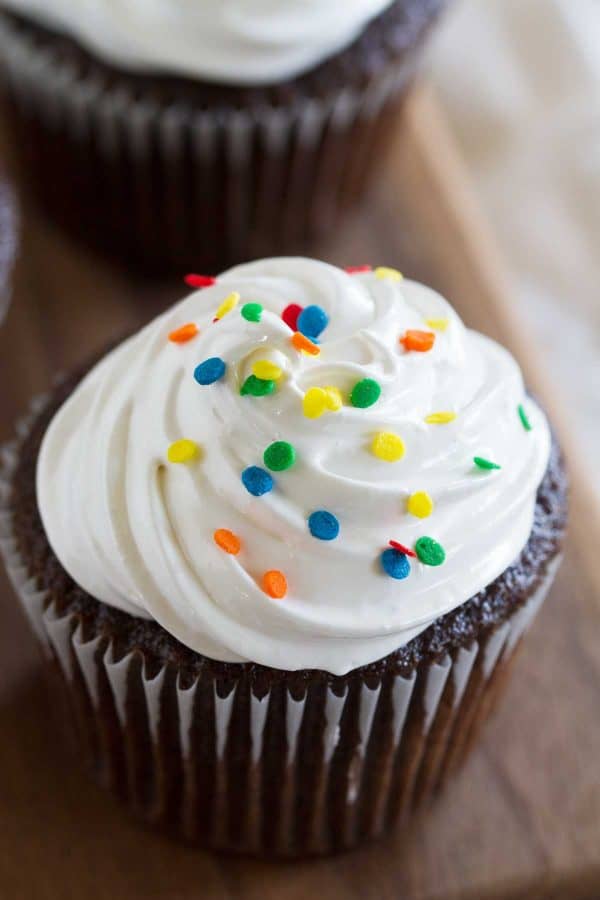 Birthdays were always a lot of fun because if it was your birthday, you would get to choose what was for dinner and what kind of cake you wanted. I remember always wanting homemade chicken nuggets for dinner, and the cake of choice was always cherry chip with fluffy frosting. It wasn't until I started reading food blogs that I found out that most people call this frosting 7 minute frosting or marshmallow frosting, not fluffy frosting! And although it's been quite awhile since I've had a cherry chip cake, fluffy frosting still remains my favorite.
I've made a similar cupcake on here before – a devil's food cupcake with marshmallow frosting. The frosting on my first post was good, but it wasn't the same as the frosting from my childhood. And this cupcake recipe is much better. I can't wait until my kids are old enough to love birthdays like I did, and I won't be surprised if they always choose fluffy frosting for their cakes!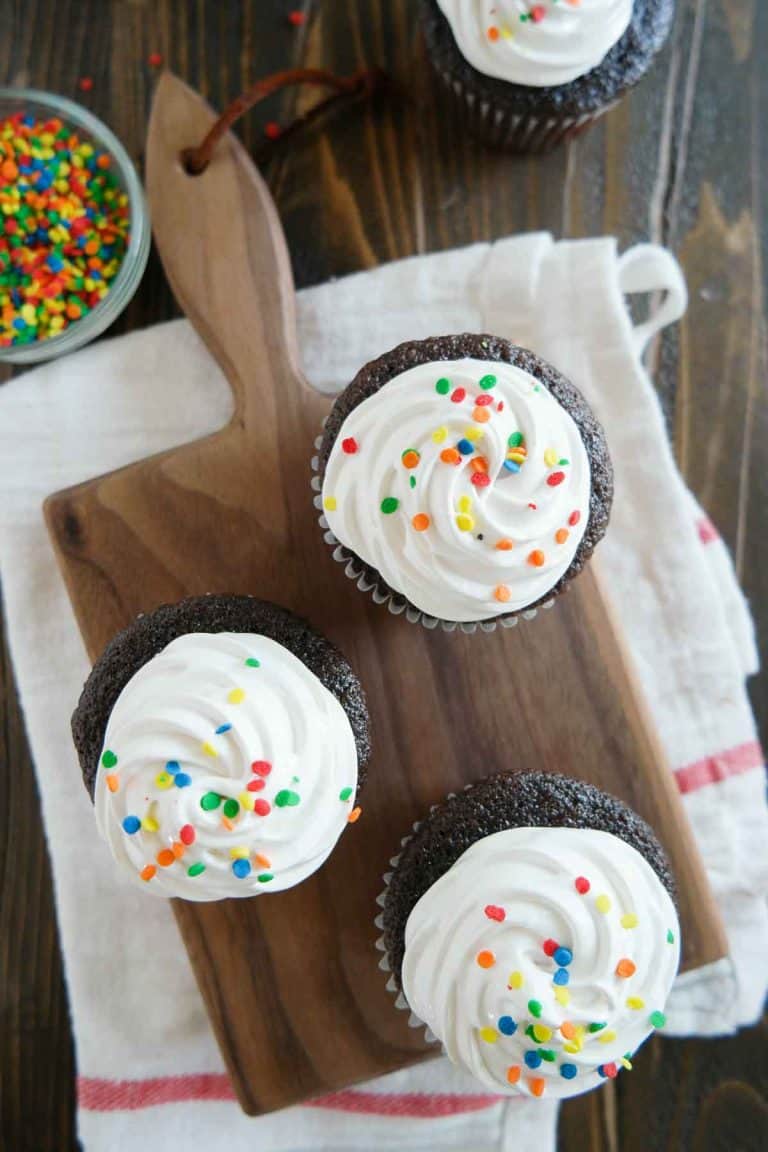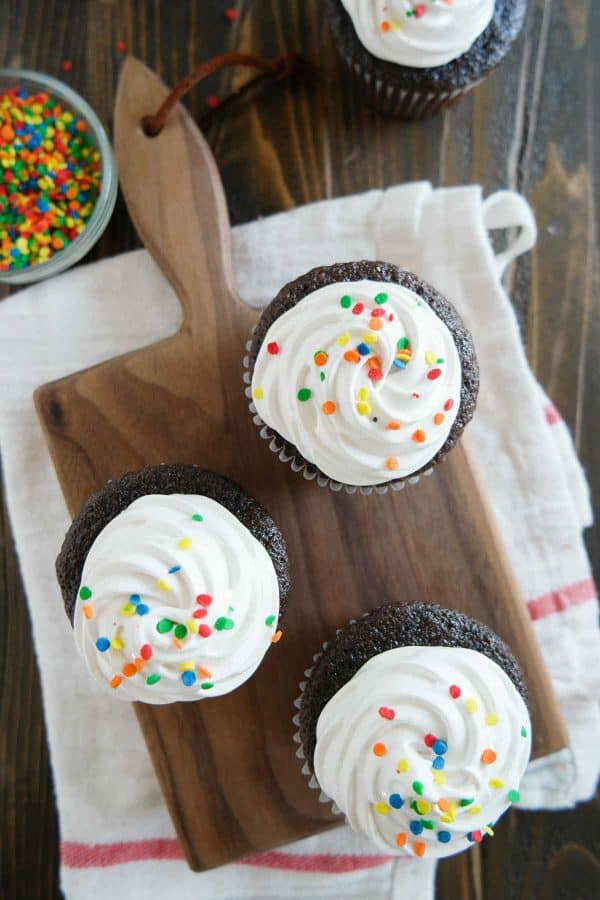 More can't miss chocolate desserts:
Chocolate Bundt Cake
Chocolate Crinkle Cookies
Chocolate Cream Pie
Chocolate Mousse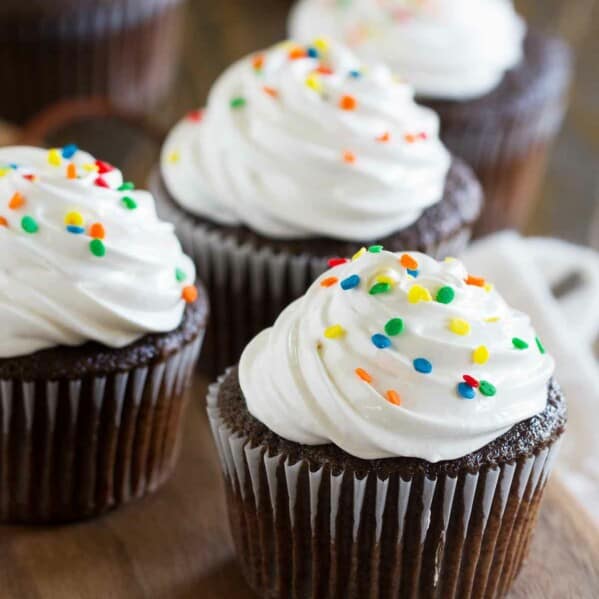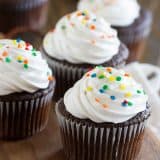 Devil's Food Cupcakes with Fluffy Frosting
---
Author:
Prep Time: 20 minutes
Cook Time: 20 minutes
Total Time: 40 minutes
Yield: 24 servings 1x
Category: Dessert
Description
You can't go wrong with a classic like these Devil's Food Cupcakes with Fluffy Frosting! The cupcakes are deep chocolate, contrasted by the light and fluffy marshmallow frosting.
---
Scale
Ingredients
Devil's Food Cupcakes:
2 1/4 cups all-purpose flour
1/2 cup unsweetened cocoa powder
1 1/2 teaspoons baking soda
1/4 teaspoon salt
1/2 cup butter, (softened)
1 3/4 cups granulated sugar
1 teaspoon vanilla extract
3 eggs
1 1/3 cups cold water
Fluffy Frosting:
1/3 cup light corn syrup
1/2 cup granulated sugar
2 egg whites
1 teaspoon vanilla extract
---
Instructions
To make the cupcakes:
Line 24 cupcake tins with cupcake liners. Preheat the oven to 350ºF.
In a bowl, sift together the flour, cocoa powder, baking soda and salt. Set the bowl aside.
In another large bowl, beat the butter with a mixer on high for 30 seconds. Add the sugar and vanilla and continue to beat until it is well combined. Add the eggs, one at a time, scraping down the bowl between additions. Add the flour mixture and the water alternately, mixing on medium-low speed until just combined.
Fill the cupcake liners 3/4 full. Bake in the preheated oven for 15 to 20 minutes, or until a tester inserted in the center comes out clean. Cool completely.
To make the frosting:
Combine the corn syrup and the sugar in a small saucepan. Bring the mixture to a boil and cook until the sugar is dissolved.
Meanwhile, beat the egg whites in a stand mixer until stiff. Beat in the vanilla. When the corn syrup mixture is ready, pour it in a steady stream into the egg whites while the mixer is on medium to medium-high speed. Continue to beat the frosting until the sides of the bowl are cool to the touch. The frosting will be smooth and marshmallowy.
Frost the cooled cupcakes with the fluffy frosting using piping bag and large decorating tip.
SHOP THIS POST:
More Favorite Cupcake Recipes: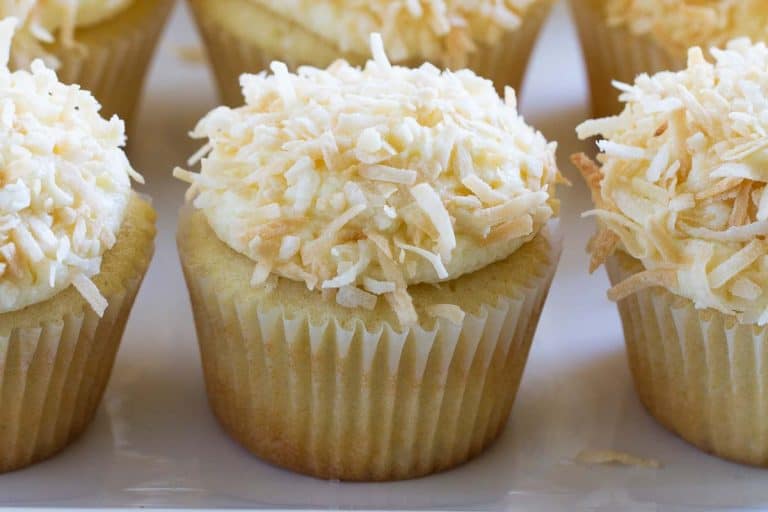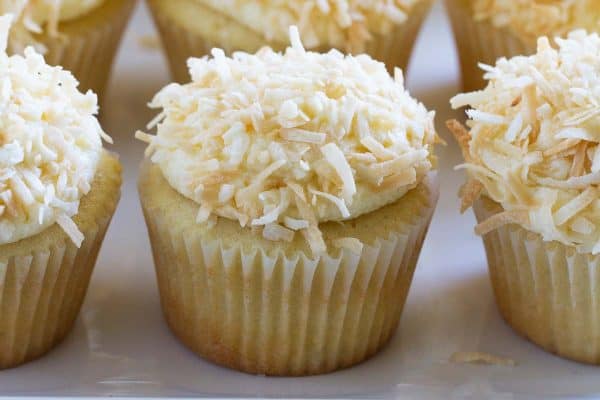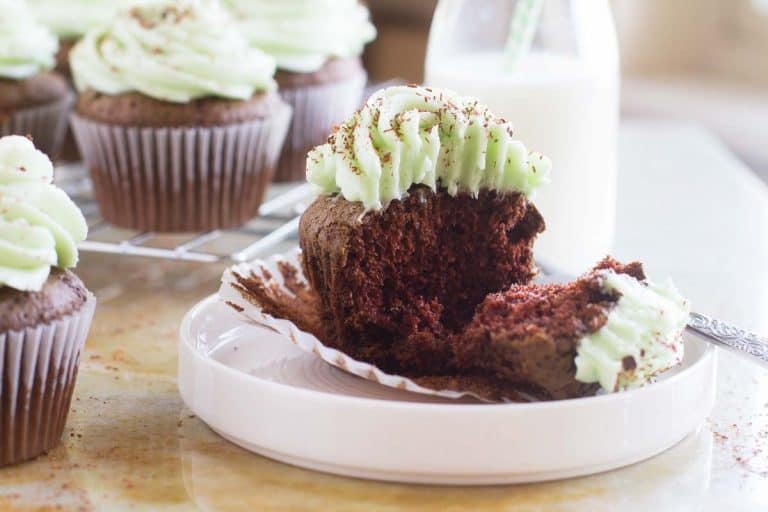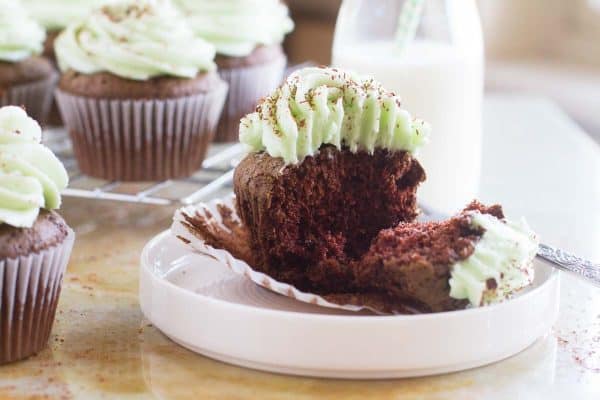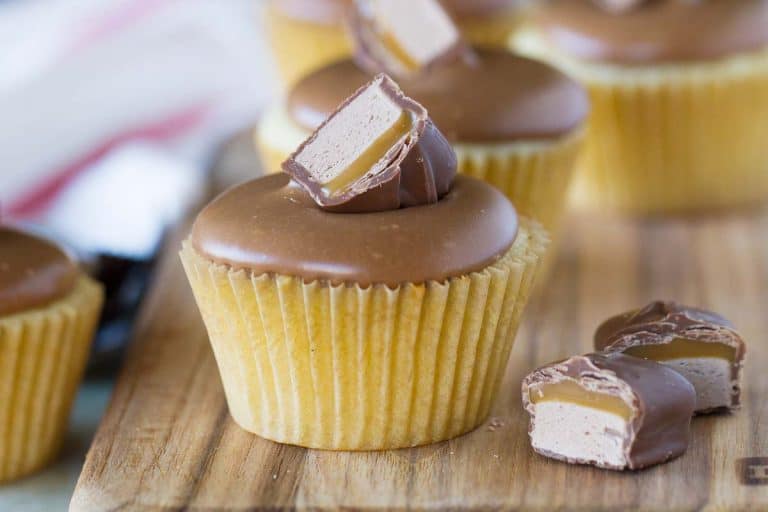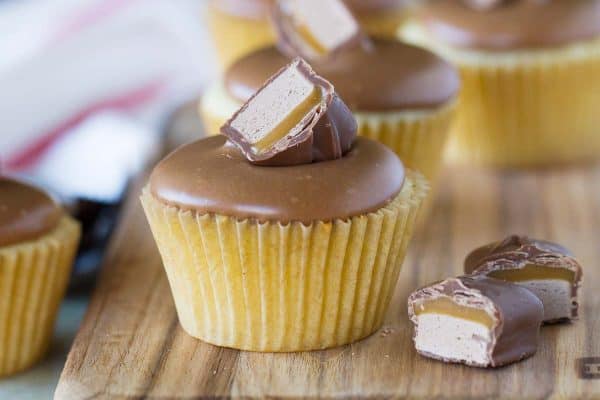 Around the Web:
Chocolate Cherry Cupcakes from Baked by an Introvert
Banana Cream Pie Cupcakes by Life, Love and Sugar
Strawberry Milkshake Cupcakes by The Girl Who Ate Everything
Don't miss a thing! Follow me on Pinterest to see what I'm pinning!