Moist almond cupcakes made from scratch are topped with a light and fluffy cherry buttercream, made from fresh cherries.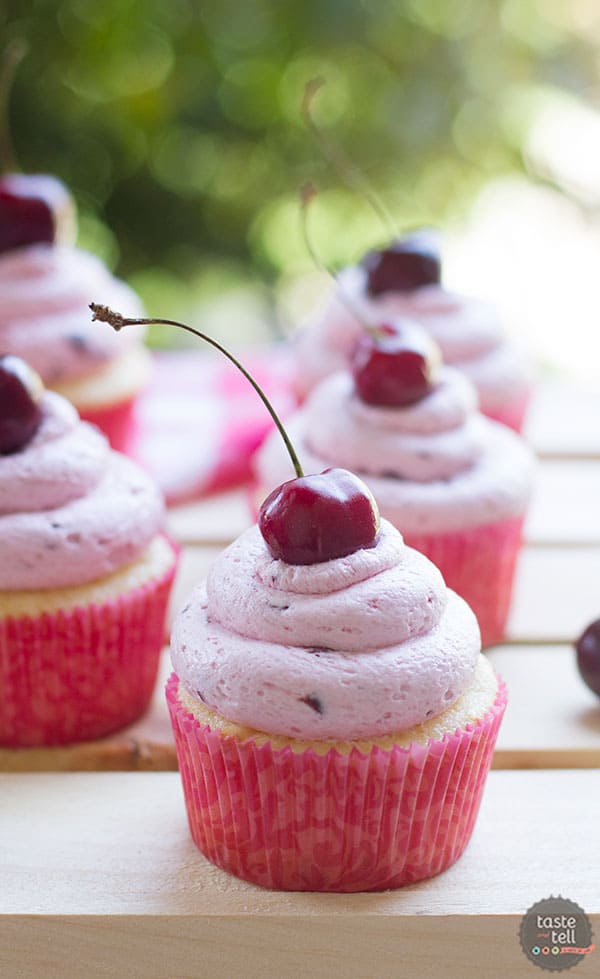 I'm not a live-by-the-seat-of-my-pants kind of girl. I like a schedule, and for the most part, I like predictability. Boring, right? Sometimes I wish I was more carefree, but I'm not one of those people that wake up in the morning saying "what am I going to do today?" I already know. Sometimes – or most of the time – the day doesn't go exactly as planned, but there is almost always a plan.
As a blogger, I have a schedule, and I stick to it. I like to keep things organized, and I have an editorial calendar that I refer to often. At any given time, I probably have at the very least 2 weeks worth of recipes that are already made and photographed, just waiting to get posted.







Which is why it sometimes gives me anxiety to see other bloggers who are busy cooking something up in their kitchen, then Instagramming it, saying how it is going on their blog the next morning. It is extremely rare for me to make something and then post it the next day. I'm just weird like that!!
But I'm stepping out of my comfort zone today, because I just made these cupcakes yesterday. And as I took a bite, I knew that I couldn't wait to share them. Especially since cherry season is so short and you need to make these before cherries disappear from store shelves.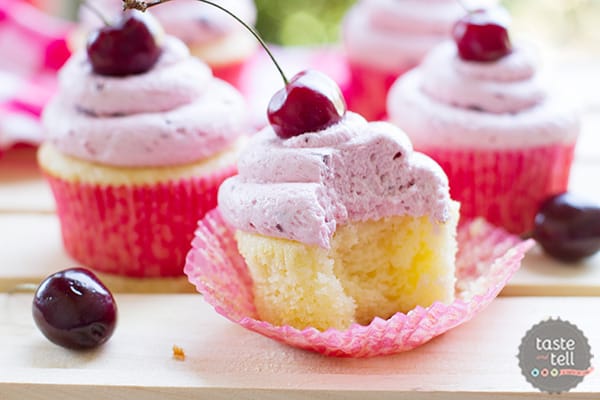 I actually spent a good part of my day of my day yesterday perfecting these cupcakes. I don't usually try multiple versions of something in the same day, but I was determined. I had purchased a big bag of cherries on sale, and I needed to use them quickly before they went bad. As I thought about what to do with them, the idea of a fresh cherry frosting came to mind. And I love the almond/cherry pairing, so it was only natural that I paired the fresh cherry frosting with almond cupcakes.
The almond cupcakes are simple and perfect. Tender and moist, with just the perfect amount of almond flavor. Then the cupcakes are topped with a creamy, light, and fresh cherry frosting. I was a little afraid that the cherry flavor wouldn't really come through, so I added a whole cup of cherries – which ended up being the perfect amount of cherries. The cherries are pitted and then chopped before they are added to the buttercream. Just make sure you use a piping tip that is open enough for the cherry chunks to come through. This frosting is so good that I wanted to just eat it with a spoon!
Combine the almond cupcakes with the fresh cherry frosting and you have the perfect summertime cupcake recipe. Just make sure you have someone to share with, because you'll want to eat them all yourself!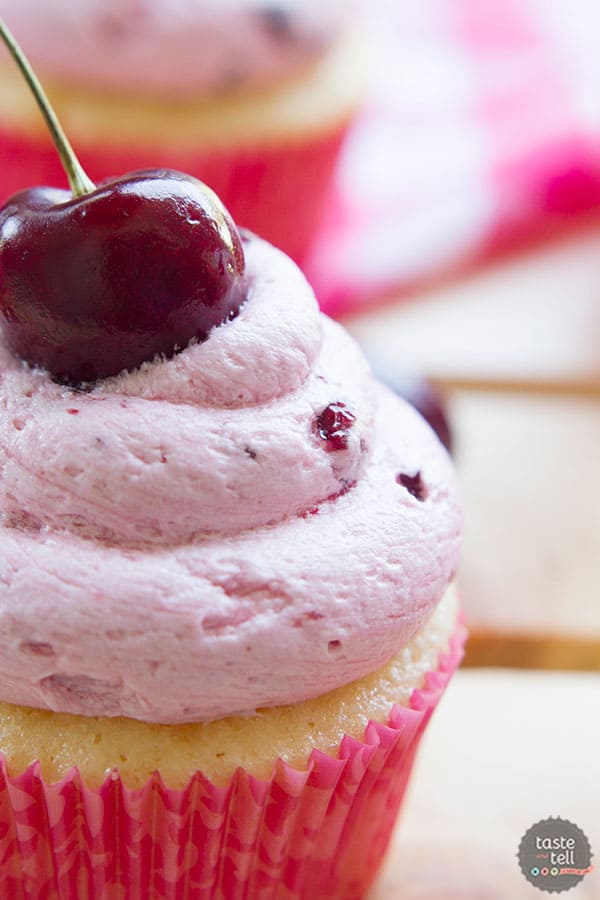 Like what you see here? Make sure you are following Taste and Tell for more great recipes and ideas!!

Facebook ** Pinterest ** Twitter ** Instagram ** Google+
or you can subscribe to my newsletter or Feedly or Bloglovin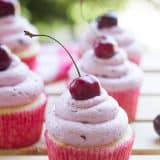 Almond Cupcakes with Fresh Cherry Frosting
---
Prep Time: 20 mins
Cook Time: 18 mins
Total Time: 38 mins
Yield: 18 cupcakes 1x
Description
Moist almond cupcakes made from scratch are topped with a light and fluffy cherry buttercream, made from fresh cherries.
---
Scale
Ingredients
Cupcakes:
1 1/2 cups all-purpose flour
1 1/2 teaspoons baking powder
1/2 teaspoon salt
1 cup sugar
1/2 cup butter, at room temperature
2 eggs
1 1/2 teaspoons almond extract
1 cup buttermilk
Fresh Cherry Frosting:
1 cup butter, at room temperature
3 1/2 cups powdered sugar
1/4 teaspoon salt
1/4 teaspoon almond extract
1 cup fresh cherries, pitted and finely chopped
---
Instructions
Preheat the oven to 350F. Line 18- muffin cups with paper liners.
In a large bowl, combine the flour, baking powder and salt and mix to combine.
In the bowl of a stand mixer, beat together the sugar and butter until light and fluffy, about 2 minutes. Add in the eggs, one at a time, scraping down the bowl in between additions. Beat in the almond extract. Add one-third of the flour mixture, beat to combine, then half of the buttermilk. Add another one-third of the flour, the remaining buttermilk, then the remaining flour. Beat just until combined.
Fill the cupcake liners about 2/3 full of the batter. Bake in the preheated oven until a toothpick inserted in the center comes out clean, about 18 minutes. Remove from the pans and cool completely.
In the bowl of a stand mixer, beat the butter until light and fluffy, 2-3 minutes. Add in the powdered sugar, 1/2 cup at a time, mixing until completely combined. Beat in the salt and the almond extract, then turn the mixer to medium-high and beat until light and fluffy, about 2 minutes. Add in the cherries and any juices that may have accumulated. Beat on low until combined, then turn to medium-high and beat an additional 2-3 minutes. The frosting should be light and creamy and smooth.
Pipe the frosting on the cupcakes. Top with an additional cherry, if desired.
More Fruity Cupcakes: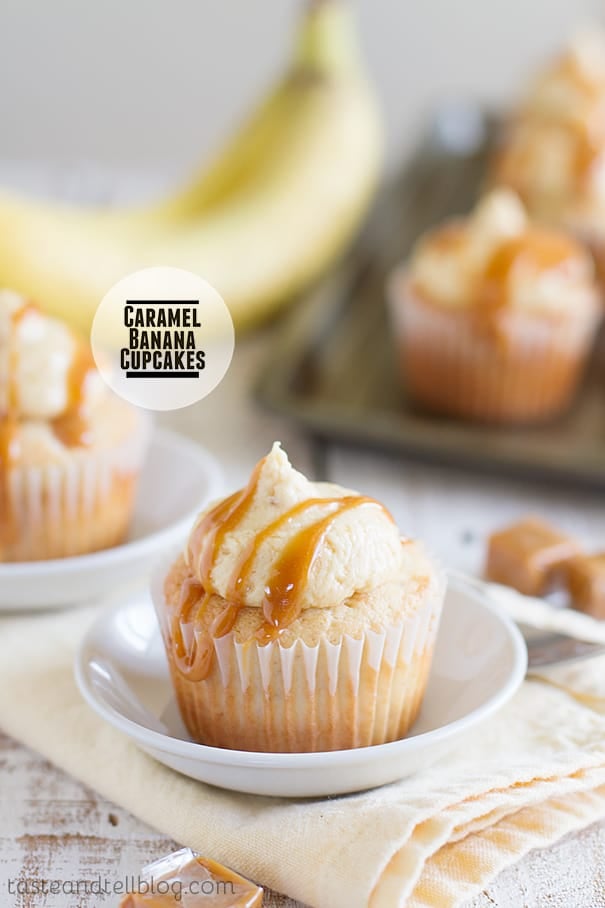 Around the Web:
Orange Cream Cupcakes on Foodiecrush
Chocolate Covered Strawberry Cupcakes on Sweet Treats and More
Blueberry Pancake Cupcakes on Your Cup of Cake

Don't miss a thing! Follow me on Pinterest to see what I'm pinning!