These lemon ricotta cookies are delicate and light and topped with a sweet lemon glaze.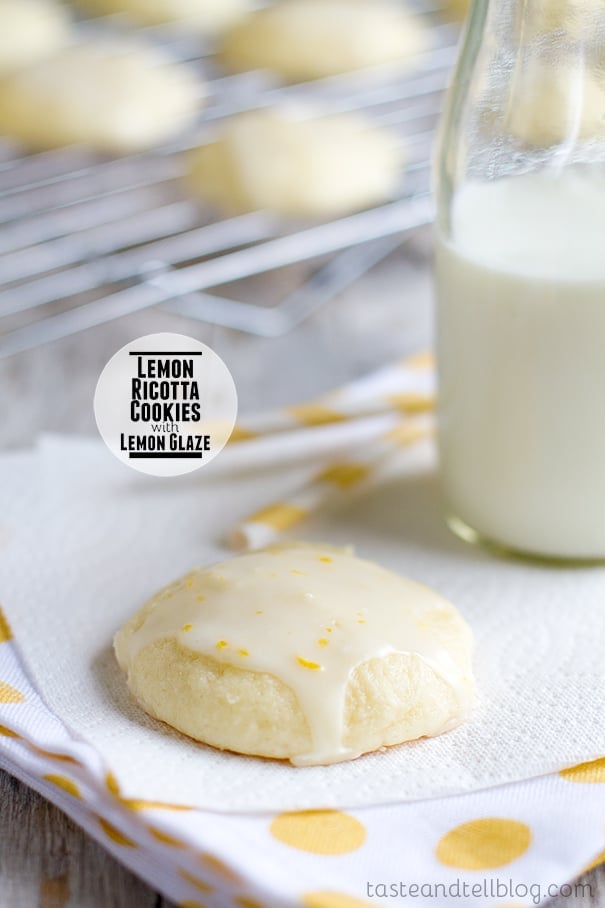 Photo Updated February 2014



Originally published November 21, 2008 – I came across some Meyer lemons at the grocery store, and I couldn't turn them down. But then I got home, and had a whole bunch of lemons, and needed to figure out what to do with them. Luckily, these cookies are great with regular lemons or Meyer lemons!! These are sweet and tart and delicate and addictively delicious. Try them out next time you have an abundance of lemons!

Before I started really wanting to try out new ingredients or recipes, I probably would have told you that ricotta only goes in lasagna. Now I am learning that it is good in so much more!! One of my favorite things I've made were the Ricotta Doughnuts I made back in June, and now I'm adding a ricotta cookie to my favorites list!!
If you've ever watched Giada's tv show, you'll know that she claims to have a huge sweet tooth. I think this is actually the first dessert of hers that I've tried, though!! I was going to make the Chocolate Hazelnut Biscotti that I saw Maria make, but after having a surplus of lemons that I didn't want to go to waste, I decided on these Lemon Ricotta Cookies. And I'm so glad I did!
These are definitely more of a cake like cookie, but they are so delicious and full of lemon flavor. Don't skip out on making the lemon glaze, because it is really what makes these cookies. Without it, they are nothing spectacular, but that little bit of glaze gives them a very sweet/tart flavor. Luckily I'm giving most of them away – otherwise I could probably eat the whole batch myself!!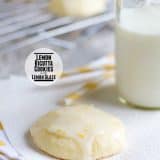 Lemon Ricotta Cookies with Lemon Glaze
---
Prep Time: 15 minutes
Cook Time: 10 minutes
Total Time: 1 hour
Yield: 48 cookies 1x
Description
Light lemon cookies are made with ricotta and topped with a sweet lemon glaze.
---
Scale
Ingredients
Cookies
2 1/2 cups all-purpose flour
1 teaspoon baking powder
1 teaspoon salt
1/2 cup (1 stick) unsalted butter, at room temperature
2 cups granulated sugar
2 eggs
1 (15-ounce) container whole-milk ricotta cheese*
zest of 1 lemon
3 tablespoons freshly squeezed lemon juice
Glaze
1 1/2 cups confectioners' sugar
zest of 1 lemon
3 tablespoons freshly squeezed lemon juice
---
Instructions
For the cookies:
Preheat the oven to 375F.
In a medium bowl combine the flour, baking powder, and salt. Set aside.
In the large bowl combine the butter and the sugar. Using an electric mixer beat the butter and sugar until light and fluffy, about 3 minutes. Add the eggs, 1 at a time, beating until incorporated. Add the ricotta cheese, lemon juice, and lemon zest. Beat to combine. Stir in the dry ingredients.
Line 2 baking sheets with parchment paper. Spoon the dough (about 1 tablespoon for each cookie) onto the baking sheets. Bake for 10 minutes, until slightly golden at the edges. Remove from the oven and let the cookies rest on the baking sheet for 20 minutes.
For the glaze:
Combine the powdered sugar, lemon juice, and lemon zest in a small bowl and stir until smooth. Spoon about 1/2-teaspoon onto each cookie and use the back of the spoon to gently spread. Let the glaze harden for about 2 hours.
Recipe Notes:
*I used part skim ricotta, and it worked just fine!
slightly adapted from Giada's Kitchen