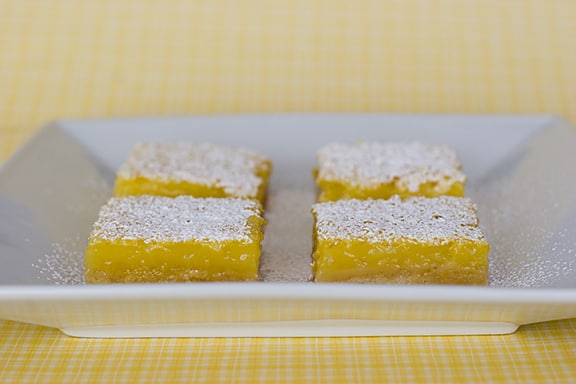 Are your taxes in? The 15th of April is usually a stressful day for me because I tend to procrastinate. But I'm so proud of myself this year – taxes were in a couple of months ago! So I think I'll celebrate by being in the kitchen today!
I love it when produce prices are low. That is one reason I'm super excited that it is warming up outside that means we are so much closer to local produce! But lately, it's been the citrus. I know I blogged about lemons for several days in a row not long ago. But this time, I found my produce drawer full of all kinds of citrus. I had actually intended to make just lemon bars, but then I didn't have enough lemons. So I ended up mixing regular lemons, Meyer lemons, and oranges and the end result were these Citrus Bars. I wish I would have tried this sooner! They weren't quite as tart as regular lemon bars, but they were so delicious and a little bit different. I can't wait to try other combinations of citrus!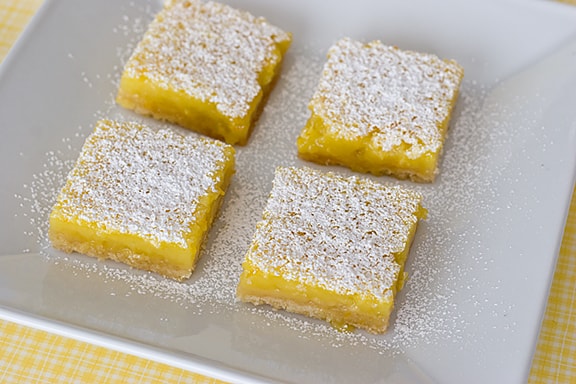 Citrus Bars
adapted from Food Network Magazine March 2010
For the Crust
vegetable oil, for greasing
1 1/2 sticks cold unsalted butter, diced
2 cups all-purpose flour
1/4 cup packed light brown sugar
1/4 cup confectioners' sugar (plus more for garnish)
1/4 teaspoon salt
For the Filling
4 large eggs, plus 2 egg yolks
2 cups granulated sugar
1/3 cup all-purpose flour, sifted
1 teaspoon grated citrus zest
1 cup freshly squeezed citrus juice
Make the crust: Position a rack in the middle of the oven and preheat to 350 degrees F. Grease a 9-by-13-inch pan with vegetable oil and line with foil, leaving a 2-inch overhang on all sides; grease the foil with oil. Pulse the butter, flour, both sugars and the salt in a food processor until the dough comes together, about 1 minute. Press evenly into the bottom and about 1/2 inch up the sides of the prepared pan, making sure there are no cracks. Bake until the crust is golden, about 25 minutes.
Meanwhile, make the filling: Whisk the whole eggs and yolks, sugar and flour in a bowl until smooth. Whisk in the zest and juice. Remove the crust from the oven and reduce the temperature to 300 degrees F. Pour the filling over the warm crust and return to the oven. Bake until the filling is just set, 30 to 35 minutes.
Let the bars cool in the pan on a rack, then refrigerate until firm, at least 2 hours. Lift out of the pan using the foil and slice. Dust with confectioners' sugar before serving.