The flavors of mint chocolate chip ice cream meets cookie dough in this delicious frosting that mint lovers will go crazy for.
So much of my life is all about food. It's my job. It's my passion. So it's no surprise that food is on my mind a lot.
This also means that I always have a running list of recipes that I want to try. Cookbooks I want to buy. Kitchen experiments I want to play with. Sadly, this also means that it sometimes takes me months (or even years, eeks!) to try an idea I have been thinking about.

Back in December, I was doing some Pinterest surfing and came across this Cream Cheese Cookie Dough Frosting from Chef in Training. I had been wanting to try it forever, but then all of a sudden, a new idea popped into my head. What if I combined my love of mint chocolate chip ice cream with cookie dough frosting??
I knew I needed to try it, but as things often go in December, things got crazy busy. And there were so many different desserts being made, that this idea got pushed back to the back-burner.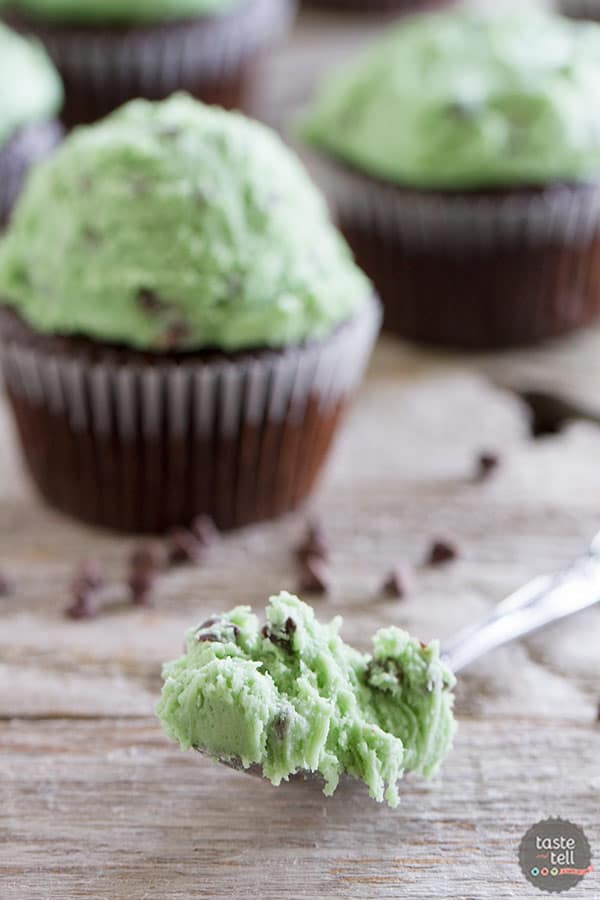 We all know I'm not so great at coming up with all kinds of holiday desserts, but when I realized that it was St. Patrick's Day, I decided to whip up this cupcake idea I had been sitting on for so many months. I know, I know – these are not Irish whatsoever, but the fact that they are green counts for something, right?? 😉
I used Nikki's recipe as the base for my Mint Chocolate Chip Cookie Dough Frosting – and it was just perfect. I added in 1/2 teaspoon of mint extract, and I thought it added the perfect amount of minty-ness. If you don't want the mint to be very strong, you can cut that back to 1/4 teaspoon, but I loved the flavor.
I used the frosting on some plain chocolate cupcakes (these Eggless Chocolate Cupcakes are my go-to chocolate cupcakes!) and my boys and I went crazy over these. (Abbi is not a mint lover, and my husband is not a frosting lover. More for us!!)
I used an ice cream scoop to frost my cupcakes – but it was a lot of frosting. I was only able to frost 9 cupcakes, but if you frost them with a normal amount of frosting, you should have enough frosting for 12 cupcakes. Or you can just eat it with a spoon, because that's kind of what I wanted to do!!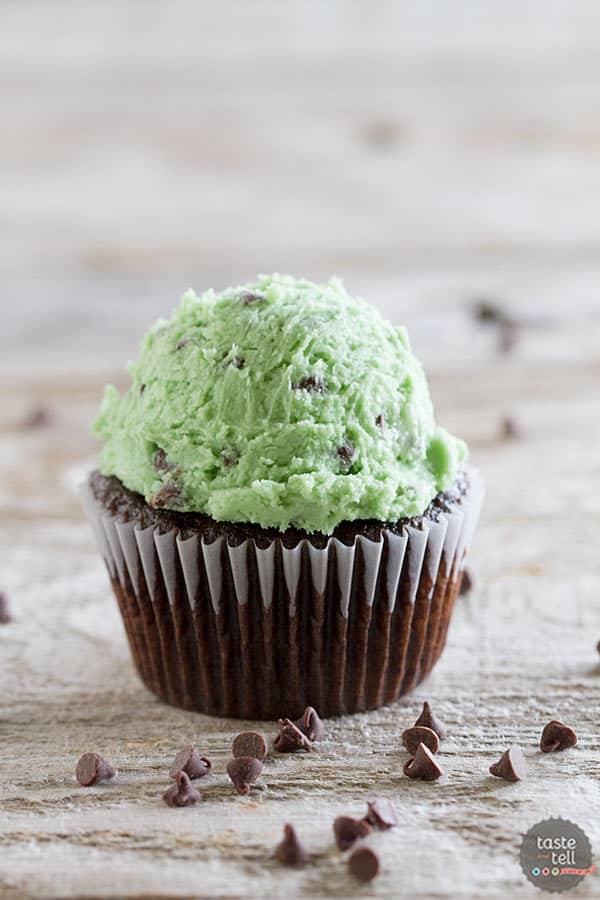 Like what you see here? Make sure you are following Taste and Tell for more great recipes and ideas!!

Facebook ** Pinterest ** Twitter ** Instagram ** Google+
or you can subscribe to my newsletter or Feedly or Bloglovin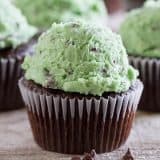 Mint Chocolate Chip Cookie Dough Frosting
---
Prep Time: 10 mins
Total Time: 10 mins
Yield: enough to frost 12 cupcakes
Description
The flavors of mint chocolate chip ice cream meets cookie dough in this delicious frosting that mint lovers will go crazy for.
---
Scale
Ingredients
4 oz cream cheese, at room temperature
5 oz unsalted butter, at room temperature
2/3 cup brown sugar
2–3 tablespoons milk
1 teaspoon vanilla extract
1/4–1/2 teaspoon mint extract (depending on how strong you want it)
1/2 cup flour
3 cups powdered sugar
green food coloring
2/3 cup mini chocolate chips
---
Instructions
Combine the cream cheese and butter in a bowl or the bowl of a stand mixer and beat until light and creamy. Add the brown sugar and beat in completely.
Add 2 tablespoons of the milk, the vanilla extract and the mint extract and beat to combine. Beat in the flour, then beat in the powdered sugar, 1/2 cup at a time. If the frosting is too stiff, add up to 1 more tablespoon of milk. Add in enough food coloring to reach your desired shade of green, and beat the frosting for 30-60 seconds to completely combine. Stir in the chocolate chips.
Recipe Notes:
This makes enough frosting to frost 12 cupcakes normally. If you scoop it on like I did, you won't have quite enough.
Adapted from Chef in Training
More Mint Favorites: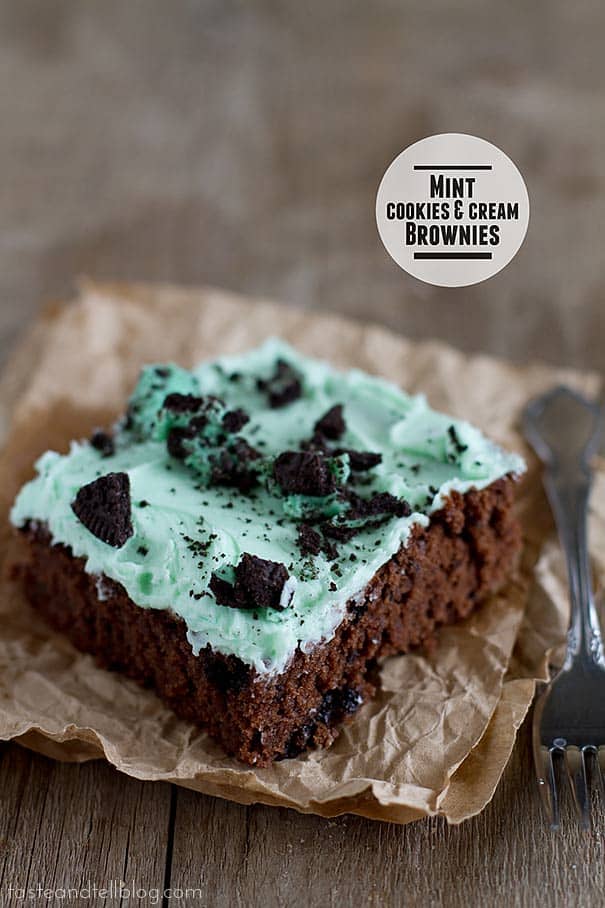 Mint Cookies and Cream Brownies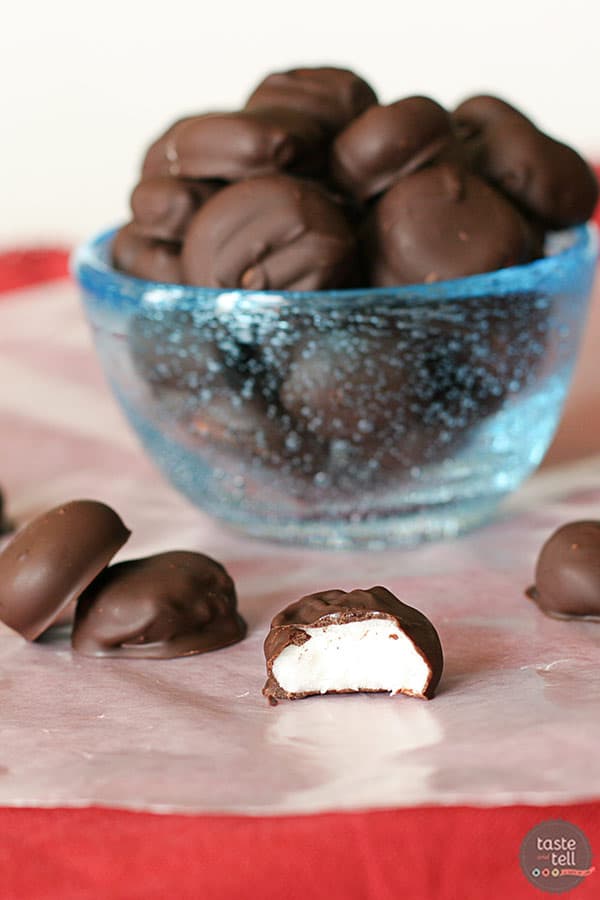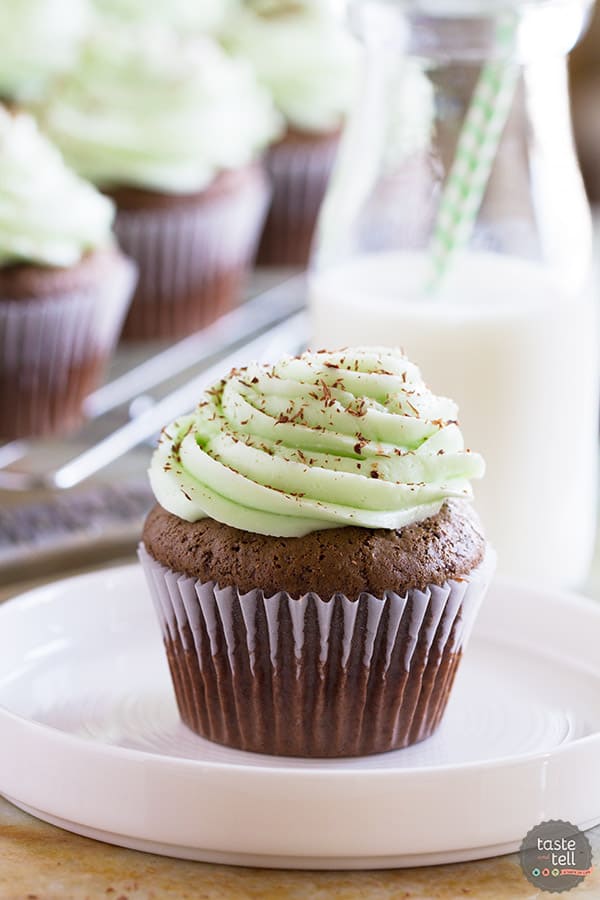 Around the Web:
Chocolate Mint Fudge Crumb Bars from Mom on Timeout
Mint Chip Cake Roll from Crazy for Crust
Mint Chocolate Chip Frosted Brownies from Roxana's Home Baking