Lemon cupcakes are topped with a light pomegranate frosting and fresh pomegranate seeds in these light and refreshing Lemon Pomegranate Cupcakes.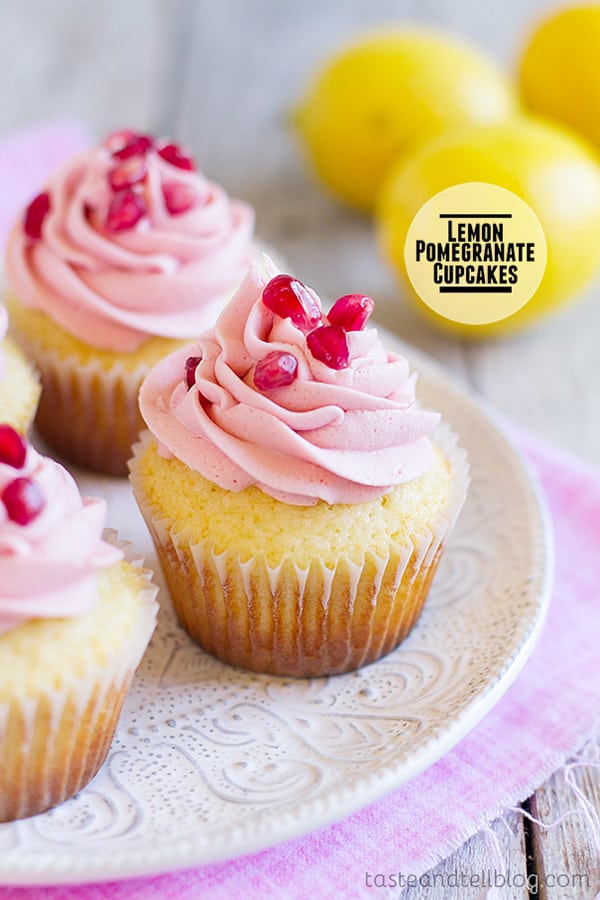 Yum


It's amazing how different two children can actually be.
My daughter – who is the oldest – was practically born talking. She was speaking in full sentences by the time she was 18 months. My next born, a son, is not a talker at all. In fact, I started to worry when he hit two years old and wasn't fully communicating like my daughter did. The doctor smiled and told me that he was, in fact, quite normal, and that my daughter was just a talker. Even now, at 5 years old, she pretty much doesn't stop talking, every minute she is awake, while my son is still a boy of few words.
My daughter is the most outgoing little girl that I think I've ever seen. During the course of a trip to the grocery store, she will become best friends with the girl in the other cart and she'll chat up the checker all about every detail of her birthday. My son, on the other hand, is more of a loner. He'll definitely stick by my side, but he's more content to play by himself than he is in a group of kids.
If you offer my daughter a cupcake, she'll ask for one without the frosting, while my son will just lick the frosting off the top of his, leaving the cupcake behind. They kind of remind me of that old nursery rhyme:
Jack Sprat could eat no fat. His wife could eat no lean. And so between them both, they licked the platter clean.

But at least I can say that with these Lemon Pomegranate Cupcakes, Abbi did love the cupcakes and Easton did love the frosting!!
I know that the only thing about these that is the least bit Valentine-y is the color, but I had been dying to try this flavor combination. I was watching an episode of Cupcake Wars one night, and one of the contestants made a blood orange cupcake with a pomegranate frosting. I'm sure there was a filling in there, too, but I don't remember. And while I thought the idea of the blood oranges was intriguing, I know that for me, at least, those babies are hard to find. So I wanted to go with something a little bit more accessible.
And since lemons are in season right now, I decided to go that route. And what a beautiful combination the lemon and pomegranate are!!
For the frosting, I wanted to make sure that it actually tasted like pomegranate, and I knew that pomegranate juice was the only solution. But I wanted to make sure that the taste wasn't too subtle, so I reduced it down, concentrating the flavor a bit. It was perfection!!
One note – while you are making this frosting, it may look a bit curdled as it starts to come together. Keep beating until it is smooth and light – it will take several minutes. I think you'll love these Lemon Pomegranate Cupcakes as much as we do!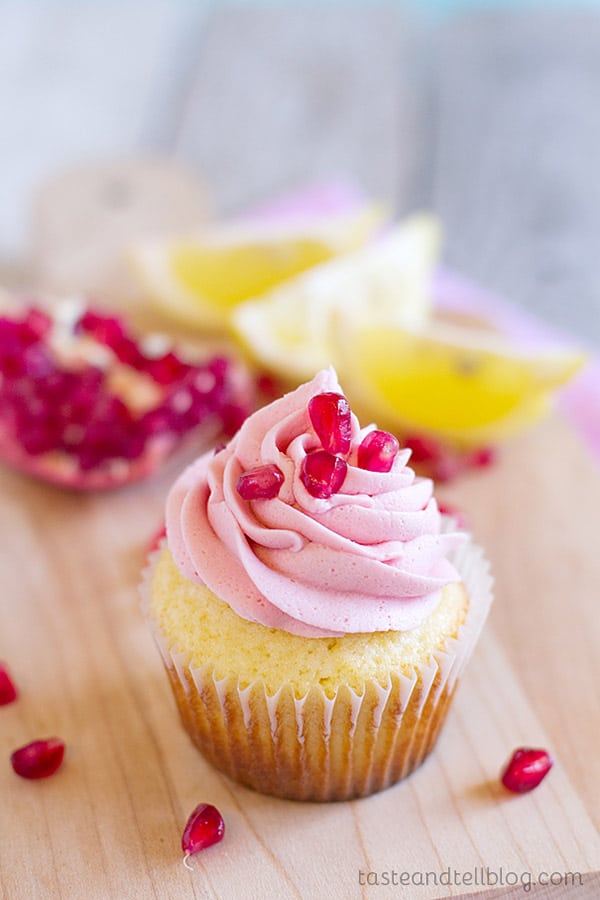 Like what you see here? Make sure you are following Taste and Tell for more recipes and ideas!
Facebook | Pinterest | Instagram | Twitter | Google+ | Weekly Newsletter | Feedly | Bloglovin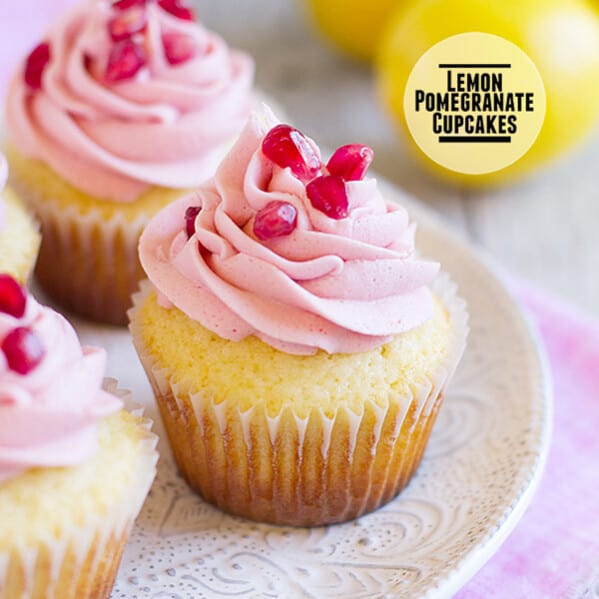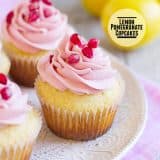 Lemon Pomegranate Cupcakes
---
Prep Time: 25 mins
Cook Time: 18 mins
Total Time: 43 mins
Yield: makes 24 1x
Description
Lemon cupcakes are topped with a light pomegranate frosting and fresh pomegranate seeds for a light and refreshing cupcake.
---
Scale
Ingredients
For the cupcakes
1 cup butter, at room temperature
2 cups sugar
4 eggs
zest of 2 lemons
juice from 1 lemon
1 teaspoon vanilla or lemon extract
3 cups flour
2 teaspoons baking powder
1/2 teaspoon salt
1 cup milk
For the frosting:
1/2 cup pomegranate juice
1 cup (2 sticks) butter, softened
3 cups powdered sugar
Pomegranate seeds
---
Instructions
Preheat the oven to 375F. Line 24 muffin tins with cupcake liners.
Beat together the butter and the sugar until light and fluffy. Add in the eggs, one at a time, until fully incorporated. Stir in the lemon zest, juice and vanilla extract.
In a large bowl, mix together the flour, baking powder and salt.
Add one third of the dry ingredients to the butter mixture and mix until combined. Add half of the milk and combine, followed by another third of the flour mixture. Add in the remaining milk then the remaining dry ingredients, mixing just until combined.
Divide the mixture evenly between the prepared tins and bake in the preheated oven until a tester inserted in the center comes out clean, about 18 minutes. Cool completely.
While the cupcakes are cooling, start the frosting. Place the pomegranate juice in a small saucepan and bring to a boil. Boil until it has reduced by half. Cool completely.
Beat the butter until light and creamy. Add the powdered sugar and beat on low until combined. Add in the cooled, reduced pomegranate juice and beat until smooth and fluffy, about 3 minutes.
Pipe the frosting onto the cupcakes and top with fresh pomegranate seeds.
More Favorite Cupcakes: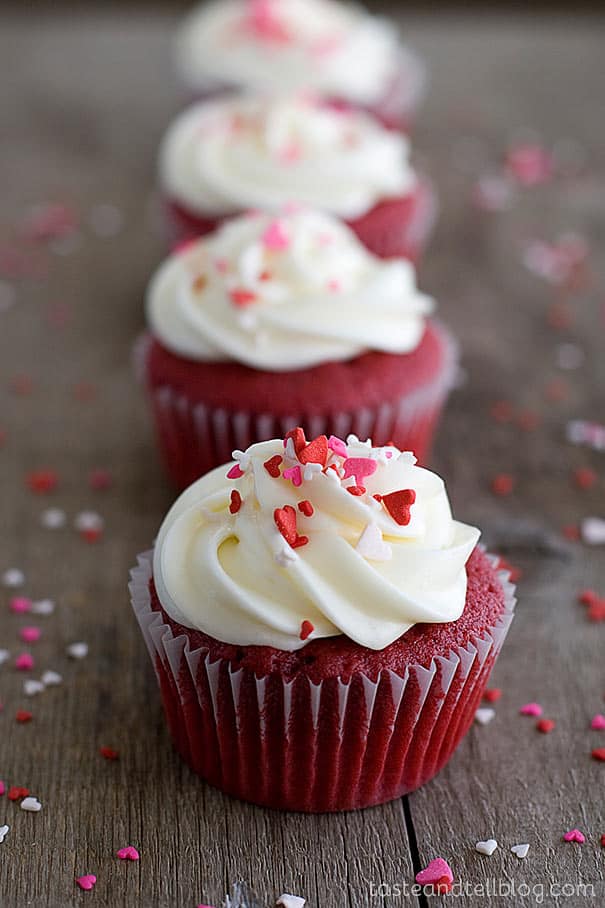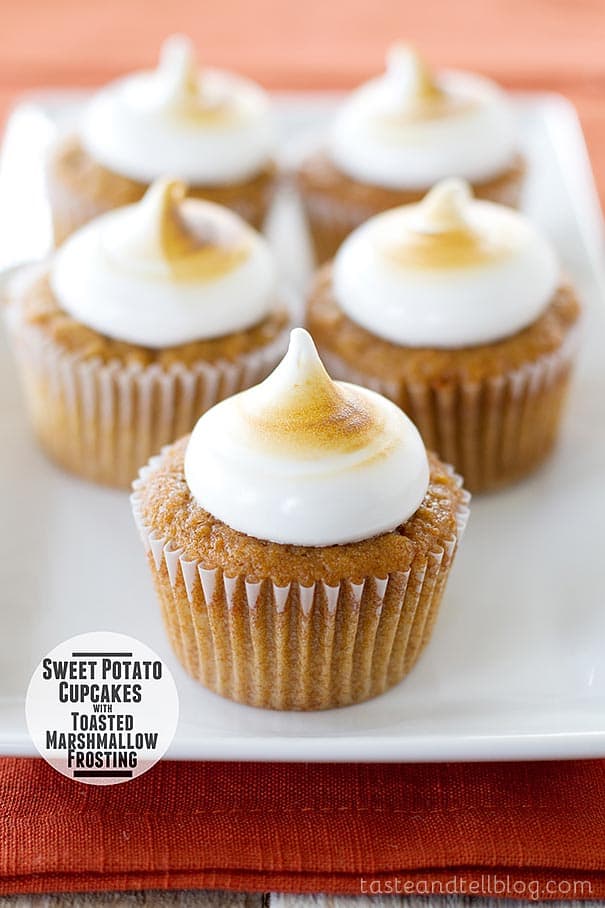 Sweet Potato Cupcakes with Toasted Marshmallow Frosting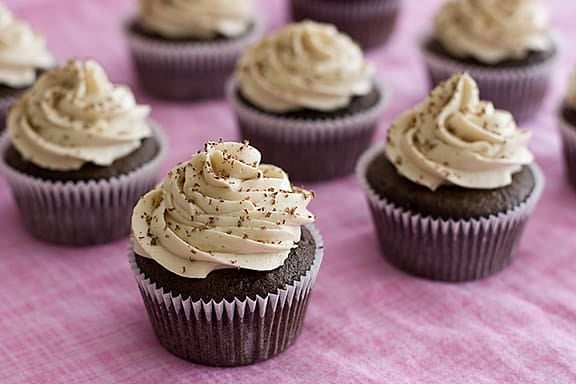 Chocolate Cupcakes with Whipped Cream Cheese Frosting
Around the Web:
Nutella Cupcakes with Nutella Frosting from Roxana's Home Baking
Creme Brulee Cupcakes from Cooking Classy
One Bowl Chocolate Cupcakes from Crumbs and Chaos