This is the best sugar cookie recipe – the one I've been making for years and years! It also has the perfect sugar cookie icing that makes the cookies perfect for stacking.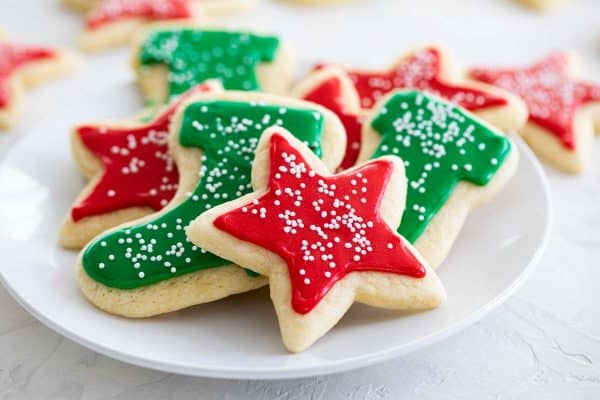 Do you have a staple recipe that you make every year? Maybe for a special occasion or a holiday?
This sugar cookie recipe is one of mine.
Ever since my kids were old enough to help, we've made up a batch of these sugar cookies and decorated them on Christmas Eve to leave for Santa. The kids get to frost the cookies and add sprinkles until the cookies can hold no more sprinkles.
Then they each choose one or two, along with a big glass of milk, and leave them by the fireplace with a note for Santa. And every year, Santa eats every one of those cookies.
This recipe comes from my mom – it's the same recipe she made for me when I was a kid, and it's so good that I'm sure my kids will be making them for their kids as well!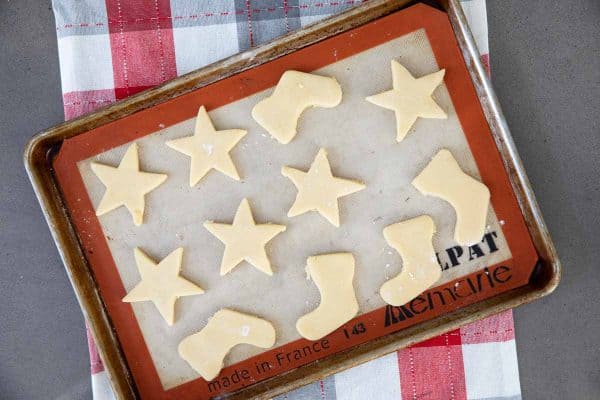 How to Make this Sugar Cookie Recipe
Start by beating the sugar and butter together. Add the eggs one at a time.
Next, add the milk, baking powder, vanilla and salt. I'll sometimes swap in almond extract instead of vanilla extract.
Start adding the flour, 1/2 cup at a time, until the dough is soft but not overly sticky. You don't want it to stick when you roll it out!
Refrigerate the dough for 20-30 minutes.
Sprinkle flour on your counter, then roll out the dough. You don't want to roll them too thin, because then your cookies will be hard.
Cut your shapes in the dough, then re-roll the scraps. Just remember that the re-rolled dough will get tougher and tougher the more times you re-roll it.
Bake the cookies and then let them cool before you frost them.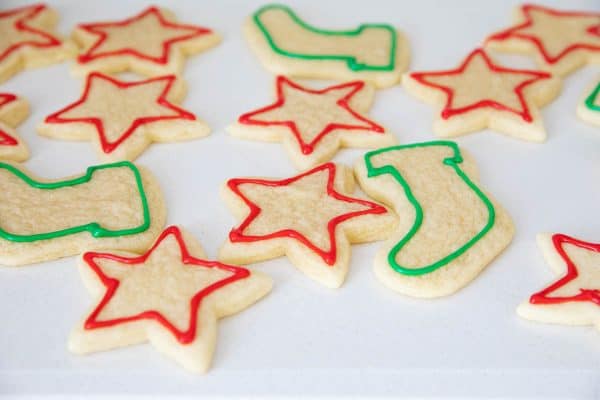 How to Frost Cookies Using Sugar Cookie Icing
I used to steer away from this kind of icing because I thought it would be really hard, but really, it's not! Here is how I do it:
Start by making your icing. You want the initial icing to be pretty thick, so don't add too much liquid. And remember that adding in food coloring can loosen up the icing as well.
Once your icing is ready to to, place half of it in a piping bag with a small circle tip. Technically, you can do this without the piping bag and tip and just use a ziplock bag and cut the corner off, but the piping bag and tip will be much, much easier to control. And you'll want to keep as much control as possible to outline the shape of your cookies.
Outline your cookie with the icing. Repeat with all of the other cookies.
Take the rest of your icing, as well as any of the icing that is left from piping the edges, and thin it out just a little bit. Start by stirring in a teaspoon of water. This is all I usually need. Stir until the icing is smooth and a bit runnier, adding more water if needed.
Take a spoon and spoon a bit of the thinner icing into the center of one of your cookies. Use the back of the spoon to spread the icing to the edges of the cookie, using the piped icing as a dam.
If you need to, you can use a toothpick to get the icing into the corners of the cookie.
Sprinkle immediately with sprinkles, if using.
Let the cookies dry before stacking and/or serving.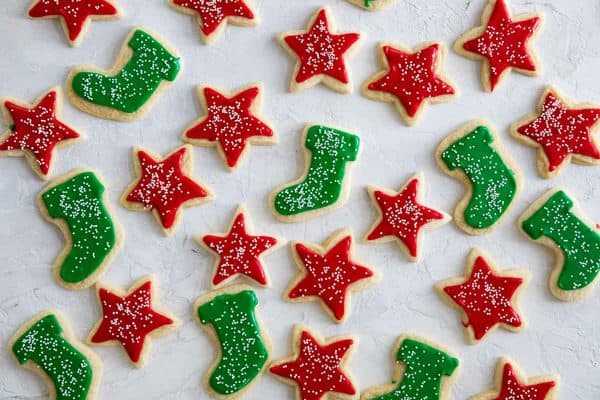 Why I Love this Sugar Cookie Recipe
There are many reasons I love this recipe!
I have tried more than my fair share of sugar cookie recipes. There are some that are made for decorating cookies – they hold their shape really well. As you can see, these do spread just a tiny bit, but you can still tell what their shape is. But I love really soft cookies, and the recipes that hold their shape perfectly aren't ever as soft. With this recipe, you also get great texture.
I also love that these cookies don't take a lot of chilling time. I usually chill the dough for about half an hour, but I have made them without chilling at all and they have still worked great!
They are easy to make and to decorate. While I can appreciate a perfectly decorated cookie, I am not a cookie decorator. My cookies are far from perfect, but this recipe is simple enough for anyone to pull off.
If you're looking for the perfect cookie for your holiday cookie plate, this is the one! The icing will harden up which makes these cookies perfect for stacking.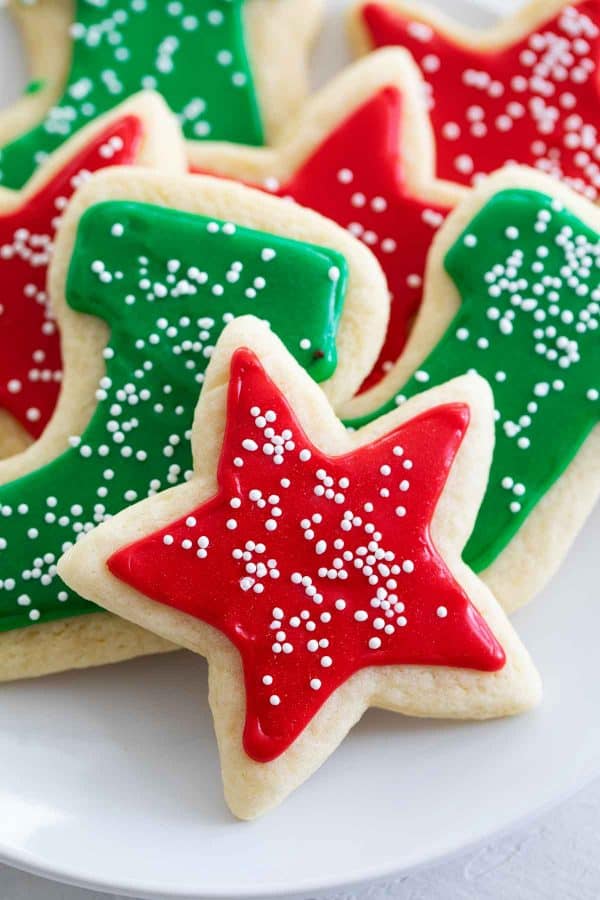 More Can't Miss Holiday Cookie Recipes
Peppermint Holiday Soft Sugar Cookie Recipe
Chocolate Crinkle Cookies
Chocolate Mint Cookies
Cranberry Orange Cookies
Peanut Butter Blossoms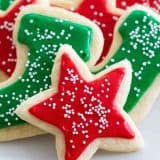 The Best Sugar Cookie Recipe with Sugar Cookie Icing
---
Author:
Prep Time: 40 mins
Cook Time: 16 mins
Total Time: 1 hour 15 mins
Yield: approximately 30 cookies 1x
Category: Dessert
Method: Bake
Cuisine: American
Description
This is the best sugar cookie recipe – the one I've been making for years and years! It also has the perfect sugar cookie icing that makes the cookies perfect for stacking.
---
Scale
Ingredients
Cookies:
1/2 cup butter, softened
1 cup granulated sugar
2 eggs
1 tablespoon milk
2 teaspoons baking powder
1 teaspoon vanilla extract
1/2 teaspoon salt
2 1/2 cups all-purpose flour
Icing:
2 3/4 cups powdered sugar
3 tablespoons water
1 tablespoon corn syrup
2 teaspoons vegetable shortening
1/2 teaspoon vanilla
---
Instructions
In a large bowl, cream the butter and sugar together until lighter in color.
Add in the eggs, one at a time, mixing just until combined and scraping the bowl down as needed.
Add in the milk, baking powder, vanilla and salt.
Start adding in the flour, 1/2 cup at a time, mixing until the dough is soft but not sticky.
Refrigerate the dough for 20-30 minutes.
Preheat the oven to 350ºF. Line baking sheets with parchment paper or silpat liners.
Sprinkle a counter with flour. Remove the dough from the refrigerator and place on the floured counter. Roll the dough until it is 1/4" thick, using extra flour as needed.
Use cookie cutters to cut shapes, then transfer to the prepared cookie sheets, keeping the cookies about 1 inch apart.
Re-roll any dough and cut into shapes, adding flour as needed.
Bake the cookies, one sheet at a time, for about 8 minutes, or just until set. Do not overbake.
Remove from the oven and allow to cool completely.
To make the icing, combine the powdered sugar, water, corn syrup, vegetable shortening and vanilla in a bowl and beat well. The icing should be a little bit stiff.
If coloring the icing, split into bowls (if needed for multiple colors) and stir in food coloring.
Start by placing half of the icing in a piping bag fitted with a small round tip. (You can also use a ziplock bag and cut a very small hole in the corner but it's much easier with a piping bag and tip.) Pipe the outside shape of the cookie. This acts as a dam so that the icing doesn't drip off the sides.
To the remaining icing (and you can add back in any icing that didn't get used from piping the edges) add a little more water. Start small, about a teaspoon at a time, and stir. You want a thinner consistency that is easy to spread, but you don't want it too runny. Using a spoon (or another piping bag), put some icing in the middle of the cookie. Using the back of the spoon, spread the icing to the borders that were piped on earlier. The border should keep the icing from spilling over. If using sprinkles, sprinkle the cookie while the icing is still very wet.
Leave the cookies in a single layer until they are completely dried. Once dried, you can stack the cookies.
Recipe Notes:
I love to substitute the vanilla extract with almond extract for more flavor.
The biggest things to remember with these cookies is to not roll them too thin or bake them too long so that they will remain soft.
I like to keep them on the baking sheet until they are not hot to the touch at all anymore, about 10-15 minutes.
After you have piped the edges and you go to thin out the icing, it may separate a bit at first. Just keep stirring it until it all comes together smoothly again.
When you are filling the cookies with the icing, work with one cookie at a time and add the sprinkles right away. The icing will start to set up pretty quickly and if you try to go back and add the sprinkles, they may not stick if the icing has already started to set up.
The amount of cookies depends on how big you cut them and how many times you re-roll the dough.
Nutrition information provided as an estimate only. Various brands and products can change the counts. Any nutritional information should only be used as a general guideline.
Nutrition
Serving Size: 1 cookie
Calories: 120
Sugar: 12 g
Sodium: 77 mg
Fat: 4 g
Saturated Fat: 2 g
Unsaturated Fat: 1 g
Trans Fat: 0 g
Carbohydrates: 20 g
Fiber: 0 g
Protein: 1 g
Cholesterol: 20 mg
Keywords: sugar cookie recipe, sugar cookie icing