Filled with lots of lemon flavor, these Glazed Lemon Cakes are sweet and tart and a perfect Spring dessert!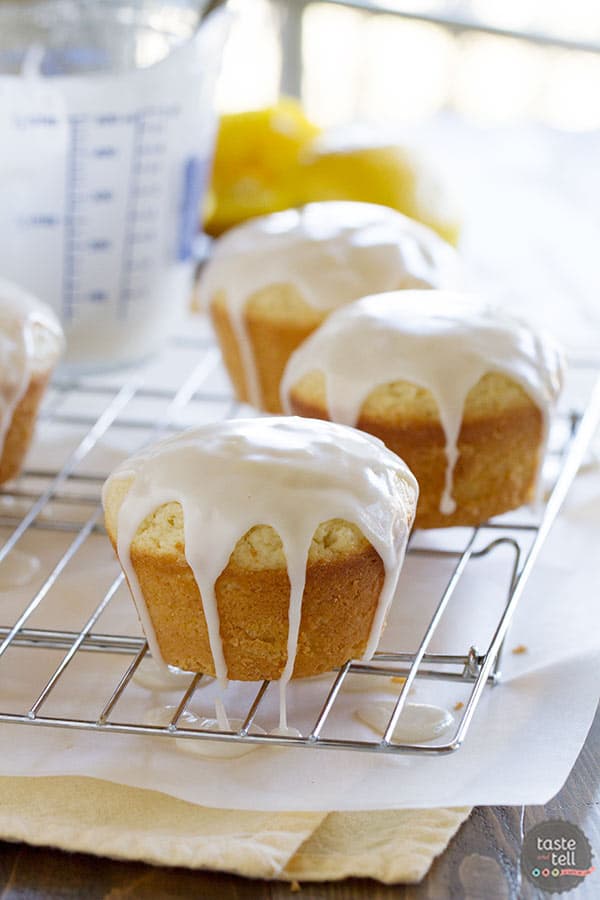 Photos Updated March 2015
Originally posted March 20, 2009 – These little lemon cakes are a recipe that has stuck with me through the past few years, begging to be remade. I am a lemon girl at heart (would choose it any day over chocolate!!) so these are just perfect for me. And, like I say below in the original post, these really are the best on the second day. The glaze gets a little wrinkly and not as smooth, but they are oh, so good. The perfect Spring dessert!!

You would think that with being a stay at home mom, there would be plenty of time for baking. But I have found that it has actually been the exact opposite – I'm actually lucky if the laundry gets done, folded and put away these days. In fact, before these cakes, I've only managed to make 2 batches of cookies in the last 7 weeks. Pretty pathetic. But I'm hoping that is going to change – especially when baking tastes as good as these little cakes do!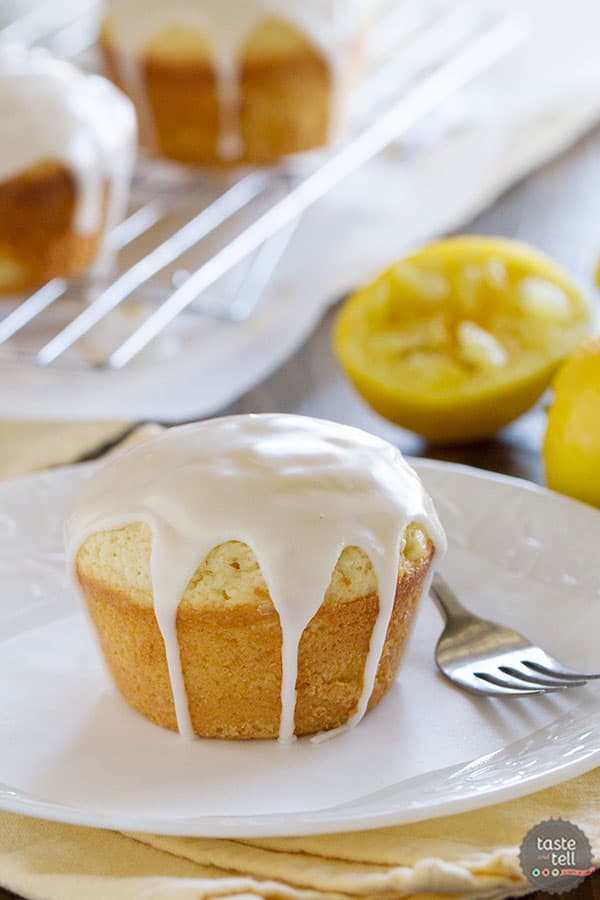 I wanted at least one of my choices from this month's book to be a sweet one, and when I came across these lemon cakes, it was a no brainer to choose them. I do love citrus, after all!! And what a perfect way to welcome in spring! I'm so glad I made these, because they are really a winner. I ate one a couple of hours after I made them, and really liked them. But then I packed them away in an airtight container to save – and the next day, when I tried another one – I was in love. Those extra hours of sitting really made a difference. It turned a good dessert into a great one!! I might be biased and all since I love anything lemon so much, but these earned a full 5 points from me. If you are a lemon fan, you want these cakes!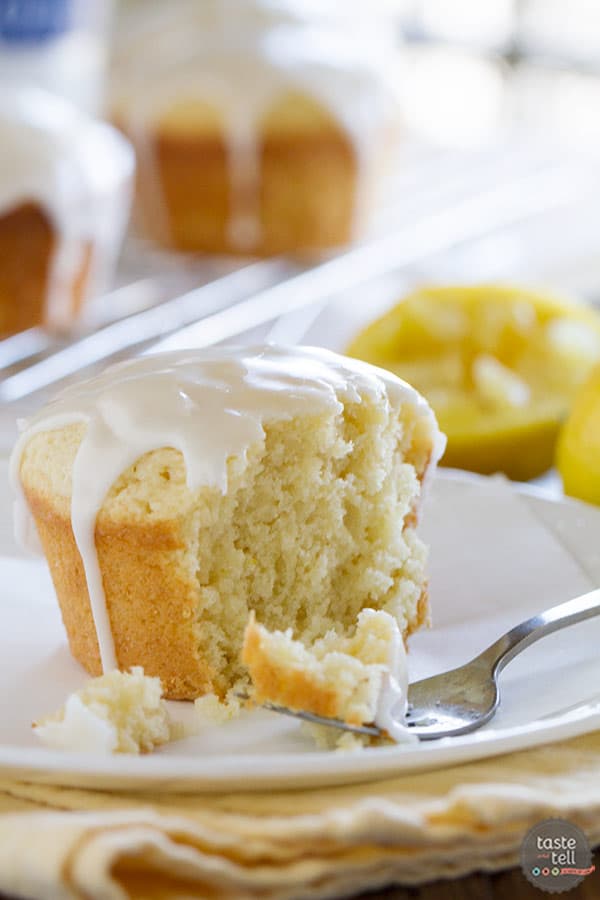 Like what you see here? Make sure you are following Taste and Tell for more great recipes and ideas!!

Facebook ** Pinterest ** Twitter ** Instagram ** Google+
or you can subscribe to my newsletter or Feedly or Bloglovin


Glazed Lemon Cakes
---
Author:
Prep Time: 15 mins
Cook Time: 25 mins
Total Time: 40 mins
Yield: 6 cakes 1x
Description
Filled with lots of lemon flavor, these Glazed Lemon Cakes are sweet and tart and a perfect Spring dessert!
---
Scale
Ingredients
Cakes
1/2 cup + 1 tablespoon unsalted butter, at room temperature
1 1/2 cups all-purpose flour, plus more for muffin tin*
2 teaspoons baking powder*
1/2 teaspoon salt
1/2 cup buttermilk
1 teaspoon vanilla extract
Zest and juice of 1 lemon
1 cup granulated sugar
2 large eggs
Glaze
1 1/2 cups powdered sugar
2 tablespoons fresh lemon juice
---
Instructions
Preheat the oven to 350ºF. Use the 1 tablespoon of butter to grease the insides of a 6-cup jumbo muffin tin. Flour the tin and set aside
In a medium bowl, whisk together the flour, baking powder and salt. In a small bowl or liquid measuring cup, mix together the buttermilk, vanilla, lemon zest and lemon juice.
In a large bowl or the bowl of a stand mixer, cream the butter and sugar together. Add the eggs, one at a time, beating after each addition.
With the mixer on low, add one third of the flour mixture, followed by half of the buttermilk mixture. Continue with another one third of the flour, the remaining buttermilk, then the remaining flour.
Divide the mixture evenly between the 6 muffin cups. Bake in the center of the oven until a toothpick inserted in the center comes out clean, 20-25 minutes. Cool for 10 minutes, then remove to a cooling rack to cool completely.
Set the cooling rack over wax paper or parchment paper. In a small bowl, whisk together the powdered sugar and lemon juice. Pour the glaze over the cakes, spreading it with a small knife or offset spatula if needed. Let the cakes sit for 30 minutes before serving.
Recipe Notes:
*I had to adjust for high altitude to avoid the cakes sinking in the middle. I added an extra 1 tablespoon of flour, and decreased the baking powder by 1/4 teaspoon. (I'
Recipe from Everyday Food: Great Food Fast
You might also like: