Eggs are poached in a spicy tomato sauce in these Eggs in Purgatory – great for breakfast, brunch or dinner. Also known as Shakshuka.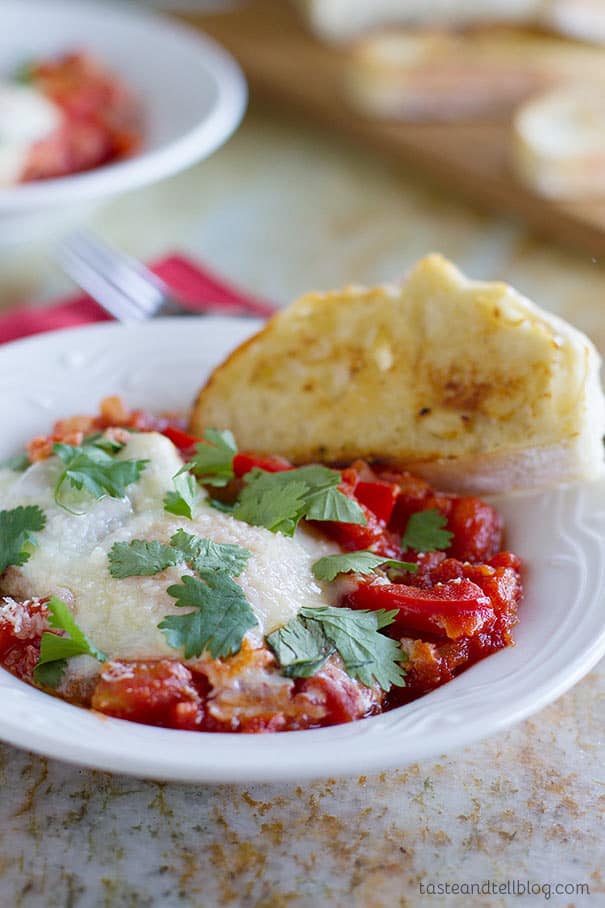 I already confessed that I'm not so great at coming up with creative holiday recipes. I feel like the creativity just doesn't flow for me. I see all kinds of ideas in magazines and on Pinterest – but those cutesy holiday things just don't come to me. Throw a few random ingredients at me and I'll most likely be able to put them together to make a decent recipe, but when it comes to making things actually look creative and festive? I will totally admit that it's just not my strong point.
As a blogger, this sometimes gives me anxiety. Especially as I see post upon post popping up all over the internet. And here I am – the week of Halloween, and I've only done one Halloween recipe so far.
I tried. I promise I did. I thought and thought and this year, but I kept coming up blank. Until one dish popped into my head that I have been wanting to try for years:
Eggs in Purgatory.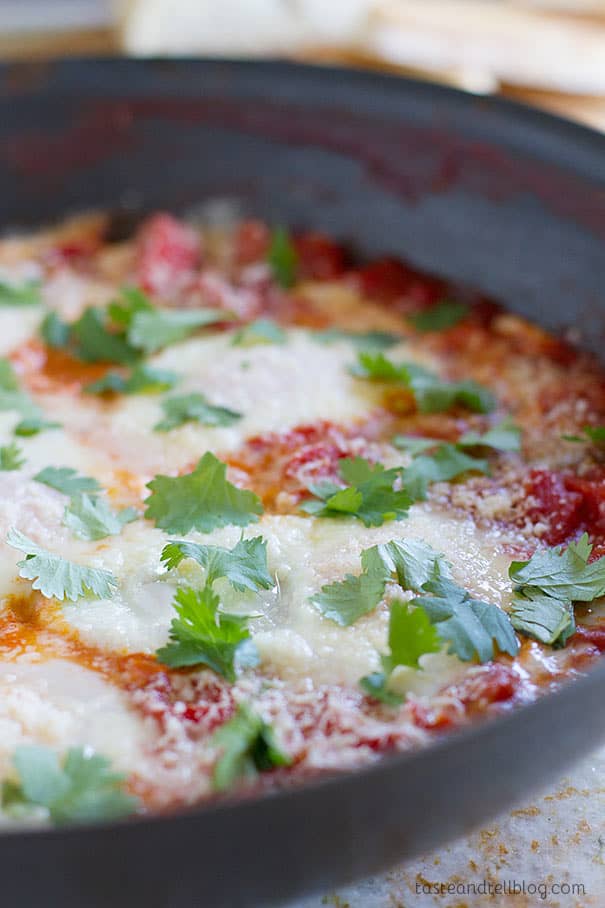 So it may not have vampire fangs or ghosts or monsters, but the name itself makes this perfect for Halloween, right?
Eggs in Purgatory, you ask? Yes – it's quite the name. I always thought it was because the eggs are cooked in a red, fiery sauce – representing purgatory. I did a little bit of online research – wanting to know where the name really came from, and I'll admit that I came away a little confused. Some people say it's an Italian dish. Others say it's an Israeli dish. And then some say that the original recipe, called Shakshuka, is the Israeli recipe, but Eggs in Purgatory is the Italian version of Shakshuka.
Call me confused.
All I know is that this dish pretty much rocked my world.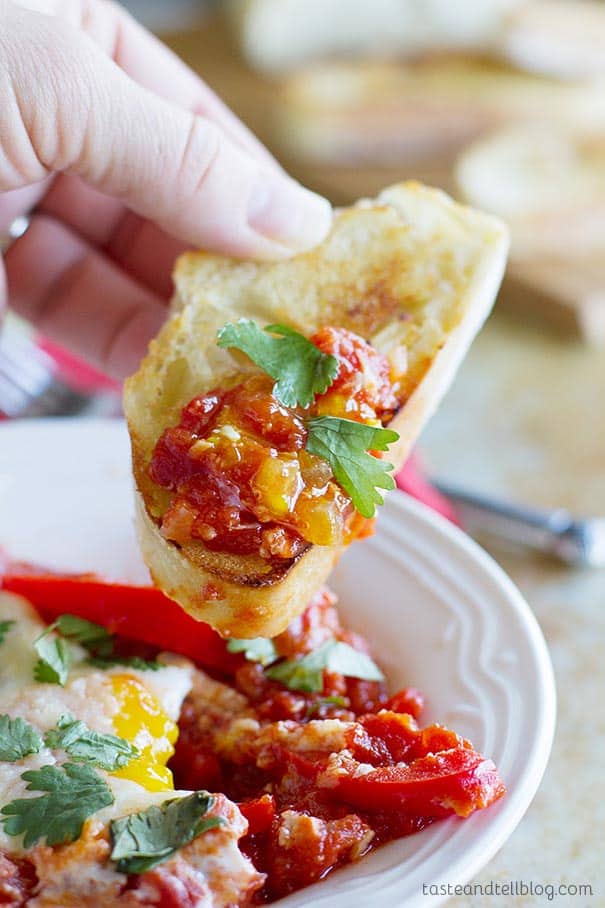 Imagine a simple tomato sauce made from red bell peppers, onions and tomatoes. Add in a little hot sauce (or a lot of hot sauce if you want it really fiery). Then the magic happens when you crack eggs into this hot tomato sauce. You cook them until the whites are set but the yolks are still a little runny, add in a little cheese, and then eat the whole thing with a loaf of crusty bread. Could you eat it without the bread? Sure. But you don't want to. Just trust me.
I opted to go with a more Italian twist – with the red bell peppers and the Parmesan, and while I was originally going to top it with parsley, at the last minute I decided that I had to use cilantro. Why – I'm not sure, but I know it was the right decision. If you aren't a cilantro fan, feel free to swap in parsley, but I loved the flavors that the cilantro brought.
And yay – it's actually a pretty good for you meal. Each egg only has 70 calories but is packed with high quality protein. It's no secret that I am egg obsessed, and this recipe is just one more reason why I love them so much.
I think Eggs in Purgatory were originally meant to be eaten as breakfast or brunch, but this is my idea of the perfect breakfast for dinner. Especially when it's served with bread – making this a filling and tasty dinner idea!
I don't know about you, but I'm thinking Eggs in Purgatory make the perfect Halloween meal!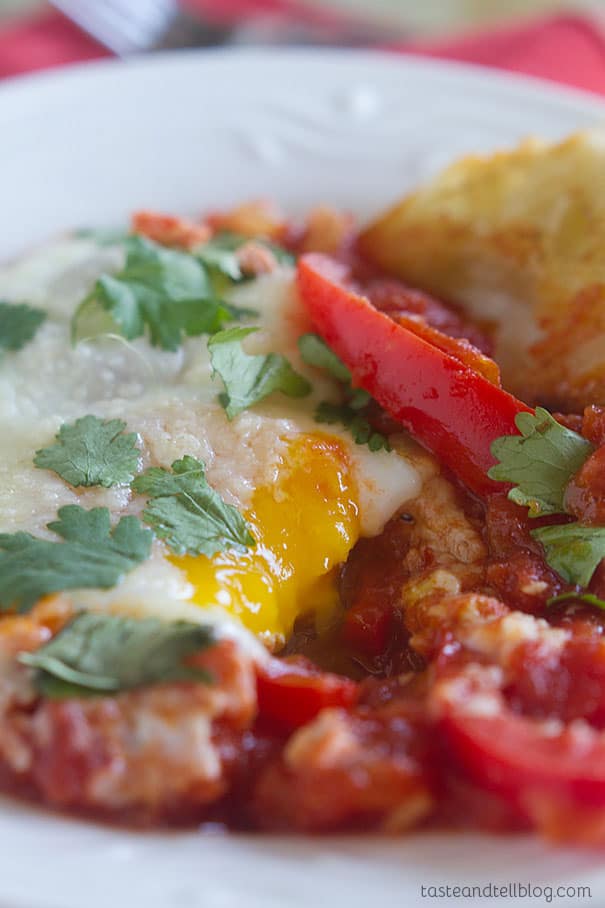 Like what you see here? Make sure you are following Taste and Tell for more great recipes and ideas!!

Facebook ** Pinterest ** Twitter ** Instagram ** Google+
or you can subscribe to my newsletter or Feedly or Bloglovin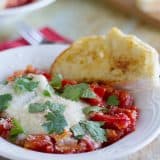 Eggs in Purgatory
---
Prep Time: 15 mins
Cook Time: 50 mins
Total Time: 1 hour 5 mins
Yield: 4-6 servings 1x
Description
Eggs are poached in a spicy tomato sauce in these Eggs in Purgatory – great for breakfast, brunch or dinner. Also known as Shakshuka.
---
Scale
Ingredients
1 tablespoon olive oil
1 red bell pepper, thinly sliced
1/2 cup chopped onion
1 clove garlic, minced
1 tablespoon tomato paste
28oz diced tomatoes
1/2 tablespoon salt
2 teaspoons hot sauce
6 eggs
1/4 cup finely grated parmesan
2 tablespoons cilantro
crusty bread, for serving
---
Instructions
Heat the olive oil in a large skillet over medium heat. Add the bell pepper and onion and cook until soft, about 8 minutes. Stir in the garlic and cook until fragrant, about 30 seconds. Add the tomato paste and stir until it becomes fragrant, another 30 seconds.
Add the diced tomatoes and liquid to the skillet. Season with the salt. Stir and cook over moderate heat until a thick sauce is formed, 20-30 minutes. Stir in the hot sauce. Reduce the heat to medium-low.
Gently crack the eggs over the top of the tomato sauce, being careful not to break the yolks. Sprinkle the Parmesan over the top and cover the skillet. Cook until the egg whites are set but the yolks are still soft, about 10 minutes.
Sprinkle with cilantro and serve with crusty bread.
I am in a working relationship with the American Egg Board, and this post has been sponsored. I'm so glad to be able to work with companies and organizations that I truly believe in. Thank you for supporting them, too.