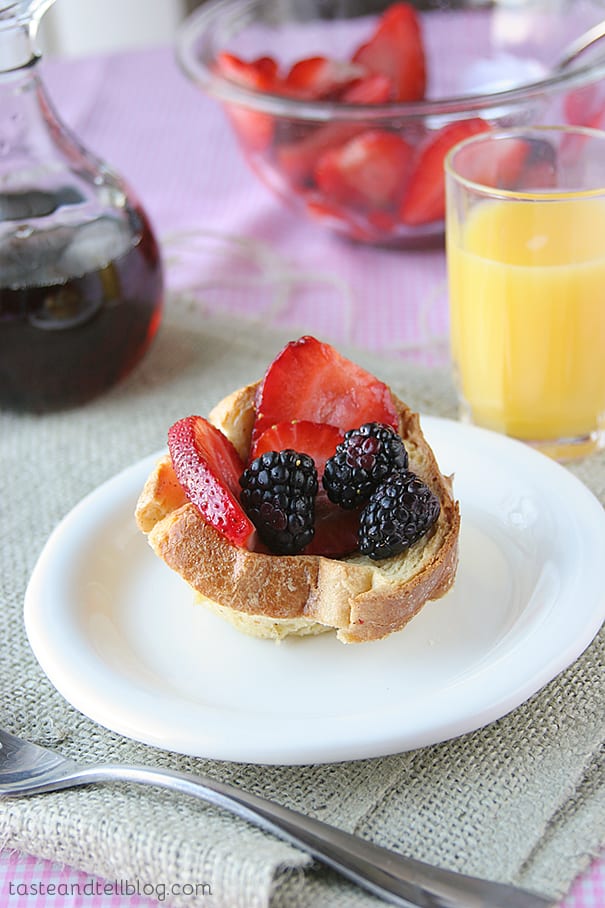 Mother's Day is tomorrow. I always like to sit back and think around this time, both about how lucky I am to have such a wonderful mother, and how blessed I am to be a mother.
I can honestly say that my mom is one of my best friends. When I need some advice or someone to talk to, she is always #1 on my list. And even though it was hard to live apart from my husband for those few months, I cherish that time that I had with my mom. I'd be up working after putting the kids to bed, and she would get home, and we'd spend time almost every night talking. We still get to talk on the phone and when we get together, but when you don't live under the same roof, life gets so busy that it's hard to have that much time together. So I will always treasure those few months and those late nights talking. My mom is one of those moms that never yelled. And as a child, I only remembered her being positive. I wish that I was more like her!
And let me just tell you – being a mother is harder and more rewarding than I ever thought it would be. All I ever wanted, since I was a little girl, was to be a mom. And I feel so blessed to have my two beautiful children, and one more on the way. I was putting my kids to bed last night, and as I sat in my daughter's bed, with my daughter laying with her head in my lap as I read her bedtime stories, I couldn't help but have my heart swell, full and grateful. I really am blessed.
These breakfast cups would be perfect to make for your mother, (or easy enough for someone to make for you!) for Mother's Day. Nothing too fancy, but a well-loved favorite, just in a different shape. I know that I definitely wouldn't complain if my husband and kids served this up to me on Sunday morning!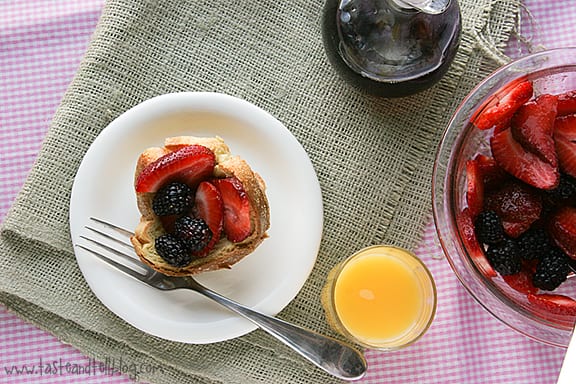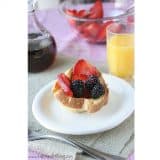 Berry Tasty Breakfast Cups
---
Prep Time: 10 minutes
Cook Time: 14 minutes
Total Time: 25 minutes
Yield: 4-6 servings 1x
Description
Baked French toast takes the shape of breakfast cups that hold sweetened fruit. A great Mother's Day breakfast, or a special breakfast for any occasion!
---
Scale
Ingredients
2 tablespoons butter, melted (or use non-stick cooking spray)
3 eggs
1 cup heavy cream
2 pinches of cinnamon
dash of almond extract
dash of freshly grated nutmeg,optional
8 slices good quality white bread
1 pint fresh berries
couple teaspoons sugar
1 cup maple syrup
---
Instructions
Preheat the oven to 375F. Brush the melted butter in each of six muffin cups, or spray generously with non-stick cooking spray. Set aside.
In a bowl, whisk together the eggs, cream, cinnamon, almond extract and nutmeg.
Cut a diagonal slit from the center or each piece of bread to one corner. Dip each slice of bread in the egg mixture, then lightly press into the muffin tin, overlapping where you cut the slit. Bake in the preheated oven until lightly browned, 12-14 minutes.
While the cups are baking, combine the berries in a bowl and sprinkle with a couple teaspoons of sugar. Stir and let sit while the cups are baking.
When the cups are cooked through, allow to cool for a few minutes in the tin before carefully removing. (You may need to run a knife around the outsides.) Fill each cup with the berries and serve with the maple syrup.
——————————
Adapted from The Rachael Ray Show
Check out these other fun ways to make French toast:
Puffed French Toast with Buttermilk Caramel Syrup from Taste and Tell
Overnight French Toast Casserole from The Girl Who Ate Everything
Chocolate Brioche French Toast from Whisk Kid
Jam 'n Cream French Toast from Taste and Tell
Cinnamon Baked French Toast from Two Peas and Their Pod