Perfect for breakfast, brunch or dinner, this classic Quiche Lorraine recipe is filled with bacon and cheese. Add a flaky pie crust and you have a family favorite.
Do you love breakfast as much as we do? You'll also love our favorite pancake recipe or waffle recipe, or for something more hearty, try this Breakfast Pizza or this Ham and Cheese Breakfast Casserole!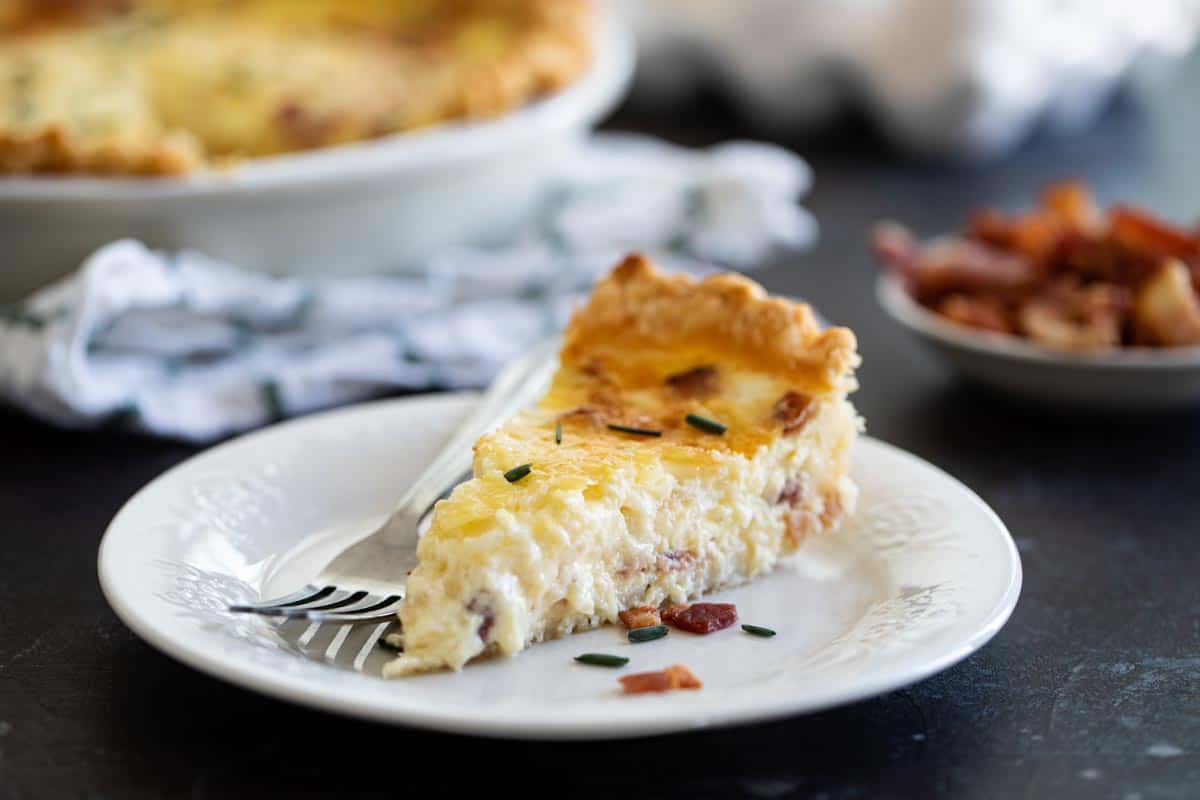 You can call me a breakfast lover.
Breakfast for breakfast. Breakfast for lunch. Or breakfast for dinner.
Doesn't matter to me – I love it anytime of day.
Sweet or savory, (although I do tend to lean more toward savory these days).
And quiche is right up there at the top of the list of breakfast dishes that I will absolutely devour.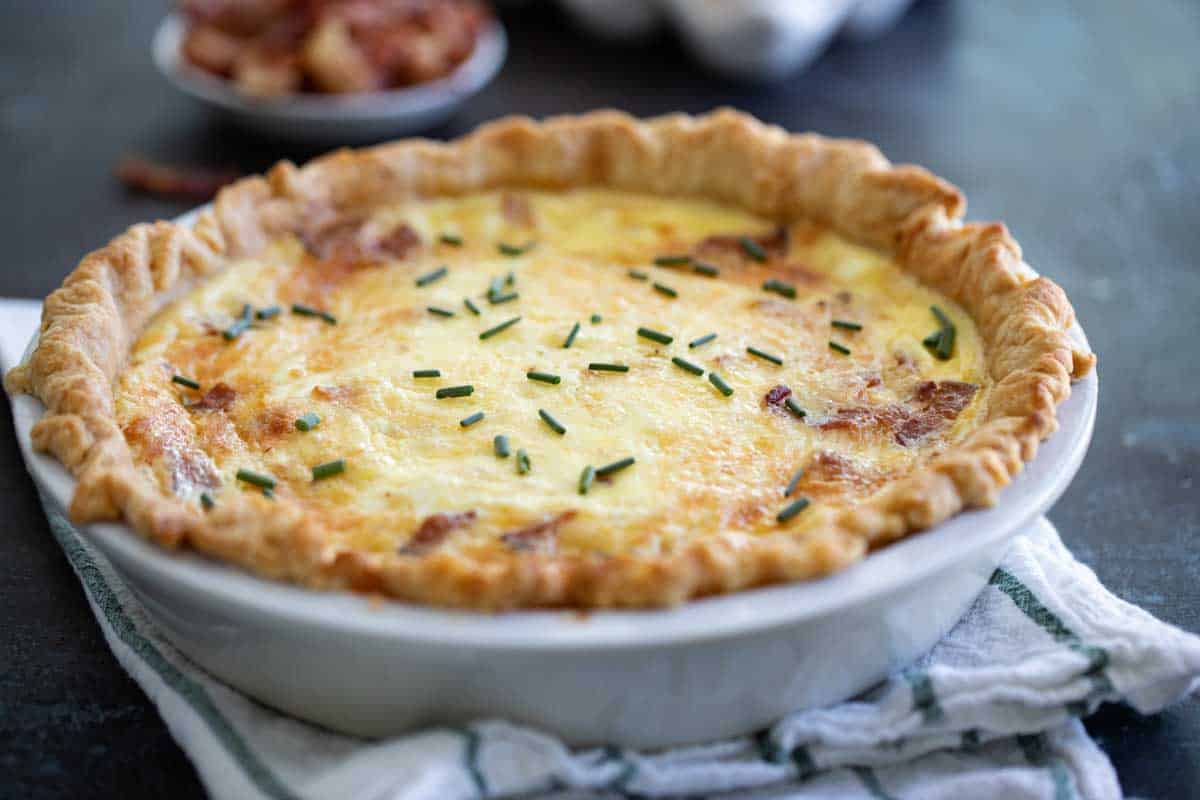 What is Quiche Lorraine?
Quiche is a French dish that consists of a pastry crust filled with a savory custard filling. In that filling, you can find anything from vegetables to cheese to meats.
But probably the most famous of them all is Quiche Lorraine.
This version became very popular in the US in the 50s, and I'd go out on a limb to say that it's probably just as popular today.
You start off with a buttery pastry crust (I use my pie crust recipe because I love how flaky it is). The filling consists of eggs, milk, cheese – and of course – bacon!
This is a dish that is most commonly known as a breakfast dish, but it's really perfect anytime of day. I'll usually serve it warm, but it's just as good at room temperature. And I'll admit that one of my favorite ways to eat it is cold, straight from the refrigerator.
Quiche Lorraine is perfect as a main dish, but it's also great as part of a buffet. It really is the best all-around recipe!
Ingredients
Pie Crust: Like I mentioned above, a good crust will really make a difference here. You can use my homemade pie crust, or if you have a store-bought crust you love, you can use that, as well.
Bacon: I will typically just use a regular cut of bacon, but thick cut bacon would be delicious, as well.
Onion: You'll want a white or yellow onion.
Eggs: I use large eggs.
Milk: I will typically use 2%, but for a more luxurious filling, you can use half and half. Or you can swap out part of the milk for heavy cream.
Salt: The bacon and the cheese are both salty, so you only need a little bit of salt. I like to use sea salt.
Cheese: I like to use Gruyere cheese, but any Swiss cheese will work. Or break from the traditional and use another mild, melting cheese.
Flour: You will coat the cheese in flour before adding it to keep the cheese from sinking to the bottom of the quiche.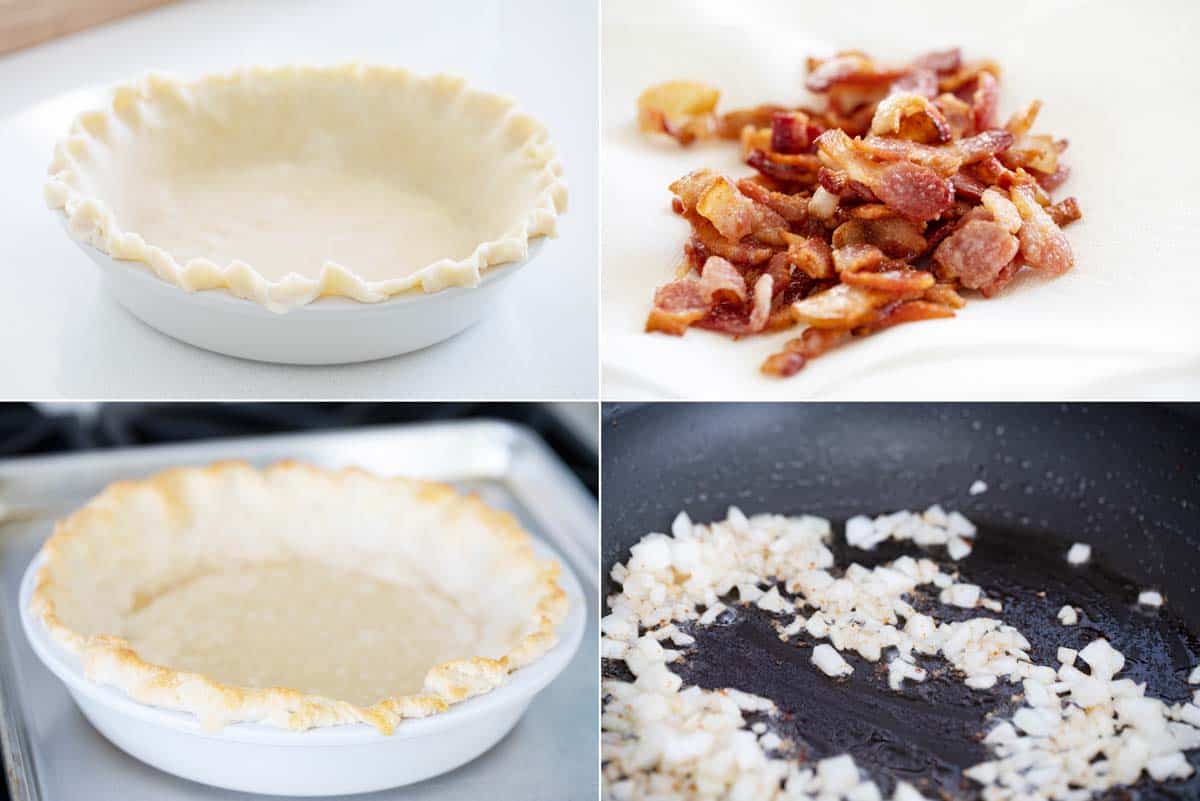 How to Make Quiche Lorraine
1: Start with your crust. Roll out your dough and place it in a pie plate. I almost always use a deep-dish pie pan. Blind bake the crust.
2: While the crust is baking, chop and cook your bacon.
3: Next up is the onions. Cook them in some of the bacon grease for even more flavor.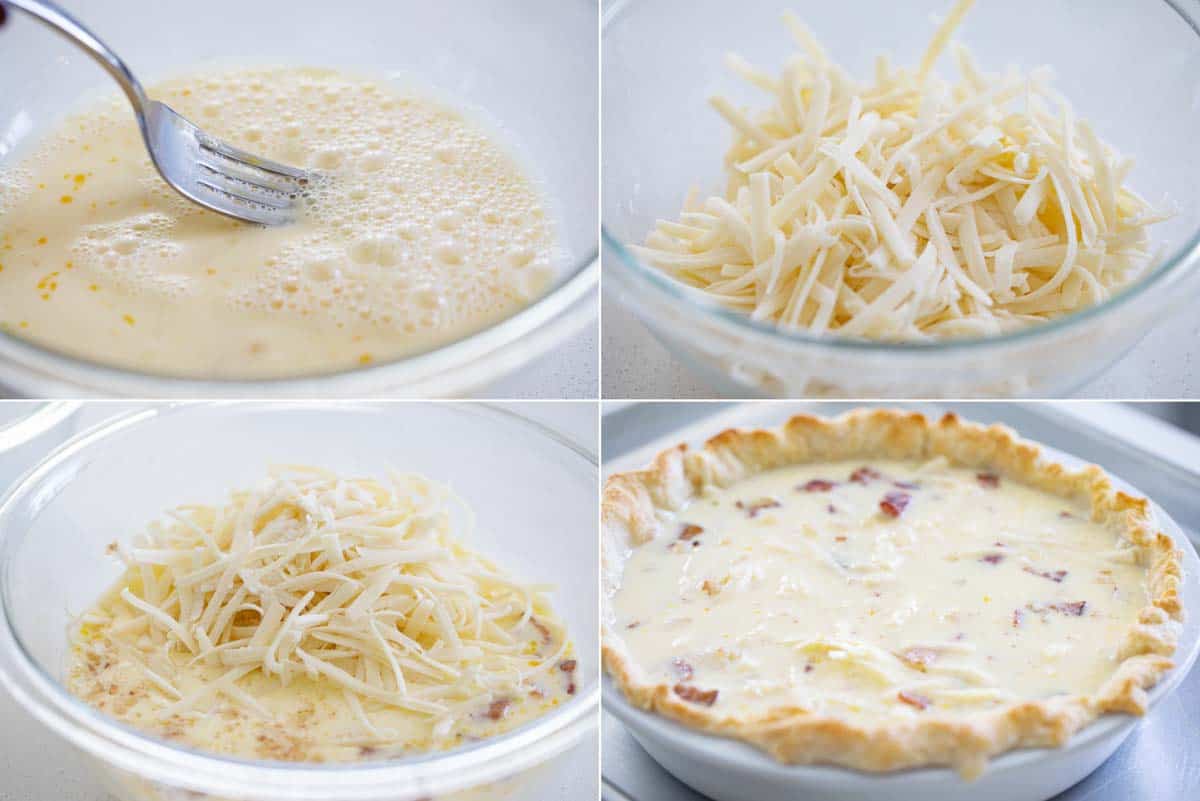 4: In one bowl, whisk together your eggs, milk and salt.
5: In another bowl, toss your cheese with flour. This helps to prevent the cheese from all falling to the bottom of your quiche.
6: Mix the bacon and onions into the egg mixture and fold the cheese in.
7: Pour it all into your pie crust and bake!
Tips and Tricks
There are so few ingredients here that you want to make sure you are using the best quality of ingredients. This includes a crust that you love, as well as a good cheese and good bacon.
If you are a spinach lover, feel free to add in some frozen, chopped spinach that has been thawed and drained. It's not a traditional ingredient, but you will see it in Quiche Lorraine occasionally.
Keep an eye on your crust while the quiche is baking. You may need to cover the edges with foil or with a pie shield .
This really is easiest to cut and serve if you let it sit for at least 10 minutes after baking.
And while it is great served at room temperature, you don't want to leave it sitting out for too long – leftovers should be refrigerated.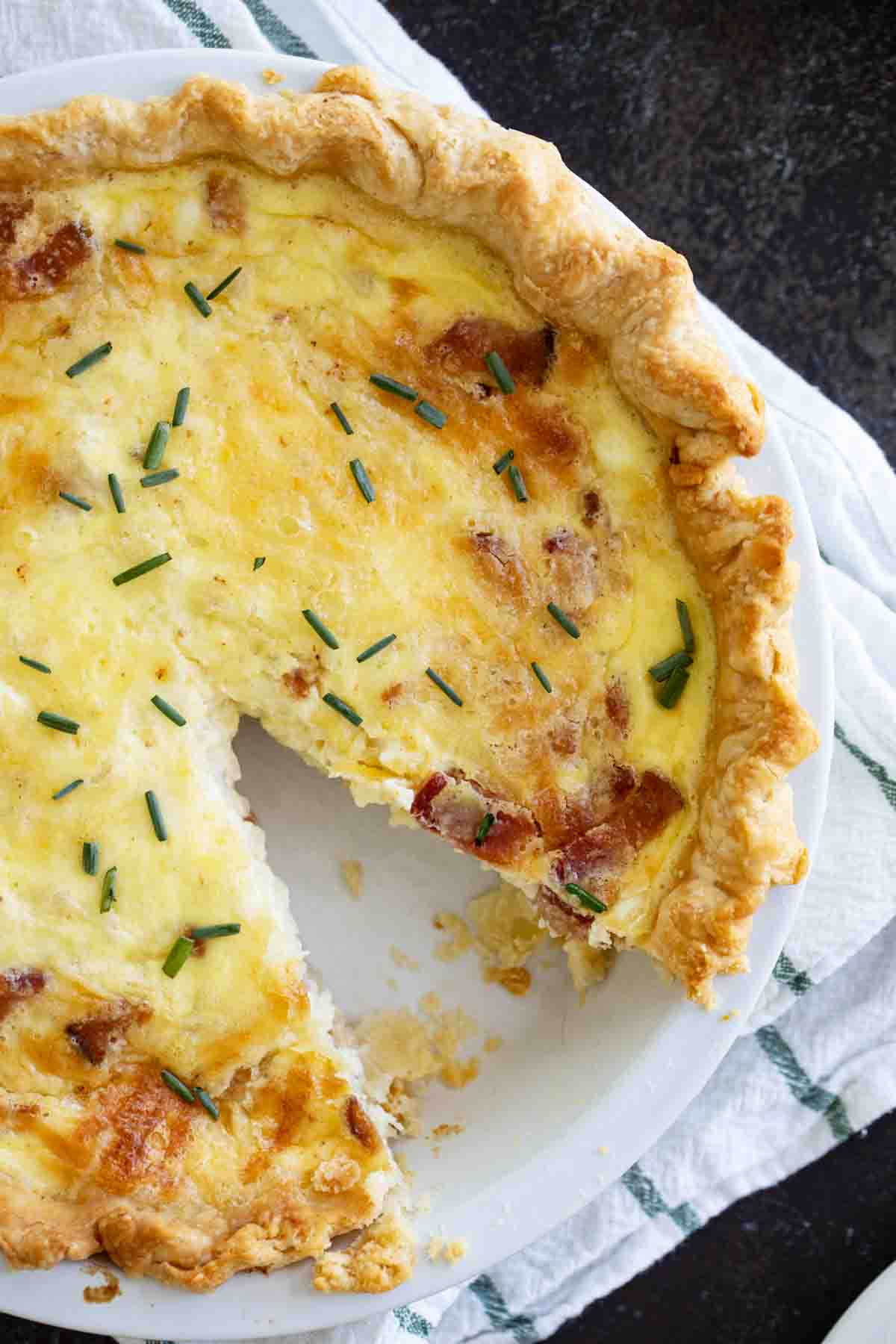 More Brunch Recipes
Quiche Recipe with Butternut Squash and Kale
Ham and Asparagus Quiche
Liege Waffles
French Toast Cups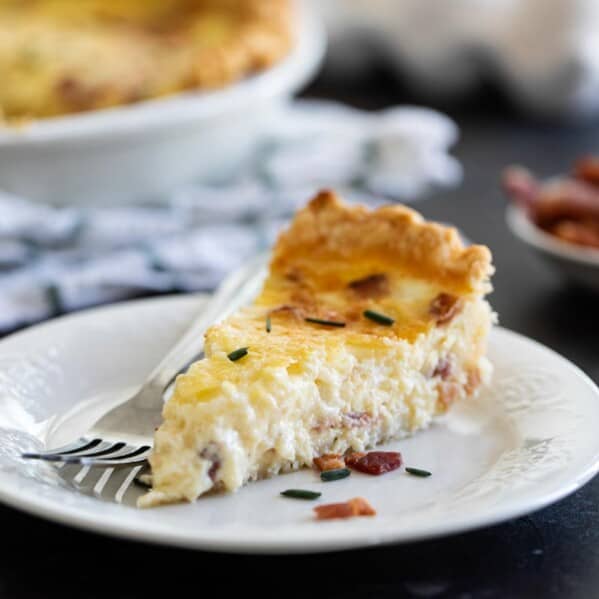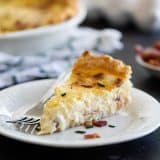 Quiche Lorraine
---
Author:
Prep Time: 10 mins
Cook Time: 62 mins
Total Time: 1 hour 25 minutes
Yield: 6 servings 1x
Category: Breakfast
Method: Baked
Cuisine: French
Description
Perfect for breakfast, brunch or dinner, this classic Quiche Lorraine recipe is filled with bacon and cheese. Add a flaky pie crust and you have a family favorite.
---
Scale
Ingredients
1 (9-inch) crust for a single pie crust
6 slices of bacon
1 medium onion, chopped
3 large eggs
1 1/2 cups milk
1/4 teaspoon salt
1 1/2 cups shredded Gruyere or Swiss cheese
1 tablespoon all-purpose flour
---
Instructions
Preheat the oven to 450ºF.
Place the pie crust in a pie dish and flute the edges. Line the crust with a layer of foil that has been sprayed with nonstick cooking spray (sprayed side down against the pastry) and place pie weights or dried beans on the foil to weigh it down. Place the dish on a baking sheet and bake for 8 minutes.
Remove from the oven and remove the foil and weights. Return the crust to the oven for 4-5 minutes, just until the crust is set. Remove from the oven.
Lower the oven temperature to 325ºF.
Cut the bacon into pieces and cook in a skillet over medium-high heat until crispy. Remove with a slotted spoon to a paper towel covered plate.
Drain all but 2 tablespoons of the bacon grease from the skillet. Add the onion and cook until the onion is tender and translucent.
Meanwhile, in a large bowl, beat together the eggs, milk and salt.
In a small bowl, combine the cheese and the flour and toss to coat.
Add the cooked onions and bacon to the egg mixture, then fold in the cheese.
Pour the mixture into the hot pie crust.
Bake for 40-50 minutes, or until the center is set and the top is lightly browned. Cover the crust edges if they start to get too brown.
Let the quiche cool for 10 minutes before slicing to serve.
Recipe Notes:
Nutrition information provided as an estimate only. Various brands and products can change the counts. Any nutritional information should only be used as a general guideline.
Nutrition
Serving Size: 1 slice
Calories: 485
Sugar: 6 g
Sodium: 514 mg
Fat: 34 g
Saturated Fat: 19 g
Unsaturated Fat: 5 g
Trans Fat: 0 g
Carbohydrates: 24 g
Fiber: 1 g
Protein: 18 g
Cholesterol: 149 mg
Keywords: quiche lorraine, quiche lorraine recipe