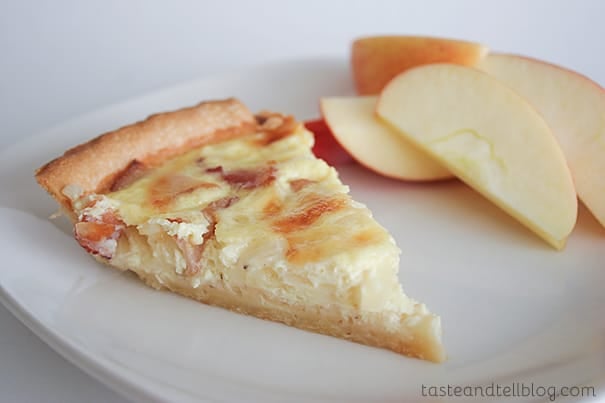 I am a total breakfast person. In fact, I'm even happy eating breakfast for dinner. I'm also a Top Chef fan. So I was surprised to hear on last week's episode that one of the chef's did not like breakfast. In fact, I think she even went as far as to say she would eat Chef Boyardee for breakfast growing up. Such a shame. Anyone who doesn't eat breakfast – especially on the weekends, is really missing out in my opinion.
So needless to say, I love trying out new breakfast recipes. The only problem (or maybe plus??) is that my husband loves making breakfast. So on the weekends, he usually makes breakfast. I'm totally ok with that, but the only drawback is that I don't get to experiment with breakfast as much as I'd like to.
But this past weekend, we had a church function held on a Saturday morning, and we were asked to bring breakfast items. It was my chance! I decided to search my binder of printed recipes and came up with this recipe for Quiche Lorraine. I thought it would be perfect since it could be served warm or at room temperature.
Now don't hate me, because I did use frozen pie shells. I had some in my freezer that I had intended to use for something else that didn't happen, so I thought I may as well use them up. The biggest problem with the frozen pie crust is that they are quite shallow. I doubled the recipe, intending to make 2 quiches (one for church, one for home) but had enough filling to fill 3 pie crusts. I think that with a homemade pie crust, it wouldn't be so shallow and it would fill just perfectly.
I loved this so much that I nearly ate half of the quiche we kept at home myself. I had a piece, then another piece, then kept going back and cutting small slices for myself throughout the morning. I'll just say it's good warm, room temperature, and straight from the fridge!!
Quiche Lorraine
from allrecipes
1 recipe pastry for a 9 inch single pie crust
6 slices bacon
1 onion, chopped
3 eggs, beaten
1 1/2 cups milk
1/4 teaspoon salt
1 1/2 cups shredded Swiss cheese
1 tablespoon all-purpose flour
Preheat oven to 450 degrees F (230 degrees C).
Line pastry with a double layer of aluminum foil. Bake in preheated oven for 8 minutes. Remove foil and bake for 4 to 5 minutes more, or until crust is set. Reduce oven temperature to 325 degrees F (165 degrees C). (Or if using premade crust, cook according to package instructions.)
Place bacon in a large, deep skillet. Cook over medium high heat until evenly brown. Remove bacon from pan, crumble and set aside. Reserve 2 tablespoons bacon grease in skillet. Cook onion in reserved drippings until tender; drain and set aside.
In a large bowl, mix together eggs, milk and salt. Stir in bacon and onion. In a separate bowl, toss cheese and flour together. Add cheese to egg mixture; stir well. Pour mixture into hot pastry shell.
Bake in preheated oven for 35 to 40 minutes, or until knife inserted into center comes out clean. If necessary, cover edges of crust with foil to prevent burning. Let quiche cool for 10 minutes before serving.