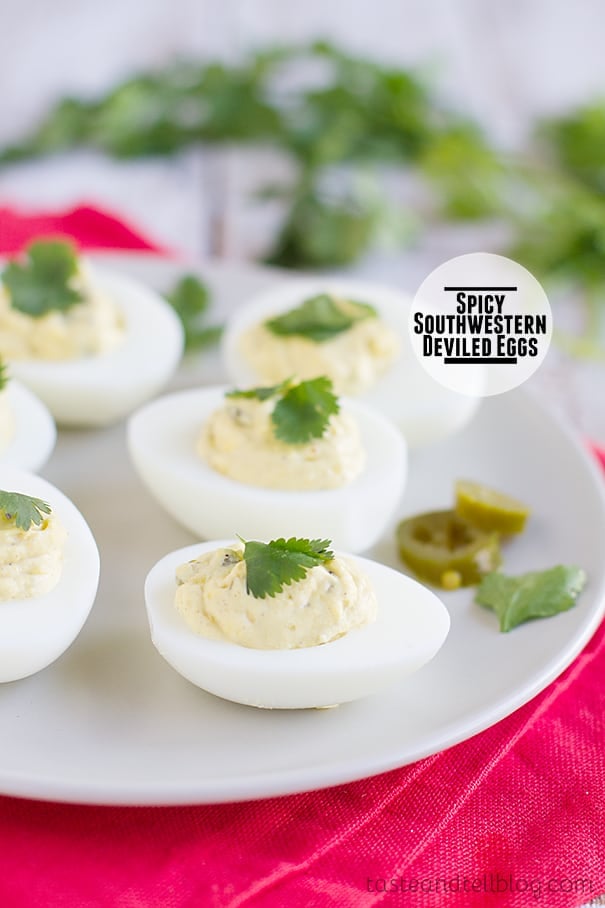 Photos Updated April 2014
Originally posted July 18, 2008 – If you are like my family, when today is over you will have loads of hard-boiled eggs leftover from your Easter festivities. We love hard boiled eggs, but I always love having lots of ways to use them up!! This version of a deviled egg is one of my favorites, and it was definitely due for a photo update. Even if you don't have leftover eggs, this recipe would be worth boiling some new ones up over!!
As of yesterday, I hadn't made this week's cookbook of the month recipe. I had intended to all week – but my husband has been sick, and so cooking for one while pregnant was not happening. I had picked out a recipe to make last night, but after a hair appointment that lasted longer than expected, my husband told me to just come home and not worry about stopping at the grocery store to pick up the ingredients. He said we would just find something at home. Come to find out, he wasn't even hungry. I had decided to skip out on a week – I haven't done that since I started my cookbook of the month project in October of last year, and I knew you all would forgive me – being pregnant and tired and all. But as I sat there, with the cookbook within my eye's view, guilt started to get to me. I may not be cooking a whole lot these days, but I do want to keep up with the cookbook of the month recipes! So I searched through the book to find a quick recipe that I had all of the ingredients for.

This recipe was kind of a strange choice for me. Let me explain – I love eggs. Growing up, I never liked runny yolks. Whenever my mom made eggs, I would have to make sure she broke my yolk so that it was nice and hard. But then I met my husband. He introduced me to many of the finer things of life – medium-rare steak, Brussels sprouts, and eggs over easy. Now I can't eat a well done steak or a hard yolk. It just doesn't taste good. But then in comes pregnancy. I've been ok with most of the food restrictions, but I really miss my runny yolks.
This has made breakfast quite the adventure. I already mentioned that I'm not into sweet right now – so waffles and pancakes and cereal are out. I'm not an oatmeal or cream of wheat fan, so those don't work. I have been having some scrambled eggs on toast or a tortilla, but it's getting really old. Really old. And I just can't get myself to eat a fried egg with a hard yolk. So in the last week or so, even the thought of eggs has made me kind of sick to my stomach.
So when I decided to make deviled eggs, I figured I must be out of my mind. But for some reason, they sounded really good. Maybe because the egg is cooked differently – I'm not sure. Plus, they were fast, easy, and I had all of the ingredients at home.
I basically followed the recipe, except I cut the recipe down so I only made 3 eggs for myself for dinner. I didn't really measure anything, just did it by sight. I'm loving anything hot right now, so I added extra jalepenos, so that is probably why mine look so watery. Or it could be that I didn't refrigerate them for an hour like the recipe instructs – I ate them right away. I wish I would have had the cilantro to garnish them with, I'm sure they would have looked prettier that way, but my fridge is pretty empty right now and there was none to be found. And I found another way I like my eggs right now! (Not that I'm going to be eating them this way for breakfast, but these days, you never know!!)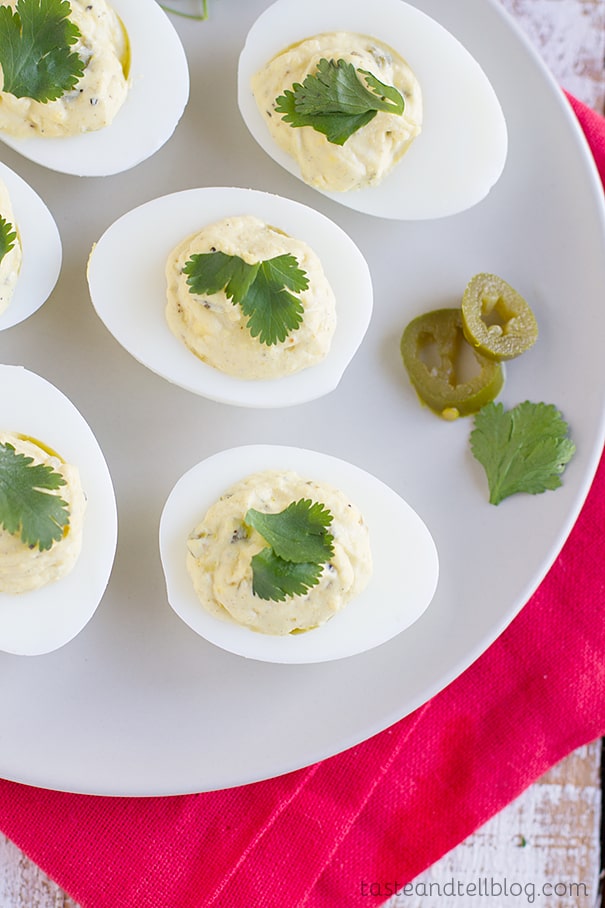 Like what you see here? Make sure you are following Taste and Tell for more great recipes and ideas!!

Facebook ** Pinterest ** Twitter ** Instagram ** Google+
or you can subscribe to my newsletter or Feedly or Bloglovin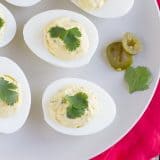 Spicy Southwestern Deviled Eggs
---
Scale
Ingredients
1 dozen large eggs, hard-cooked and peeled
6 tablespoons mayonnaise
2 to 4 tablespoons pickled sliced jalepeno peppers, minced
1 tablespoon yellow mustard
1/2 teaspoon ground cumin
1/8 teaspoon salt
fresh ground pepper
Garnish: chopped fresh cilantro (optional)
---
Instructions
Cut eggs in half lengthwise, and carefully remove yolks. Mash yolks; stir in mayonnaise, jalepeno peppers, mustard and cumin. Season with salt and pepper. Spoon or pipe egg yolk mixture into egg halves. Cover and chill at least 1 hour or until ready to serve. Garnish, if desired.