Creamy Chicken and Biscuits – Comforting and creamy, a chicken gravy is covered by tender biscuits and cooked until warm and bubbly.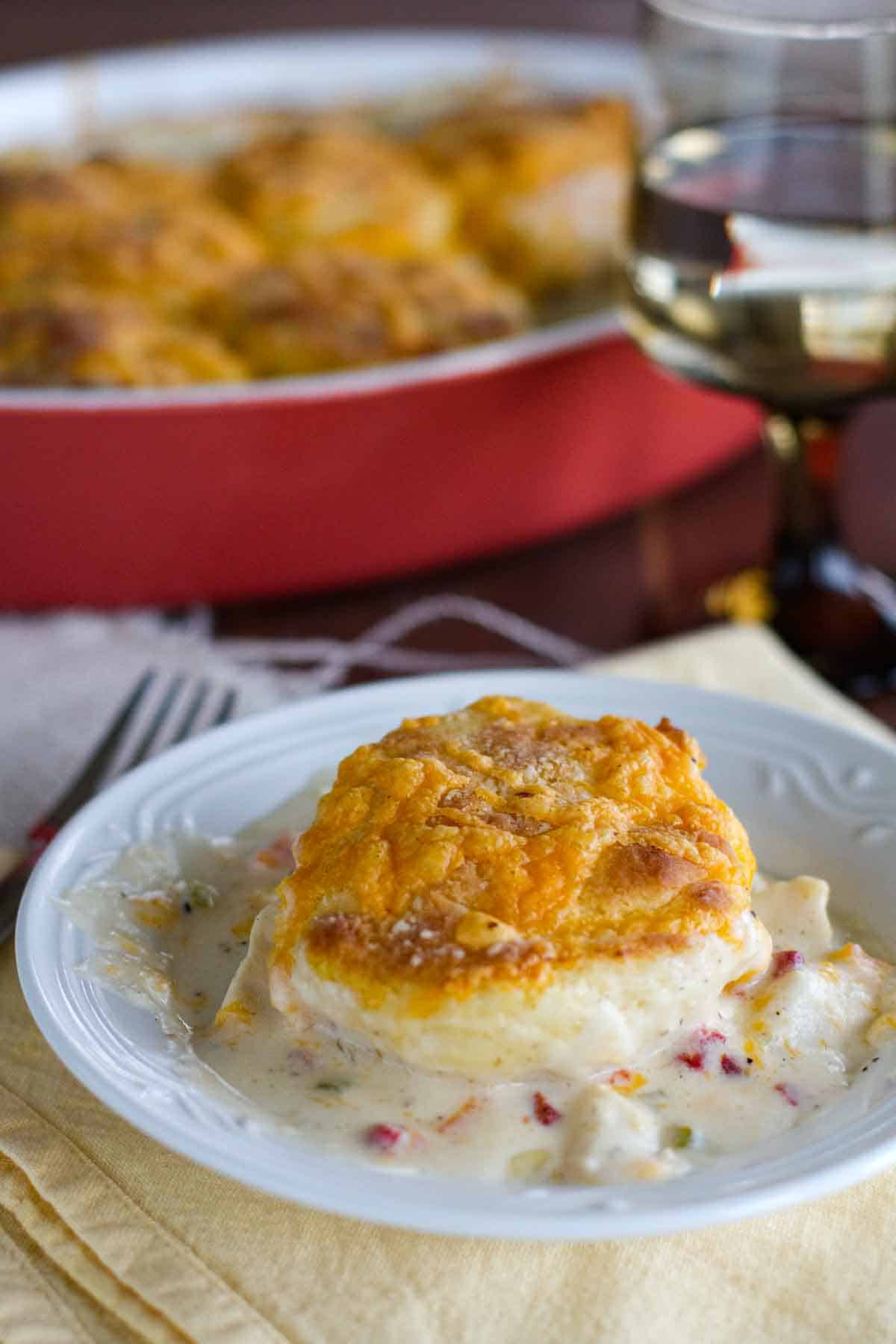 I feel like an 82-year old woman talking about the weather, but seriously.  What happened to spring?
I woke up yesterday morning, and there was snow on the ground.
Snow.
It's April.  Unfortunately, though, here in Utah, it's all too common.  But really.  Snow should not be allowed in April.  Or May, for that matter.
So while part of the county is sporting flip flops and short sleeves, I'm pulling the boots back out.  And I'm reverting to comfort food.  Because who really thinks about that swimsuit ready body when there is still snow on the ground?
And this meal….
All I can say is, do yourself a favor and make it.  I know it looks ordinary.  Simple.  But it is oh, so good.  In fact, it was one of those meals that I really wanted to pat myself on the shoulder after making it, because it was that good.
A word on the biscuits – these are my all-time favorite biscuit.  But they are different, and you may find yourself questioning me when you make them.  They are not traditional at all.  The "dough" is extremely sticky – you wouldn't be able to pick it up with your hands and roll it into a ball.  I find that it's easiest to use a spring loaded ice cream scoop, but you can also use 2 spoons.  You get the dough and then roll it into flour, then they are baked on top of a creamy chicken gravy.  The gravy is comforting and hot, and the biscuits are light and fluffy and tender.  And the whole thing leaves you wanting to keep going back for another bite.
So I'll keep giving the snow a pass, but you'll probably find me tucked inside with a big bowl of this Creamy Chicken and Biscuits!!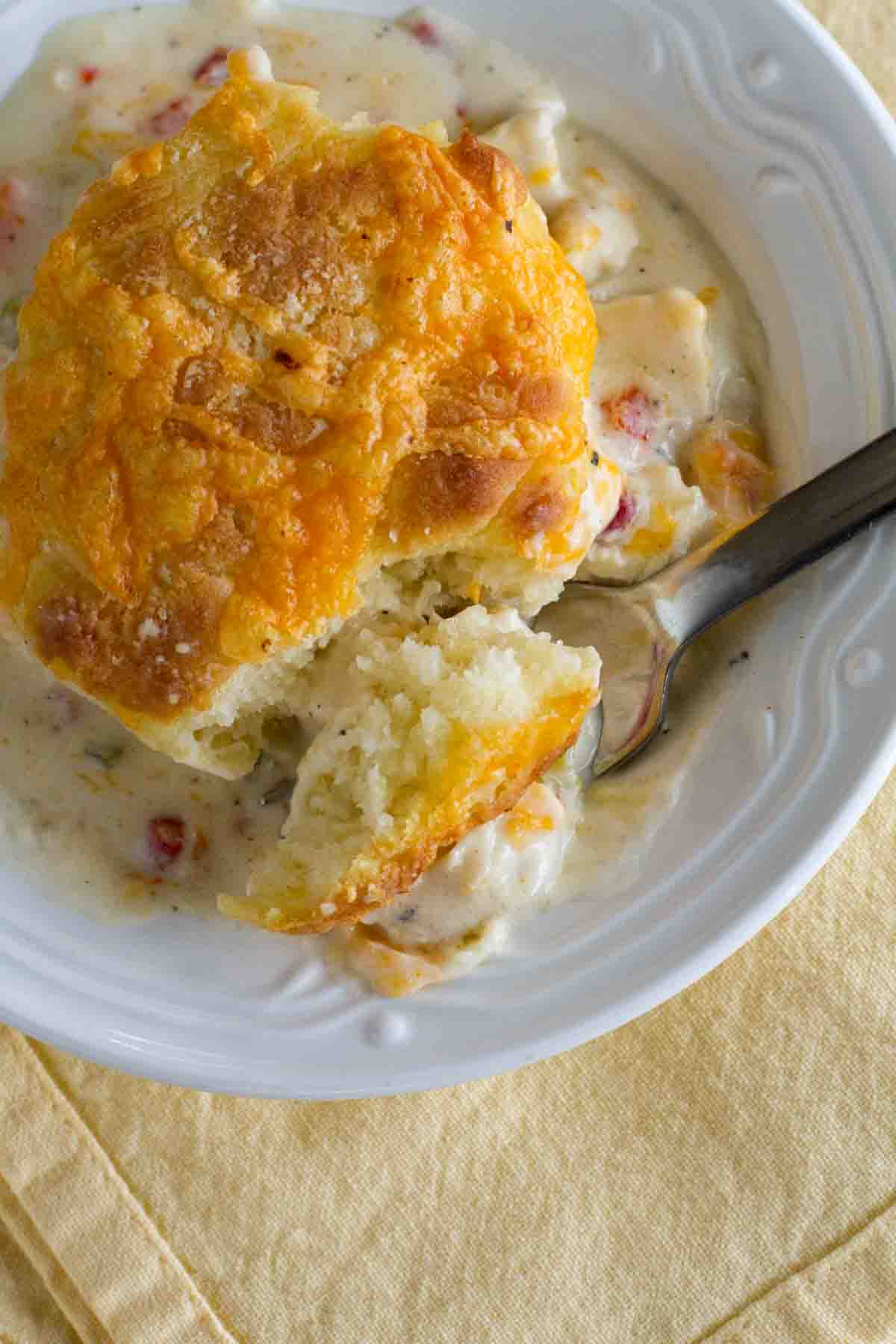 More Comfort Food Favs:
Chicken Lasagna with Green Chile and Cheese
Crockpot Potato Soup
Taco Pie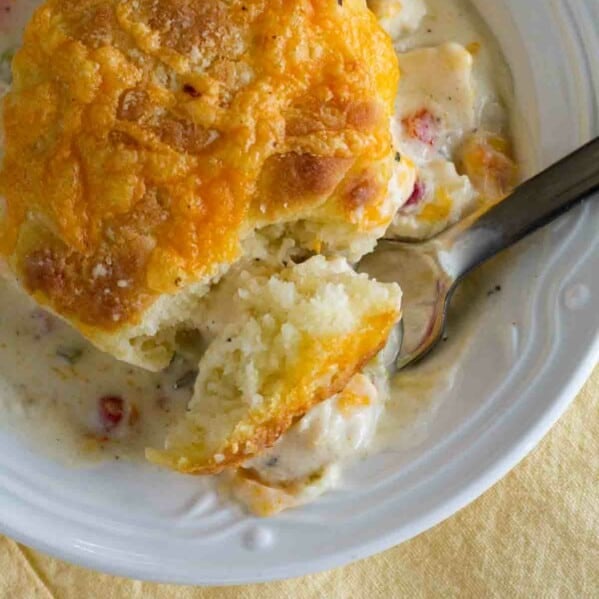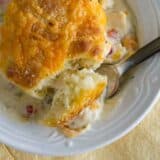 Creamy Chicken and Biscuits
---
Author:
Prep Time: 15 minutes
Cook Time: 35 minutes
Total Time: 50 minutes
Yield: 4-6 servings 1x
Category: Main Dish
Method: Baked
Cuisine: American
Description
Creamy Chicken and Biscuits – Comforting and creamy, a chicken gravy is covered by tender biscuits and cooked until warm and bubbly.
---
Scale
Ingredients
Chicken Gravy
3 tablespoons butter, divided
1/2 cup diced onion
1/2 cup diced carrot
1/2 cup diced celery
3 tablespoons flour
1 cup chicken broth
1 cup milk
1 cup sour cream
1 (2 oz) jar pimientos, drained
1 lb cooked chicken, diced or shredded
1 cup shredded cheddar cheese, divided
Biscuits
1 cup flour
1/2 tablespoon baking powder
1 1/2 teaspoons sugar
1/2 teaspoon salt
1/4 teaspoon baking soda
2 tablespoons unsalted butter
3/4 cup buttermilk
flour, for rolling
1 tablespoon melted butter
---
Instructions
Preheat the oven to 350F. Grease a 2-quart casserole dish; set aside.
In a large skillet, melt 1 tablespoon of the butter. Add in the onion, carrot and celery and cook until the vegetables are starting to soften. Remove from skillet to a bowl.
In the same skillet, melt the remaining 2 tablespoons of butter. Whisk in the flour and cook for a minute or two. Slowly whisk in the chicken broth and the milk. Season to taste with salt and pepper. Cook until thickened. Remove from heat and stir in the sour cream, pimientos and chicken. Pour into the prepared baking dish. Sprinkle with 3/4 cup of the shredded cheddar cheese. Place in the oven and bake for 15 minutes.
Meanwhile, in a large bowl, combine the flour, baking powder, sugar, salt and baking soda. Cut in the butter with a pastry cutter. Stir in the buttermilk. The mixture will be very sticky. Using a spoon or an ice cream scoop, make 9 balls out of the mixture, dropping each into the flour and coating the outside.
When the chicken gravy is done cooking, remove it from the oven and increase the oven temperature to 450F. Drop the biscuits on top. Brush the tops of the biscuits with the melted butter, then sprinkle the remaining 1/4 cup of shredded cheddar cheese over the top.
Return to the oven and cook until the biscuits are cooked through, 15-20 minutes.
Recipe Notes:
Source: Taste and Tell
Biscuit recipe adapted from Cooks Illustrated