Macaroni and cheese meets buffalo chicken in this indulgent recipe.
Now that it's (finally) getting warmer, people tend to switch to eating lighter foods. And yes – here I am with a mac and cheese recipe!! But truth be told, I'll eat a good mac and cheese anytime of year – no matter how warm it is outside!
This is a truly decadent version of macaroni and cheese. It is definitely not an every day food. I wish I would have read through the recipe a little better before I started, because honestly – I think that you could cut the cheese sauce in half and still have plenty of cheese. It was delicious – but definitely not low fat!! I wonder if I'll ever get sick of trying recipes with a buffalo chicken twist…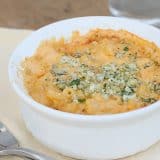 Buffalo-Chicken Macaroni and Cheese
---
Prep Time: 20 minutes
Cook Time: 1 hour
Total Time: 1 hour 20 minutes
Yield: 6-8 servings 1x
Description
Macaroni and cheese meets buffalo chicken in this indulgent recipe.
---
Scale
Ingredients
7 tablespoons unsalted butter, plus more fro the dish
kosher salt
1 pound elbow macaroni
1 small onion, finely chopped
3 cups shredded rotisserie chicken
2 cloves garlic, minced
3/4 cup hot sauce (preferably Frank's)
2 tablespoons all-purpose flour
2 teaspoons dry mustard
2 1/2 cups half-and-half
1 pound yellow sharp cheddar cheese, shredded
8 ounces pepper jack cheese, shredded
2/3 cup sour cream
1 cup panko
1/2 cup crumbled blue cheese
2 tablespoons chopped fresh parsley
---
Instructions
Preheat the oven to 350 degrees F and butter a 9-by-13-inch baking dish. Bring a large pot of salted water to a boil; add the pasta and cook until al dente, about 7 minutes. Drain.
Meanwhile, melt 3 tablespoons butter in a large skillet over medium heat. Add the onion and celery and cook until soft, about 5 minutes. Stir in the chicken and garlic and cook 2 minutes, then add 1/2 cup hot sauce and simmer until slightly thickened, about 1 more minute.
Melt 2 tablespoons butter in a saucepan over medium heat. Stir in the flour and mustard with a wooden spoon until smooth. Whisk in the half-and-half, then add the remaining 1/4 cup hot sauce and stir until thick, about 2 minutes. Whisk in the cheddar and pepper jack cheeses, then whisk in the sour cream until smooth.
Spread half of the macaroni in the prepared baking dish, then top with the chicken mixture and the remaining macaroni. Pour the cheese sauce evenly on top.
Put the remaining 2 tablespoons butter in a medium microwave-safe bowl and microwave until melted. Stir in the panko, blue cheese and parsley. Sprinkle over the macaroni and bake until bubbly, 30 to 40 minutes. Let rest 10 minutes before serving.