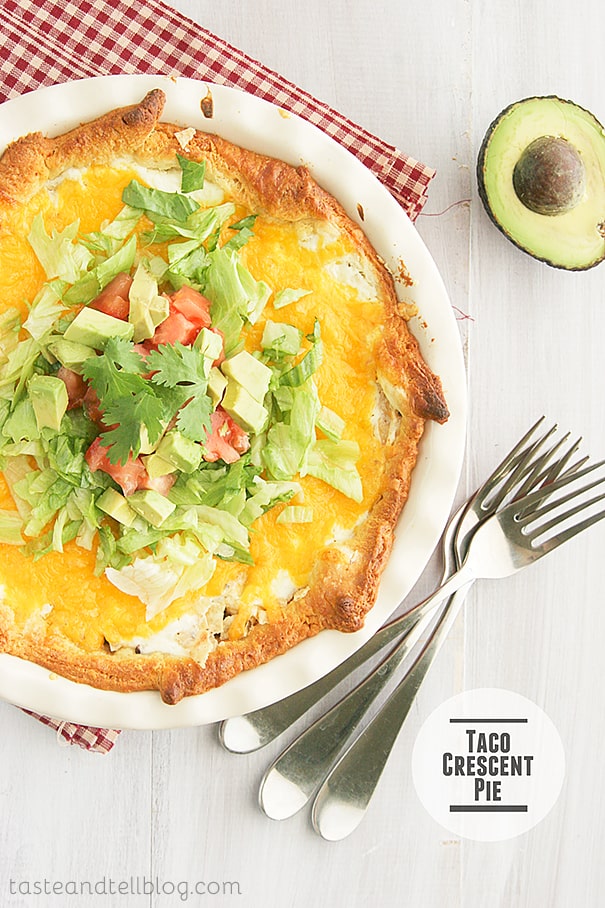 Every once in awhile, I'll go into major simplify my life mode.  When these times hit, I want to throw everything out, start everything new.  And it may be nesting, but I've been going through one of these modes for the past few months.  One thing I've really been working at cleaning out is my fridge, freezer and pantry.  I'm one of those people who have 20 different condiments along with 20 other jars of this and that in my refrigerator.  What can I say – I like variety!  But sometimes, it gets pretty overwhelming.  Especially when you go to the grocery store and come home – only to find that you can't fit half of what you bought into the refrigerator.
So that is usually when one of these moods strike.  And when I want to throw everything out.  But I'm not a wasteful person, so instead of throwing out, I find ways to use things up!!
This recipe came about because of a can of crescent rolls that had been hiding out for awhile.  I went online looking for some inspiration, and I struck some pretty great inspiration right off.  Inspiration in the form of this Taco Crescent Pie.  A crescent roll crust, followed by taco spiced beef, crumbled tortilla chips, sour cream and cheese.  Top the whole thing off with lettuce, tomatoes and avocados, and you have mighty tasty version of the taco.  I saw both this and this recipe, and kind of decided to go my own way, kind of combining the two.  What we ended up with was a great, family-friendly dinner that was devoured.  I loved the tortilla chips layer – for me, that was what really added the "taco" element to the whole pie.  My family would totally be happy with this on the regular rotation.  It's a great way to change up taco night!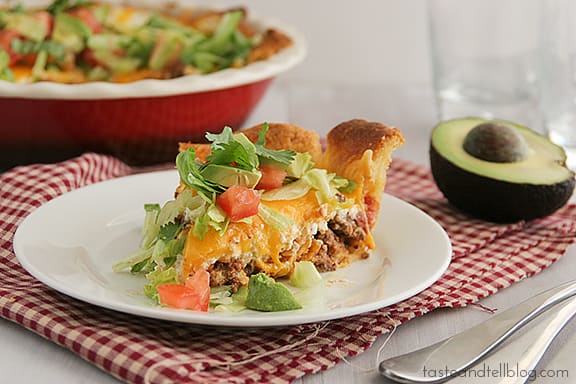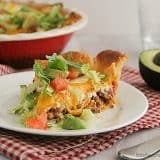 Taco Crescent Pie
---
Prep Time: 20 minutes
Cook Time: 20 minutes
Total Time: 45 minutes
Yield: 4-6 servings 1x
Description
An easy taco-inspired dish with a crescent roll crust, ground beef filling, and a tortilla chip, sour cream and cheese topping.
---
Scale
Ingredients
1 can (8 oz) crescent rolls
1 lb ground beef
1 tablespoon taco seasoning
1/2 cup salsa
3/4 cup crushed tortilla chips
1 cup sour cream
1 cup shredded cheddar cheese
shredded lettuce, diced tomatoes and diced avocados, for topping
---
Instructions
Preheat the oven to 375F.
In a skillet, cook the ground beef until browned and cooked through. Add in the taco seasoning and the salsa and cook until warmed through.
Unroll the crescent rolls. Separate the dough into 8 triangles. Line the pie dish with the triangles, with the small point at the bottom middle of the dish and the wide end at the top. Press the edges together.
Pour the cooked beef mixture onto the crust. Sprinkle the crushed chips over the top of the beef. Drop the sour cream in dollops over the chips and gently spread. Top with the cheddar cheese.
Bake in the preheated oven for 20-25 minutes, or until the cheese is melted and bubbly. Serve topped with lettuce, tomatoes and avocados.
Check out these other twists on the taco:
Taco Salad from Cooking Classy
Skillet Taco Supper from Taste and Tell
Taco Quesadilla Pizza from Closet Cooking
Double Decker Taco Cupcakes from The Girl Who Ate Everything
Mexican Chipotle Taco Pasta Bake from Bakeaholic Mama