It doesn't get more comforting than this homemade Chicken Pot Pie recipe! Tender chicken and vegetables are combined with a homemade gravy and baked between two flaky pie crusts.
Chicken Pot Pie is a classic when it comes to comfort food. Some other great classics are Homemade Biscuits and Sausage Gravy, Traditional Meatloaf with Ketchup and Brown Sugar Glaze, Salisbury Steak, and Tuna Casserole.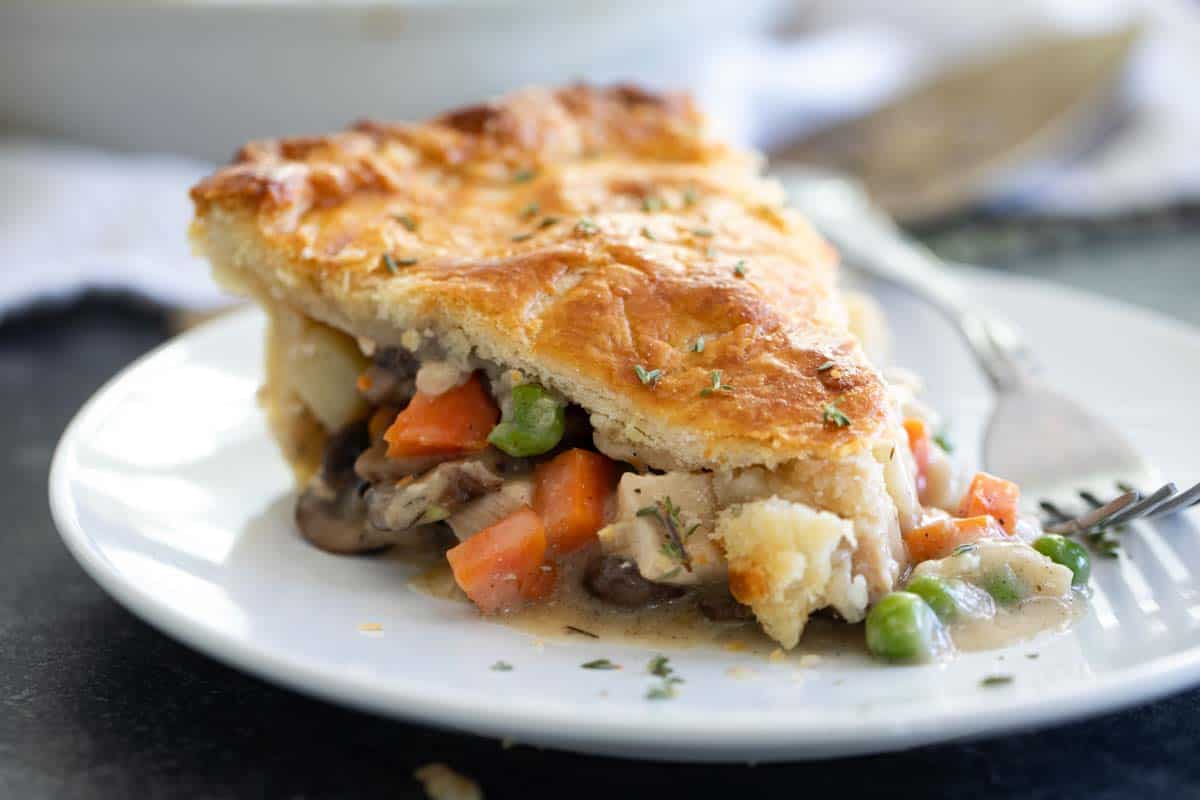 When it comes to dessert, pie reigns supreme for me. So it's no surprise that I equally love a good savory pie, as well!
Chicken pot pie is one of those classics that reminds everyone of their childhood. It is homey and comforting and just downright delicious. And while it may take a little bit of effort to make this one from scratch, I have to say that it is totally worth it. It's a perfect Sunday night dinner – one that my whole family loves!
Ingredients
Potatoes & Carrots: These are two of the vegetables that are pretty common in chicken pot pie. I'm not usually very picky about what kind of potatoes I use, I'll use what I have on hand, but it is usually russets. The trick I use is to boil both the potatoes and the carrots before adding them so that they will cook through.
Oil: I usually use olive oil or vegetable oil.
Mushrooms: I like to use baby bella mushrooms, but white mushrooms work just as well.
Onion: I always have white or yellow onions on hand, and either of those will work perfectly here.
Butter: The butter is used to make the gravy that the filling is in. I use unsalted butter.
Flour: This is the thickening agent for that gravy.
Salt: Maybe one of the most important ingredients – make sure everything is seasoned well!
Thyme: I will usually use dried thyme, but if I have fresh on hand, I love to use it. If using fresh, you'll need 1 1/2 to 2 teaspoons.
Lemon Pepper: The lemon pepper gives this recipe a little something different. If you don't have it on hand, you can just use pepper, but I think it adds something special!
Chicken Broth: I use chicken broth, but you could use chicken stock, as well.
Milk: Whole milk would be ideal, but I usually use 2% because that's what I keep on hand.
Chicken: I like to start with cooked chicken. It will add a little bit of time to the recipe if you need to cook the chicken as you are making the recipe.
Peas: The recipe calls for frozen peas. I prefer these to canned peas. I have not tried the recipe with fresh peas, but I'm assuming those will work just fine.
Pie Crust: You can definitely use store bought crusts for this, but I love it with my homemade pie crust.
Egg: This is just for the egg wash on top. You could leave it off, if desired, but it gives the pie a nice, golden sheen.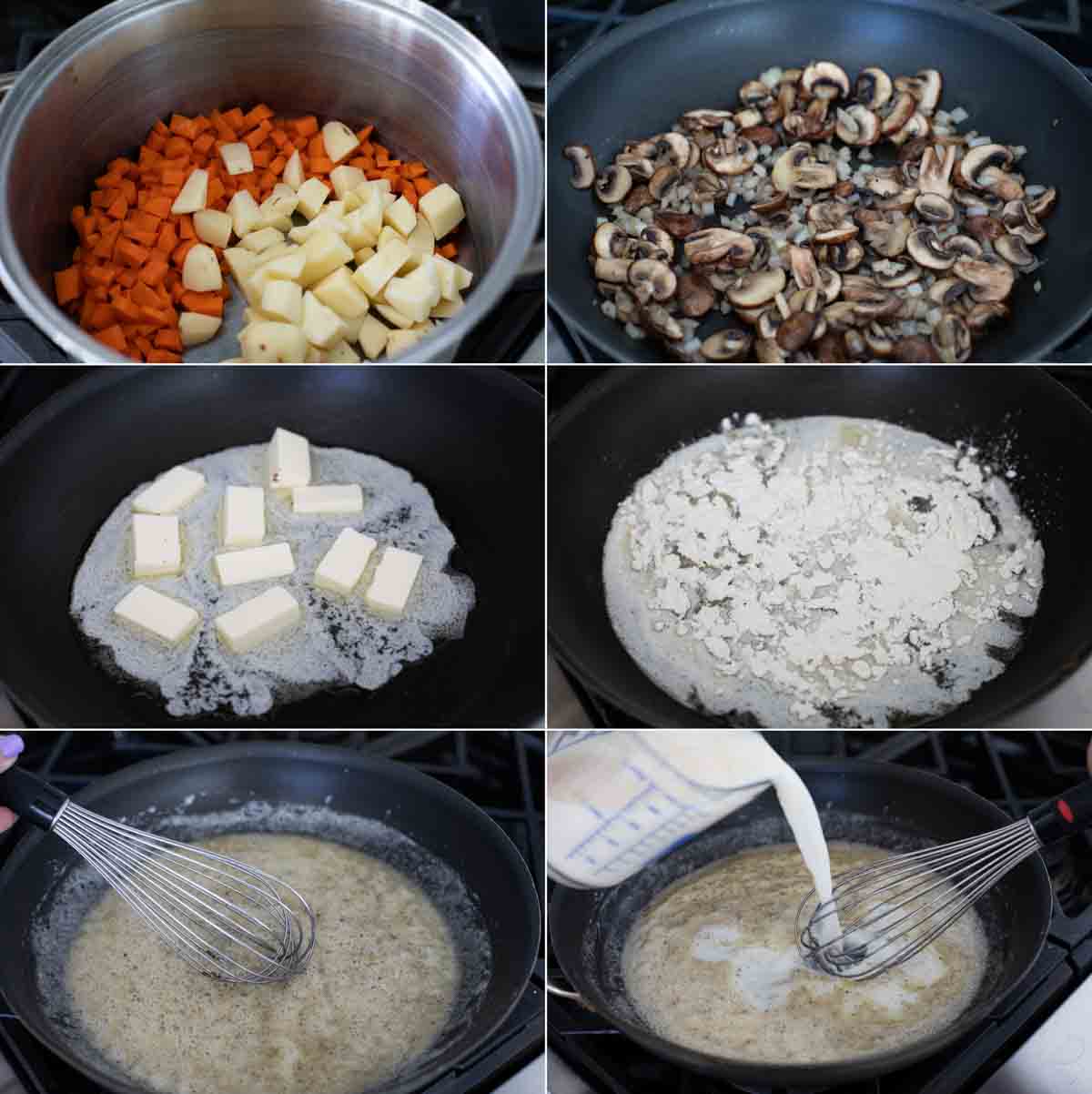 How To Make Chicken Pot Pie
Start by making the filling. You are going to boil your potatoes and carrots together. Place the carrots and potatoes in a pot, cover them with water, then boil them until they are tender. After they are just tender, drain them.
Meanwhile, cook the mushrooms in some olive oil, then add the onions and continue to cook until they are both tender. Remove them from the pan.
Using the same skillet, melt the butter.
Sprinkle the flour over the melted butter.
Whisk them together, and season with salt and pepper.
Slowly whisk in your chicken broth and milk.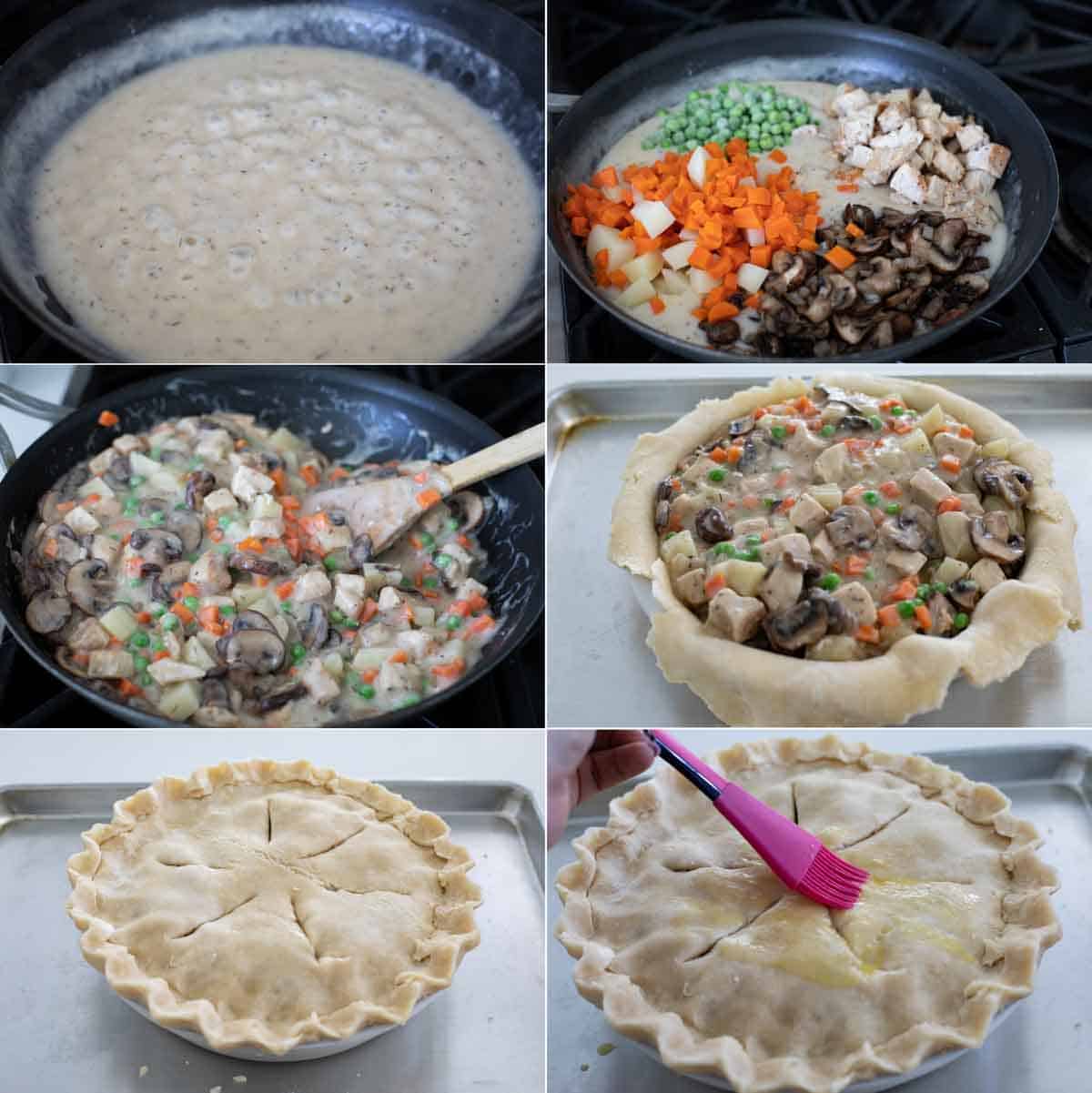 Cook this until it starts to bubble and thicken up. This is your gravy, so make sure to cook it until it has thickened.
Add in your drained carrots and potatoes, the cooked mushrooms and onion, plus some frozen peas and cooked chicken.
Stir this all together.
Roll out your pie crusts and place one in the bottom of your pie dish. Fill it with the chicken mixture.
Place the second pie crust over the top, trim and seal the edges, and cut a few slits in the top for steam to escape.
Brush the top of the pie with an egg wash.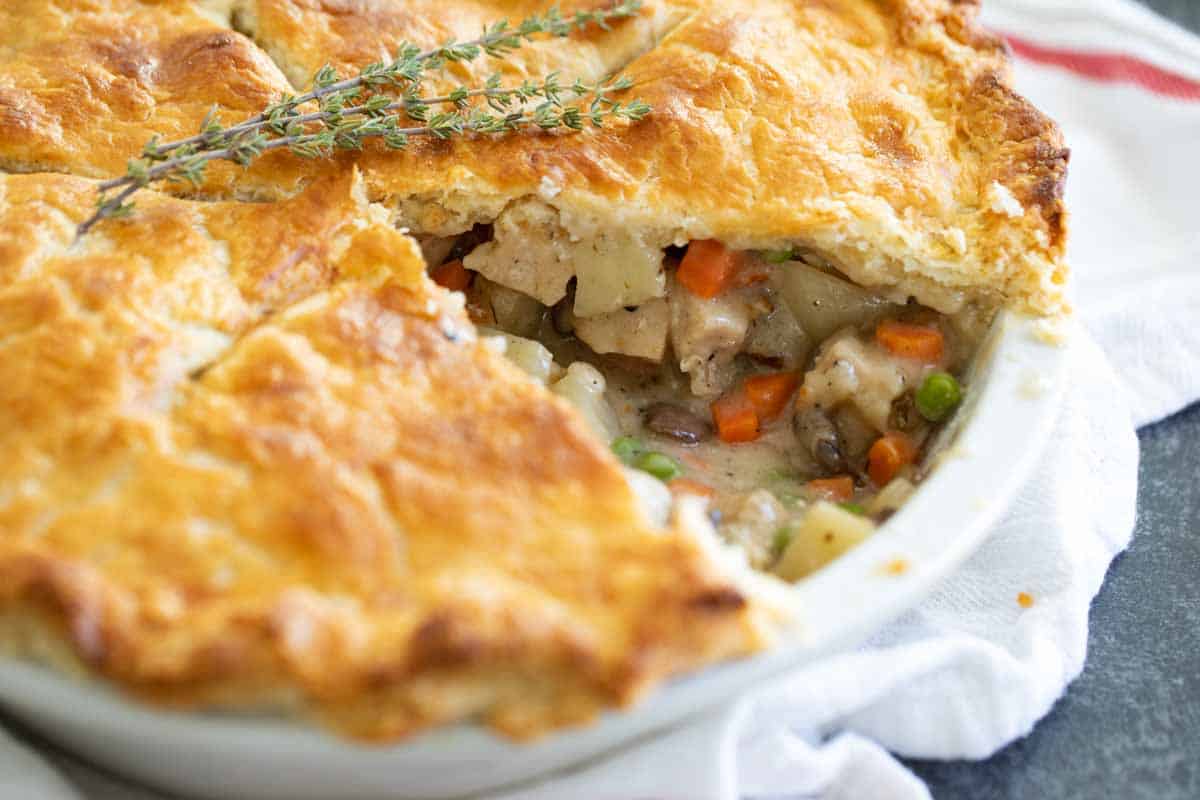 Bake until golden brown, then let it sit for 15 minutes before slicing it to serve.
Tips and Tricks
Make sure to cut your carrots and potatoes into bite-sized pieces before boiling. You can slice or dice the carrots.
I had some leftover chicken that I used when I photographed this recipe. I will usually use cooked, shredded chicken that I keep frozen. If you don't have either, a rotisserie chicken works well, or you can cook a few chicken breasts to add in.
If you aren't baking the pie right away, don't add your hot filling to the crust. Let it cool down first. Don't add the egg wash until right before serving, as well.
You can freeze this to eat later, as well! Cover the cooled pie (without the egg wash) with foil, and freeze for up to 2 months. To bake, place the frozen pot pie in the oven at 400ºF and bake for 30 minutes, then remove the foil and continue to bake until the pie is golden and cooked through, about another 30 minutes. I would recommend skipping the egg wash on a frozen pie altogether.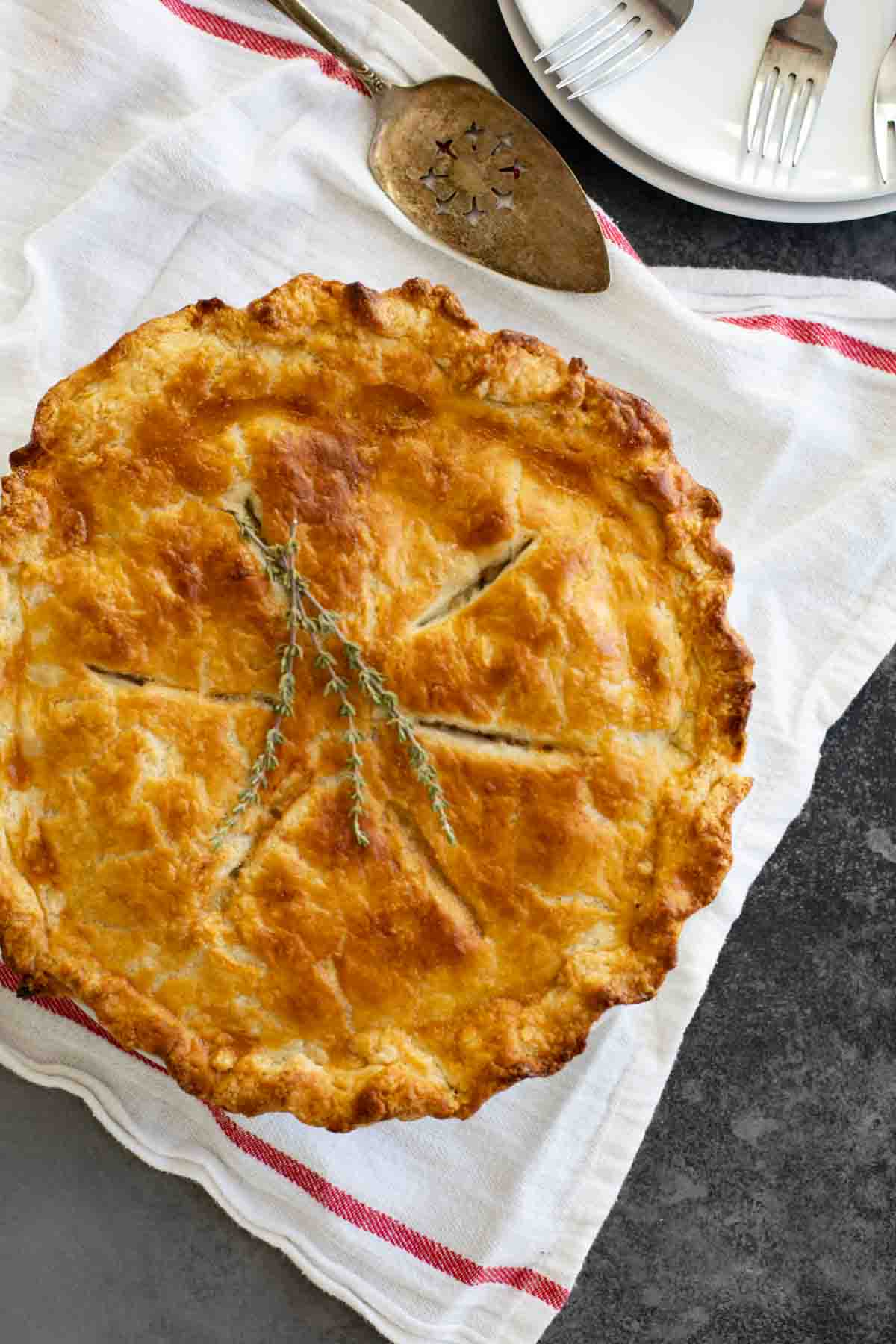 What to Serve With Chicken Pot Pie
Winter Salad with Lemon Poppy Seed Dressing
Sweet Potato Salad with Bacon
Apple Pomegranate Salad
Mashed Sweet Potatoes with Brown Butter
Quinoa Salad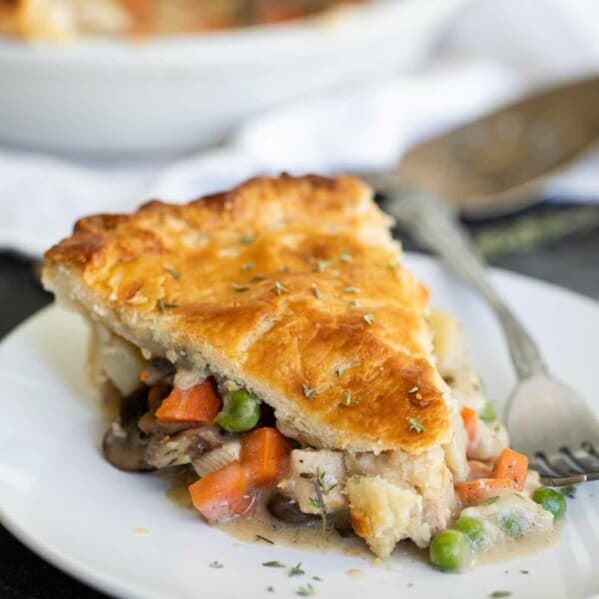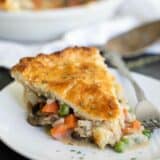 Chicken Pot Pie
---
Author:
Prep Time: 20 mins
Cook Time: 1 hour
Total Time: 1 hour 35 mins
Yield: 8 servings 1x
Category: Main Dish
Method: Bake
Cuisine: American
Description
It doesn't get more comforting than this homemade Chicken Pot Pie recipe! Tender chicken and vegetables are combined with a homemade gravy and baked between two flaky pie crusts.
---
Scale
Ingredients
1 cup peeled, diced potatoes
1 cup sliced carrots
1 tablespoon extra virgin olive oil
8 oz mushrooms, sliced
1/2 cup chopped onion
1/2 cup butter
1/2 cup all-purpose flour
1 teaspoon salt
1/2 teaspoon dried thyme
1/2 teaspoon lemon pepper
1 1/2 cups chicken broth
1/2 cup milk
2 cups cooked chicken
1/2 cup frozen peas
1 double pie crust
1 egg
---
Instructions
MAKE THE FILLING:
Preheat the oven to 425ºF.
Place the potatoes and the carrots in a pot and cover with water. Bring to a boil, reduce the heat and cook until the vegetables are just tender, 8-10 minutes. Drain.
In a large skillet, heat the olive oil. Add the mushrooms and cook until they start to soften, then add the onions. Cook until the mushrooms and onions are both softened, then remove to a bowl.
In the same skillet, melt the butter. Whisk in the flour and cook for a minute. Stir in the salt, thyme and pepper. Slowly whisk in the chicken broth and the milk. Bring the mixture to a boil then stir until thickened.
Remove from the heat and stir in the chicken, peas, potatoes and carrots, and mushrooms and onions.
PREPARE THE PIE:
Roll out 1 of the crusts and place in a  9-inch pie plate. Fill with the chicken mixture. Roll out the remaining pie crust and place over the filling. Trim and seal the edges. Cut slits in the top the crust.
In a small bowl, whisk the egg with about a tablespoon of water. Brush the egg wash over the crust of the pie. Set the dish on a baking sheet (to catch anything that may bubble over while baking).
BAKE:
Bake the pie until the crust is golden, 30-40 minutes. Watch it to make sure it doesn't over-brown.
Let the pie stand for 15 minutes before slicing.
Recipe Notes:
Nutrition information provided as an estimate only. Various brands and products can change the counts. Any nutritional information should be used as a general guideline.
Nutrition
Serving Size: 1/8 of pie
Calories: 449
Sugar: 8 g
Sodium: 699 mg
Fat: 27 g
Saturated Fat: 13 g
Unsaturated Fat: 6 g
Trans Fat: 0 g
Carbohydrates: 37 g
Fiber: 2 g
Protein: 16 g
Cholesterol: 91 mg
Keywords: chicken pot pie, chicken pot pie recipe, homemade chicken pot pie, easy chicken pot pie