Super creamy and a little bit spicy, this Cheesy Chicken and Green Chile Lasagna is comfort food at it's best!



This little baby boy is already showing some of his personality.  And I'm afraid he's going to be a stubborn one.  40 weeks, 5 days.  I've never gone this far before.  With my first, we made it 40 weeks, 2 days, but my other little guy was almost a week early.  And honestly – if you would have asked me 20 weeks ago, I would have put money on the fact that I thought this one would be early.  Good thing I'm not a betting woman!
I thought maybe he was taking his time because I was taking my time getting ready for him.  I remember with my first, clothes were washed, nursery was set up, diapers neatly stacked, carseat installed – all before the 30 week mark hit.  It's that excitement of a first time baby.  And don't get me wrong – I'm just as excited this time around, but these "chores" lose their appeal by the time you get to #3.  So maybe I didn't wash the clothes until just a couple of weeks ago.  And maybe the carseat still isn't installed.  (But it's sitting by the door – that counts, right?)  But we are ready.  A name has even been chosen – HALLELUJAH!!  All that we are waiting for is his arrival.
I know that he can't hang out in there forever, so hopefully I'll have a good announcement very soon.  If it comes down to it, we will be inducing next week, but I'm hoping that he will come on his own before then.  We are keeping our fingers crossed!
In the meantime, I'm sitting back, enjoying a little bit of downtime, and devouring comfort food – like this lasagna – while I can still use the excuse that I'm eating for 2.  But even if you aren't eating for 2, it's cold outside, and that – to me – is excuse enough for comfort food.  And it doesn't get much better than this.  I actually had planned on just a cheesy chicken lasagna, but my mom – genius that she is – mentioned that it would be good with green chiles.  I'm so grateful for her insight, because this lasagna was amazing.  It will definitely be made again in my house!!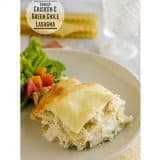 Cheesy Chicken and Green Chile Lasagna
---
Prep Time: 15 minutes
Cook Time: 45 minutes
Total Time: 1 hour
Yield: 6 servings 1x
Description
Super creamy and a little bit spicy, this Cheesy Chicken and Green Chile Lasagna is comfort food at it's best!
---
Scale
Ingredients
6–9 lasagna noodles
2 medium chicken breasts, cooked and shredded
8 oz cream cheese, softened
2 cups shredded mozzarella, divided
1 (4 oz) can chopped green chiles
1/4 cup butter
1/4 cup flour
2 cups milk
1 cup grated parmesan cheese
---
Instructions
Preheat the oven to 350F.
Cook the lasagna noodles to al dente and set aside on paper towels in a single layer.
In a bowl, combine the shredded chicken, softened cream cheese, 1 cup of the mozzarella and the green chiles. Mix well. Season with salt and pepper. Set aside.
Make the alfredo: In a skillet, melt the butter over medium heat. Whisk in the flour and cook for 1 minute. Slowly whisk in the milk and cook until thickened, a few minutes. Stir in the parmesan cheese to melt.
To assemble the lasagna:
Put just enough of the alfredo in the bottom of a 9-inch square baking dish just to cover the bottom. Put down one layer of the noodles, followed by half of the chicken mixture. Put down another layer of noodles, the remaining chicken and then a last layer of noodles. Cover the top with the remaining alfredo, then sprinkle on the remaining 1 cup of mozzarella cheese.
Bake in the preheated oven until the cheese is melted and the lasagna is heated through, 30-45 minutes.

If you like this lasagna, you may like these as well!
Chicken Pesto Lasagna Roll Ups from Sunny Side Up
Roasted Squash Lasagna from Foodess
White Seafood Lasagna from Confections of a Foodie Bride