Bring a little bit of sweetness to the dinner table with these easy Coconut Chicken Tenders, served with a creamy mango chutney.
Looking for even more chicken tender recipes? Try these Crispy Ranch Chicken Strips or Tortilla Crusted Chicken Tenders.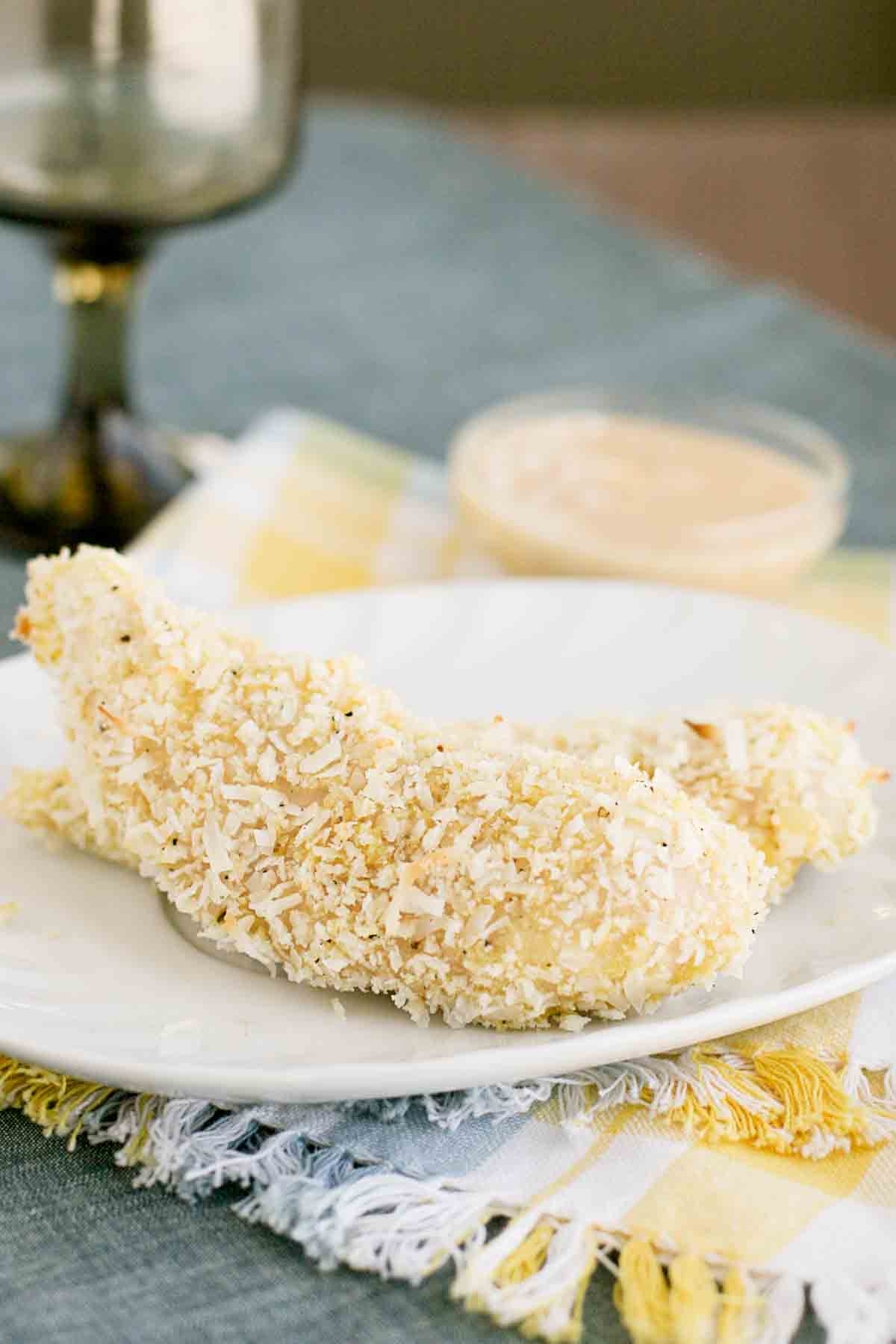 I told you this would be a busy week! I've got one more easy dinner idea for you here before the blog is taken over by red velvet next week!!
What is is about chicken tenders that screams "kid favorite"? And really, big kid favorite, because I sure do like them, too!! It seems to be a constant struggle to get my 2 older kids to eat, so I'm always looking for new things for them to try that might get them to clean their plates.
This recipe goes even one step further to get the kids to love it – you combine coconut with panko bread crumbs for the perfect crispy, sweet coating to the chicken tenders. I can actually remember the first time I ever made coconut chicken, many, many years ago. And it's one of those dinner ideas that has stuck with me since!
I decided to dress these up a little with a creamy mango chutney. You can always make the chutney yourself, but it's easy to take a shortcut here and buy a jar of it at the grocery store. My kids weren't huge fans of the dipping sauce – I think it's more of an adult taste – but I sure did lick the bowl clean!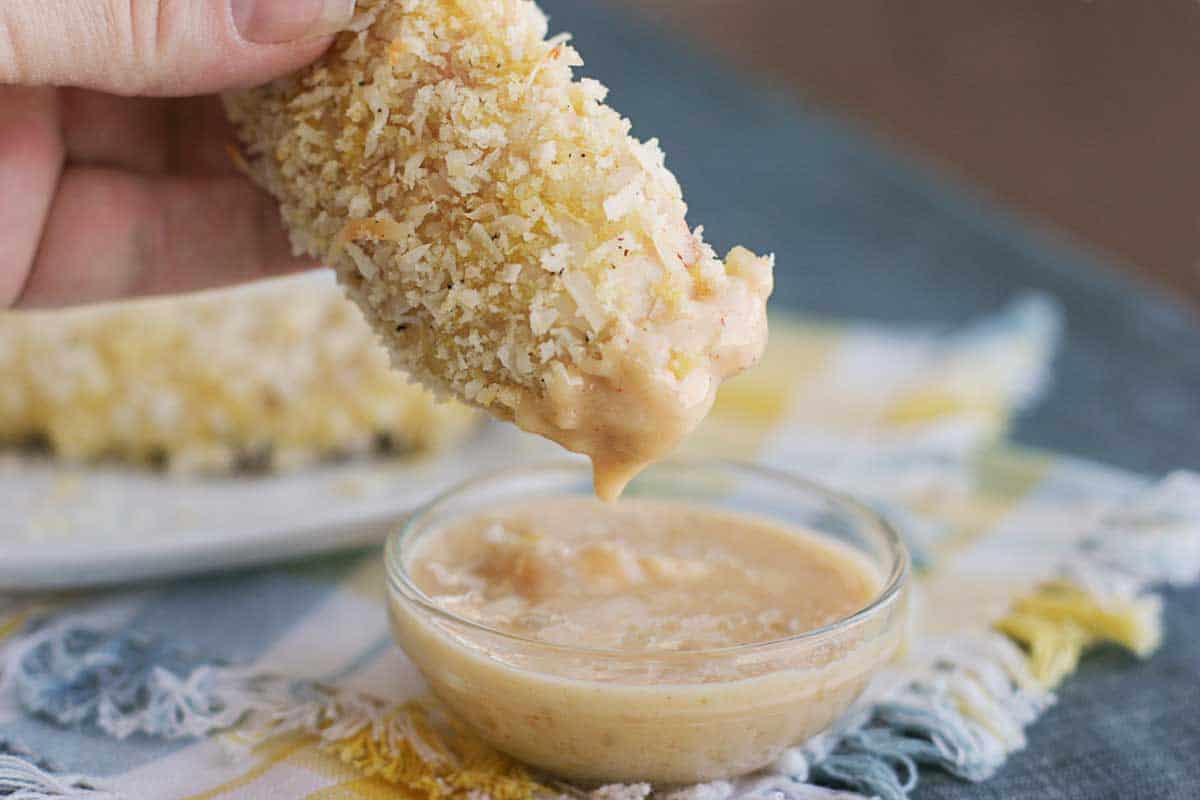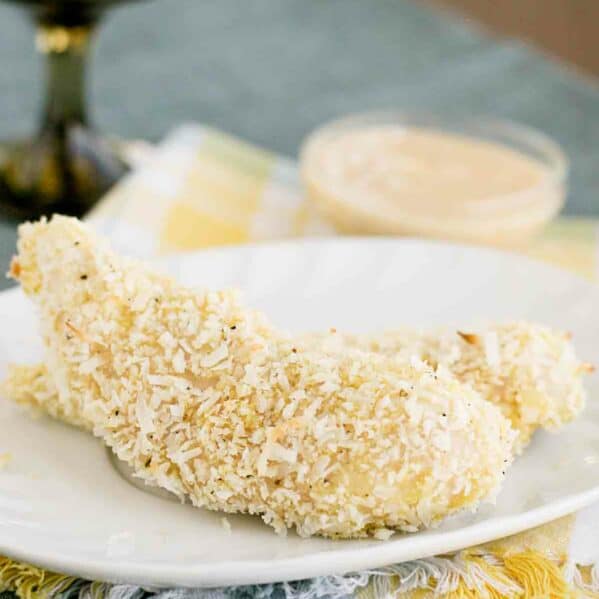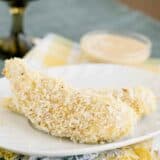 Coconut Chicken Tenders with Creamy Mango Chutney
---
Author:
Prep Time: 15 minutes
Cook Time: 25 minutes
Total Time: 40 minutes
Yield: 4 servings 1x
Category: Main Dish
Method: Baked
Cuisine: American
Description
Bring a little bit of sweetness to the dinner table with these easy Coconut Chicken Tenders, served with a creamy mango chutney.
---
Scale
Ingredients
1/4 cup all-purpose flour
1 egg
1/2 cup sweetened coconut
3/4 cup plain panko crispy bread crumbs
Salt and pepper
1 1/4 lbs chicken tenders
3/4 cup prepared mango chutney
6 tablespoons sour cream
---
Instructions
Heat oven to 375°. Place a cooling rack on top of a baking sheet. Spray with nonstick cooking spray; set aside.
Place the flour in a shallow bowl or dish. In a second dish, lightly whisk the egg.
Chop the coconut until it is about the same size as the panko bread crumbs. In a third dish, combine the coconut and panko and season with salt and pepper.
Working with one chicken tender at a time, dip in the flour to coat, shaking off excess, then dip into the egg. Dip into the coconut/panko mixture, pressing the mixture into the chicken tender if needed. Transfer to the cooling rack. Repeat with the remaining chicken tenders.
Spray the tops of the tenders lightly with cooking spray. Bake for 20-25 minutes, or until cooked through.
Meanwhile, combine the mango chutney and sour cream. Serve alongside the chicken tenders.
Keywords: coconut chicken tenders