A Traditional Meatloaf Recipe, this comfort food is just like mama used to make it. Moist and flavorful, you this is the only meatloaf recipe you will need. The brown sugar and ketchup glaze is not to be missed!
This Traditional Meatloaf is great served with mashed potatoes or Scalloped Potatoes and a veggie – we love green beans or a corn dish!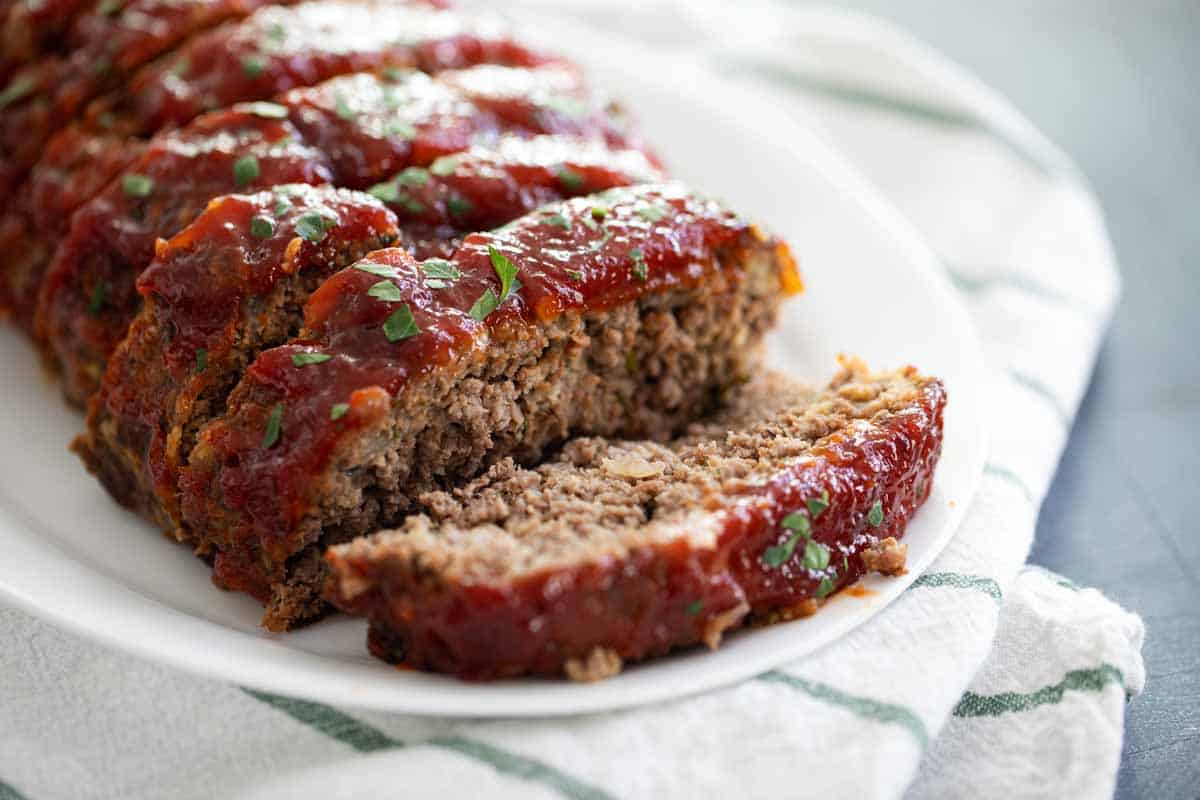 I grew up on meatloaf and have always loved it. It is the perfect Sunday supper and will always remind me of my childhood.
This is a traditional meatloaf recipe that has that classic brown sugar and ketchup glaze that I have always loved. Not only does it bring in a ton of flavor, but it helps to keep the meatloaf nice and moist, as well.
When I'm craving something traditional and comforting, this is my go-to meatloaf recipe!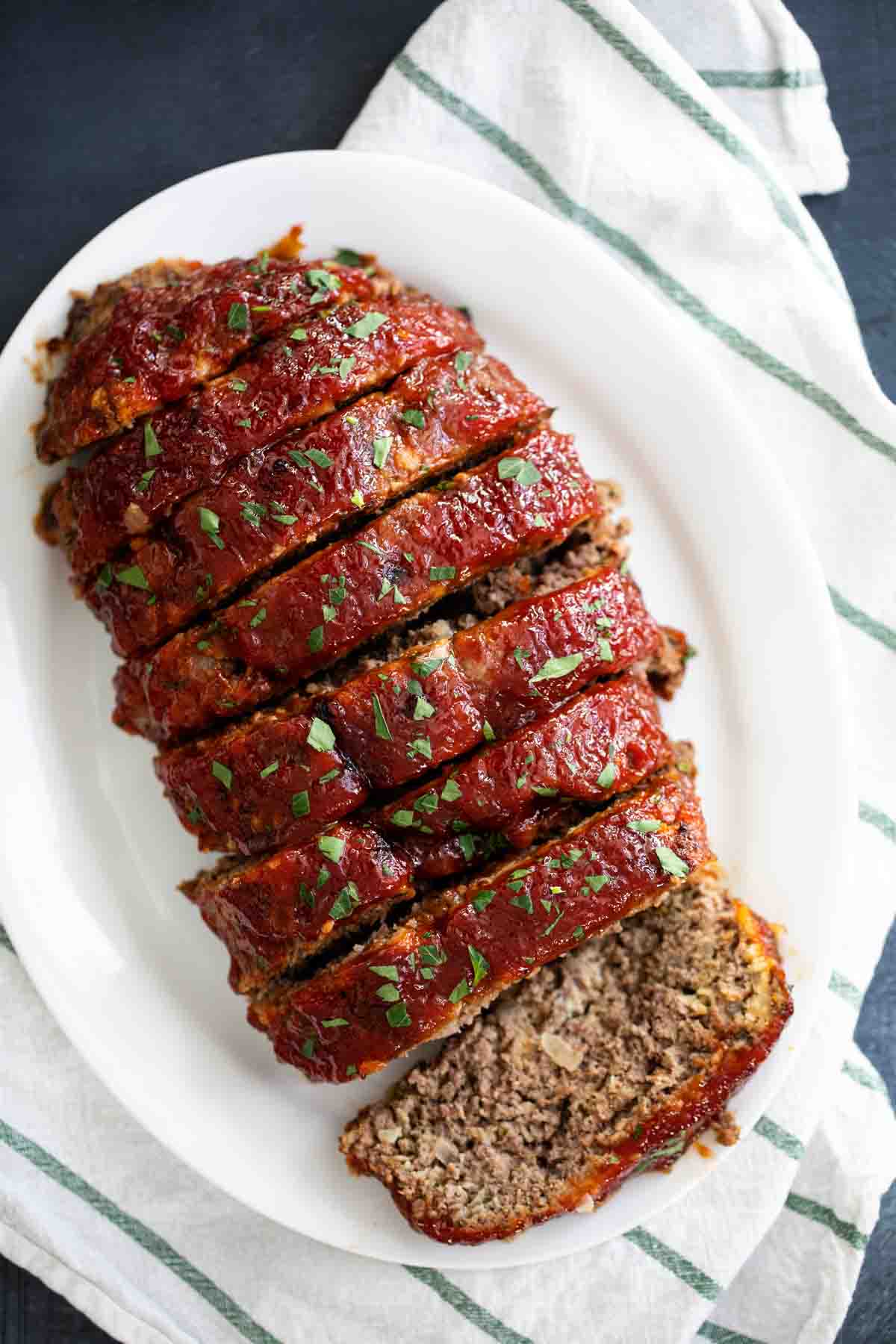 The Meatloaf Mix
I have to be honest and say that I have no idea what meat my mom used in her meatloaf growing up, but my guess is that it was just ground beef. When I first started cooking for myself, so many of the meatloaf recipes I came across called for "meatloaf mix", which I learned was an equal combination of ground beef, ground pork and ground veal. I remember searching high and low for meatloaf mix and never being able to find it.
So I thought I'd make my own, but still couldn't find ground veal anywhere. I actually have never seen it at the grocery store, to this day. So I do a combination of ground beef and ground pork. It will definitely work with all ground beef, but I love the flavor that the ground pork brings in. For this meatloaf recipe, I'll typically use 1 1/2 pounds of ground beef and 1/2 pound of ground pork.
The Meatloaf Glaze
The one thing that makes this meatloaf taste so good is the meatloaf glaze. This is a really simple combination of ingredients, and is part of the meatloaf that should not be skipped! Here is what you'll need:
ketchup – just regular American ketchup.
brown sugar – I use light brown, but for a deeper flavor you can use dark brown.
apple cider vinegar – you need this added acidity. I prefer apple cider vinegar, but feel free to experiment with your favorite vinegar.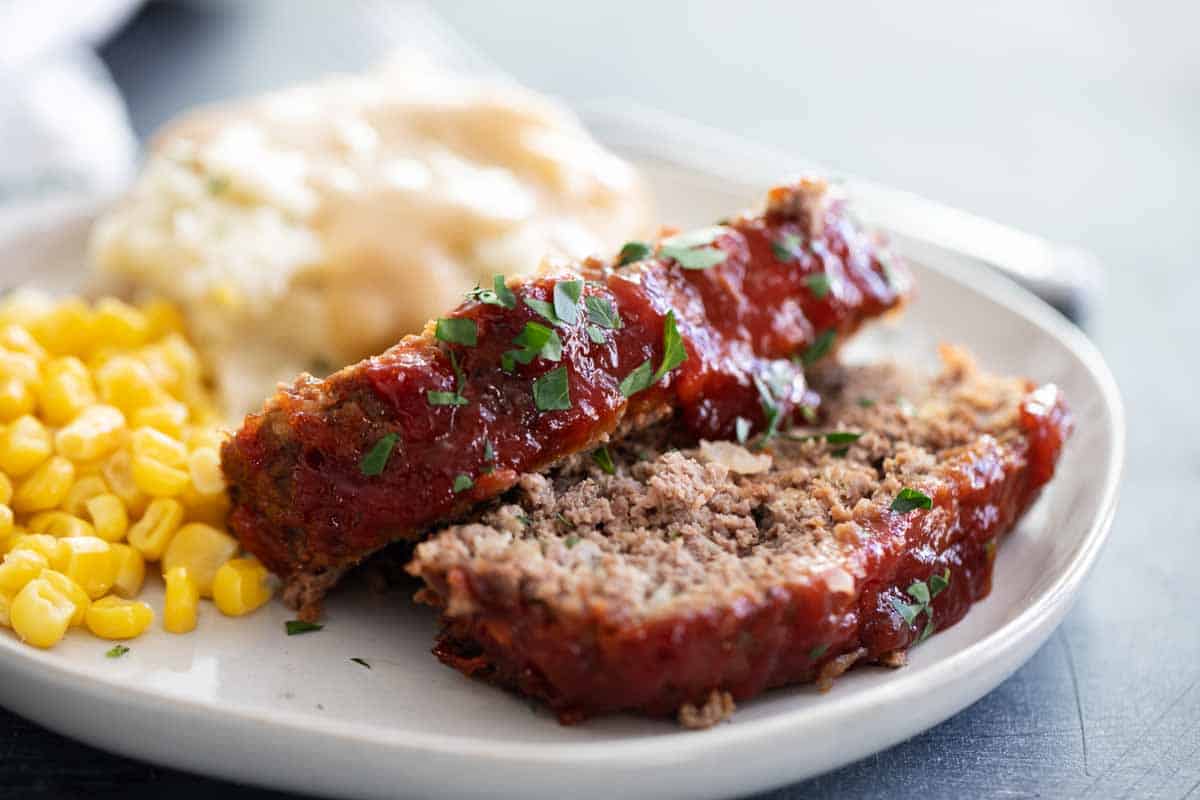 Meatloaf Tips and Tricks
The biggest tip I have for you when making meatloaf is to be careful that you don't overwork the meat. The more you mess with it, the tougher your meatloaf will be. Mix everything just until it is combined.
Dice your onion into small pieces so that they will mix into your meatloaf well.
Line your baking sheet with foil or parchment. Not only does this make cleanup easier, but it also makes it easier to get the meatloaf off of the baking sheet when it's time to serve it.
I like to turn on the broiler for the last minute or two to make sure the meatloaf topping is nice and thick and sticky. It's my favorite part!
This recipe can easily be doubled so that you can freeze one for later. I give you some tips for this below.
How To Tell When Meatloaf is Done
Meatloaf is actually really easy to make – the hardest part is always knowing when the meatloaf is done. You don't want it pink in the middle, but you also don't want to overbake the meatloaf and end up with dry and crumbly meatloaf.
The easiest (and best!) way to know when the meatloaf is done is with an instant read thermometer. You want the internal temperature to be between 155ºF and 160ºF. You can pull it out at 155ºF and it will continue to cook up to the 160ºF mark.
If you don't have an instant read thermometer, just keep in mind that a meatloaf with 2 pounds of meat will take about 1 hour to bake at 350ºF. You can press a fork into the center of the meatloaf and if it goes in easily without any resistance, the meatloaf is most likely done.
How to Freeze Meatloaf
You can freeze meatloaf before you have baked it, or you can freeze meatloaf that has already been baked. Here is how you do each method:
Freezing Uncooked Meatloaf
For this method, you'll prepare the meatloaf up to the point of shaping the loaf. I like to skip the glaze and then prepare that fresh when it's time to bake the meatloaf. Shape the loaf on a foil lined baking sheet, then place the whole thing in the freezer until it is frozen through enough to remove from the baking sheet, about 2 hours. Then wrap it tightly in plastic wrap, and then if you have a freezer safe container, you can put it in that. If you don't, wrap it tightly in a layer or two of foil. Place in the freezer for up to 3 months.
Freezing Cooked Meatloaf
You can do this this same as above with a full meatloaf, although I prefer the first method if I am freezing a full meatloaf. I prefer this method if I am freezing leftovers, or slices that are easy for single servings.
I like to place the slices on a single layer on a foil lined baking sheet and freeze for about an hour. Then each slice can be wrapped individually, or added to single serving containers.
Heating the Meatloaf
If you are cooking the uncooked meatloaf, let it thaw in the refrigerator overnight then continue the recipe as written, adding the glaze. If it is still part-way frozen, you may need to add on 20-30 minutes more for it to bake though completely.
Individual slices can be reheated in the oven or in the microwave. Just heat until heated through.
More Recipes Perfect for Sunday Dinner
Chicken Lasagna with Green Chile and Cheese
Braised Country Style Ribs Recipe
Poppy Seed Chicken
Salisbury Steak Recipe
Smothered Beef Tips
Classic Homemade Beef Stew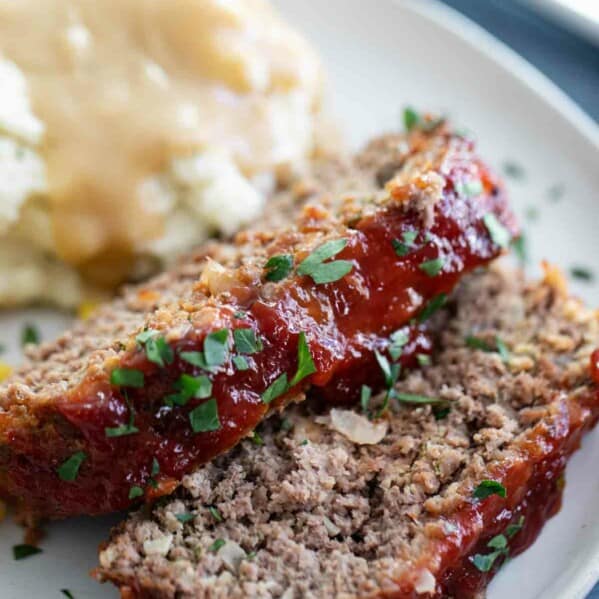 Traditional Meatloaf Recipe with Brown Sugar and Ketchup Glaze
---
Author:
Prep Time: 15 minutes
Cook Time: 1 hour 10 minutes
Total Time: 1 hour 40 minutes
Yield: 8 servings 1x
Category: Main Dish
Method: Baked
Cuisine: American
Description
A Traditional Meatloaf Recipe, this comfort food is just like mama used to make it. Moist and flavorful, you this is the only meatloaf recipe you will need. The brown sugar and ketchup glaze is not to be missed!
---
Scale
Ingredients
Meatloaf Glaze:
1/2 cup ketchup
1/4 cup brown sugar
4 teaspoons cider vinegar
Meatloaf:
1 tablespoon extra virgin olive oil
1 medium onion, chopped
2 cloves garlic, minced
2 large eggs, lightly whisked
1/4 cup milk
1 tablespoon Worcestershire sauce
2 teaspoons Dijon mustard
1 teaspoon salt
1/2 teaspoon ground pepper
1/2 teaspoon dried thyme
1/4 teaspoon hot pepper sauce
2 pounds ground meat*
2/3 cup crushed saltine crackers (about 16 crackers)
1/3 cup minced fresh parsley
---
Instructions
To make the glaze:
Combine ketchup, brown sugar and cider vinegar in a small bowl.
To make the meatloaf:
Preheat the oven to 350ºF. Line a rimmed baking sheet with foil. Set aside.
Heat a skillet over medium-high heat. Add the oil, and once shimmering, add the onion and cook until tender. Add the garlic and cook an additional minute, then remove from the heat to cool slightly.
In a medium bowl, combine the eggs, milk, Worcestershire sauce, mustard, salt, pepper, thyme and hot pepper sauce. Mix until combined.
In a large bowl, combine the meat, crackers, parsley, and cooked onion and garlic mixture. Add the egg mixture and mix just until combined.
Transfer the mixture to the prepared baking sheet. Form into a loaf about 9×5-inches.
Brush half of the glaze over the meatloaf.
Bake for 30 minutes, then spread the remaining glaze over the top and sides of the meatloaf.
Return to the oven and bake until the meatloaf registers 160ºF on an instant read thermometer, about another 20-30 minutes.
If desired, you can turn on the broiler for the last couple minutes to really thicken up the glaze.
Cool for 10-15 minutes before slicing to serve.
Recipe Notes:
*Traditional meatloaf mix is an equal mixture of ground beef, ground pork and ground veal. I have never seen ground veal at my grocery store, so I have never included it. I like to do about 1 1/2 lbs of ground beef and 1/2 lb of ground pork. All ground beef will work, but I prefer the flavor when a bit of pork is added.
adapted from: The New Best Recipe
Nutrition
Serving Size: 1/8th of recipe
Calories: 369
Sugar: 11 g
Sodium: 680 mg
Fat: 20 g
Saturated Fat: 4 g
Unsaturated Fat: 2 g
Trans Fat: 0 g
Carbohydrates: 22 g
Fiber: 0 g
Protein: 11 g
Cholesterol: 99 mg
Keywords: traditional meatloaf recipe, meatloaf glaze, meatloaf topping, meatloaf recipe, best meatloaf recipe