A traditional meat loaf, but it's covered in bacon!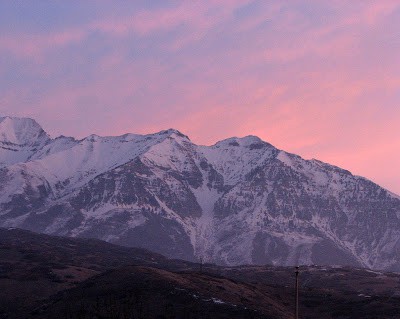 I love where I live. This is the first thing I see when I walk out my door in the morning. Even though I am tired of the snow and I hate driving in it, when it snows, the land around me almost feels magical. In the spring, the flowers are plentiful and the mountains take on a vibrant green. The summers are perfect for camping and hiking, and rivers and lakes are plentiful. If you've never driven through the mountains of Utah in the fall, you are really missing out. When the leaves start changing, the mountains are completely transformed and I could spend days up driving through the gold, red and orange.
But this wonderful state has it's drawbacks as well. Let me explain – When I received this month's Cookbook of the Month, I went through and marked down the 4 recipes that I wanted to make during the month. The first three were recipe that just looked and sounded good to me. The fourth – Meat Loaf – was suggested by a commenter on my blog. One of the few things that my husband claims he does not like is meat loaf. I am trying to convince him that he actually would like things that he says he doesn't like, so I decided to go with this meat loaf since I have had such good luck with this cookbook. I go to the store to pick up the needed ingredients. A typical meat loaf recipe usually calls for a mix of ground beef, pork and veal, each in equal proportions. This recipes calls for 50% beef, 25% pork, and 25% veal. I am looking through the meat at the store, and I can see beef and pork, but no veal. Come to think of it, I have never seen veal (or a meatloaf mix) sold at any grocery store around me. I'm at the meat counter, and the conversation goes something like this:
Me – "Do you have any meatloaf mix?"
Worker – Looks at me quizzically
Me – "You know, a mixture of ground beef, ground pork, and ground veal?"
Worker – Still looking at me quizzically
Me – "I take it by that look on your face that you don't have it and have never been asked for it."
Worker – "Well, we have beef and pork, but not any veal."
And honestly, by the look on his face, I don't think he had even ever heard of veal before. Granted, he looked about 17 years old, but still – he works at the meat counter. Something very similar happened at another store later that week when I was looking for pancetta.
I know that I am surrounded by beauty, but I often joke to my husband that I live in "Casserole Country." Don't get me wrong – I have nothing against those who cook like that – I know I'm not a gourmet chef, and I don't claim to be one, but it does get frustrating sometimes when I am trying to find ingredients and cannot find them anywhere. And come on people – meat loaf is not a gourmet meal! So why can't I find meat loaf mix???
So I did improvise. I used 75% ground beef and 25% ground pork. I do what I have to do!
I have actually heard a few people talk about this meat loaf. The meat loaf ingredients themselves don't seem too out of the ordinary, but it differs from any I've had before because the outside of the loaf is covered in bacon. I like bacon, so this sounded like a wonderful recipe!!
But I have to admit that it's not my favorite meat loaf I've ever had. I think my favorite part of meat loaf is the crusty exterior, and because you have the bacon on the outside, you don't get that crust. I loved the taste of the bacon with the meat loaf, but I missed that extra texture. The sauce is wonderful – you get the familiarity of ketchup, but a little more grown up. And overall, the meat loaf tasted great, but probably not the recipe I would turn back to when my husband allows me to make meat loaf again. We ended up bringing dinner over to my in-laws, so I just snapped a picture while at the table, so it's not the best photo!
Meat Loaf with Brown Sugar-Ketchup Glaze
A traditional meat loaf, but it's covered in bacon!
Ingredients
GLAZE
½ cup ketchup
¼ cup brown sugar
4 teaspoons cider or distilled white vinegar
MEAT LOAF
2 teaspoons vegetable oil
1 medium onion, chopped
2 medium garlic cloves, minced or pressed through a garlic press
2 large eggs
½ teaspoon dried thyme
1 teaspoon salt
½ teaspoon ground pepper
2 teaspoon Dijon mustard
2 teaspoon Worcestershire sauce
¼ teaspoon hot pepper sauce
½ cup whole milk or plain yogurt
2 pounds meat loaf mix (50 percent ground chuck, 25 percent ground pork, 25 percent ground veal)
⅔ cup crushed saltine crackers (about 16)
⅓ cup minced fresh parsley leaves
8 ounces (8 slices) bacon
Instructions
Make the Glaze:
Combine the ketchup, brown sugar and vinegar in a small saucepan. Set aside.
Make the Meat Loaf:
Preheat the oven to 350F. Cover a baking sheet with foil and set aside.
In a skillet, heat the oil over medium heat. Add the onion and garlic and saute until soft.
In a medium bowl, combine the eggs, thyme, salt, pepper, mustard, Worcestershire sauce, hot pepper sauce and milk.
In a large bowl, combine the meat mix, crackers, parsley and cooked onion and garlic mixture. Add the egg mixture and mix lightly until combined.
Turn the mixture onto the foil lined baking sheet and shape into a loaf about 9x5-inches. Brush half of the glaze on top of the loaf. Place the bacon strips crosswise over the loaf, overlapping slightly. Tuck the edges under the loaf.
Bake until the bacon is crisp and the internal temperature of the loaf is 160F, about 1 hour. Cool for at least 20 minutes.
Place the remaining glaze in a small saucepan until slightly thickened. Slice the meat loaf and serve with the glaze.
**NOTE – I've always spelled it "meatloaf" but this cookbook has it as 2 separate words – meat loaf. So I decided to go with the book – I don't know if one is right or wrong!!