Coconut Curry Chicken is made easy by using cooked rotisserie chicken. This is a great weeknight meal filled with lots of flavor.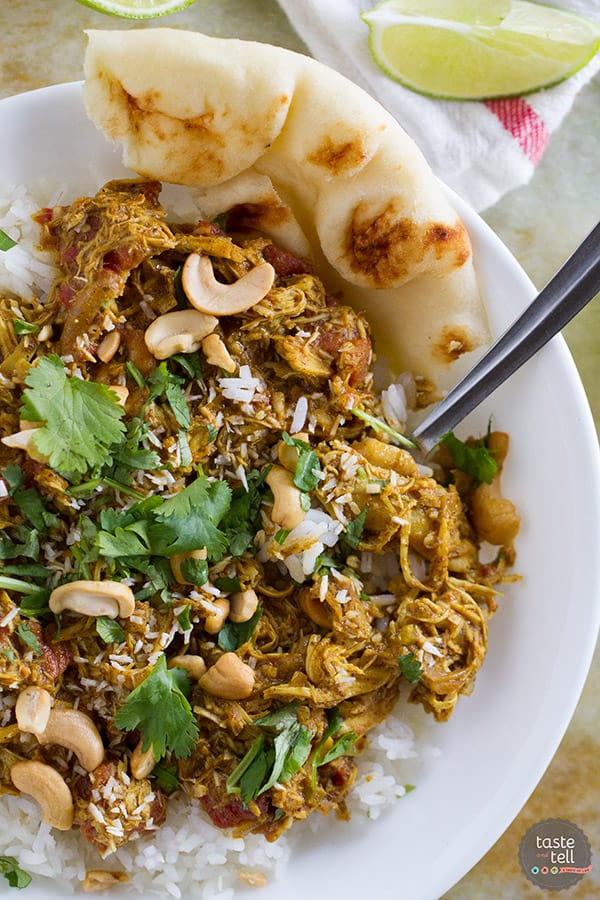 Yum

I have always had a love affair with shredded chicken. For years here on Taste and Tell, I've been talking about what a lifesaver having shredded chicken in my freezer at all times is for me. And I know you all are as passionate about it (and the easy meals that come from it) as well, as my post on 24 Ways to Use Shredded Chicken has been one of my most popular posts for years.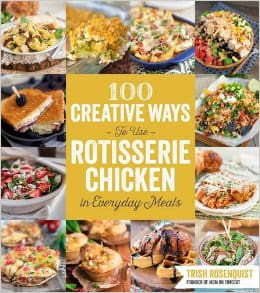 So you can imagine how excited I was when I heard that my friend Trish Rosenquist, from the blog Mom on Timeout, was writing a book all about different ways to use rotisserie chicken – 100 Creative Ways to Use Rotisserie Chicken in Everyday Meals. I knew from the beginning that I would love it.
I eagerly waited, and couldn't stop flipping through the pages once I finally had it in my hands. You guys – this book is going to become a lifesaver. 100 recipes – everything from 5 ingredient or less meals to 20 minute dinners to slow cooker suppers. Just pick up a rotisserie chicken on the way home, and dinner is super easy and delicious. And I love that I can swap in my frozen shredded chicken for the recipes. There is a wide variety of recipes, so I don't see myself getting bored of this book anytime soon!
Here are the details:
Number of Photos: lots. Almost every recipe has a full page photo, and they make you want to jump in and eat!!
Difficulty Level of Recipes: easy. These are everyday meals, for everyday people. This is going to be your go-to resource for easy weeknight meals.
Availability of Ingredients: easy. You should be able to find all of the ingredients in any well-stocked grocery store.
Other recipes I want to try:
Baked Chipotle Chicken and Black Bean Flautas
Pesto and Spinach Chicken Tortellini Skillet
BBQ Chicken Nachos Crescent Braid
Chicken Enchilada Casserole
Blackberry Brie Grilled Cheese Sandwich
Tzatziki Chicken Salad Pita Pockets
Creamy Chicken and Wild Rice Soup
Buy 100 Creative Ways to Use Rotisserie Chicken in Everyday Meals on Amazon.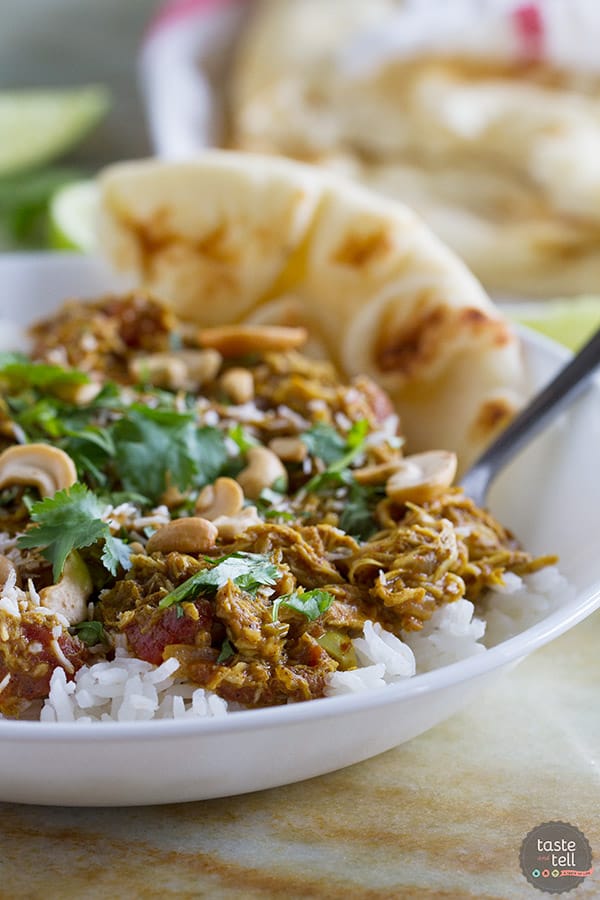 I seriously want to make every single recipe in this book, but I had to choose a starting place. And for some reason, I kept coming back to this Coconut Curry Chicken. I do love a good curry, but I almost talked myself out of featuring this recipe because I've already posted a Curried Coconut Chicken recipe. But I decided that they are just different enough, plus I love the ease of this recipe because of the use of rotisserie chicken.
This Coconut Curry Chicken was so easy and exactly what I was looking for. I don't make a lot of curry because my husband isn't the biggest fan, so all I had on hand was some grocery store curry powder. And while it worked just fine, I know that the curry powder that you use in this recipe could greatly affect your end result. For best results, use your favorite curry powder, although using just the grocery store curry powder still gave me a curry that was so full of flavor.
Trish served her curry up topped with green onions, but I love curry topped with lots of cilantro, so I subbed in cilantro for the green onions. And I may have used some extra cashews. 🙂 I devoured this curry, and the leftovers were even better. I seriously want to make a big batch of this and store it away for lunches forever.
I can't wait to cook my way through this book. I know it won't stay on my shelf for long – it will be getting use in the kitchen!



Like what you see here? Make sure you are following Taste and Tell for more recipes and ideas!
Facebook | Pinterest | Instagram | Twitter | Google+ | Weekly Newsletter | Feedly | Bloglovin
Print
Coconut Curry Chicken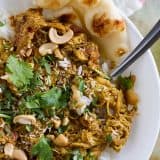 Coconut Curry Chicken is made easy by using cooked rotisserie chicken. This is a great weeknight meal filled with lots of flavor.
Author:
Prep Time:

10 mins

Cook Time:

50 mins

Total Time:

1 hour

Yield:

6 servings
Ingredients
1 tablespoon vegetable oil
3 tablespoons curry powder
1/2 onion, thinly sliced
3 cloves garlic, crushed
1/2 teaspoon salt
1/2 teaspoon freshly ground black pepper
1/2 teaspoon paprika
2 cups diced rotisserie chicken
1 (14.5 oz) can undrained stewed tomatoes
1 (13.5 oz) can lite coconut milk
2 tablespoons brown sugar
1 teaspoon freshly grated ginger
juice from 1/2 lime
1/2 cup shredded coconut
1/2 cup crushed cashews
cooked rice
sliced green onions and/or fresh cilantro
Instructions
Heat the oil in a large skillet over medium-high heat. Add the curry powder and cook, stirring frequently, for 5 to 6 minutes. Add the sliced onion and continue to cook, stirring occasionally, until the onion is translucent, 4 to 5 minutes. Add the garlic, salt, pepper and paprika and cook for 1 more minute.
Add the chicken and stir to coat it with the mixture. Add the stewed tomatoes, coconut milk, brown sugar and ginger. Stir to combine and bring to a simmer. Cook, uncovered, for about 40 minutes, stirring occasionally, until the curry has thickened as much as you would like. Stir in the lime juice, coconut and cashews.
Serve the curry over cooked rice. Garnish with green onions and/or cilantro and additional coconut and cashews, if desired.
Useful Products for this Recipe:

Don't miss a thing! Follow me on Pinterest to see what I'm pinning!
Visit Taste and Tell's profile on Pinterest.