Recipe for moist and flavorful chicken drumsticks baked in the oven.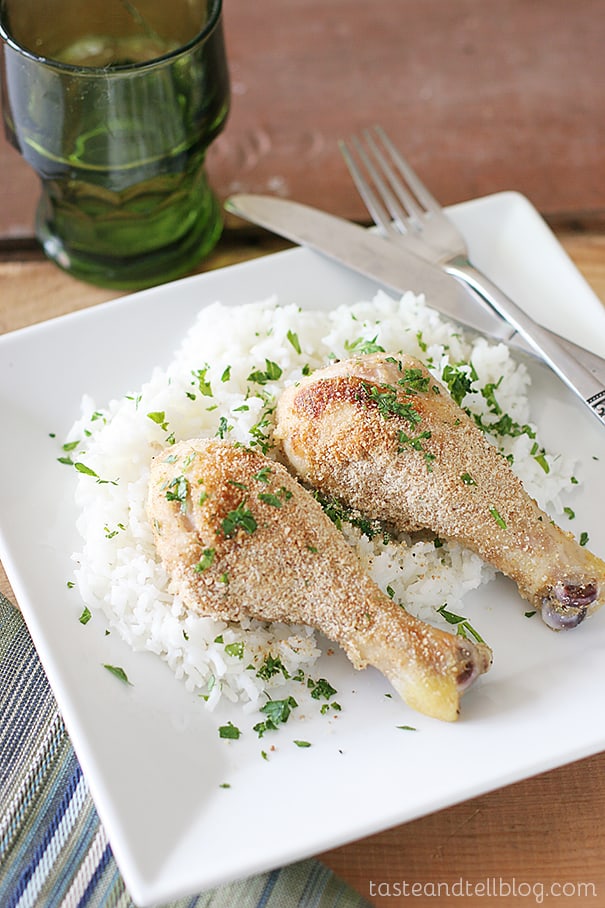 I think that sometimes people think that just because you are a food blogger, you know a lot about food. I will be the first to admit that there is a lot about food that I don't know. I like food, and I love trying new recipes, but when it comes down to technicalities – I'm not sure if I'm going to know the answer. And the only reason I even know what a lot of the more exotic ingredients are is because I'm addicted to all of the foodie shows on the Travel Channel. It doesn't mean I've eaten them before!!
My big cooking secret is that I struggle making chicken. I make chicken at least once a week, but I have such a hard time making it so it is moist. And I'm always on a quest to find a great recipe where I don't have to worry about dry chicken. And I have finally made a recipe that keeps the chicken super moist and flavorful!
My secret for this super flavorful, moist chicken? It's a new product from Knorr that will be coming out soon. This is seriously a cool product. It is concentrated chicken stock. The reason I am so excited about it is because not only does it make a delicious stock, but it can be combined with other liquids – like apple juice in this recipe – to create a whole new flavor to add to your food without adding additional liquid. Or you can use less liquid for a more concentrated flavor. The possibilities are endless!! The apple juice in this recipe gives the chicken a little extra something in the background – it is definitely not an overpowering flavor. And the breadcrumbs give it a little bit of crunch. Serve these drumsticks up with a side of rice or some veggies, and dinner is on the table with very little effort!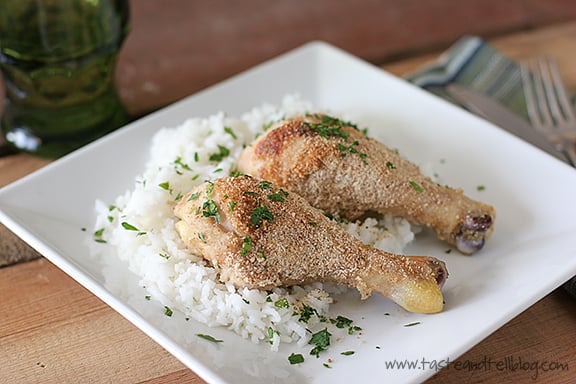 Oven-Baked Drumsticks
Recipe for moist and flavorful chicken drumsticks baked in the oven.
Ingredients
16 chicken drumsticks
1¾ cup apple juice
1 tub Knorr Homestyle Stock
¼ cup Italian-style dry bread crumbs
chopped flat leaf parsley, for garnish
Instructions
Preheat the oven to 375F.
Lay the chicken drumsticks in a single layer on a 10×15-inch pan with high sides. Whisk together the apple juice and the tub of Knorr Homestyle stock. Pour evenly over the chicken. Cover the pan with foil and transfer to the oven. Cook, covered for 30 minutes.
After 30 minutes, remove the pan from the oven and remove the foil. Sprinkle on the breadcrumbs and return the pan to the oven. Cook an additional 30 minutes, or until an internal temperature of 165° is reached.
Sprinkle with the parsley and serve.
Disclosure: I was provided with a free sample of Knorr Homestyle Stock but all opinions are my own.