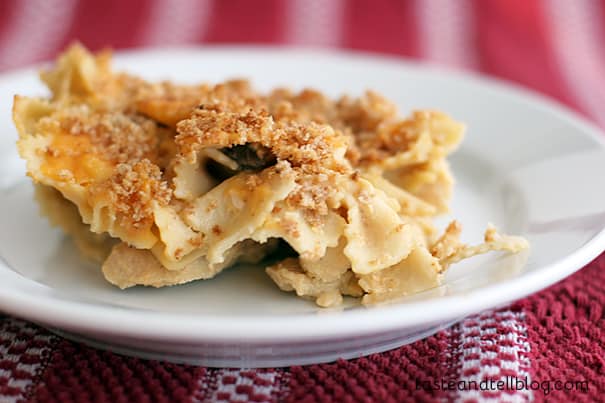 Sometimes things just don't go as planned…
I typically like to choose recipes that are fast and fairly healthy for weeknights. If we splurge, it will usually be on the weekend. And I've also been trying to be better at a little menu planning, even if it is only planning for 3 meals at a time.
Last week, I had planned out a few meals. One that I had planned was a basil pesto pasta dish, which I thought I'd use my basil to make my own pesto as sort of a farewell to summer. And let me tell you – I'm not really in my right mind these days anyway, so it didn't really phase me when we had our first little snowstorm the weekend before. I got home from work and went to make dinner. I stepped out into the garden to find a huge, brown, totally dead basil plant. I thought to myself that I should have known better!! So the meal I had planned for dinner that night was down the drain.
I had defrosted some chicken, and we had to eat, so I went into back-up mode, which I'm not usually very good or successful at. I started pouring through cookbooks, looking for a recipe that I could make where I had everything on hand. What I ended up with was a recipe that is neither really fast nor healthy, but I had everything, and it was delicious!!
When I say this isn't the healthiest dish, I'm not kidding. 1/4 cup of butter and 4 cups of cheese. Yes, 4 cups. The good thing, though, is that it makes a large casserole dish full, so we actually got about 4 servings each from it over the next few days. So I guess 1/2 a cup of cheese each serving isn't that bad!
Cheesy Chicken Tetrazzini
adapted from Favorite Recipes the Costco Way (2007)
Serves 8-10
1/4 cup unsalted butter
3/4 pound mushrooms, sliced
2 garlic cloves, minced
salt and pepper
1/4 cup all-purpose flour
2 cups chicken broth
1 cup half and half or whole milk
4 cups shredded medium cheddar cheese
1/2 pound pasta, cooked, drained (we used farfalle, because we had it!)
4 cups cooked chicken torn into bite size pieces
1 1/2 cups toasted fresh bread crumbs
Preheat oven to 350F.
Melt butter in a large saucepan over medium-high heat. Add mushrooms, garlic, 1/4 teaspoon salt and 1/8 teaspoon pepper. Saute until liquid evaporates, about 12 minutes.
Reduce heat to medium. Sprinkle in flour and cook, stirring, for 1 minute. Gradually add broth and half and half, stirring until blended. Reduce heat and simmer until thickened, 3-5 minutes.
Remove from heat. Add 3 cups cheese, stirring until cheese melts. Add 1/4 teaspoon salt and 1/8 teaspoon pepper. Stir in pasta and chicken. Pour into a buttered shallow 3 quart baking dish.
Mix remaining cheese and bread crumbs; sprinkle over casserole.
Bake, uncovered, until the sauce bubbles and the top is lightly browned, 35-40 minutes.