50 Mocktail Recipes – non-alcoholic drink recipes that are the perfect way for the whole family celebrate together!
If you want more drink recipes, like hot chocolate or a smoothie, make sure you check out all of my drink recipes!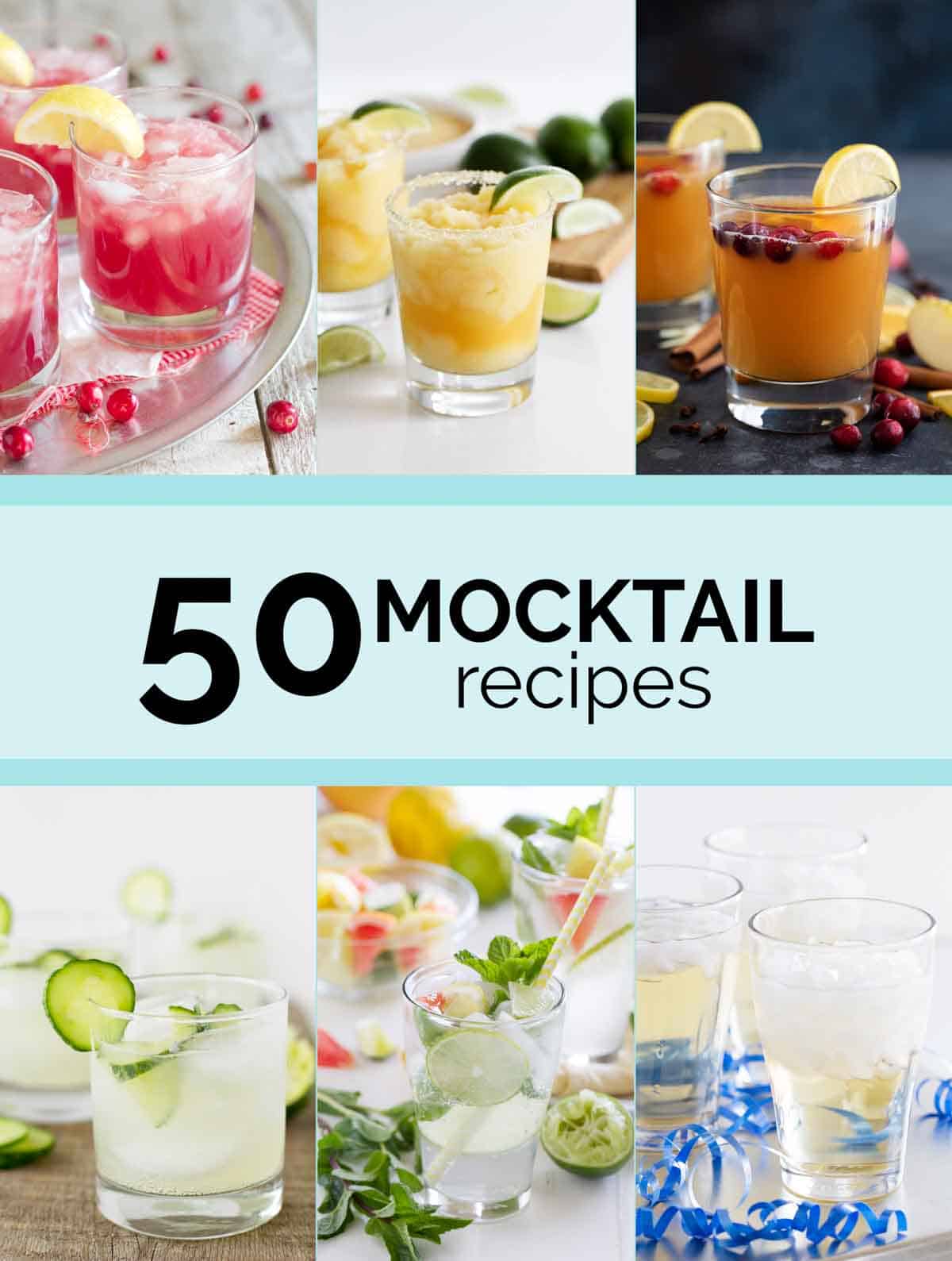 We are knee deep in the holiday season. So what better time to talk about all of the great mocktails you can make – the perfect way to celebrate with the whole family!
Since we aren't drinkers, I thought I'd round up 50 great ideas for drinks to celebrate with. If you are going non-alcoholic, it doesn't mean you can't have fun drinks, and I'm here to prove that today with these 50 mocktail recipes!
What is a Mocktail?
Basically, a mocktail is a non-alcoholic version of a cocktail. But really, in this round up I just wanted fun drinks that the whole family could enjoy. Some are based off of cocktail recipes, some are fruity concoctions, and some are a little bit more sophisticated. These mocktails are perfect for when you are serving kids and adults, for holiday parties, and many of these would be perfect for baby showers or birthday parties.
50 Different Mocktail Recipes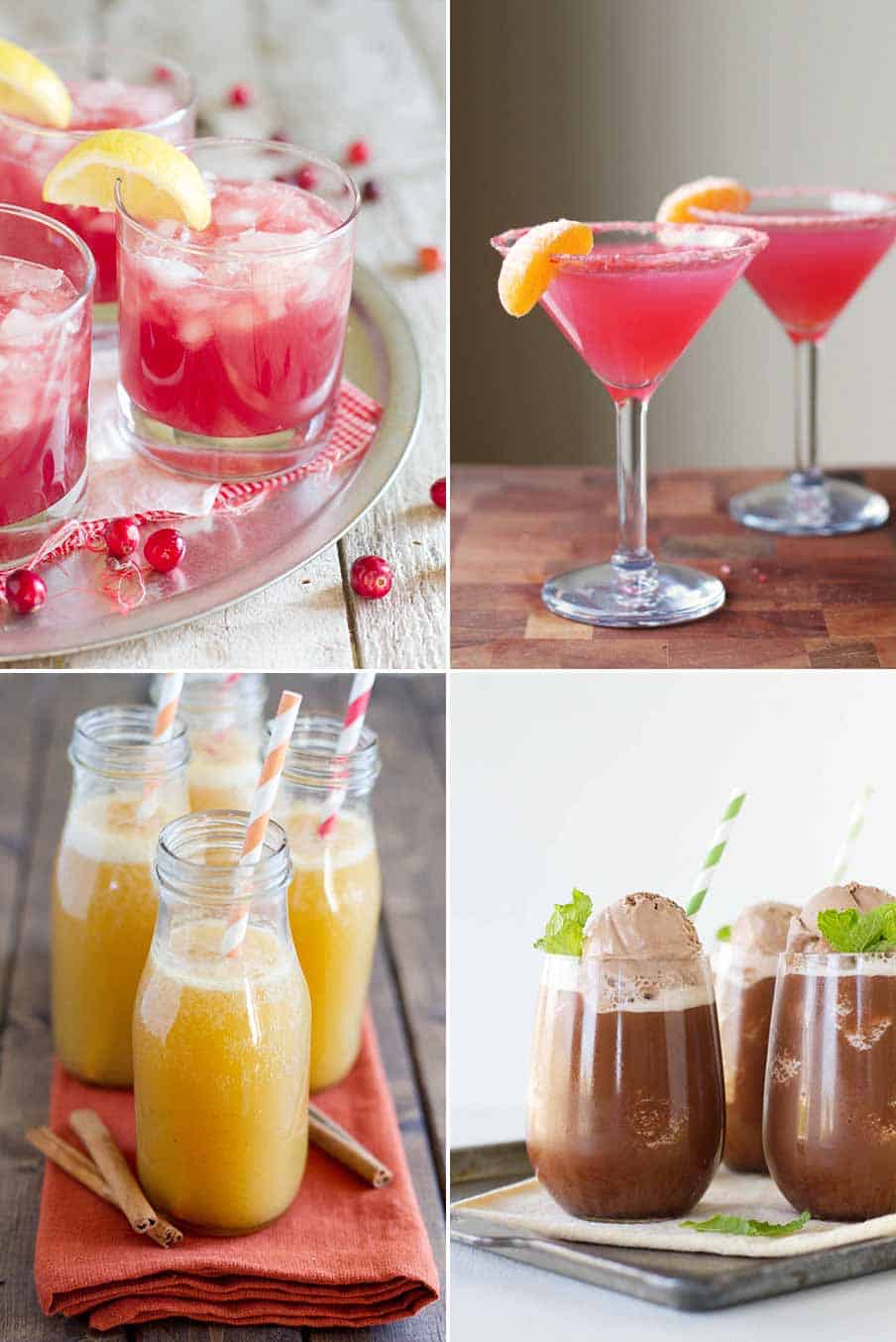 Sparkling Cranberry Punch from Taste and Tell – This is one of my very favorites. It comes together so fast, and that pink color is so gorgeous!
Cranberry Cutie from This Week For Dinner – this one not only looks festive, but it's gorgeous as well!
Spiced Cider Punch from Taste and Tell – I love that this one is served cold. And that it really packs a punch of flavor!
Iced Chocolate from Taste and Tell – chocolate lovers will go crazy for this indulgent drink complete with a scoop of gelato.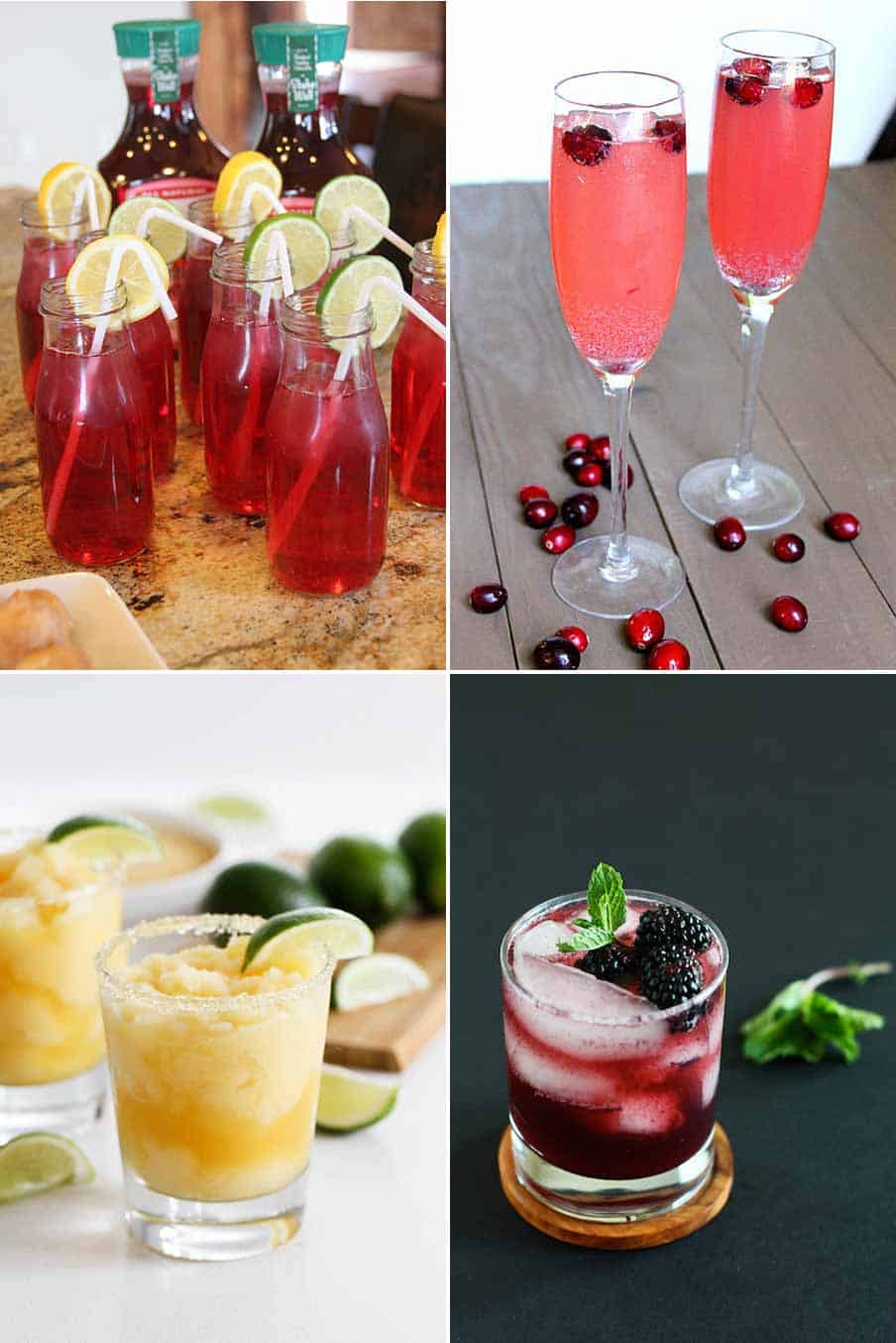 Cranberry Spritzer from Taste and Tell – all you need are 2 ingredients for this super easy mocktail recipe!
Cranberry Apple Spritzer from Belle Vie – I obviously have a thing for cranberry mocktails, and this sounds like another fantastic one!
Virgin Frozen Margaritas from Taste and Tell – Margaritas aren't just for Taco Tuesday!
Blackberry Vanilla Mocktail from La Fuji Mama – you can't tell me this doesn't look fantastic! Blackberries and vanilla seem like a match made in heaven.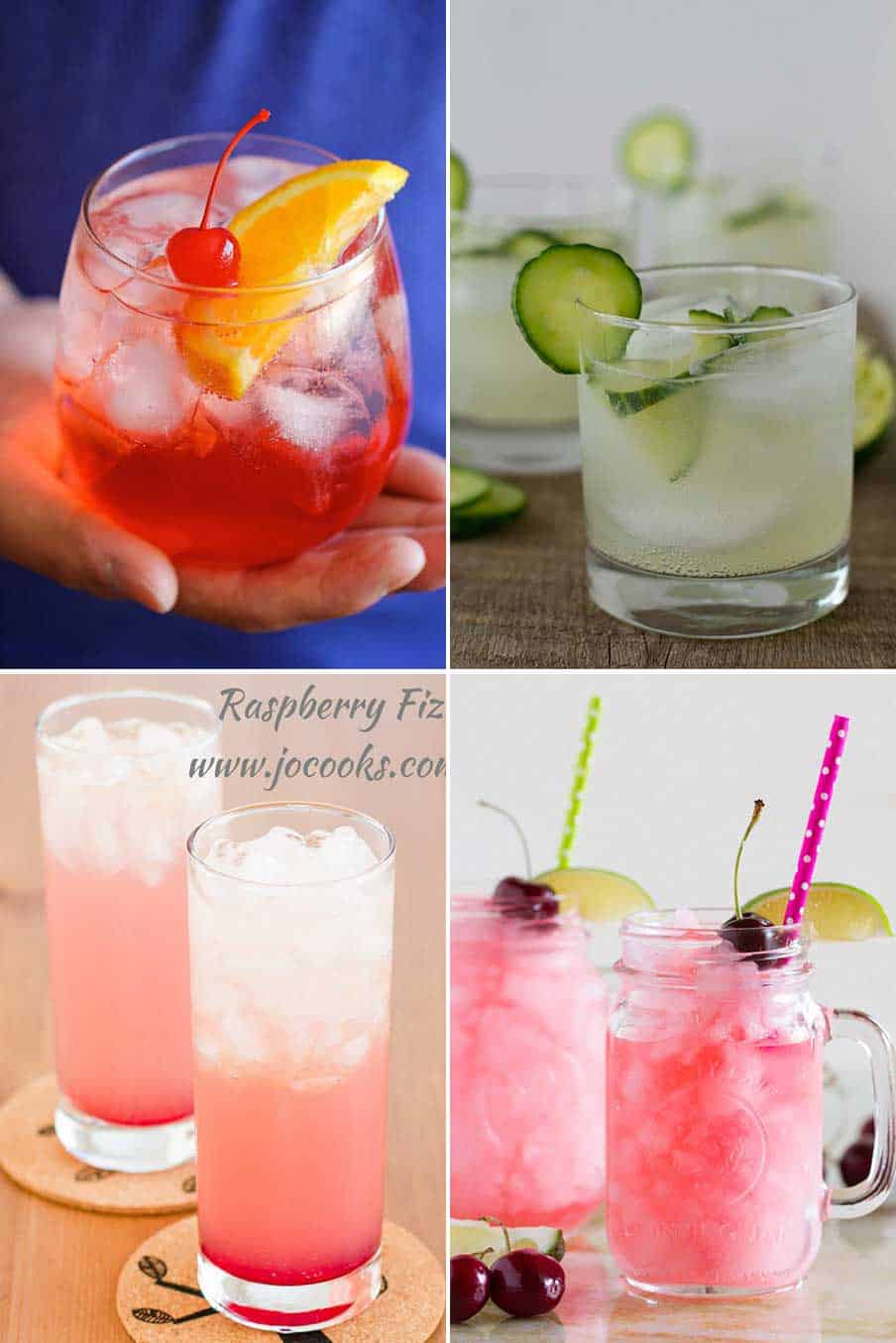 Shirley Temple from Damn Delicious – The most simple, yet maybe one of my favorites – the classic Shirley Temple!
Sparkling Cucumber Limeade from Taste and Tell – cucumber, mint and limeade – such refreshing flavors – this one doesn't have to be just for summer!
Raspberry Fizz from Jo Cooks – only 4 ingredients make up this refreshing mocktail that's great all year round!
Homemade Slurpee Recipe from Taste and Tell – this isn't as much of a mocktail as it is just a fun drink, but I love how adaptable this is. You could make so many flavors!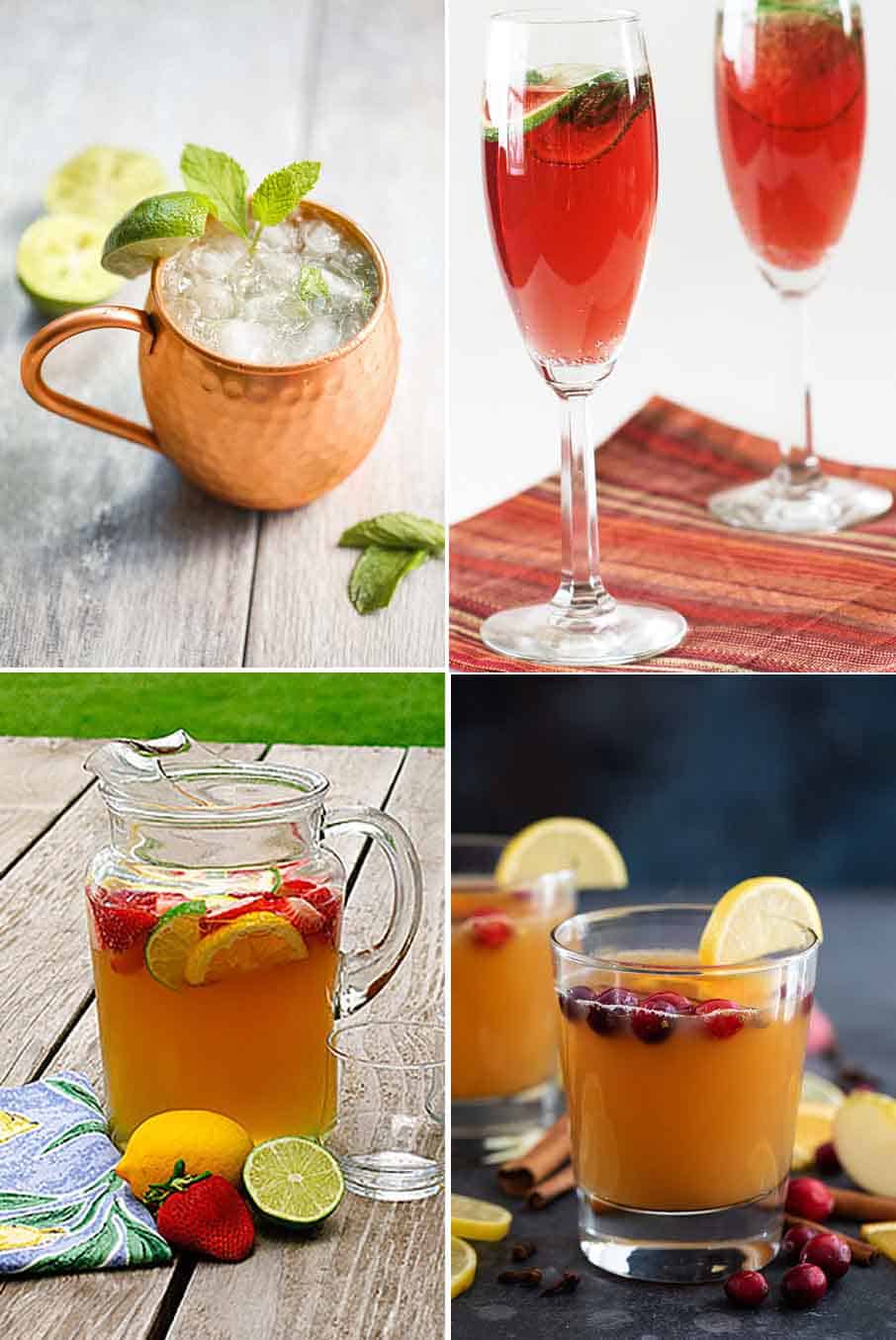 Moscow Mule from Our Best Bites – I want to make this one just for the mug!
Virgin Pomegranate and Cranberry Bellinis from Taste and Tell – Both sweet and tart, these Virgin Pomegranate Cranberry Bellinis are a delicious mocktail for any celebration!
Non-Alcoholic Sangria from Real Mom Kitchen – I love all of the fruitiness of this one, and I bet that mint simple syrup is so refreshing!
Hot Apple Cider from Taste and Tell – Apple cider, citrus juice and spices make up this drink that will warm you up from the inside out.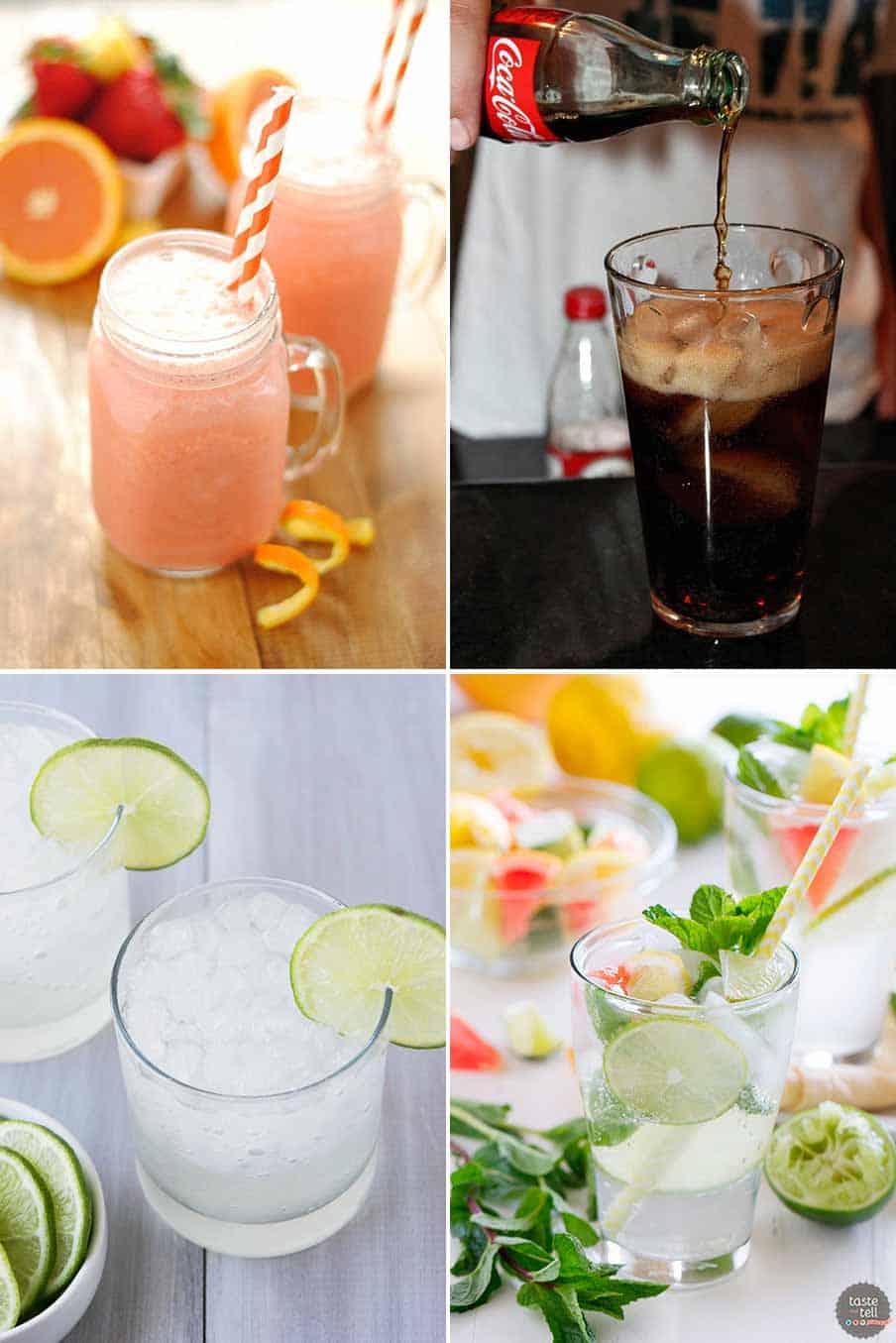 Strawberry Pineapple Shaker Upper from Something Swanky – this looks like the perfect way to have a taste of summer any time of year!
Roy Rogers from Recipe Boy – the opposite of a Shirley Temple – this Roy Rogers is sure to please!
Ginger Lime Spritzer from Taste and Tell – Ginger and lime come together in this satisfying and refreshing Ginger Lime Spritzer.
Princess Nojito from Taste and Tell – Not your normal mojito!! This non-alcoholic Nojito mocktail is based off of the nojito served on Princess cruises.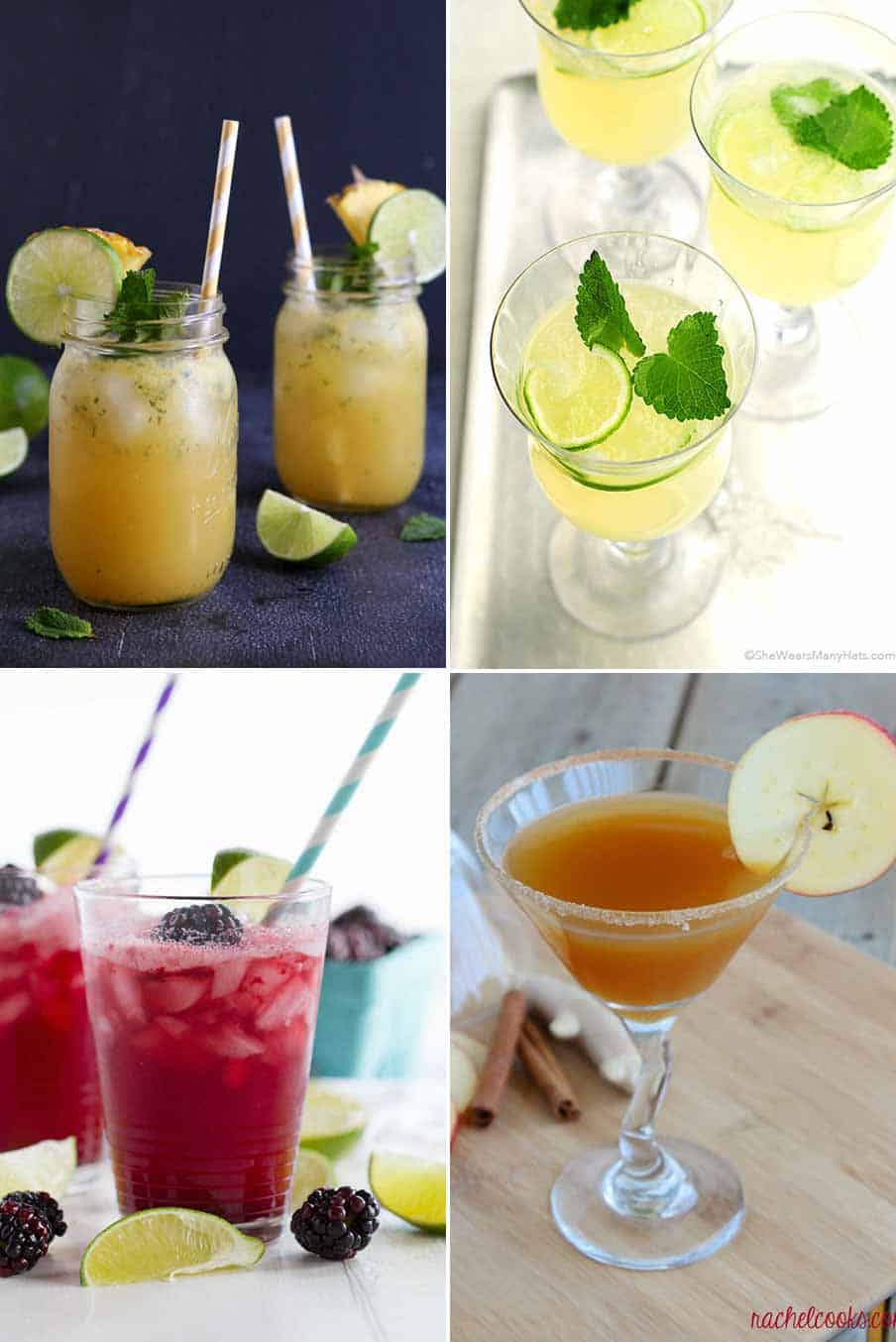 Non-Alcoholic Juicy Julep from Completely Delicious – I'll take this drink anytime – derby or not!
Honey Lemon Balm Spritzer from She Wears Many Hats – I LOVE lemon, so this one is definitely calling out to me!
Blackberry Lime Soda from Taste and Tell – You can make your own fancy soda at home!! This Blackberry Lime Soda is sweet and sour and tart and refreshing – a delicious mocktail!
Ginger-Cinnamon Apple Cider Mocktail from Rachel Cooks – I'm a sucker when it comes to ginger, so I have a feeling this one could be a favorite!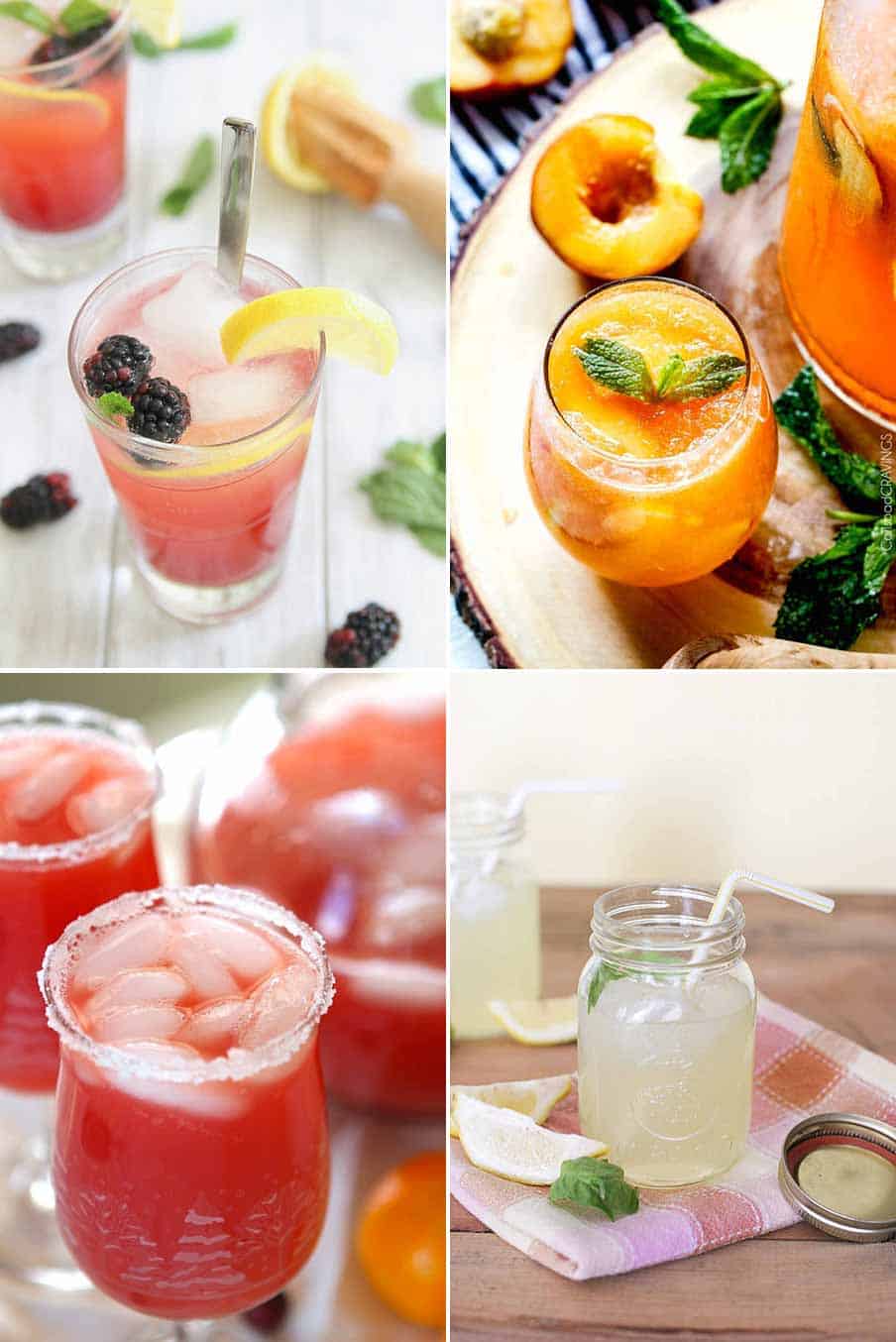 Blackberry Lemon Mocktail from Running to the Kitchen – lemons and berries – you can't beat that flavor combination!
Sparkling Peach Punch from Carlsbad Cravings – I am a peach lover, so I know this peach mocktail will be a family favorite!
Christmas Mocktails from Lauren's Latest – Sweet and fruity, this one would be great for any celebration!
Basil and Mint Lemonade from Taste and Tell – the basil in this simple drink really makes it!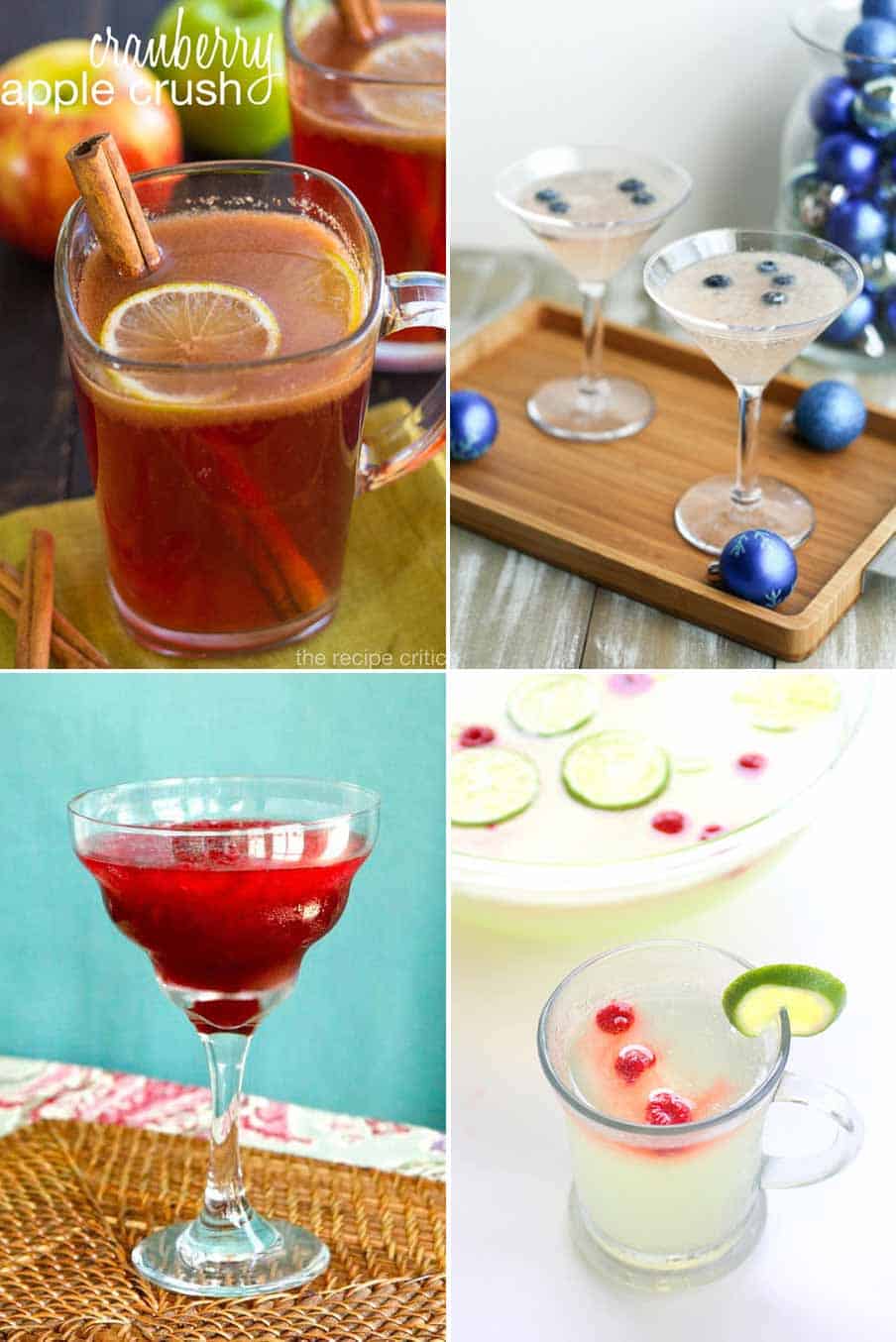 Cranberry Apple Crush from The Recipe Critic – This is a spicy drink that is served warm. Sounds perfect for a cold night!
Frost Bite Mocktail from The Little Kitchen – fruity with a little bit of sour lime added in – this is just the perfect mocktail for a New Year's celebration!
Persian Pomegranate Mocktail from Tori Avey – I love the combination of sweet and tart in this unique mocktail!
Limeade Punch from The Girl Who Ate Everything – This sounds super easy and delicious, but the color is what is calling me!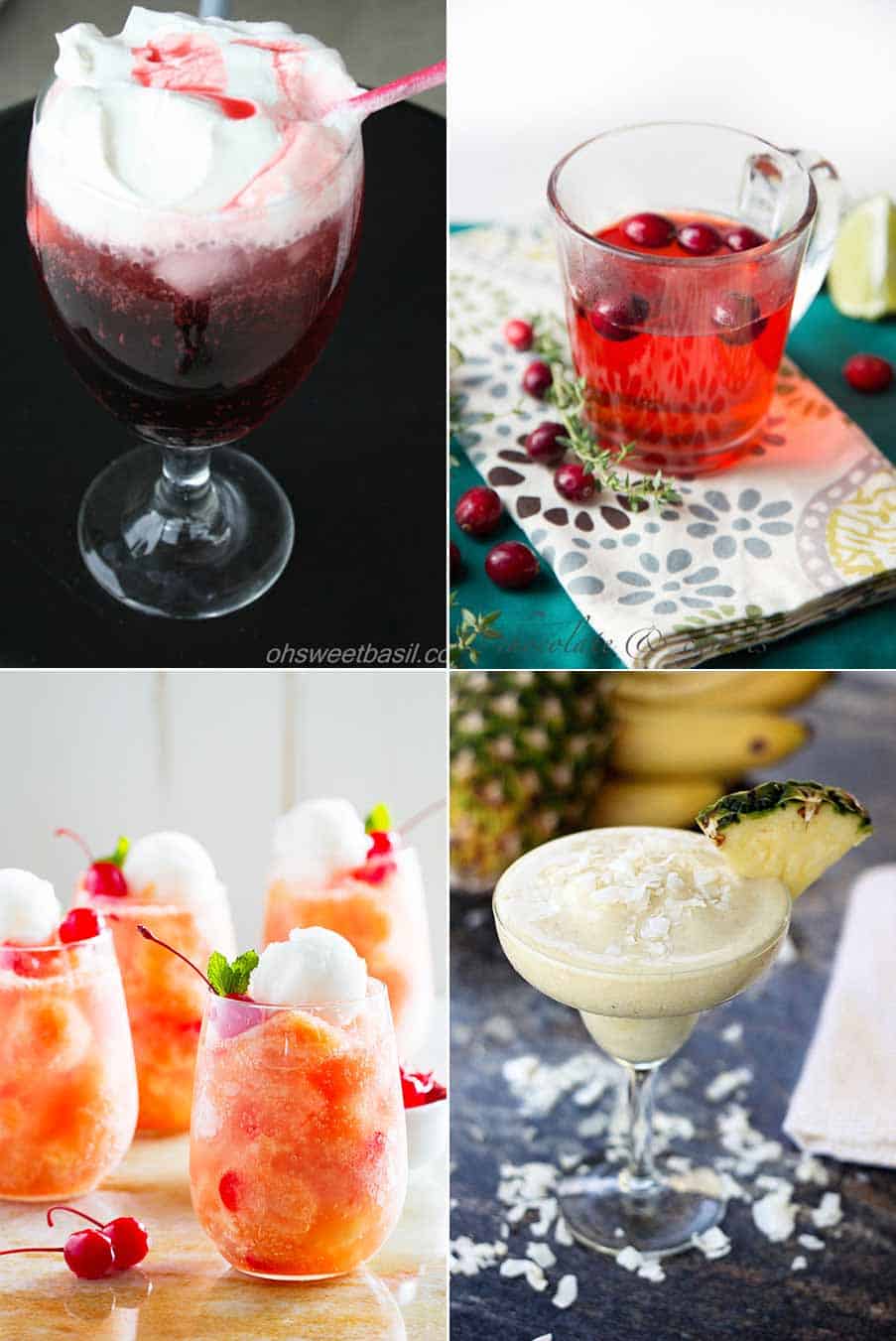 Italian Soda from Oh Sweet Basil – Italian sodas are favorites for adults and kids, so you know this one will be a hit!
Warm Berry Cider from Chocolate and Carrots – I love that this one is warm – sounds amazing!
Fruit Freeze from Taste and Tell – The perfect beverage for when you want to cool down, this one is super easy to make ahead of time, and can feed a crowd.
Banana Pina Colada from Tasty Yummies – I love the addition of the banana to make this a real tropical treat.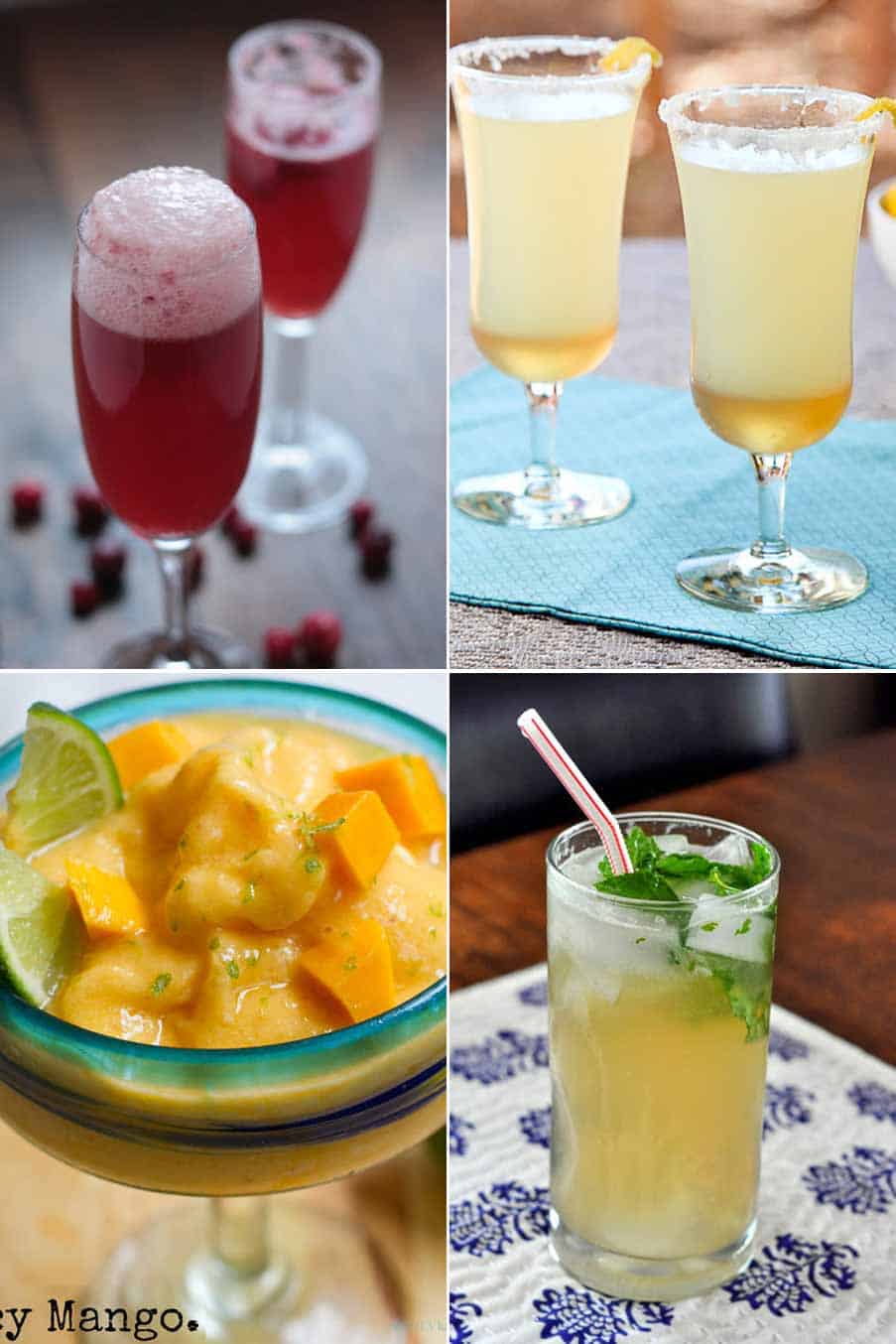 Cran-Raspberry Sorbet Bellini from Country Cleaver – Sorbet in your mocktail? Count me in!
Sparkling Ginger Lemon Mocktail from Snixy Kitchen – There is a fun love story attached to this delicious mocktail, so make sure to head over and read that one!
Juicy Mango Margarita from Healthy Happy Life – This is a drink I could be happy sitting back with!
Ginger Mojito Mocktail from Taste as You Go – I have a secret obsession with ginger, so sign me up for one of these!
The Best Party Punch from No Biggie – this is the perfect beverage for a crowd!
Ginger Ale Mint Limeade from Mel's Kitchen Cafe – Ginger, mint and lime – what's not to love?
Caramel Apple Pie Mocktail from Merry About Town – this would be so perfect for fall, but I know I'd enjoy it year round!
Strawberry Margarita Mocktail from Life Straight Up – fruity and fabulous- this is a must!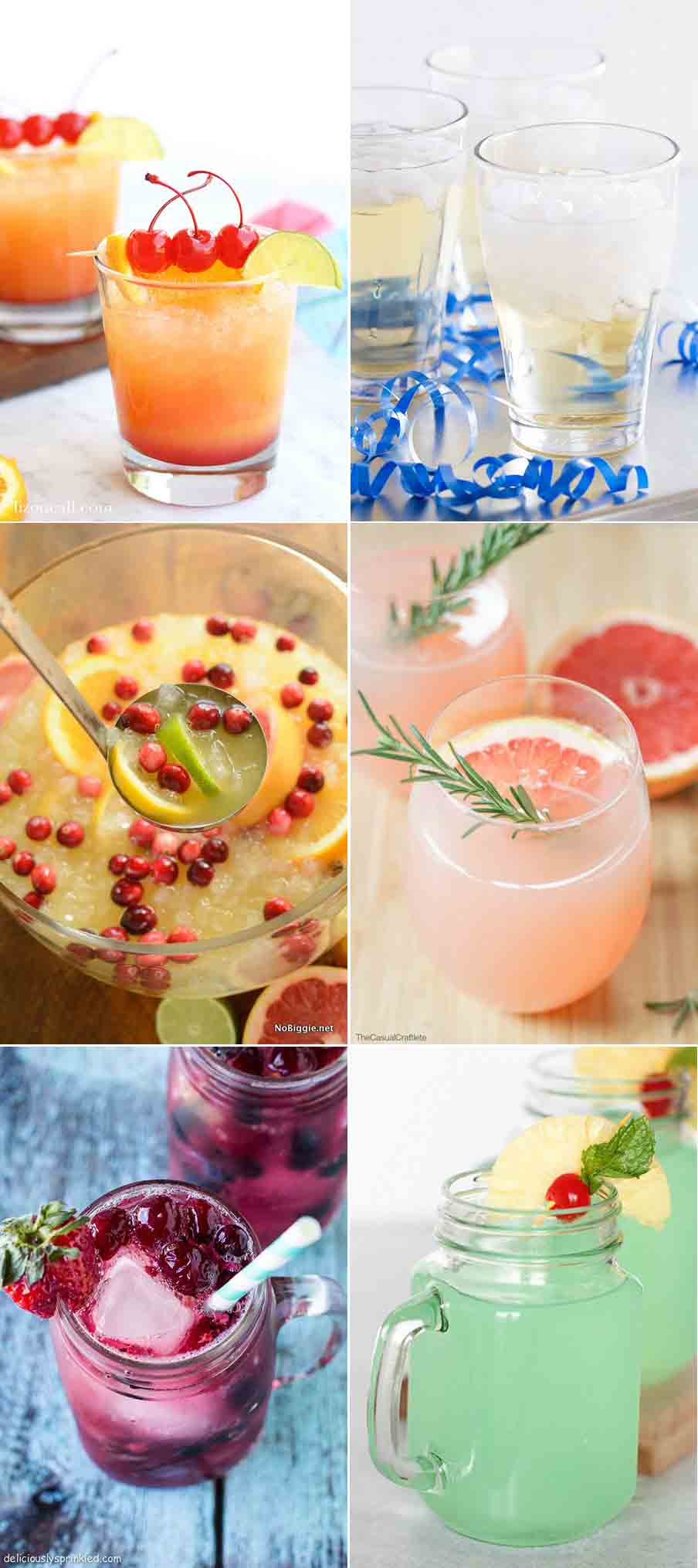 Mai Tai Mocktail from Liz on Call – a super easy mocktail recipe that everyone will love.
Holiday Punch from Taste and Tell – sweet and fizzy, this one is always a kid favorite.
Jingle Juice Holiday Mocktail from No Biggie – if you are looking to serve a crowd, this holiday mocktail is for you!
Grapefruit and Rosemary Mocktail from Purely Katie – I am mesmerized by the pretty pink color in this mocktail! The rosemary simple syrup addition makes this a sophisticated drink – perfect for an adults only party.
Very Berry Spritzer from Deliciously Sprinkled – yes to all the berries!!
Disneyland Mint Julep Copycat from Six Sisters Stuff – I love the Disneyland version, so I know I'd love this copycat at home!