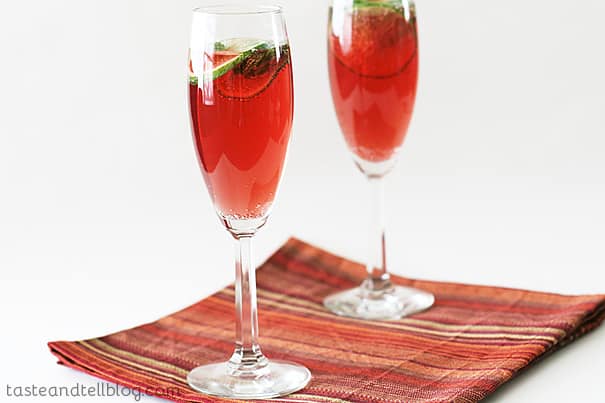 I don't drink alcohol, but that's no reason to not have any fun, "fancy" drinks!! We really just mostly drink water here, but I thought it would be fun to make a fun drink with some of the POM juice. And I'm glad that I did, because this is delicious! This would be great for a holiday dinner or for a celebration – and both kids and adults would love it!
Virgin Pomegranate and Cranberry Bellinis
from Everyday Italian
1 1/2 cups simple syrup, recipe follows
1 1/4 cups POM juice, chilled
1 cup unsweetened cranberry juice, chilled
1 (25.3 fluid ounces) bottle sparkling water, chilled
2 limes, thinly sliced
1 bunch fresh mint, for garnish
In a 6 to 8 cup capacity pitcher, combine the POM juice, cranberry juice and sparkling water.
To each glass, add a slice of lime and a sprig of mint. Pour the bellini mixture into the prepared glasses and serve.
Simple Syrup
makes 1 1/2 cups
1 cup water
1 cup sugar
In a saucepan, combine water and sugar over medium heat. Bring to a boil, reduce heat and simmer for 5 minutes, stirring occasionally, until sugar has dissolved. Take the pan off the heat and allow the syrup to cool.