Decadent and perfect for summer, this Iced Chocolate is perfect for company or just for a summer night.
Love a good, easy, frozen treat? Also check out this Pineapple Dole Whip Recipe or this Fruit Batido!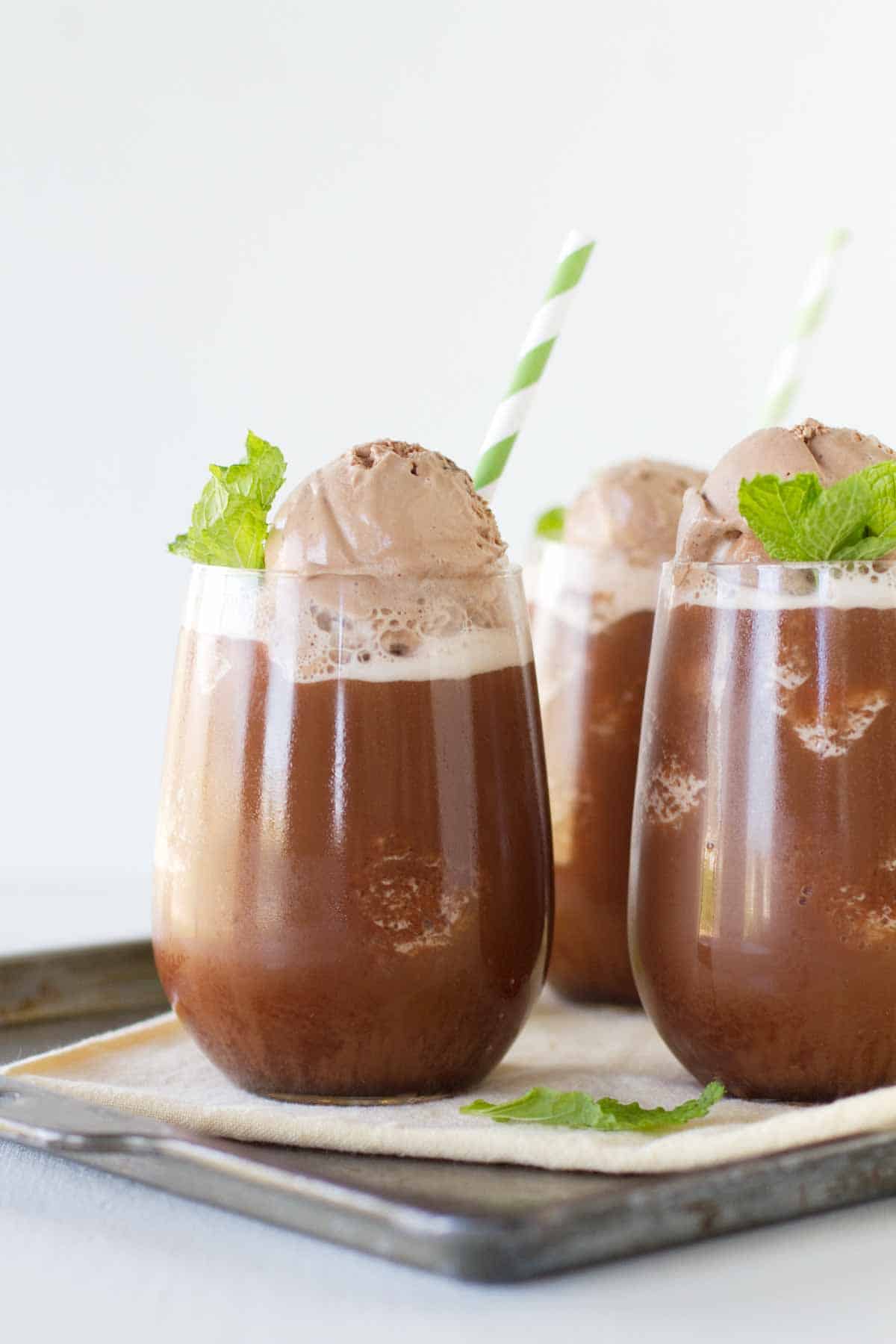 I mentioned last week that I am trying to work through my summer bucket list. Well, we are already onto number 2!
I'm not normally a fancy drink kind of girl. Give me water or a diet Coke and I'm a happy girl. But every once in awhile, you need a little splurge.
Now, I'm not even sure if I should classify this treat as a drink or dessert, but either way, you definitely need to put this on your summer bucket list. I saw this on a local news/lifestyle show quite a while ago, and immediately went online to look up the recipe and save it. I knew that I needed to make this happen. It's different, it's frozen, and it's a chocolate lover's dream.
If I were an entertainer, I could totally see serving this at the end of a dinner party. The mixture can be made up in advance, and then all you would need to do is add it to a blender with some ice, and then top it with the chocolate gelato. Believe me – I'm pretty sure your guests would be totally impressed. But since I'm not an entertainer, I served it up to my kids and my husband, and between the 4 of us, we downed the whole batch. And my husband still wanted more!
If you are still adding to that summer bucket list, this is one that definitely needs to go on there. And even if you aren't, you should make an exception and add this!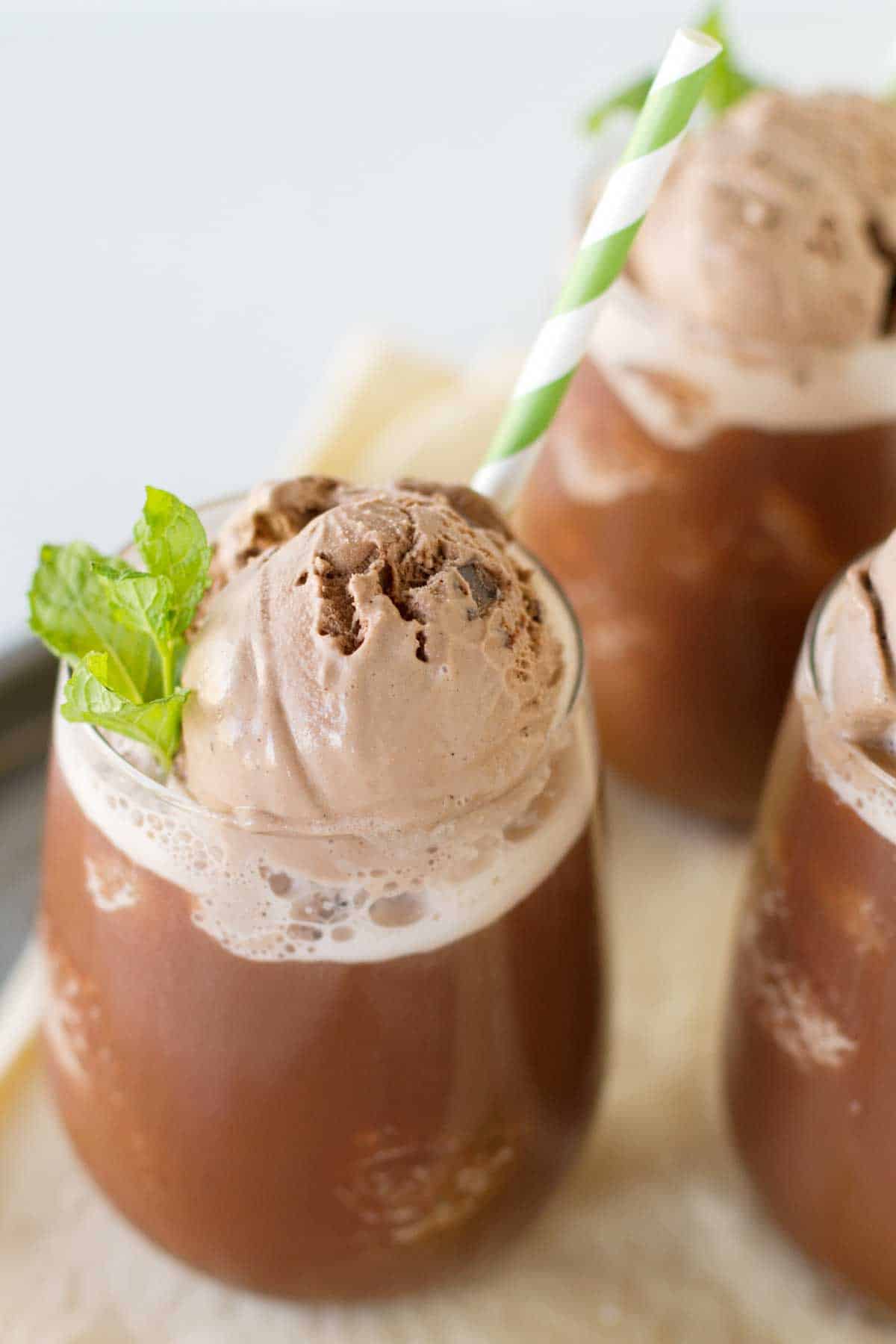 More Summertime Treats:
Lemon Meringue Hand Pies
Strawberry Cream Floats
Lemon Ice Cream
Banana Split Cupcakes
Peanut Butter Banana Icebox Cake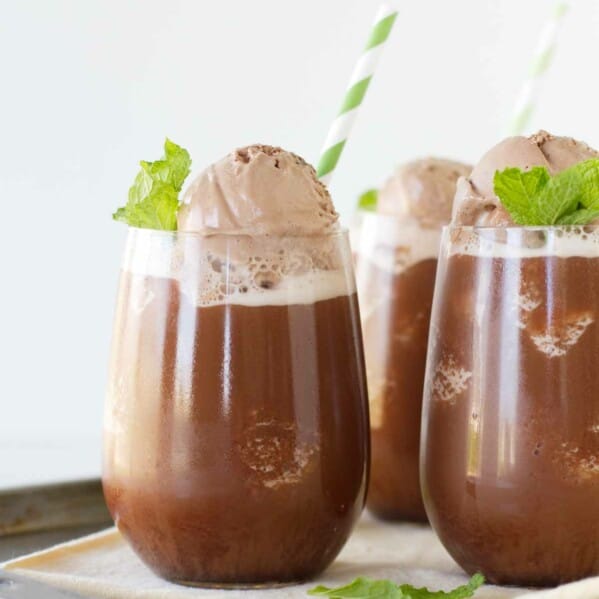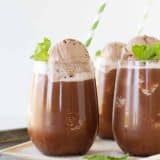 Iced Chocolate
---
Author:
Prep Time: 15 minutes
Total Time: 30 minutes
Yield: 4 servings 1x
Category: Drink
Method: No Bake
Description
Decadent and perfect for summer, this chocolate drink is perfect for company or just for a summer night.
---
Scale
Ingredients
3/4 cup hot water
1/2 cup super fine sugar
1/4 cup good quality unsweetened Dutch processed cocoa
1 teaspoon chocolate extract
1 cup milk
2 cups ice
Club soda
Chocolate Gelato, slightly softened
Fresh mint
---
Instructions
Place the hot water, sugar, cocoa and extract in a blender and blend until smooth. Add in the milk and blend to combine. Set aside to cool completely.
Add the ice to the chocolate mixture. Blend until it is frothy and slush-like, adding more ice if needed.
Pour a splash of club soda into the bottom of each glass. Fill the glass with the chocolate mixture, leaving about 1 inch of space at the top. Place a small scoop of chocolate gelato on top. Garnish with fresh mint.