Perfect for a party, this Fruit Freeze is easy to make ahead and is a special treat for a crowd.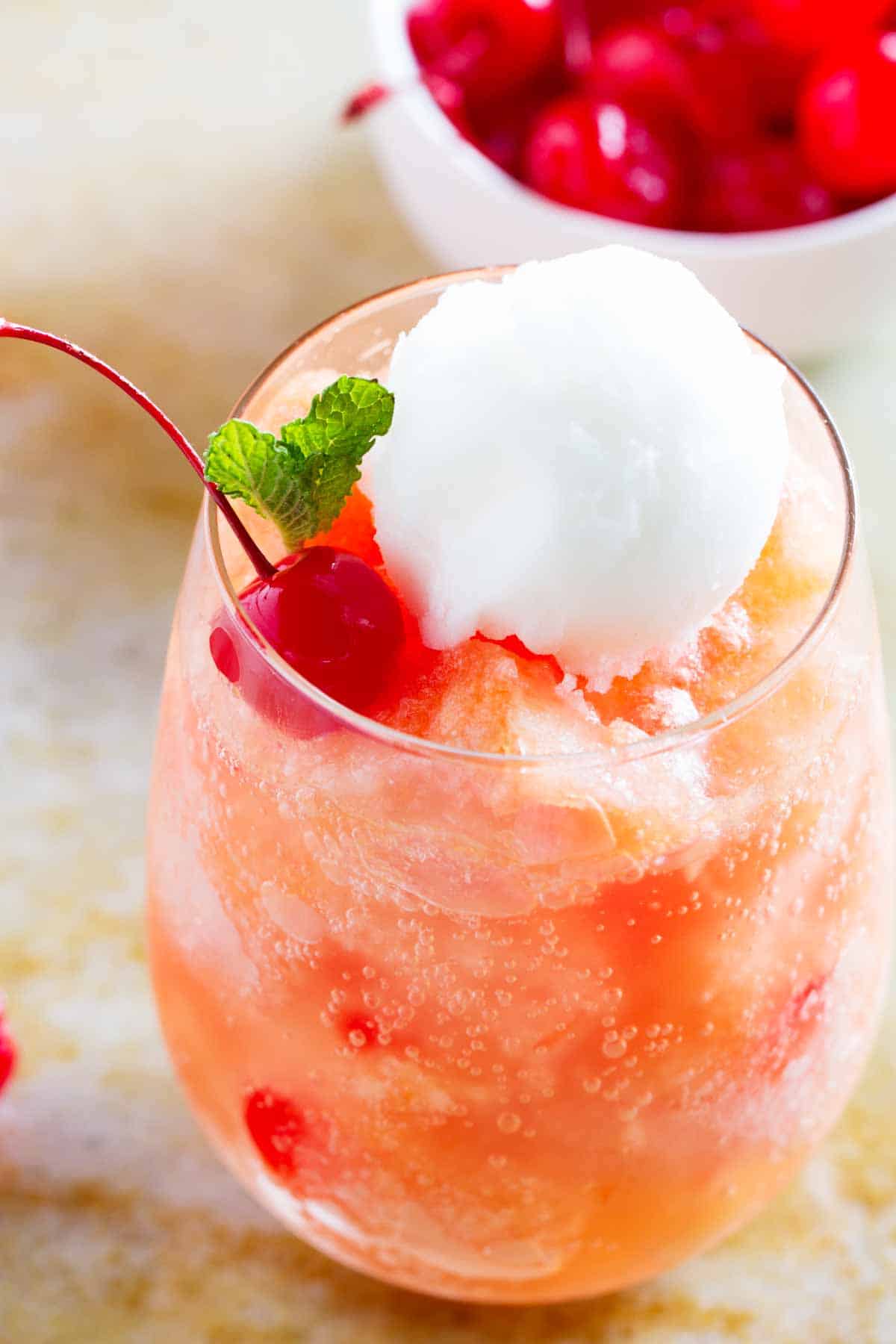 I am so excited to be sharing a recipe here today in honor of a wonderful blogging friend – Joanne from Fifteen Spatulas – and her new baby boy, James. I have such a soft spot in my heart for new little babies, and I was so excited when I heard that Joanne was expecting.
I feel like it was just yesterday that I was welcoming in my first baby, and I remember the excitement and anxiety and overall love that pulsed through my veins. It is such an exciting time. And as much as I love my crazy little brood, there is just something special about those first days, weeks, months of being a first time mom. It's something that you just can't put into words. I can't wait to watch as Joanne as she is embracing motherhood – it's such a glorious thing!!
I have joined in with some blogging friends, all welcoming baby James to this world.
I decided that this was the perfect opportunity to make a fun, fruity drink. I rarely have a chance to make something fun to drink, and I can't think of a better time than when you are having a party!! This Fruit Freeze is so easy to make. It does take some time for it to freeze, but actually hands on time is very minimal. And it makes it even easier that you can make it ahead of time. I think this is the perfect drink for a baby shower. There is a great grapefruit flavor that kids may not love as much, but I couldn't get enough of it. You add the frozen mixture to your cup, then top it with lemon-lime soda. It becomes a perfect, slushy drink. And the scoop of lemon sorbet on the top is just a bonus. You can eat it straight, or do what I do and mix it into the drink, so you get the lemon flavor throughout.
Congratulations, Joanne!! Enjoy every single moment with your little guy. Take tons of pictures (you'll never regret taking too many!) and breathe in every moment you can. Time will fly by way too quickly, so cherish it all!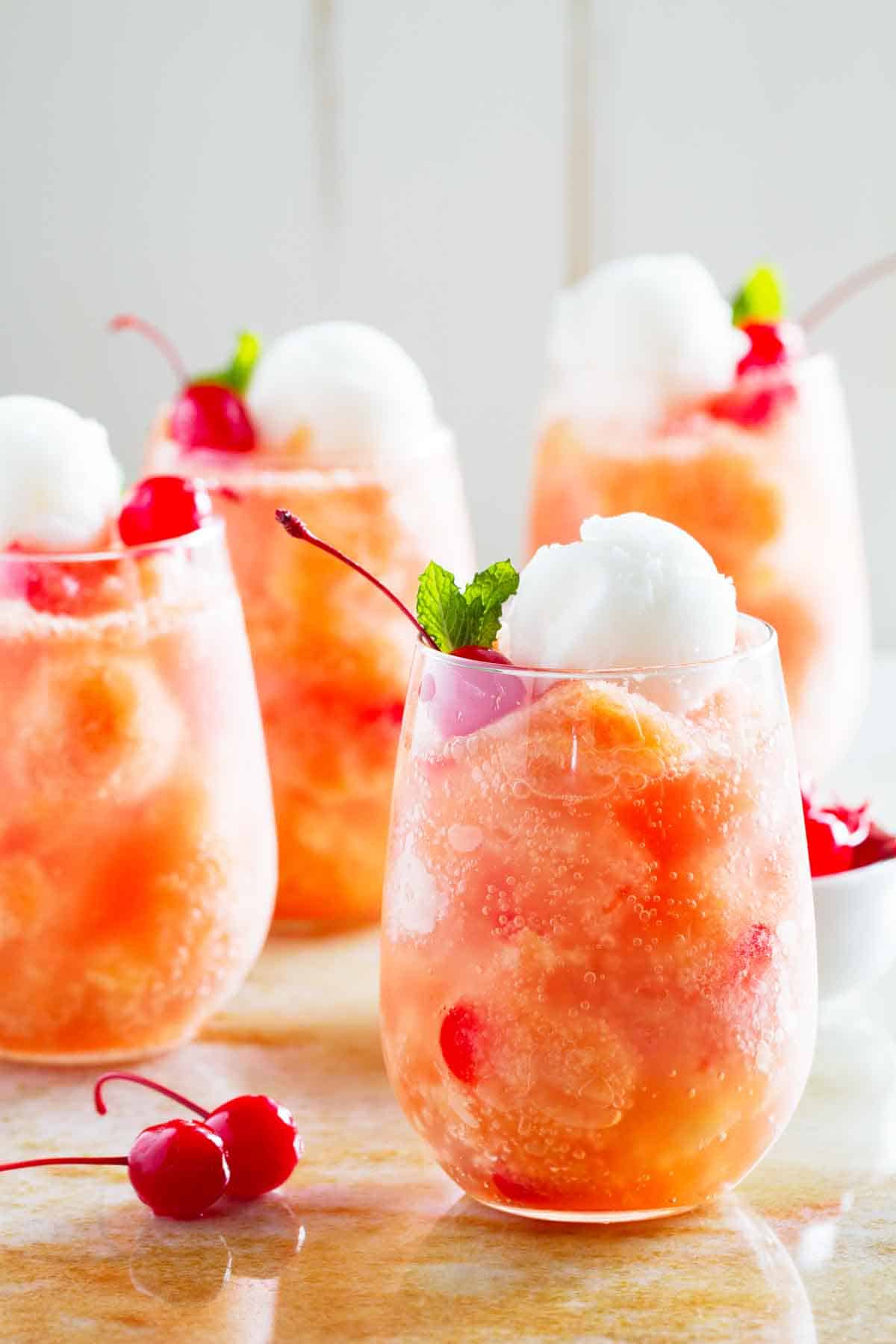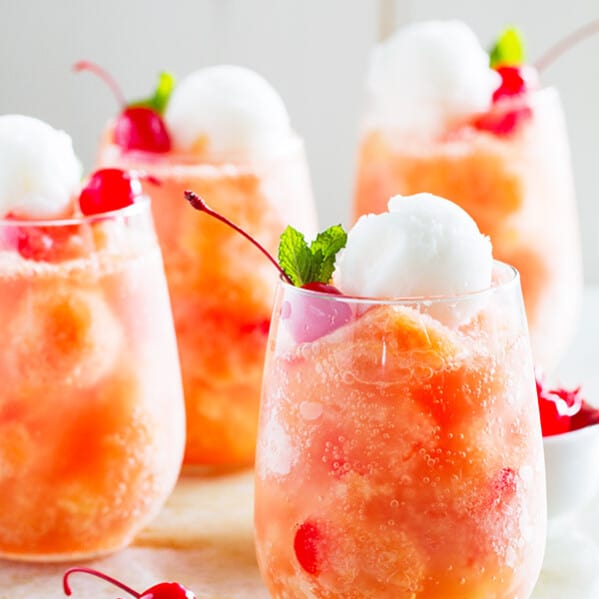 Fruit Freeze
---
Author:
Prep Time: 15 mins
Total Time: 15 mins
Yield: 20-30 servings 1x
Description
Perfect for a party, this Fruit Freeze is easy to make ahead and is a special treat for a crowd.
---
Scale
Ingredients
2 cans (15 oz each) grapefruit segments, undrained
2 cans (15 oz each) citrus salad*, undrained
1 can (15 oz) mandarin oranges, undrained
1/2 cup sugar
1 jar (10 oz) maraschino cherries, unstemmed, undrained
juice from 1/2 lemon
2 cans (20 oz each) crushed pineapple, undrained
2 liters lemon-lime soda
1 pint lemon sorbet
---
Instructions
Working in batches if needed, combine the cans of grapefruit, citrus salad, oranges and sugar in a blender and blend for 30 seconds to combine.
Roughly chop the cherries and add the cherries and the juice to the mixture along with the lemon juice.
Spread the pineapple into the bottoms of two 9×13-inch baking dishes. Pour half of the pureed mixture into each of the dishes. Stir lightly to combine. Cover with plastic wrap and place in the freezer until frozen.
When ready to serve, chop the frozen mixture and place in punch cups. Top with lemon lime soda and a small scoop of lemon sorbet.
Recipe Notes:
Total time doesn't include freezing time.
*Citrus Salad (sold under the Del Monte brand) is a mixture of white grapefruit, red grapefruit and oranges. You can sub in more grapefruit or more oranges, if desired.
adapted from Lion House Classics
&