Deviled Egg lovers will go crazy over all 50 of these ways to spice up your deviled eggs. From traditional to the extreme, you'll find all kinds of ideas here!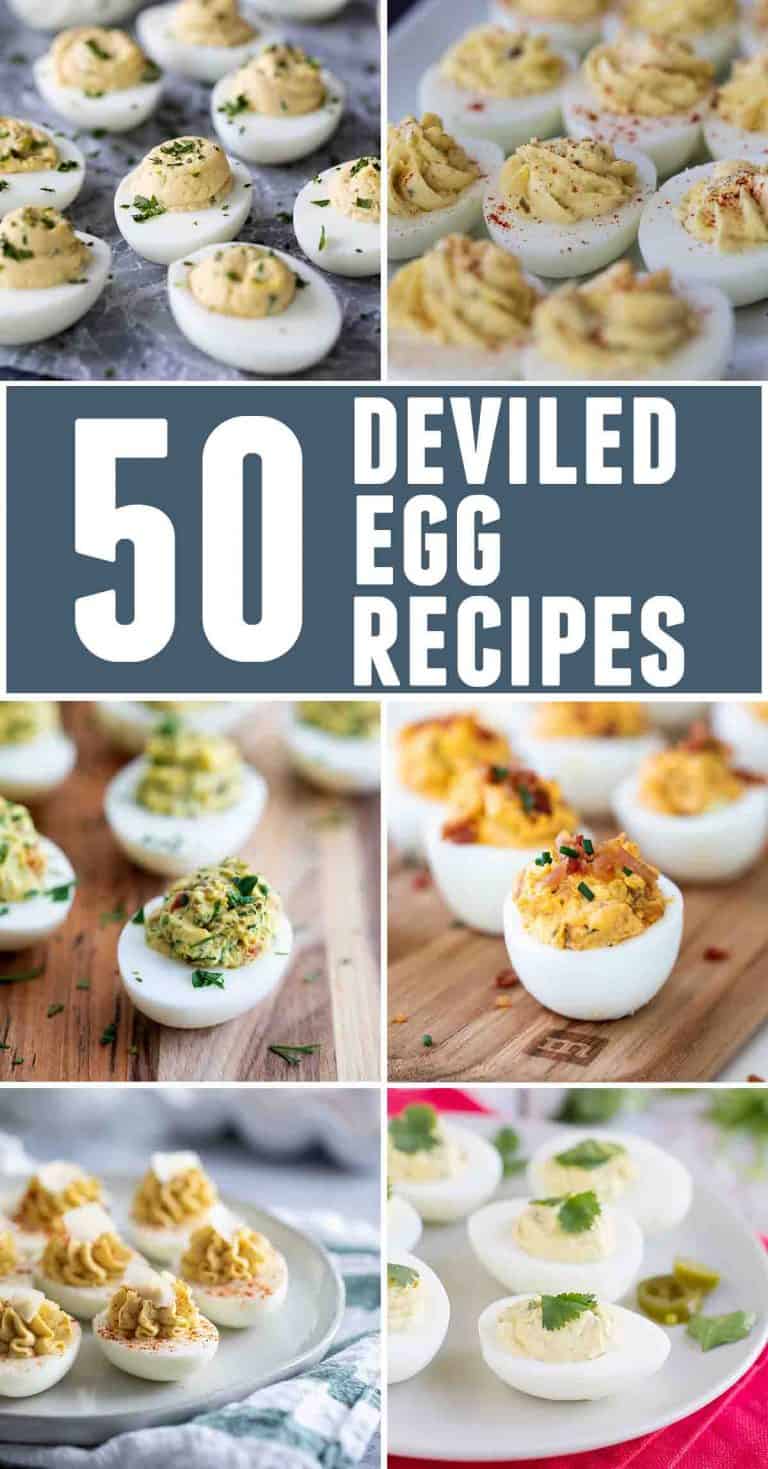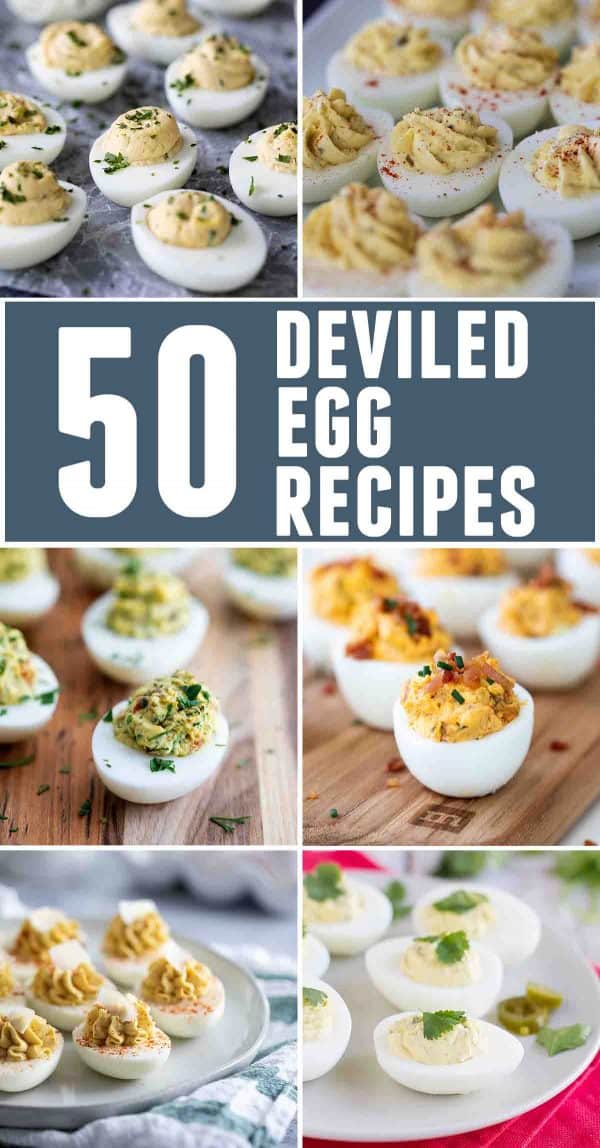 Springtime seems like the perfect time to talk about all things Easter. And for me, traditional Easter always includes deviled eggs.
I'm definitely a fan of the traditional, but I also like to change things up and get some creativity going.
This list is for those people that are wanting to break outside the box and try something new this year. These Deviled Egg Recipes will be perfect for your Easter dinner, or any party or pot luck. They are also perfect to have on hand for those leftover Easter eggs after the hunt!
What are Deviled Eggs?
Deviled eggs are eggs that have been boiled then cut in half. The yolk is removed and combined with other ingredients to make a filling for the egg white. Typically, this is mayonnaise and mustard based. They are served as a cold appetizer, particularly for holidays or for parties.
The term "deviled" refers to a spicy or zesty addition in the eggs. This probably originally came from the mustard or from pepper.
Deviled eggs have been around for centuries, and can also be known as stuffed eggs, Russian eggs, dressed eggs, or salad eggs.
How to Make Hard Boiled Eggs
Regardless of what you fill them with, you have to start with hard boiled eggs. Growing up, we only ever boiled them, but today there are many different methods that can be used!
Boiling
My favorite way to boil eggs is to place them in a large pan and cover them with enough water to cover them by at least an inch or two. Place the pan on the stove and bring the water to a boil over medium-high heat. Once the water comes to a boil, turn off the heat and cover the pan. Let the eggs sit for 10-12 minutes, then drain and place the eggs in an ice/water bath to cool completely.
Instant Pot
This is my very favorite way to hard boil eggs because they come out perfect and are so easy to peel. To cook your eggs in an Instant Pot, place the eggs in the Instant Pot – I put mine on the trivet that came with the pressure cooker. Add 1 cup of water. Place the lid on the Instant Pot and lock it. Cook on manual for 5 minutes, then do a natural release for 5 minutes before releasing completely. Transfer the eggs to an ice/water bath to cool completely.
Steaming
If you have a pan with a steamer insert, this is another method you can try. Fill the pan with 1 inch of water, then place the insert in the pan. Bring the water to a boil, then add your eggs and cover the pot. Cook for 12 minutes, then transfer the eggs to an ice/water bath to cool completely.
Baking
I will admit that this is not my favorite method, as it takes longer and is a lot more hit and miss for me. But if you'd like to try it, here is how you do it. Preheat the oven to 350ºF. Place one egg in each muffin cup in a 12-cup tin. Bake the eggs for 30 minutes, then remove them from the oven to an ice/water bath to cool completely.
How to Fill Deviled Eggs
The easiest way to fill deviled eggs is by placing the filling in a piping bag, and then squeezing the filling into the egg whites. You can use an actual piping bag (with or without a tip), or you can use a ziplock bag with the corner cut off. My favorite is to use a disposable piping bag, as the cleanup is really simple.
If you are using a piping tip, make sure the tip is open enough if you are making a recipe that has any sort of chunkier filling.
Serving and Storing Deviled Eggs
Prepared deviled eggs can sometimes be hard to transport. (Those whites are slippery!) I always suggest filling them right before serving, but if you want to make them ahead of time, you can buy special dishes to transport deviled eggs in. I've seen it suggested to use an egg carton, but you'd want to make sure that it has been cleaned, as bacteria can be found on the egg shells that you wouldn't want to transfer to the peeled eggs.
You can store any leftover deviled eggs in an airtight container for up to 2-3 days. The filling may start to dry out some before that, though, so it's best to eat them up sooner than later.
50 Deviled Egg Recipes
And now to the recipes! Here are 50 deviled egg recipes, some from here at Taste and Tell, and some from around the web. This is some great inspiration – especially to try something new!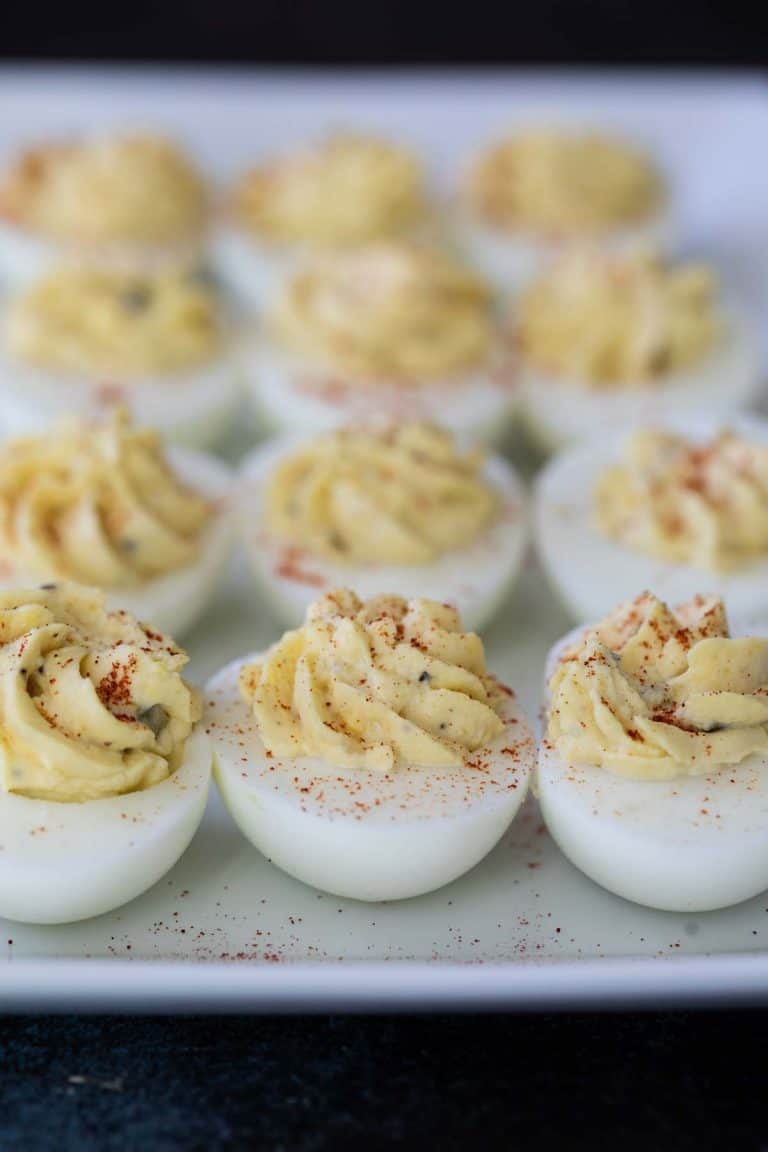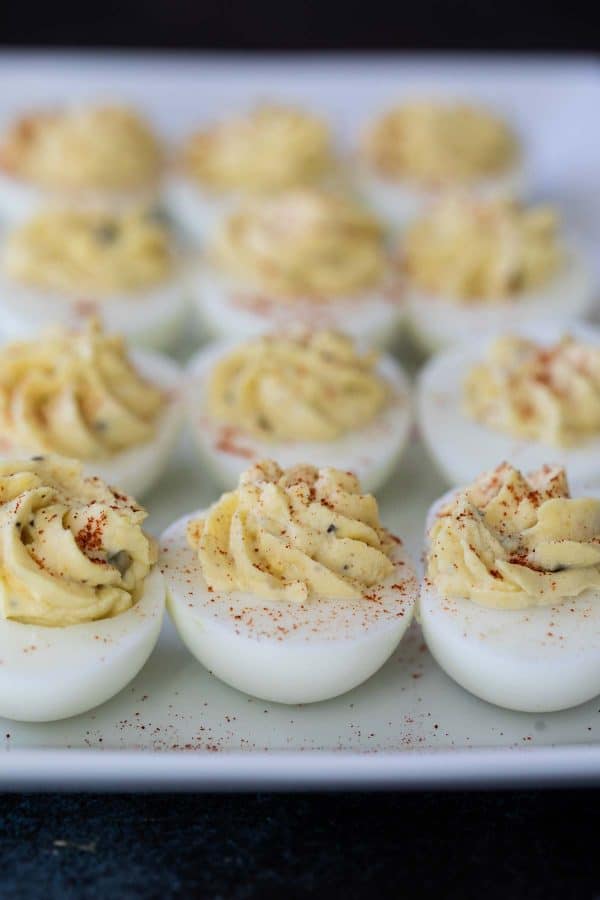 The Best Deviled Egg Recipe – Taste and Tell
Guacamole Deviled Eggs – I Wash, You Dry
Buffalo Blue Cheese Deviled Eggs – Lauren's Latest
Bacon Balsamic Deviled Eggs – Recipe Girl
Sriracha Deviled Eggs – Kalyn's Kitchen
Prosciutto and Arugula Deviled Eggs – Sara's Cucina Bella
Toasted Sesame Sriracha Deviled Eggs – How Sweet Eats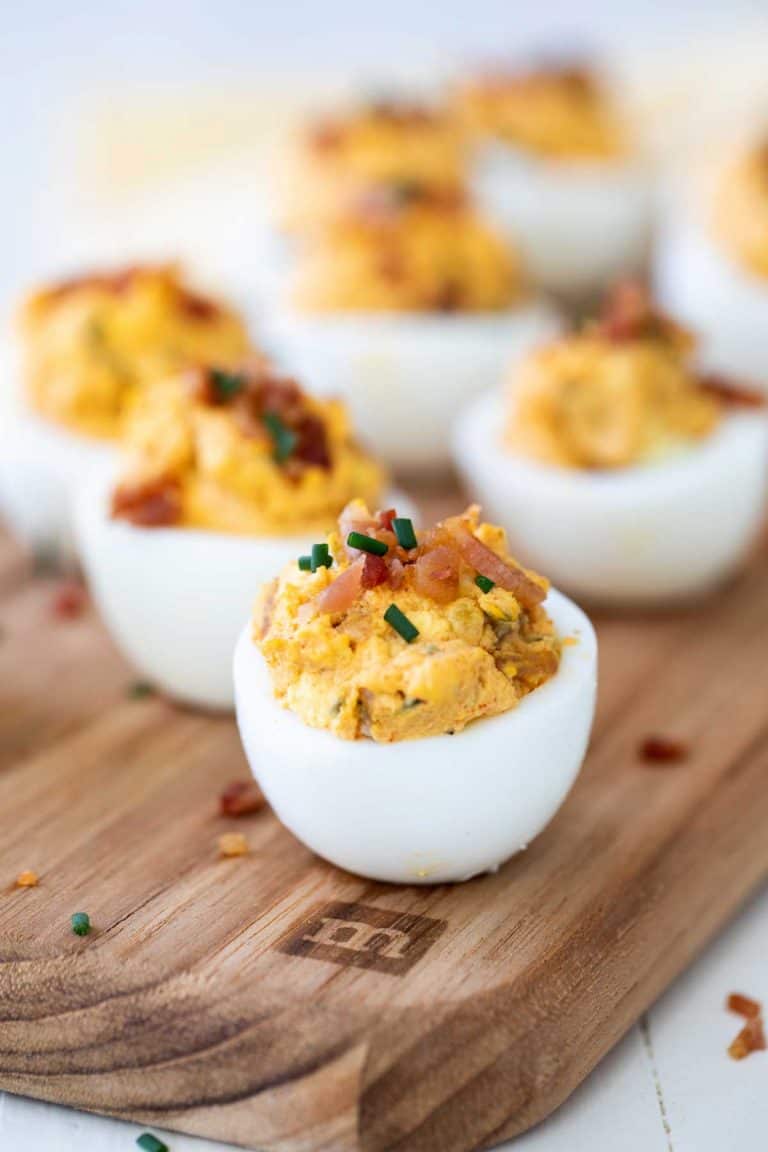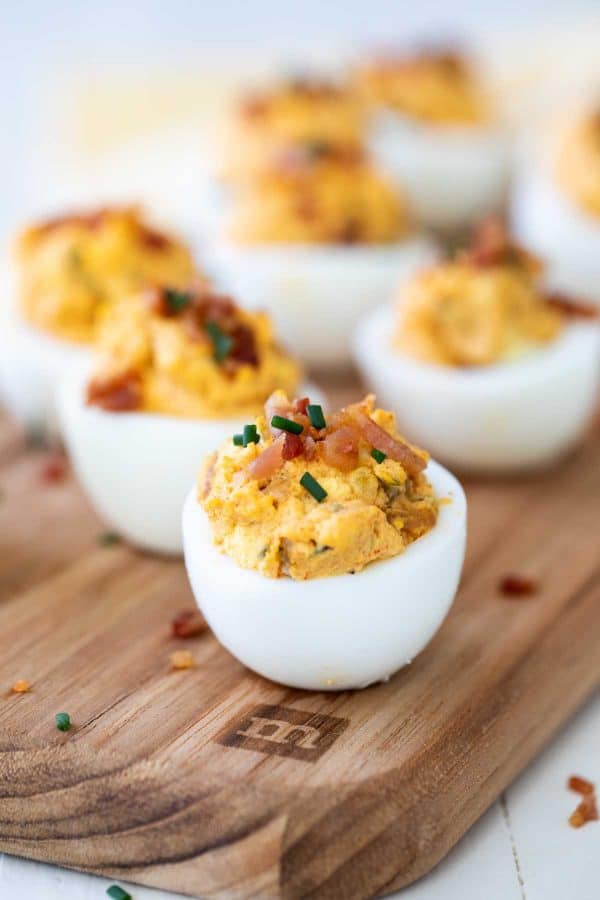 Deviled Eggs with Bacon – Taste and Tell
Bacon Ranch Deviled Eggs – Whipperberry
Spinach and Artichoke Deviled Eggs – The Kitchen Prep
Smoked Deviled Eggs – Hey Grill, Hey
Pimento Cheese Deviled Eggs – Lemon Blossoms
Smoked Salmon Deviled Eggs – Serena Bakes
Chipotle Bacon Deviled Eggs – Butter Your Biscuit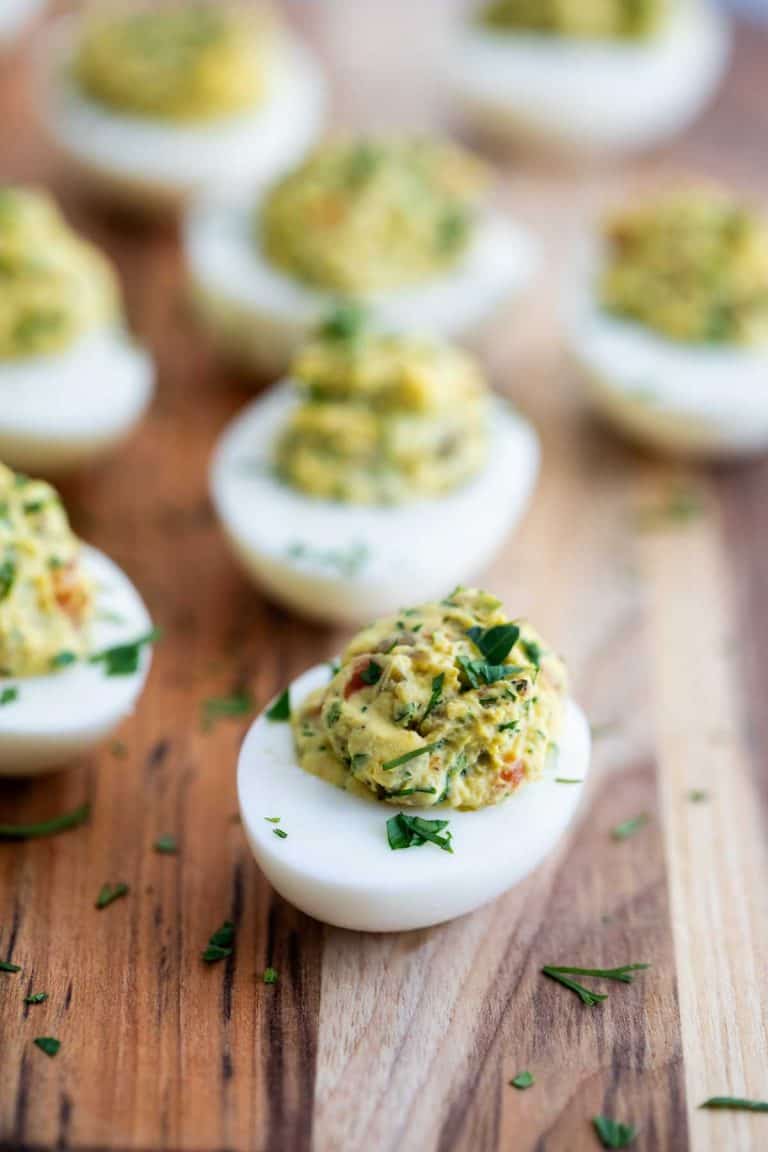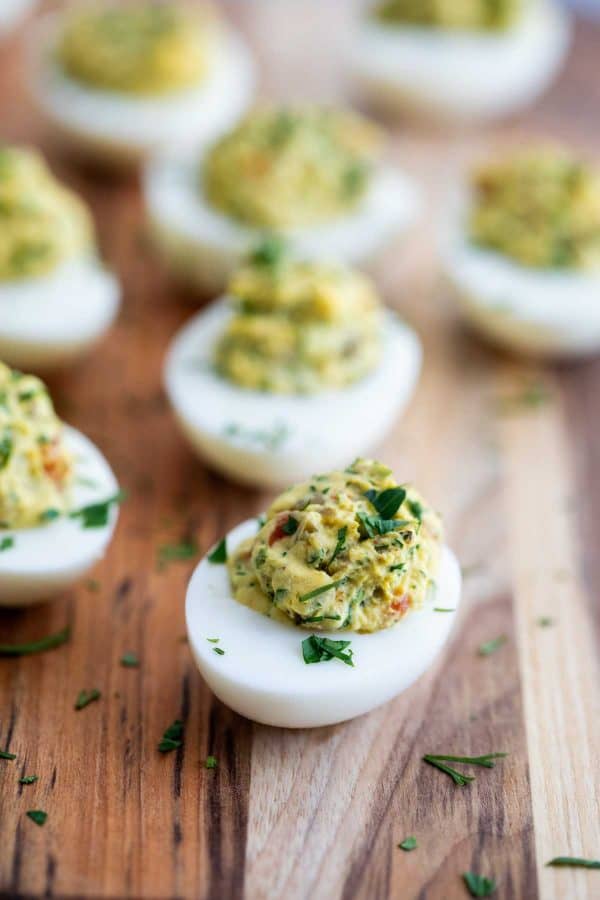 Green Olive Deviled Eggs – Taste and Tell
Buffalo Shrimp Deviled Eggs – Lemons for Lulu
Pesto Deviled Eggs – Mother Thyme
Everything Seasoning Deviled Eggs – All The Nourishing Things
Cajun Style Fried Deviled Eggs – 4 Sons R Us
Pulled Pork Deviled Eggs – PaleOMG
Shrimp Deviled Eggs – Bad Girl BBQ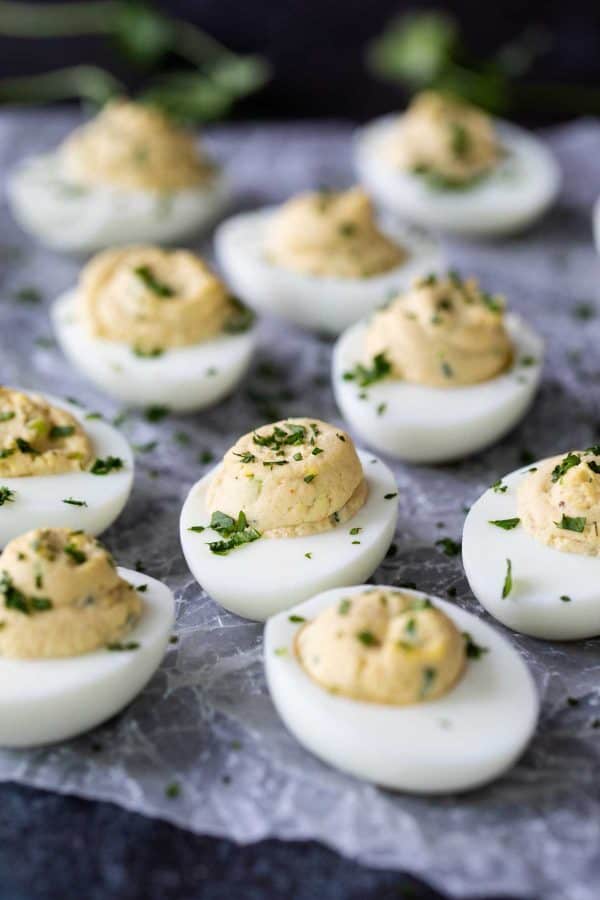 Asian Deviled Eggs – Taste and Tell
Mississippi Sin Deviled Eggs – Home Made Interest
Easter Deviled Eggs – Real Mom Kitchen
Jalapeno Bacon Deviled Eggs – Confetti and Bliss
Tuna Deviled Eggs – Olga's Flavor Factory
Turmeric Dyed Curry Deviled Eggs – Noshing with the Nolands
Creamy Deviled Eggs with Cream Cheese – The Spruce Eats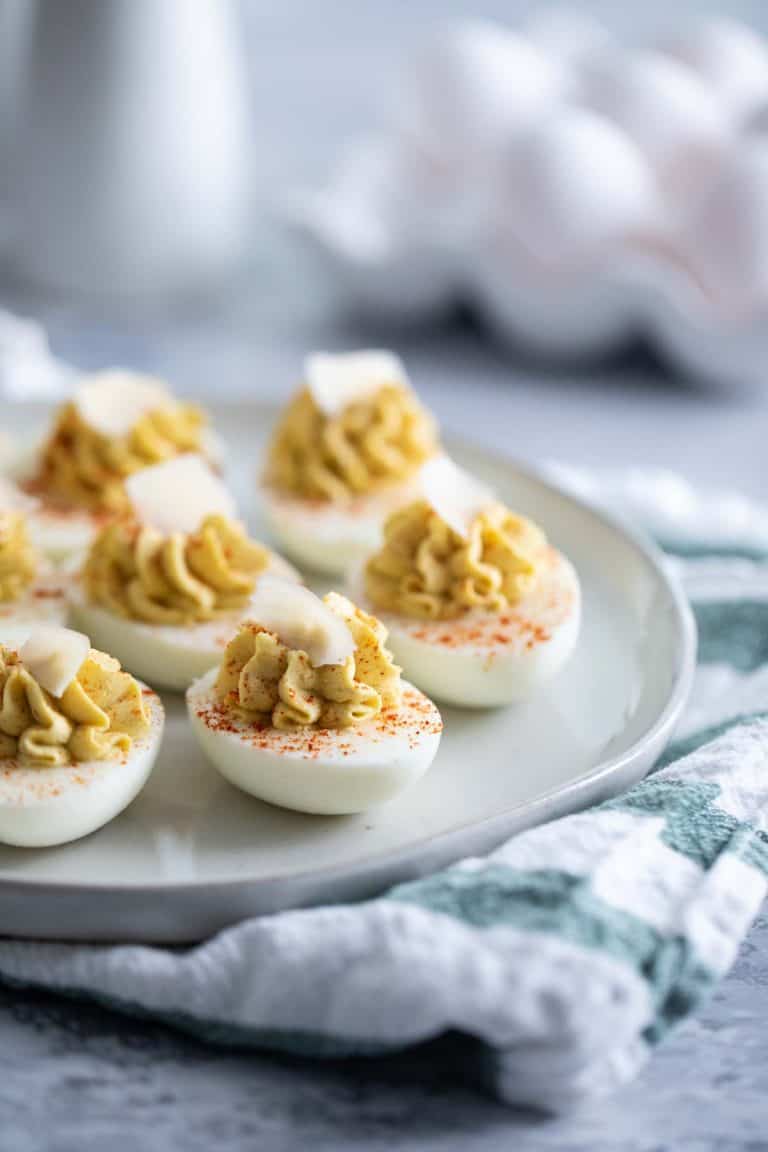 Caesar Deviled Eggs – Taste and Tell
Horseradish Deviled Eggs – The Girl Who Ate Everything
Smoky Tomato Deviled Eggs – A Farmgirl's Dabbles
Dill Pickle Deviled Eggs – The Kitchen Magpie
Wasabi Ginger Deviled Eggs – Fork in the Road
Loaded Deviled Eggs – The Cookie Rookie
No Mayo Deviled Eggs – Simple and Savory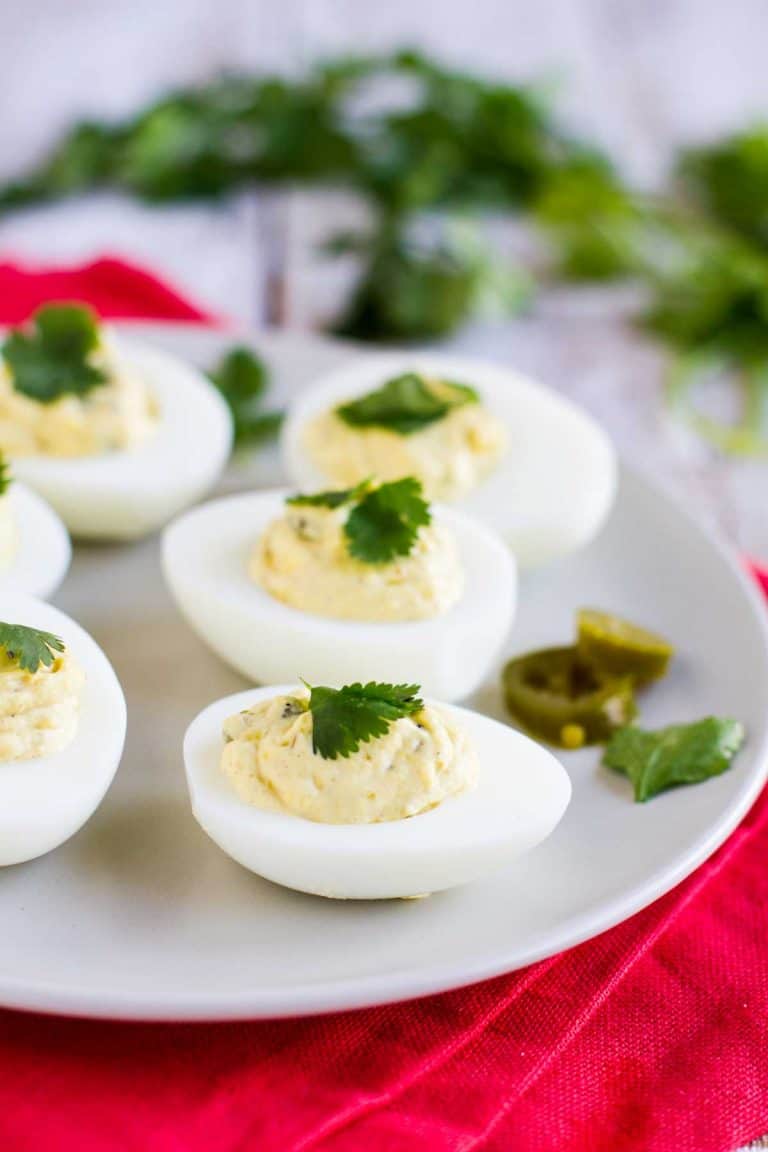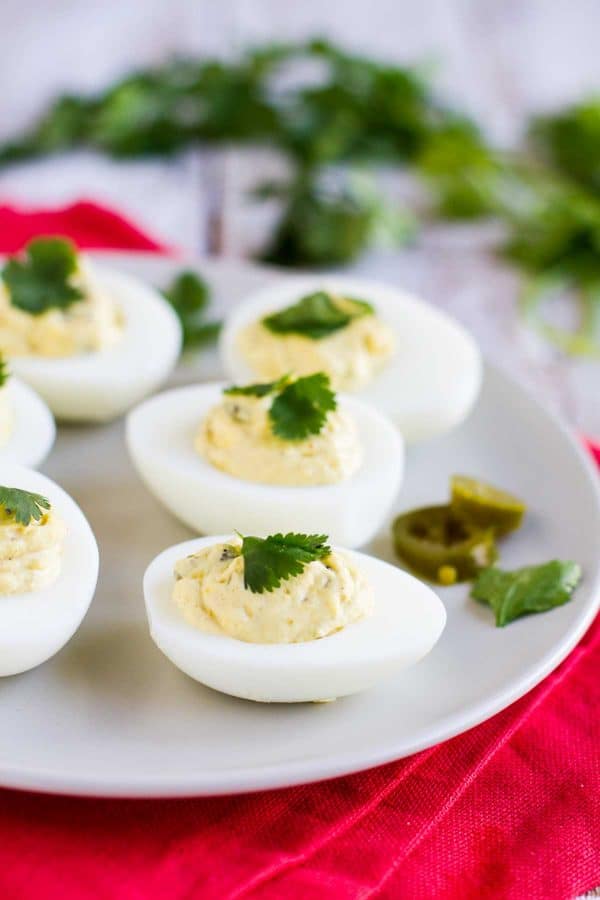 Spicy Southwestern Deviled Eggs – Taste and Tell
Mexican Deviled Eggs – Lady Behind the Curtain
Sour Cream and Onion Dip Deviled Eggs – A Spicy Perspective
Bacon and Roasted Garlic Deviled Eggs – Bread, Booze, Bacon
Deviled Eggs Florentine – Cup of Sugar, Pinch of Salt
Green Chile Deviled Eggs – Self-Proclaimed Foodie
Chili Crab Deviled Eggs – Just Putzing Around The Kitchen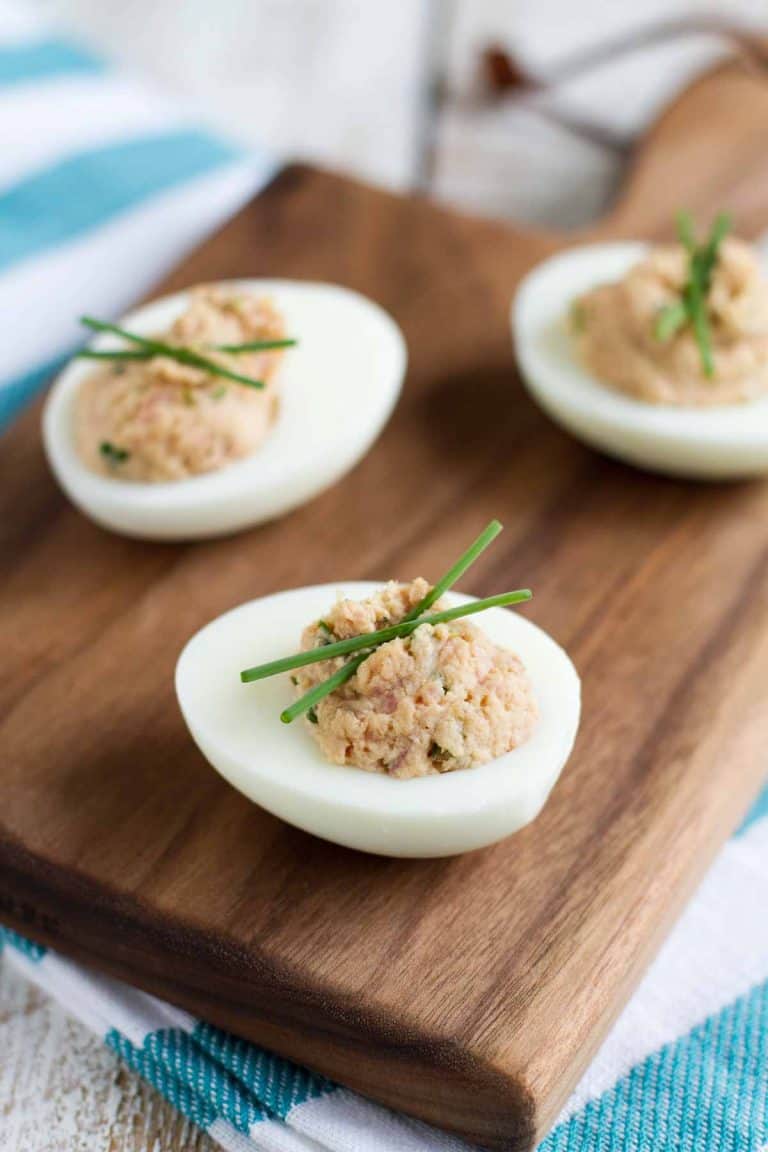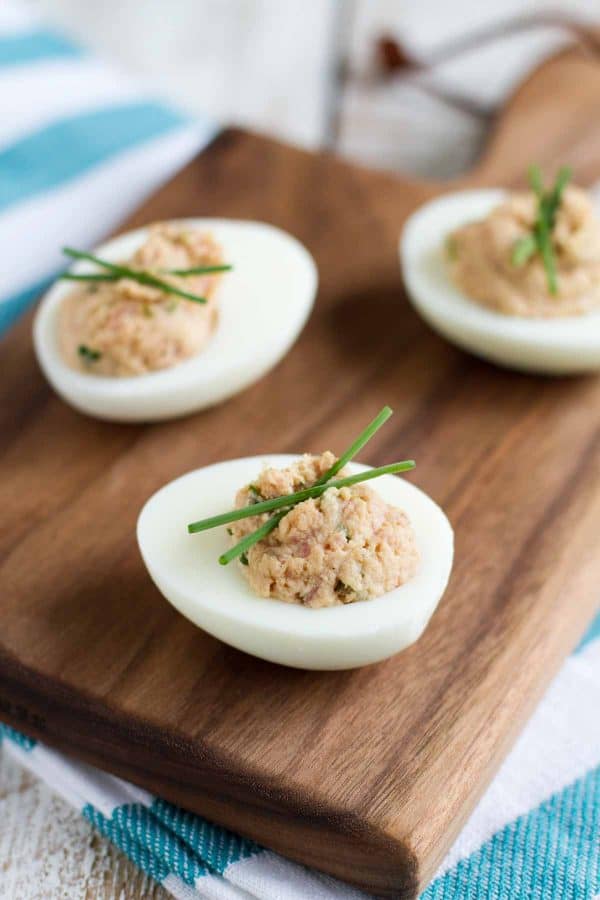 Deviled Ham and Eggs – Taste and Tell
Old Bay Deviled Eggs – Noble Pig
Hummus Deviled Eggs – Giggles, Gobbles and Gulps
Crab Rangoon Deviled Eggs – I am Food Blog
Caramelized Onion and Prosciutto Deviled Eggs – Eat Drink Smile
Salsa Deviled Eggs – My Organized Chaos
Middle Eastern Tahini Deviled Eggs – The Hungry Musician
Mexican Street Corn Deviled Eggs – Melanie Makes