A creamy tomato sauce is packed with sausage, bacon and peas in this hearty Rigatoni with Sausage, Peas, Tomatoes and Cream.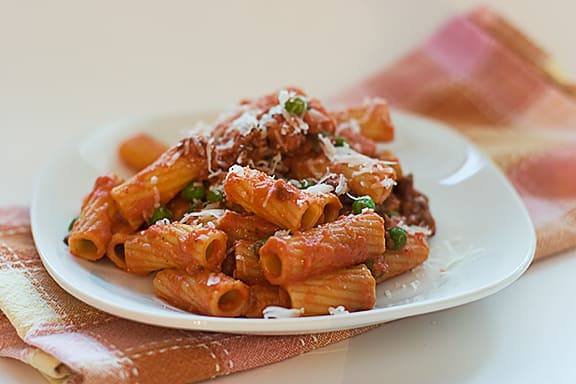 One thing I like the best about Biba's Taste of Italy is that there are stories to go along with the recipes. It's not just a cookbook – it's like traveling through Italy and learning more about this region and it's people. As I was going through the book trying to decide what to make for this week's recipe, I came across this pasta recipe. But it was the story, more than the recipe, that caught my attention. The author – Biba Caggiano – tells of how Italian women are known to be able to cook at the spur of the moment, coming up with delicious concoctions just from their refrigerators and pantries. I've always wished I was like that. Every once in awhile I can throw something pretty decent together, but for the most part, I'm a recipe kind of girl. This recipe comes from Biba's sister, who prepared it one night after coming home from a long afternoon of shopping.
Recipe notes:
I used bacon instead of pancetta, mostly because the line at the grocery store deli was super long and I had a fussy child with me. But I really enjoyed the smokiness from the bacon.
I didn't have any white wine on hand, so I just used a bit of chicken stock, because I had some open in the refrigerator. Worked perfectly! (I actually do this a lot when a recipe calls for wine.)
The original recipe actually calls for homemade tomato sauce, and there is a recipe in the book that I'm dying to try next summer when I have fresh tomatoes from the garden. But I didn't think it would be worth the effort to make tomato sauce from scratch when tomatoes aren't that great this time of year. Canned worked just fine!
This is a hearty dish, and the serving size is very generous. I made half the recipe, and probably got 4 servings for us out of it.
This was a home run!
Recipe Rating: 4.5 out of 5
Rigatoni wtih Sausage, Peas, Tomatoes and Cream
A creamy tomato sauce is packed with sausage, bacon and peas in the hearty pasta dish.
Ingredients
For the Sauce
1 cup fresh peas or thawed frozen peas
salt
2 tablespoons unsalted butter
1 tablespoon extra virgin olive oil
⅓ cup finely chopped yellow onion
1 link (about ¼ lb.) mild Italian sausage
2 to 3 ounces sliced bacon, finely minced
½ cup chicken stock
3 cups tomato sauce
¼ cup heavy cream
For the Pasta
1 tablespoon coarse salt
1 pound dried rigatoni
½ cup freshly grated Parmigiano-Reggiano
Instructions
If using fresh peas, drop them into a small saucepan of boiling salted water and cook until tender but still a bit firm. Drain and set aside.
To make the sauce, heat the butter and oil together in a large skillet over medium heat. Add the onion and stir until lightly golden and soft, about 6 minutes. Raise the heat to high, add the sausage and bacon, and cook, stirring and breaking up the sausage with a wooden spoon, until the sausage has a golden brown color, 3 to 4 minutes.
Add the chicken stock and stir until almost all of it has evaporated. Add the tomato sauce and cream and season with salt. As soon as the sauce comes to a boil, reduce the heat to low and cook at a very slow simmer, uncovered, until it has a medium-thick consistency, 13 to 15 minutes.
Stir in the peas, simmer for another minute or two, and turn off the heat. Taste and adjust the seasoning. (The sauce can be prepared several hours ahead. Reheat gently before using.)
Meanwhile, bring a large pot of water to a boil over high heat. Add the coarse salt and pasta and cook until the pasta is tender but still firm to the bite.
Drain the pasta and place in the skillet with the sauce. Add a small handful of the Parmigiano and mix over medium heat until the pasta and sauce are well combined. Taste, adjust the seasoning, and serve hot, with the remaining Parmigiano.