Photo updated June 2012
If you are joining me from KUTV Channel 2 today – Welcome!! If you would like to see the recipe for the Chicken, Bacon and Cream Cheese Mini Taquitos, you can find them here. Please feel free to look around – I hope you'll find something else you'd like!

There are always a few ingredients that will always catch my eye when I see them in a recipe: bacon, browned butter, artichokes and sun-dried tomatoes. So when I came across this recipe with artichokes and sun-dried tomatoes, with some sausage and pasta thrown in – I knew I wanted to try it. This was my idea of a perfect weeknight dinner. Easy and fast, and not too many ingredients. And the bonus is that the leftovers are just as good! (I sometimes find myself judging a recipe by how good the leftovers are!)
It's funny to see how my tastes have changed over the years. We are a sauce loving family, but I have really learned to love these dishes that aren't full of sauce. And believe me – you won't miss a heavy sauce with all of the flavors going on in this pasta!!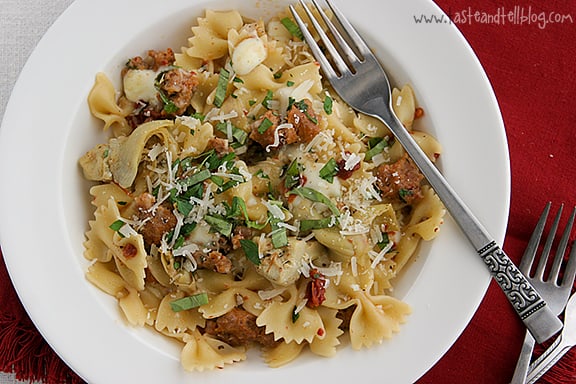 Photo updated June 2012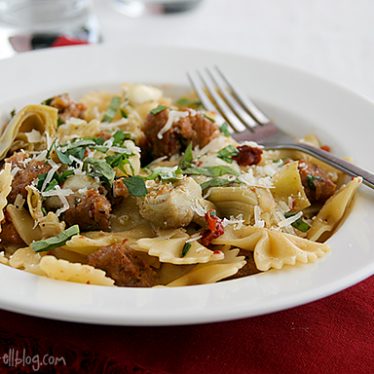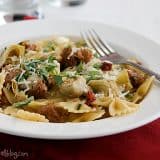 Pasta with Sausage, Artichokes and Sun-Dried Tomatoes
---
Prep Time: 10 minutes
Cook Time: 20 minutes
Total Time: 30 minutes
Yield: 4 servings 1x
Description
An easy pasta dish with sausage, artichokes, and sun-dried tomatoes.
---
Scale
Ingredients
1/2 cup drained oil-packed sun-dried tomatoes, sliced, 2 tablespoons of oil reserved
1/2 pound Italian sausage
8 oz. artichoke hearts, quartered
2 large cloves garlic, minced
1 1/4 cup chicken broth
8 oz. short cut pasta
1/4 cup Parmesan cheese, plus more for garnish
2 tablespoons fresh basil leaves, chopped
2 tablespoons fresh Italian parsley, chopped
8 oz. mozzarella, cubed
salt and freshly ground pepper
---
Instructions
Heat the oil reserved from the tomatoes in a heavy large frying pan over medium-high heat. Add the sausages and cook until brown, breaking up the meat into bite-size pieces with a fork, about 8 minutes. Transfer the sausage to a bowl. Add the artichokes and garlic to the same skillet, and saute over medium heat until the garlic is tender, about 2 minutes. Add the broth and sun-dried tomatoes. Boil over medium-high heat until the sauce reduces slightly, stirring occasionally, about 8 minutes.
Meanwhile, bring a large pot of salted water to a boil. Cook the pasta in boiling water until tender but still firm to the bite, stirring often, about 8 minutes. Drain the pasta (do not rinse). Add the pasta, sausage, Parmesan, basil, and parsley to the artichoke mixture. Toss until the sauce is almost absorbed by the pasta. Stir in the mozzarella. Season, to taste, with salt and pepper. Serve, passing the additional Parmesan cheese alongside.
—————
adapted from Confections of a Foodie Bride, who adapted it from Giada's Family Dinners
Original photo from 2011