An easy and versatile marinara sauce that is done in under 30 minutes. A great base for many other recipes!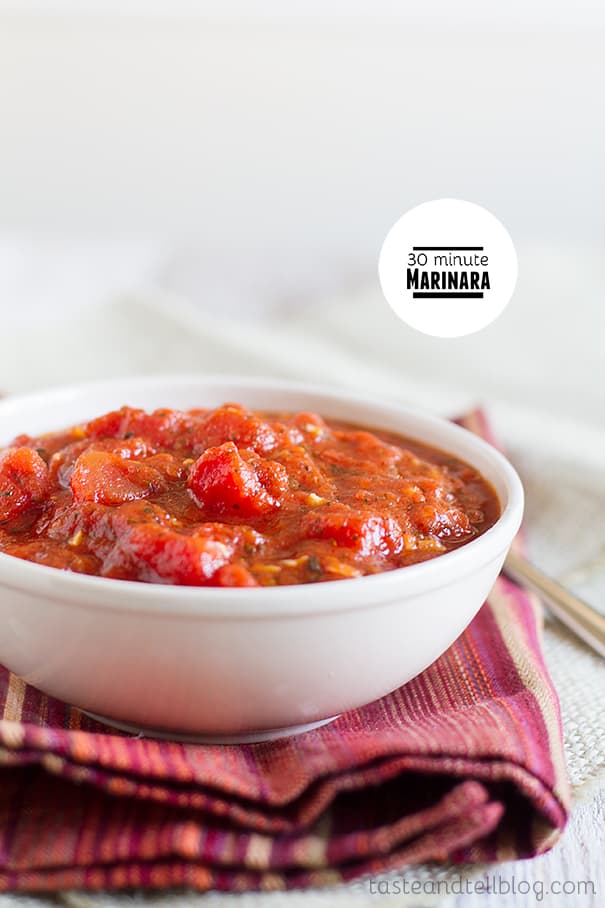 I could never be one of those extreme couponers. It just doesn't work for me. I tried doing the whole coupon thing many years ago, but I ended up buying a bunch of stuff that I don't normally use, and ended up having to throw a bunch of it out years later, after it expired and I realized I wasn't ever going to use it.
But I think that there is a deeper issue there. I don't like having a lot of stuff. This is going to sound totally crazy, but I don't like having my cupboards stuffed full and the pantry over flowing. It stresses me out. I'm a menu planner, and I have to have my meals planned out ahead of time. I'm not good at the whole – let's see what we have in the pantry and make something from there. I buy what I need, and by the time the week is over, I like for the shelves to be empty – ready for a new week.
But – that being said, I do have a few staples that I know I will always use up. Flour, sugar, chocolate chips, canned tomatoes, canned beans… I know I will always get through these things well before their expiration dates come up.

This is the reason I'm totally in love with today's recipe. I often come across a recipe that calls for prepared marinara, but I don't always have a store bought jar on hand, and I don't always have the time to let a pot of sauce simmer on the stove for hours. Enter this 30-Minute Marinara. Made from pantry staples, and done in 30 minutes. You could always let it simmer for longer, but really, it's great after 15 minutes on the stove. This recipe = lifesaver.
And as a bonus, it freezes well. That way you can have homemade marinara on hand even faster for next time!!
I kept my sauce chunky for the recipe I was going to use it for, but you could easily process it in your food processor or blender for a smooth sauce. It's great either way!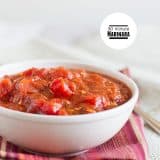 30 Minute Marinara
---
Prep Time: 10 minutes
Cook Time: 18 minutes
Total Time: 30 minutes
Yield: about 1 1/2 cups 1x
Description
An easy and versatile marinara sauce that is done in under 30 minutes. A great base for many other recipes!
---
Scale
Ingredients
4 tablespoons extra virgin olive oil
4–6 cloves garlic, minced
2 tablespoons tomato paste
1 (28-oz) can diced tomatoes, undrained
1 tablespoon dried basil, crushed
1–2 teaspoons sugar (optional)
1 teaspoon salt
---
Instructions
Heat the olive oil in a pan over medium heat. Add the garlic and cook until fragrant. Stir in the tomato paste and cook until fragrant, 30-60 seconds. Add in the undrained tomatoes and the basil and simmer for 10-15 minutes, crushing the tomatoes as it cooks. Add the sugar, if needed, and then season with salt.
If desired, process until smooth, or keep chunky.
Recipes where you can use this marinara: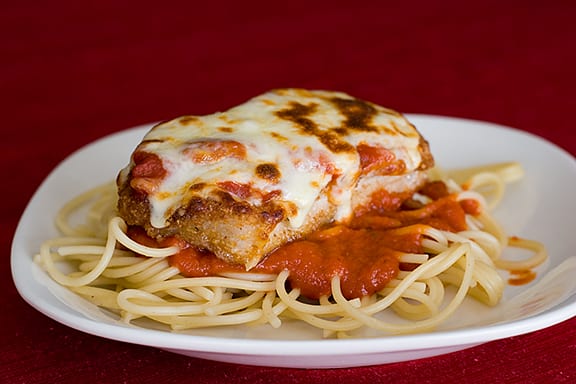 Boneless Pork Chops Parmigiana
Around the Web:
Easy Chicken Parmesan from CenterCutCook
Creamy Chicken Lasagna Roll Ups from Eat Drink Love
Slow Cooker Chicken Parmesan Subs from Catz In The Kitchen