Get that slow simmered classic flavor in less time with this Instant Pot Bolognese Recipe! A thick meat sauce that is perfect over spaghetti, this sauce has a deep, rich flavor in a fraction of the time of the traditional stove top method.
I love a good meat sauce! I love that this Instant Pot version gives you that slow cooked flavor in less time, but if you are looking for a stove top sauce, try My Favorite Spaghetti Sauce Recipe. Or this Ragu Recipe with Steak and Mushrooms is great over pasta or mashed potatoes!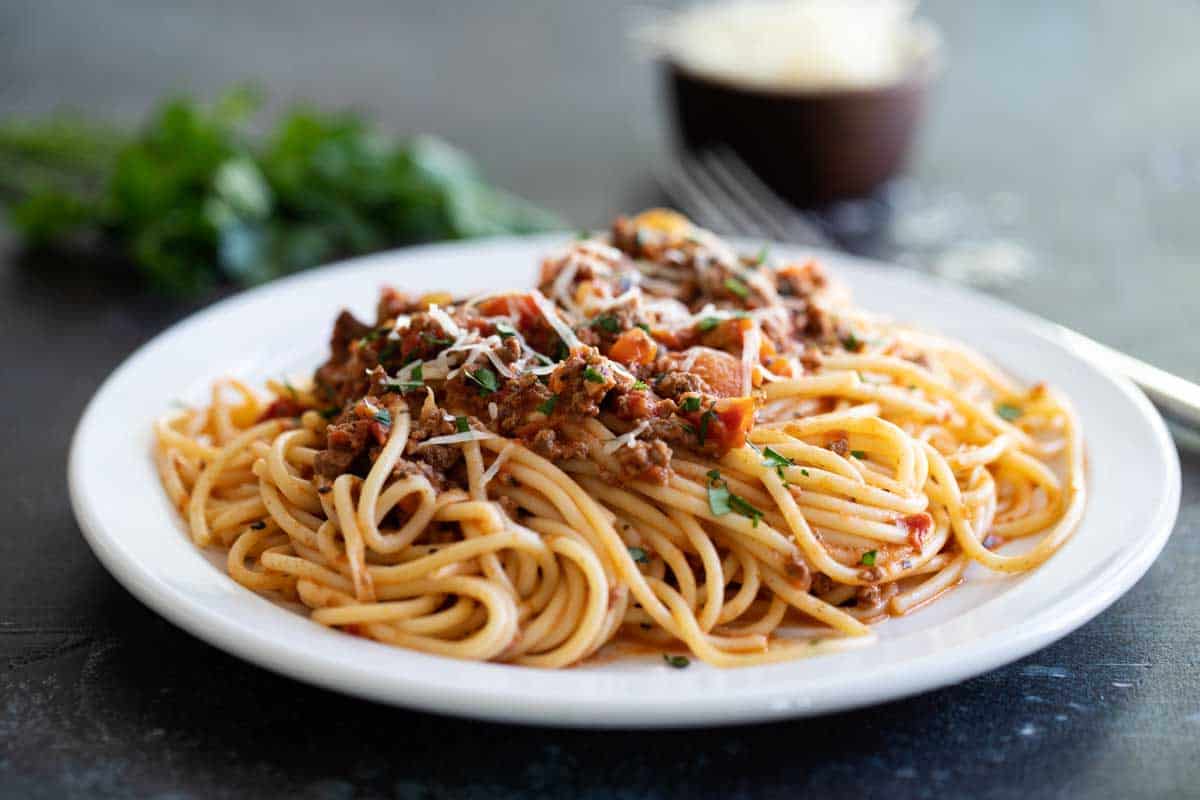 Does anyone else ever think of spaghetti as a go-to? It was one of the things we had regularly growing up. And even now, where mom (aka me) doesn't make the same things over and over again, spaghetti is still a pretty regular occurrence in our house.
And oh, how I love a good meat sauce.
But if you know a good meat sauce, you know that a lot of times, the really good flavor comes after the sauce simmers and simmers.
If you are short on time, though, this is the recipe for you. This Instant Pot Bolognese Recipe cuts the cook time down, and you still get that slow cooked, rich flavor that you want in a Bolognese sauce.
What is Bolognese Sauce?
I will not pretend to be an expert here, because frankly – there is a lot of conflicting information out there.
But there are a few things we do know:
It's a meat sauce. Most commonly, it's made with beef, but you can find versions with lamb or venison or even pork.
It's a tomato based sauce. Take the tomato out, it's something completely different.
It's slow cooked to give it a rich, deep flavor.
It may or may not come from the Bologna region of Italy. Apparently, you won't hear it called Bolognese sauce there, but instead, they consider it a ragu. Which is never traditionally served over spaghetti.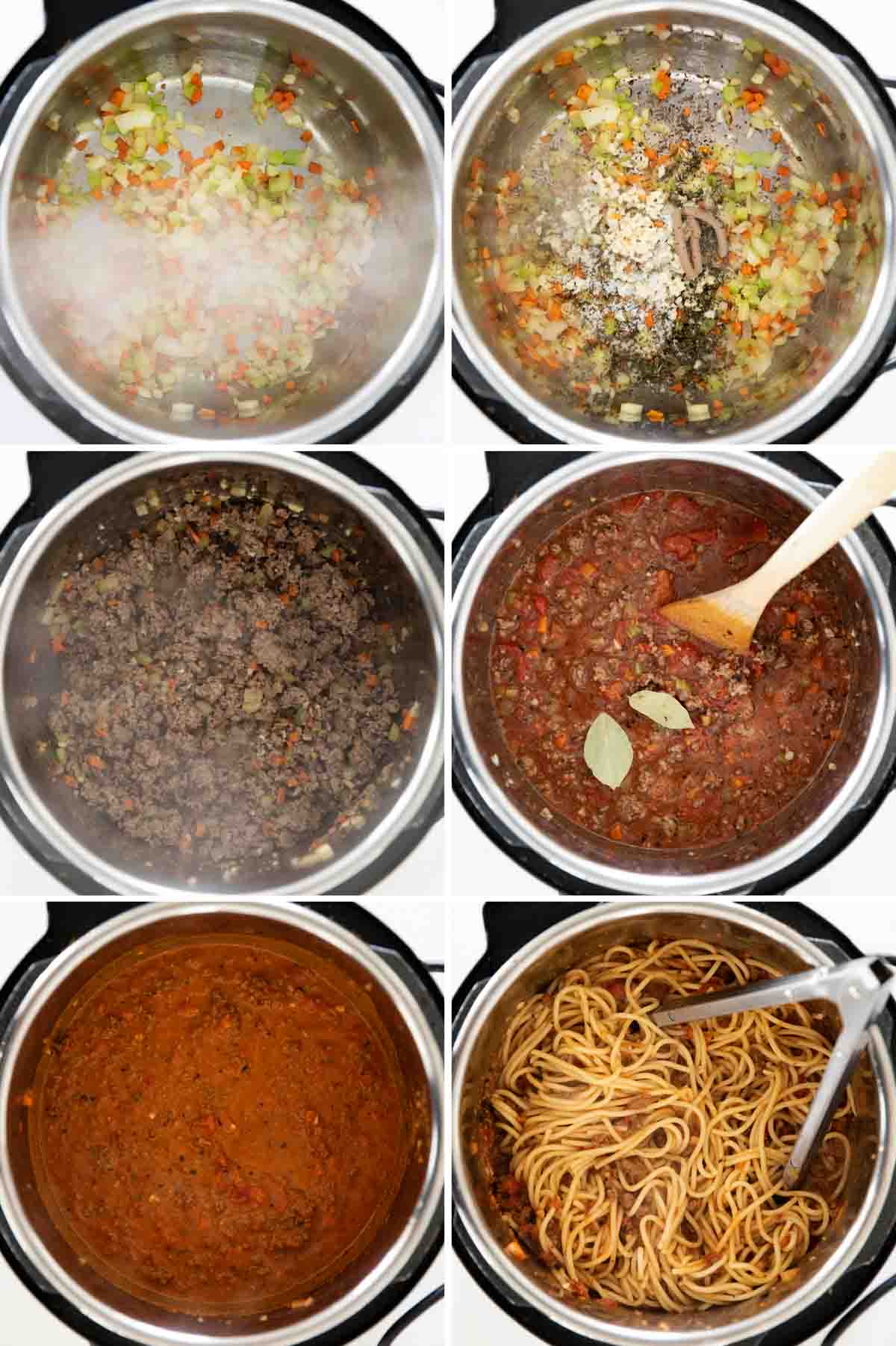 How to Make It
I don't usually consider Instant Pot recipes "fast" because it does take some time for it to come to pressure, but instead of letting the sauce simmer for hours, the Instant Pot definitely cuts off a significant amount of time.
Start by setting your Instant Pot to saute and cook your carrots first, followed by the onions and celery.
Add in the herbs – oregano, basil and parsley, along with garlic, salt and anchovy paste. Don't be afraid of the anchovy paste! I keep a small tube of it in my refrigerator for recipes like this one. It adds a savory quality that is hard to replicate without the anchovy paste.
Next add the ground beef, breaking it up as it cooks.
Once the beef is cooked, stir in your tomatoes, tomato paste, wine (see my notes about this below) and bay leaves. Put the lid on and cook on high pressure for 30 minutes.
When it's done, let the pressure release naturally for 10 minutes, then remove the lid and stir in the cream and simmer the sauce until it is as thick as you'd like. I find it a bit too thin straight away, so I like to put it on saute for about 10 more minutes.
You can serve this over pasta, or do what we do and stir your noodles right into the sauce.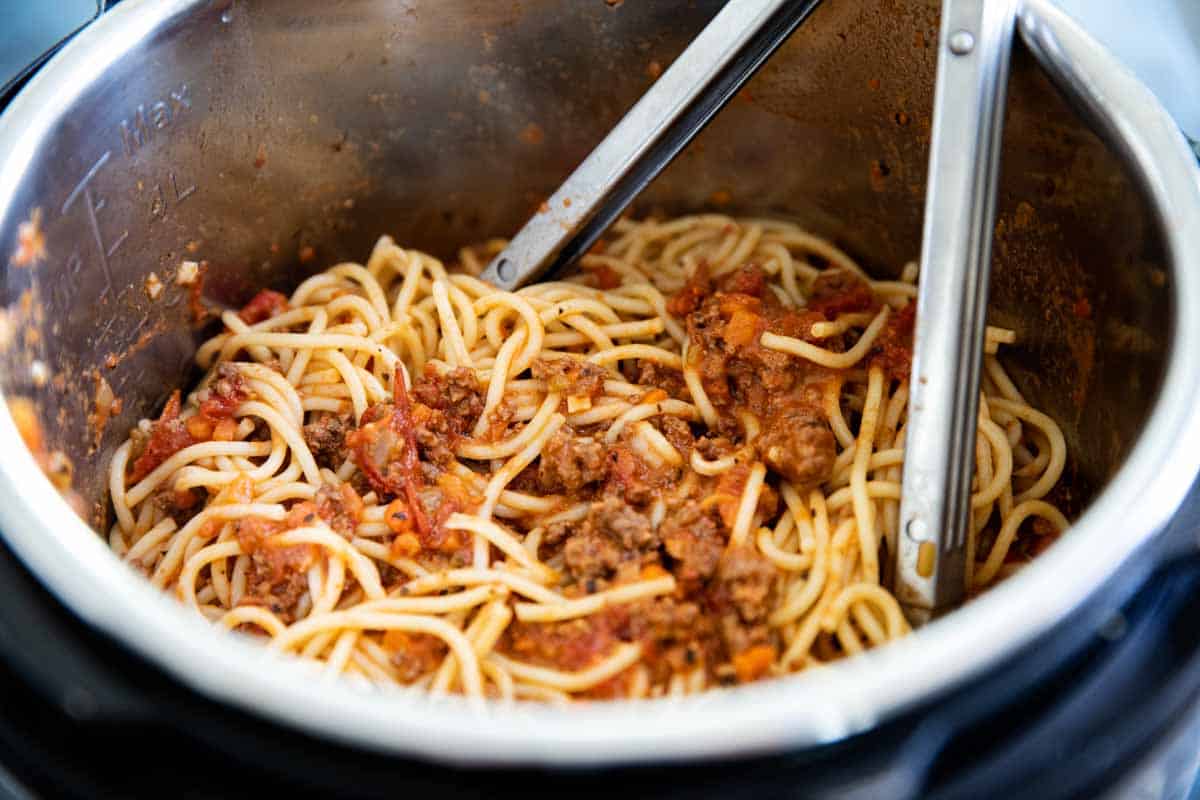 Tips and Tricks
You can really use any pasta you want, here. My kids beg for spaghetti or fettuccine noodles more than any other, so that is what I would normally use.
I don't drink, and would find it wasteful to buy wine just for such a small amount. So I replace the wine with beef broth. Wine will give it a deeper flavor, so sometimes I'll also add in a bit of balsamic vinegar to give it some depth.
This sauce is so good after it sits overnight, so you could even make it one day and then refrigerate it and heat it up the next day.
This sauce also freezes well. I will freeze it in ziplock bags and freeze them flat for easy freezer storage.
Weeknight Gourmet Dinners by Meseidy Rivera
This recipe is slightly adapted from the cookbook Weeknight Gourmet Dinners. You guys – this is such a fun cookbook! Filled with recipes that are fancy enough for a restaurant, but easy enough for a weeknight at home, this is a cookbook that is great for anyone wanting to take their meals up a notch. The recipes are not pretentious, but they you can definitely tell that a lot of thought went into this book.
And not only is it filled with lots of great dinner recipes, but there are desserts and sides as well for the complete dinner experience.
You can find Weeknight Gourmet Dinners on Amazon or other online retailers.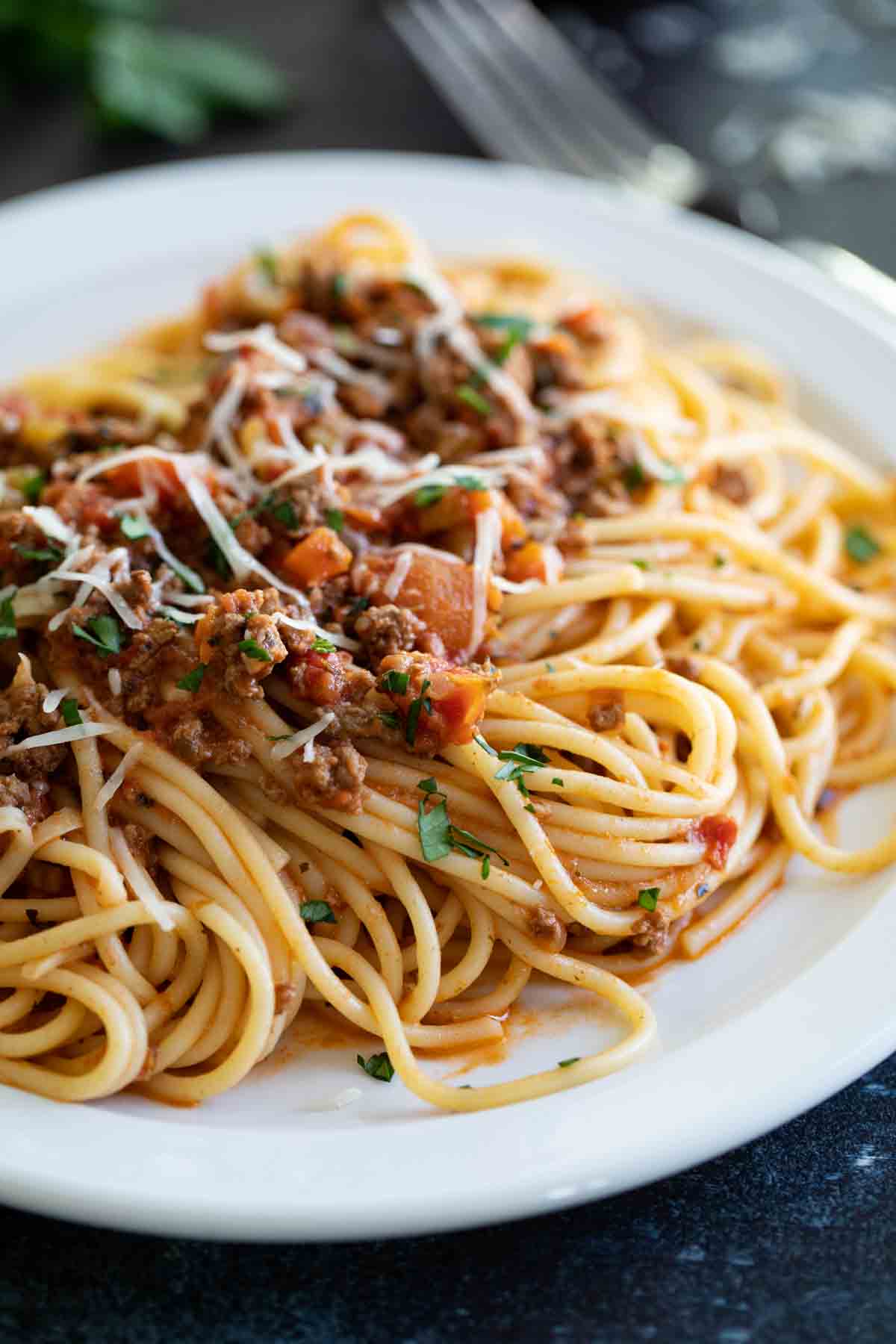 More Instant Pot Recipes
Instant Pot Ribs
Garlic Paprika Instant Pot Chicken Thighs
Instant Pot Barbacoa Beef
Pressure Cooker Honey Garlic Chicken
Instant Pot Tuna Noodle Casserole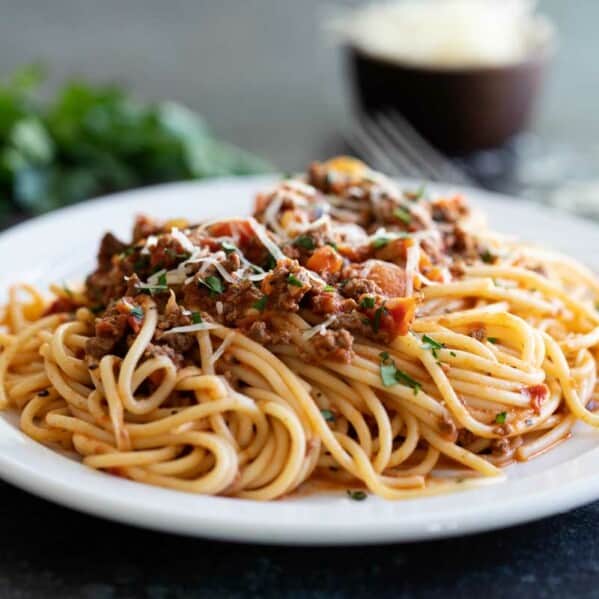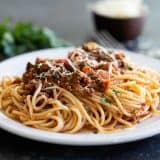 Instant Pot Bolognese Recipe
---
Author:
Prep Time: 20 mins
Cook Time: 1 hour
Total Time: 1 hour 20 minutes
Yield: 6 servings 1x
Category: Main Dish
Method: Instant Pot
Cuisine: Italian
Description
Get that slow simmered classic flavor in less time with this Instant Pot Bolognese Recipe! A thick meat sauce that is perfect over spaghetti, this sauce has a deep, rich flavor in a fraction of the time of the traditional stove top method.
---
Scale
Ingredients
2 tablespoons olive oil
2 medium carrots, diced small
1 medium onion, diced small
2 celery ribs, diced small
3 sprigs fresh oregano, minced
6 fresh basil leaves, chopped
1 tablespoon minced fresh parsley
4 cloves garlic, minced
1 teaspoon kosher salt
1 teaspoon anchovy paste
1 lb ground beef
1 (28-oz) can crushed tomatoes
2 tablespoons tomato paste
1/4 cup red wine*
2 bay leaves
1/4 cup heavy cream
12 oz dried spaghetti noodles
Fresh Parmesan cheese, for serving
---
Instructions
Select the sauté setting on a 6-quart Instant Pot or electric pressure cooker. Add the olive oil and the carrots and sauté until the carrots are lightly browned. Add the onions and celery and cook until they are soft, about 3 minutes. Add the oregano, basil, parsley, garlic, salt and anchovy paste. Cook, stirring, until fragrant, about 1 minute.
Add the ground beef and cook until browned, breaking it up as it cooks.
Add the crushed tomatoes, tomato paste, wine, and bay leaves and stir to combine.
Place the cover on the Instant Pot and lock the lid. Make sure the vent is closed. Select manual, adjust the pressure to high, and set the time to 30 minutes.
When the timer shows 10 minutes remaining, set a large pot of water to boil over high heat. Salt generously and cook the pasta until al dente.
Once the Bolognese is finished cooking, allow the pressure to release naturally for 10 minutes, then do a quick-release to release any remaining pressure.
Press sauté on the Instant Pot again. Add the cream and allow the sauce to simmer until it reaches your desired thickness. (For me, this is about 10 minutes.)
Remove the bay leaves.
Serve the sauce over the pasta, or stir the cooked pasta into the sauce. Top with Parmesan cheese, if desired.
Recipe Notes:
*I don't drink, so I don't have wine on hand. I'll usually just sub in broth (beef broth in this case) and sometimes will add a splash or two of balsamic vinegar to give it some depth.
Slightly adapted from: Weeknight Gourmet Dinners
Nutrition
Serving Size: 1/6 of recipe
Calories: 473
Sugar: 9 g
Sodium: 366 mg
Fat: 18 g
Saturated Fat: 6 g
Unsaturated Fat: 4 g
Trans Fat: 0 g
Carbohydrates: 55 g
Fiber: 6 g
Protein: 25 g
Cholesterol: 61 mg
Keywords: Instant pot bolognese, bolognese recipe, spaghetti bolognese