This Rigatoni with Sausage, Peas, Tomatoes and Cream is easy enough for a weeknight, but special enough for a weekend.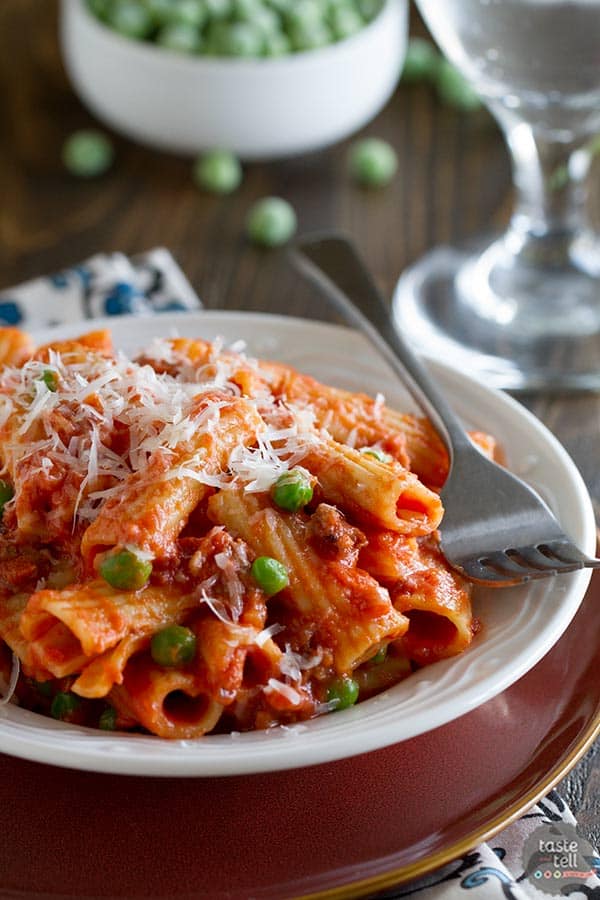 Photos Updated February 2015


Originally posted January 29, 2010 – the weather here in Utah has been so mild this winter, but that hasn't stopped me from craving comfort food!! This Rigatoni with Sausage, Peas, Tomatoes and Cream is a great recipe for one of those nights when you are craving a big bowl of comfort. It cooks up fairly quickly, making it great for a weeknight, although it reminds me of a Sunday supper. No matter the weather outside, you can't go wrong with a big bowl full of this pasta!

One thing I like the best about Biba's Taste of Italy is that there are stories to go along with the recipes. It's not just a cookbook – it's like traveling through Italy and learning more about this region and it's people. As I was going through the book trying to decide what to make for this week's recipe, I came across this pasta recipe. But it was the story, more than the recipe, that caught my attention. The author – Biba Caggiano – tells of how Italian women are known to be able to cook at the spur of the moment, coming up with delicious concoctions just from their refrigerators and pantries. I've always wished I was like that. Every once in awhile I can throw something pretty decent together, but for the most part, I'm a recipe kind of girl. This recipe comes from Biba's sister, who prepared it one night after coming home from a long afternoon of shopping.
Recipe notes:
The original recipe calls for pancetta, but I used bacon, mostly because the line at the grocery store deli was super long and I had a fussy child with me. But I really enjoyed the smokiness from the bacon.
I didn't have any white wine on hand, so I just used a bit of chicken stock, because I had some open in the refrigerator. Worked perfectly! (I actually do this a lot when a recipe calls for wine.)
The original recipe actually calls for homemade tomato sauce, and there is a recipe in the book that I'm dying to try next summer when I have fresh tomatoes from the garden. But I didn't think it would be worth the effort to make tomato sauce from scratch when tomatoes aren't that great this time of year. Canned worked just fine!
This is a hearty dish, and the serving size is very generous. I made half the recipe, and it was more than enough for us.
This was a home run!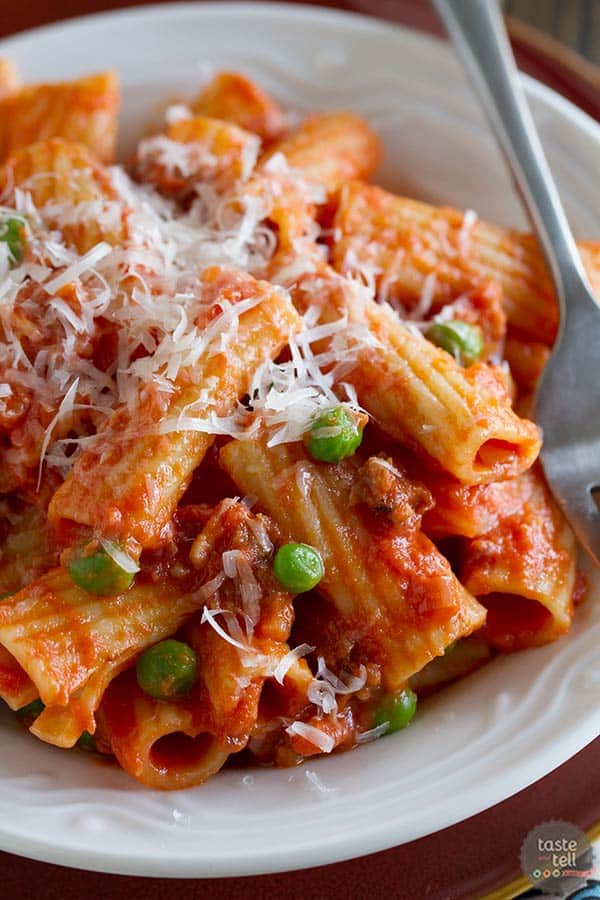 Like what you see here? Make sure you are following Taste and Tell for more great recipes and ideas!!

Facebook ** Pinterest ** Twitter ** Instagram ** Google+
or you can subscribe to my newsletter or Feedly or Bloglovin


Rigatoni wtih Sausage, Peas, Tomatoes and Cream
This Rigatoni with Sausage, Peas, Tomatoes and Cream is easy enough for a weeknight, but special enough for a weekend.
Ingredients
1 cup fresh peas or thawed frozen peas
salt
2 tablespoons unsalted butter
1 tablespoon extra virgin olive oil
⅓ cup finely chopped yellow onion
1 link (about ¼ lb.) mild Italian sausage
2 to 3 ounces sliced bacon, finely chopped
½ cup chicken stock
3 cups tomato sauce
¼ cup heavy cream
1 pound dried rigatoni
½ cup freshly grated Parmigiano-Reggiano
Instructions
In a large skillet over medium-low heat, heat the butter and olive oil. Add the onion and cook until soft and golden, 5-6 minutes. Raise the heat to high and add in the sausage and bacon. Cook, breaking up the sausage with a wooden spoon, until cooked through and browned, 3-4 minutes.
Add the chicken stock to the skillet and cook until most of it has evaporated. Stir in the tomato sauce and heavy cream. Bring to a boil, then reduce the heat and simmer until slightly thickened, about 15 minutes. Add in the peas and cook an additional minute or two. Season with salt and pepper, if desired.
Meanwhile, bring a large pot of salted water to a boil. Cook the rigatoni until drained. Return the pasta to the pot.
When the sauce is done, pour it over the cooked pasta and stir to coat the pasta. Stir in a handful of the Parmigiano-Reggiano and stir to coat. Serve the pasta with the remaining Parmigiano-Reggiano.
Find more great pork recipes by following me on Pinterest!