Breaded Pork Chops with Cream Gravy Recipe – Breaded pork chops are combined with cream gravy with parsley and sage for a delicious, easy and quick dinner full of flavor.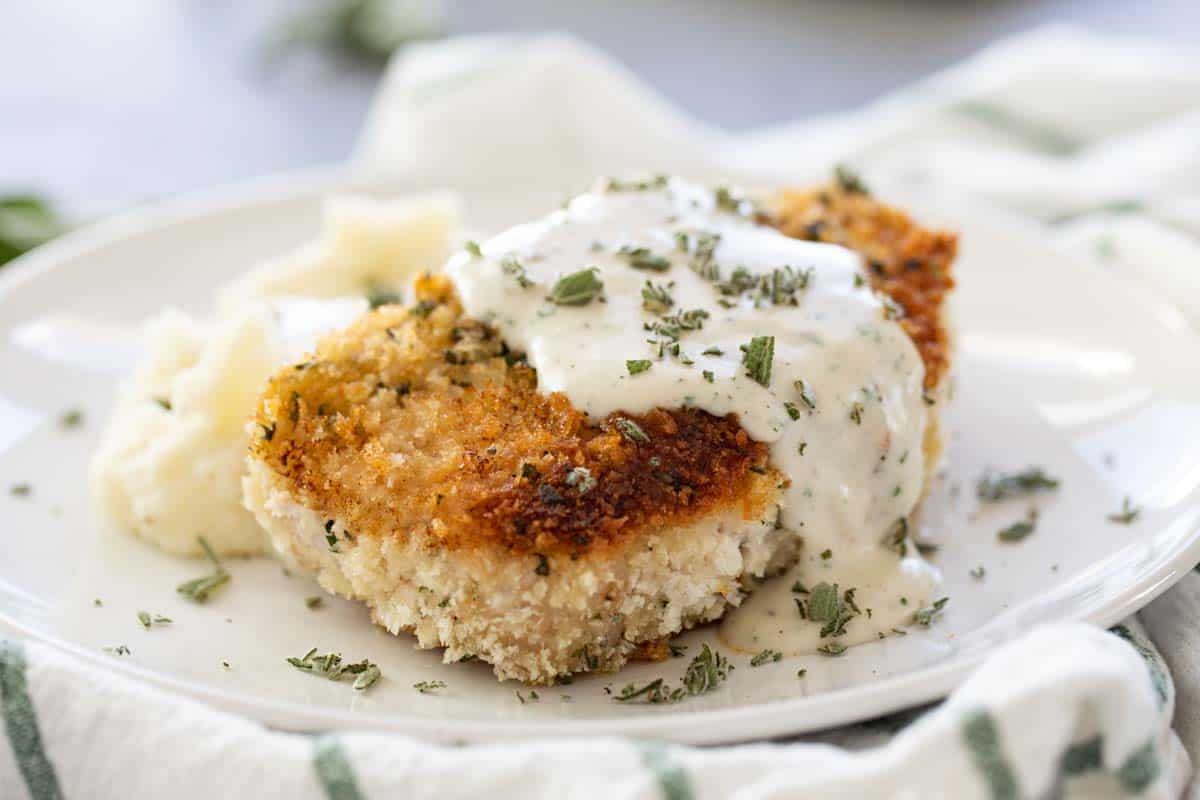 Every now and then it is nice to go back to the basics and make a traditional style meal, and these breaded pork chops with cream gravy are a favorite!
Sometimes dinner tends to get put on the bottom of the list of things to worry about. This meal is great for those days when you don't feel like you even have a chance to sit down and catch your breath! This meal is simple and comforting and everything you need on a night when you don't want to think about what to get on the table for dinner.
Serve these pork chops over mashed potatoes with another veggie on the side and dinner is done!!
How to Make Breaded Pork Chops
All you need are a few simple ingredients to make these pork chops. Here is how you make them:
You are breading the pork chops, so you'll place a mixture of egg and milk in one shallow dish. I like to use a pie pan. In a second dish, place the panko bread crumbs and fresh herbs.
Season your pork chops with salt and pepper.
Dip the pork chops (one at a time) in the milk mixture, then in the breadcrumb mixture, making sure to coat the pork well.
Place the pork chops in a skillet that has been heated with olive oil.
You are just browning the pork chops, so you'll only cook the pork chops about 3-4 minutes on each side.
Transfer the pork chops to a cooling rack that is on a baking sheet and place in the oven to continue to cook through.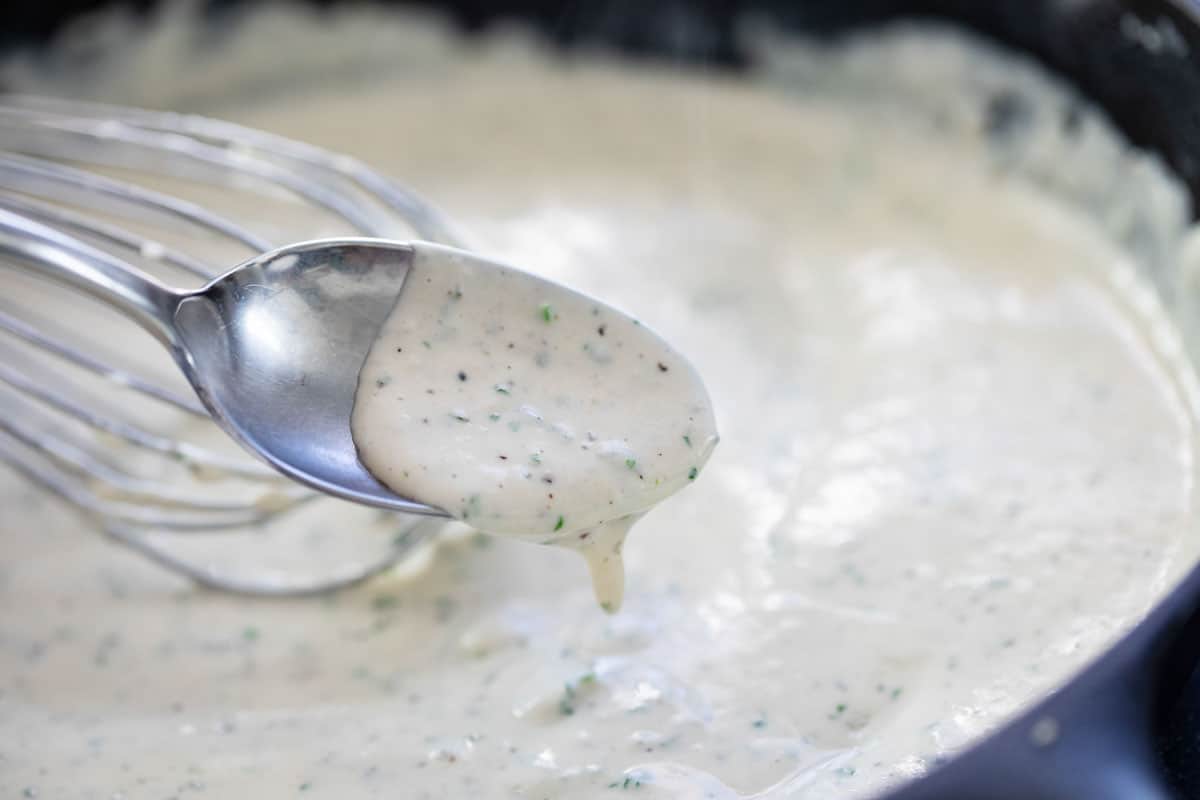 Secrets to the Perfect Cream Gravy
I know that homemade gravy is intimidating. I know that it was something that I was scared of for a long time. Until I actually tried it and found out how easy it is!!
All you need is a fat, a thickener, and the liquid. For this recipe, we are using butter, flour and milk and cream.
You can use the same skillet you made the pork chops in – no need to clean it out. In fact, you'll get some extra flavor from using that same skillet.
Melt the butter completely before whisking in the flour. You'll want to cook this mixture for a minute or two so that the flour isn't raw.
When adding your liquid, whisk, whisk, whisk. I like to add the liquid pretty slowly, so that I can whisk it in well. Continue to whisk the mixture after all of the liquid is added to avoid lumps.
For this gravy, we're adding some parsley and sage so you'll whisk that in and then continue to whisk the gravy until it thickens up.
When the gravy is thickened, lower the temperature until your pork chops are finished. You'll probably need to give it another whisk before serving.
If the gravy gets too thick, add in a little bit of milk until you have your desired thickness.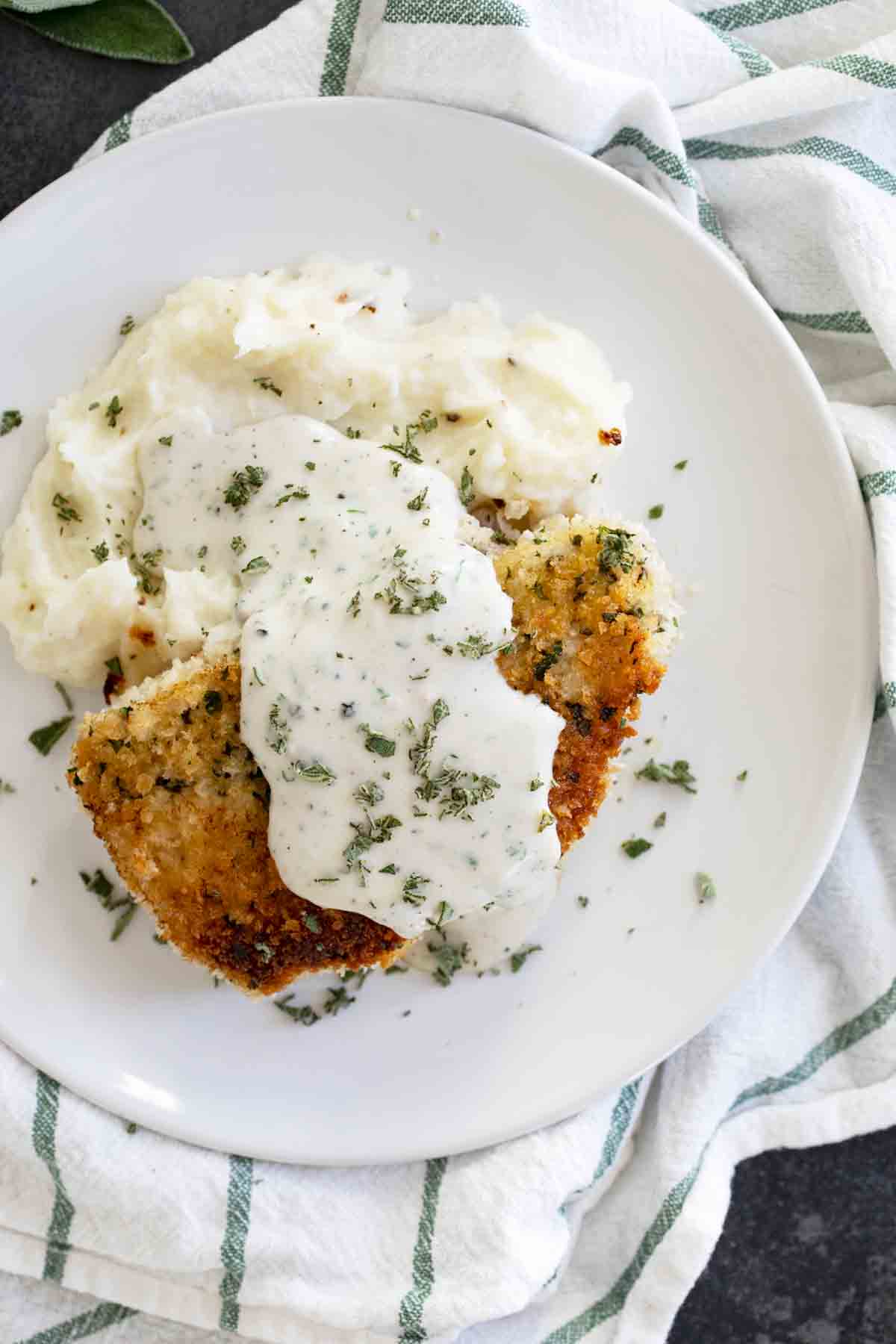 More Pork Chop Recipes
Italian Pork Chops with Creamy Mushroom Sauce
Pork Chops with Dijon Mushrooms
Honey Mustard Pork Chops
Panko Pork Chops with Creamy Herb Dressing
Grilled Pork Chops with Cilantro Lime Sauce
Spice Rubbed Pork Chops with Mustard Bacon Barbecue Sauce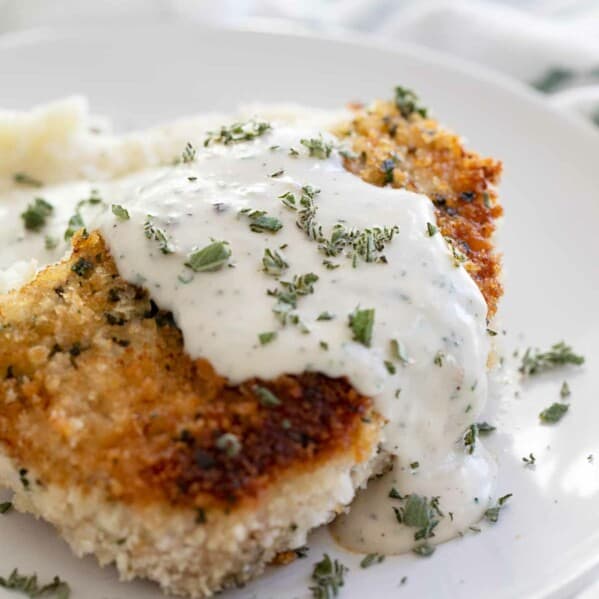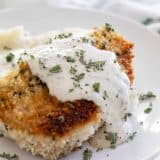 Breaded Pork Chops with Cream Gravy
---
Author:
Prep Time: 20 minutes
Cook Time: 35 minutes
Total Time: 40 minutes
Yield: 4 servings 1x
Category: Main Dish
Method: Baked
Cuisine: American
Description
Breaded Pork Chops with Cream Gravy Recipe – Breaded pork chops are combined with cream gravy with parsley and sage for a delicious, easy and quick dinner full of flavor.
---
Scale
Ingredients
1 1/2 cups milk, divided
1 large egg
1 1/2 cups panko bread crumbs
2 tablespoons chopped flat-leaf parsley, divided
2 tablespoons chopped fresh sage, divided
4 thick boneless pork chops, about 2 lbs total
Salt and pepper
1/4 cup extra virgin olive oil
2 tablespoons butter
2 tablespoons flour
1/2 cup heavy whipping cream
---
Instructions
Preheat the oven to 400ºF. Place an oven safe cooling rack on a baking sheet and set aside.
Combine 1/2 cup of the milk and the egg in a shallow bowl.
In another bowl, combine the panko with 1 tablespoon of the parsley and 1 tablespoon of the sage.
Season the pork chops with salt and pepper.
Heat the olive oil in a large skillet set over medium heat.
Dip the pork chops into the milk and egg mixture, then into the breadcrumb mixture, pressing the crumbs to the pork chops, if needed.
Add the pork chops to the skillet and cook for 3-4 minutes, until browned, then flip and cook the second side for 3-4 minutes.
Transfer the pork chops to the cooling rack over the baking sheet and bake until cooked through, 8-10 minutes.
While the pork chops are baking, melt the butter in the same skillet. Whisk in the flour and cook for 1 minute. Whisk in the remaining 1 cup of milk and the cream, whisking out any lumps. Add the remaining tablespoon of parsley and remaining tablespoon of sage and continue to whisk until the mixture comes to a boil.
Simmer until the sauce thickens, about 2 minutes. Season with salt and pepper.
Serve the gravy over the pork chops.
Recipe Notes:
*regular breadcrumbs can be used in place fo the panko breadcrumbs.
*If you don't have fresh sage, you can use 2 teaspoons of dried sage.
Adapted from Every Day with Rachael Ray September 2007
Nutrition
Serving Size: 1 pork chop plus 1/4 of the gravy
Calories: 686
Sugar: 3 g
Sodium: 559 mg
Fat: 46 g
Saturated Fat: 17 g
Unsaturated Fat: 18 g
Trans Fat: 0 g
Carbohydrates: 24 g
Fiber: 1 g
Protein: 48 g
Cholesterol: 224 mg
Keywords: breaded pork chops, how to make breaded pork chops, cream gravy