Give your baked brie a wow factor by filling it with fresh berries!
This post has been created in partnership with Pillsbury.
I have come to the conclusion that if I were ever stranded on a deserted island, the one food I would want to live on would be cheese. It's the one thing I never get sick of, that I can't get enough of. I have found that as I have gotten older, I even crave it more than I do sweets.
Give me cheese and I am happy.
So of course, when my friends at Pillsbury wanted me to recreate a version of their classic Crescent Wrapped Brie, I was all over it.
The thing about brie is that it goes so well with everything – sweet or savory. And as an appetizer, you really can't beat melted brie, covered in crescent dough. Especially when you add berries into the mix.
I know that berries are probably not the first thing you think of when you think of baked brie. But they really did work out so perfectly. I always love having a little bit of jelly to serve with baked brie, so I thought to myself, why not just add the fruit into the center of the brie? What was born is this beautiful and very tasty holiday appetizer idea.
I tell ya – I could have eaten the whole thing myself!!
Want to see how easy it is to make?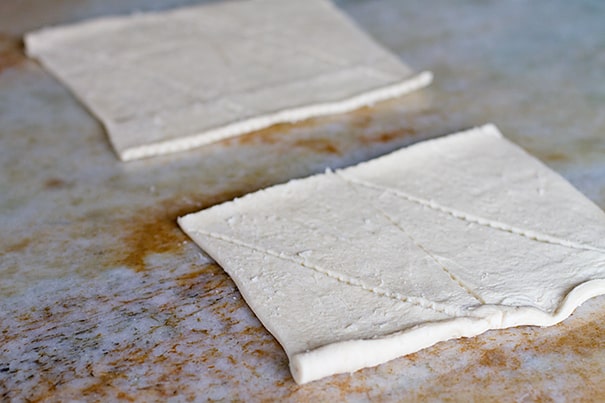 Up first, open your crescent rolls and lay out the dough. You will want to cut the dough into 2 equal squares.
Read the rest of this entry >>